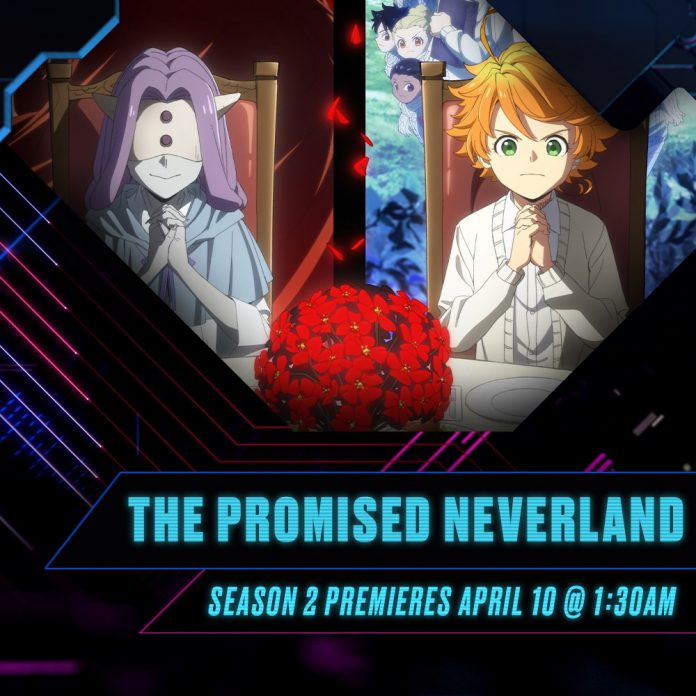 This week, Toonami announced on their Facebook page that they highly anticipated second season of The Promised Neverland will return to the lineup on April 10, at 1:30 a.m. It will join the block once SSSS.Gridman finishes its run.
Due to the COVID-19 pandemic, the second season was slated to premiere in October of last year but had to be delayed till Jan. 7, 2021, which no doubt created a longer delay for Toonami fans to see the newest season on the beloved block.
Both Fire Force and Black Clover will air later by 30 minutes once The Promised Neverland returns. The full lineup will look like this on April 10:
12:00 a.m. – Dragon Ball Super
12:30 a.m. – Attack on Titan
1:00 a.m. – Food Wars!
1:30 a.m. – The Promised Neverland
2:00 a.m. – Fire Force
2:30 a.m. – Black Clover
3:00 a.m. – Naruto: Shippuden
3:30 a.m. – Demon Slayer: Kimetsu no Yaiba
Sadly, the second season is only 11 episodes long and has been a controversial topic due to its adaptation of the Goldy Pond arc and certain elements and plot points missing from the source material. Supervised by the original author (Kaiu Shirai), fans will be seeing an original storyline much like what happened with the popular title Tokyo Ghoul. But time will tell how Toonami fans will react to these differences if they are privy to how the story plays out in the manga. Many fans should be pleased with the quick turnaround to grab this English dub compared to others like Food Wars (and Mob Psycho 100).
How do you feel about The Promised Neverland returning with its second season? Are you worried about it not having the most faithful adaptation of the manga? Tell us in the comment section below or on our social media pages!
Don't forget to listen to the Toonami Faithful Podcast!