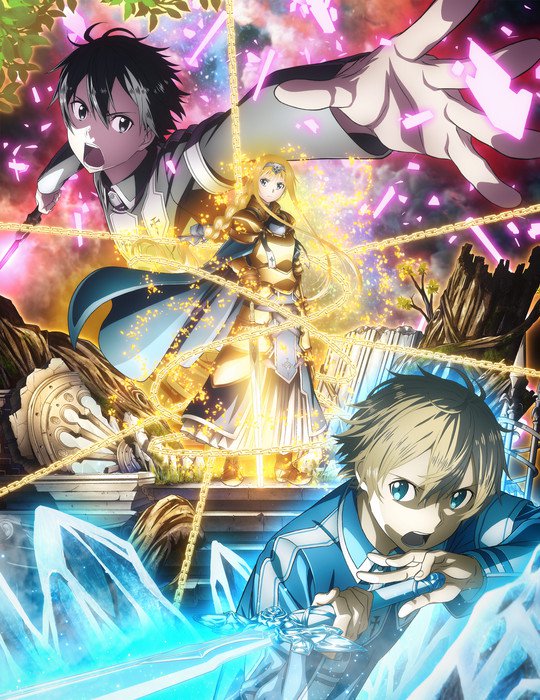 On Sunday night, Aniplex released a new trailer along with some new information for the upcoming third season of the hit Sword Art Online series in Project Alicization on the franchise's official Japanese Twitter page.
【第2弾PV公開!】
OPテーマ「ADAMAS」(LiSA)と、EDテーマ「アイリス」(藍井エイル)の音源初公開となるPVを公開!

さらに《アリシゼーション》編は【全4クール】で放送決定!1時間SPの第1話は10/6(土)24時より各局にて順次放送開始!https://t.co/Bqun0wX5VT#sao_anime pic.twitter.com/bS2wUqx4h3

— アニメ ソードアート・オンライン 公式 (@sao_anime) September 10, 2018
Aniplex has yet to release the trailer on their official US outlets, but an English translated version of the trailer has been released by Wakanim Nordic, the streaming distributor of the franchise in the Scandinavia region, which you can be seen below.
Season 3 will premiere on Japanese airwaves on October 6. Both Crunchyroll and Hulu, who have simulcasted previous seasons, have yet to officially confirm that they plan on doing the same for the new season.
Aniplex plans to adapt all 10 volumes of the Project Alicization light novels (Volumes 9-18) into anime form, and according to @comic_natalie, the new season will be a 4 cour season, or around 50 episodes. The first episode will be an hour's length.
「ソードアート・オンライン」第3期は全4クール!新PVでOP・EDを初解禁(動画あり) #sao_anime https://t.co/myhLmqMU4z pic.twitter.com/eA8FIvZWbX

— コミックナタリー (@comic_natalie) September 10, 2018
Aniplex will be hosting world premiere events of the first episode in several countries to commemorate the launch of Project Alicization and the US one will take place at the Montalban Theatre in Los Angeles this Saturday September 15. ToonamiFaithful.com will be sending a correspondent (yours truly) to cover the LA premiere event, so stay tuned and follow @ToonamiNews for any potential news and updates.
A little excerpt from the #SwordArtOnline section of @AnimeSavior's Anime Expo highlights article regarding what to expect ahead with Project Alicization. Check out the full article in the link below.https://t.co/zeMWh9sdOP pic.twitter.com/8H2oulyGAp

— Toonami News (@ToonamiNews) September 10, 2018
2018 marks 5 years since Sword Art Online made its debut on the better cartoon show, with Season 1 previously airing from July 27, 2013 to February 15, 2014. Its success led to Season 2 airing from March 28 to September 26, 2015. It is unknown when a dub will be commissioned or if and when Toonami will air the new season at this time, though when we asked ADR Director Alex Von David regarding the show's length, he responded with this:
uh-oh

— Alex von David (@alexvondavid) September 10, 2018
As with any potential Toonami shows, if you do wish to see Sword Art Online return to the block for Project Alicization, Alternative GGO, and perhaps even Ordinal Scale as well, we do recommend that you continue giving your support to the show and Toonami overall, and to send your show recommendations to their Facebook and Tumblr message boxes as well as letting Aniplex know in their respective social media outlets.
What are your thoughts on the recent news? Let us know by commenting blow or directly on our social media.