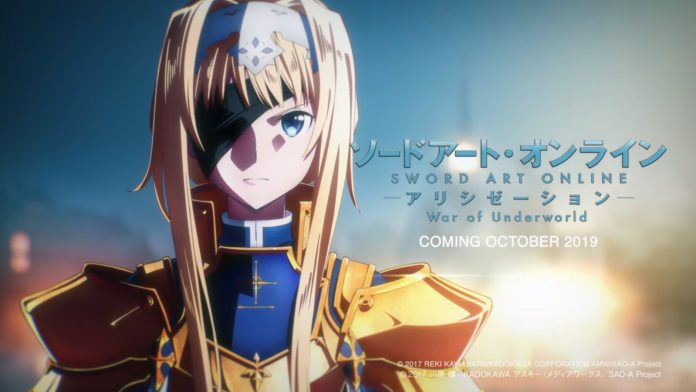 During the Sword Art Online panel at Anime Expo 2019, Aniplex released a new trailer for the upcoming 2nd half of the Project Alicization story arc, titled "War of Underworld." The new season will premiere in Japanese shores and streaming on Crunchyroll and Funimation Now in October.
The trailer was released to the public on Monday, which you can be viewed below. Do note as the trailer showcases the epilogue of Part 1, this video comes with heavy spoilers. If you are following the show via the dubbed Toonami broadcast, please wait until after the mid-season finale airs this Saturday night, July 13 to view.
【最新映像】
「Anime Expo 2019」SAOステージで解禁されたシリーズ最新作『ソードアート・オンライン アリシゼーション War of Underworld』の最新ティザー映像を公開しました!
初公開となる本編の先行カットを含む貴重な映像をぜひご覧ください!#sao_anime pic.twitter.com/kNW3sgkc2B

— アニメ ソードアート・オンライン 公式 (@sao_anime) July 7, 2019
On a related note, ADR Director Alex von David and the SAO cast also unveiled a blooper reel of part 1 of Alicization during the panel, which you can see below.
While it is expected that Toonami will air part 2 of Project Alicization when the dub is ready, neither Toonami nor Aniplex have revealed their plans on the dub and broadcast premiere as of this time.
Edit 9/10 @ 8:50 pm EDT: The SAO 3 mid-season finale will air on Toonami on July 13, not July 20 as was previously written in error. July 20 is when the show that is expected to replace SAO (which is still to be announced) as the latter goes to its offseason, will make its debut.
What are your thoughts on Project Alicization so far? Are you looking forward to part 2 on October or whenever it returns to Toonami? Let us know by commenting blow or directly on our social media.