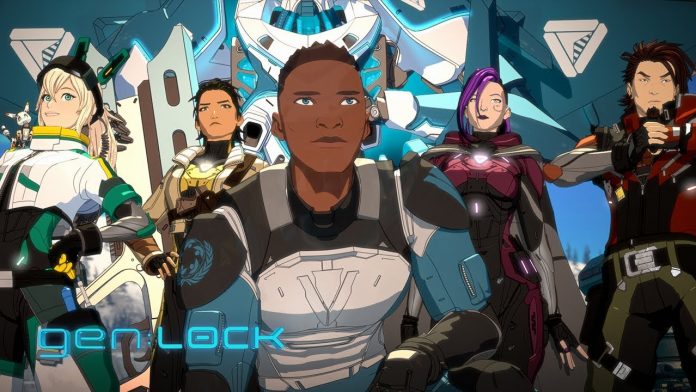 WarnerMedia corporate synergy continues to bring interesting partnerships between Toonami and other companies in the Warner Bros. division. That latest development is that Rooster Teeth's CGI animated series gen:LOCK will have its television broadcast debut on Toonami on August 3rd. For viewers who like to see American animation on Toonami, gen:LOCK is hopefully a welcome surprise. For viewers who prefer Toonami stick to anime, it can be a reminder that Toonami is not just an anime block.
Rooster Teeth's website describes gen:LOCK as follows: Fifty years in the future, an oppressive authoritarian force threatens to conquer the world. A daring team is recruited to pilot a new form of weaponized neuroscience that powers devastating mecha, but they must be willing to sacrifice everything to save the world.
The first season of #genLOCK is coming to @adultswim on Toonami August 3! pic.twitter.com/dPRwAmwYpJ

— Rooster Teeth (@RoosterTeeth) July 7, 2019
The series stars Michael B. Jordan and also features the vocal talents of Dakota Fanning, Maisie Williams, Kōichi Yamadera, Golshifteh Farahani, Asia Kate Dillon, and David Tennant. Created and directed by Gary Haddock, the series is a co-production from Rooster Teeth and Michael B. Jordan's Outlier Society Productions.
Though Toonami will be the first TV venue to broadcast the mecha series, gen:LOCK previously streamed on Rooster Teeth, VRV and Crunchyroll. It remains to be seen if gen:LOCK can find additional viewers by airing on Toonami but should be an interesting eight week experiment at any rate. The series also has some episodes that run over thirty minutes in length, Adult Swim or Rooster Teeth will have to get creative to make that work on Toonami. No time slot has been determined yet but it will be joining the block the week after Attack on Titan's current season concludes.
Feel free to share your thoughts on gen:LOCK joining Toonami in the comment section below.