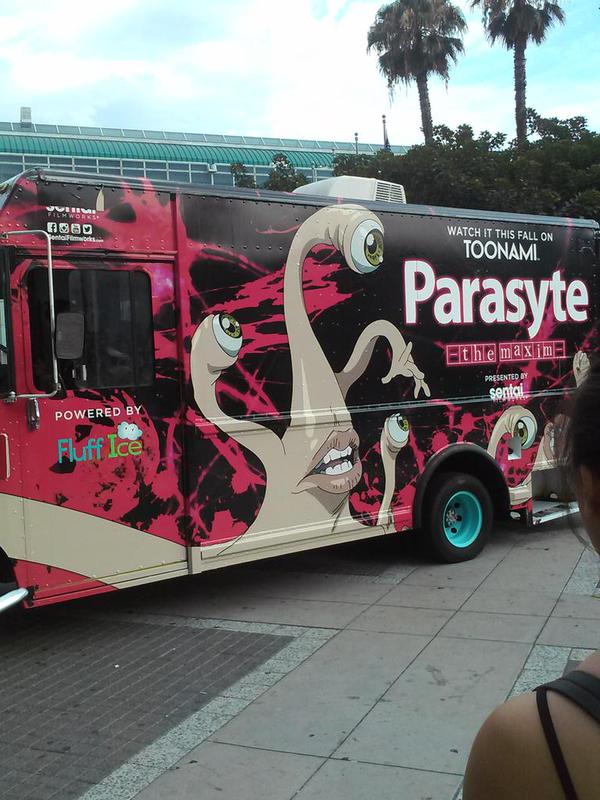 Early this morning, a picture was posted by this twitter user from Anime Expo:
Here's an early morning wake up. #Parasyte #Toonami #AnimeExpo2015 pic.twitter.com/COQfJFJo7n

— Skoringo (@AX) (@MrSkoringo) July 2, 2015
Thanks to him we were able to post this out on our social media accounts and we reached out to both Jason Demarco and Sentai Filmworks on Twitter for confirmation. Jason Demarco responded on Twitter and said this:
Welp guess the cat's outta the bag! PARASYTE comes to #toonami this fall. More info from our Sentai friends later! pic.twitter.com/L1gQkdqW9y

— LICH KING DEMARCO (@Clarknova1) July 2, 2015
What do you guys think of the news? Let us know by commenting below. Note: We expect Sentai Filmworks to talk more about this today during their panel at Anime Expo. We will update this post once we have more info.
Updated 7/3/15 12:32PM: Sentai Filmworks sent out a press release detailing what they said at their panel yesterday during Anime Expo 2015. Here's what they said:
Humankind's extinction begins this fall as Parasyte -the maxim- invades Toonami, the hugely popular Adult Swim™ anime block.
Sentai Filmworks announced Thursday during their Anime Expo 2015 panel that Parasyte -the maxim- is heading to Adult Swim, basic cable's #1 network with young adults for over a decade.
Parasyte -the maxim- chronicles a silent, sinister alien invasion and follows 17-year-old Shinichi, whose life gets seriously complicated when one would-be invader assumes control of his right hand. Originally broadcast in Japan on Nippon TV, the series is produced by MADHOUSE and adapted from the groundbreaking sci-fi/horror manga created by Hitoshi Iwaaki.
Parasyte –the maxim- is scheduled to begin broadcast on Toonami this October. Detailed schedule information will be released as soon as it becomes available.
Parasyte will play this October. What show do you think it will replace? Let us know below.