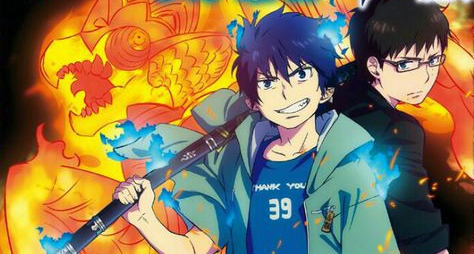 Lately, rumors have been going around of a possible continuation of the Blue Exorcist anime series, which was helped by the official Blue Exorcist site launching an official countdown which was set to end on Sunday. We were likely going to know if those rumors were true during Anime Expo, but thanks to an early leak of the newest manga issue, it's confirmed that a second season of Blue Exorcist is indeed in the works.
We have yet to hear an official response from Aniplex regarding this, but what we do know from the information given is that the new season will be airing in Japan sometime in 2017, and will be covering the Kyoto Impure King story arc. If you're attending Anime Expo, Aniplex along with series creator Kazue Kato will be having a panel for Blue Exorcist on Sunday, 2:15pm – 3:45pm in the Petree Hall. We should know more information by then.
Update: It has now been confirmed at the Blue Exorcist Panel by Aniplex that Blue Exorcist season 2 is indeed in the works. A trailer was also showcased, but has not been released to the public yet. We'll share it with you as soon as that occurs.
Toonami aired the first season of Blue Exorcist from February 23 to August 10, 2014 and this new season will likely be a potential candidate to air on the better cartoon show in the future. Of course, nothing is assured at this point as we don't know any further details on the series, but as with any show, if you do want to see it happen eventually, feel free to let Toonami know on their Tumblr ask box.
Excited about the news? Let us know in the comments section below.