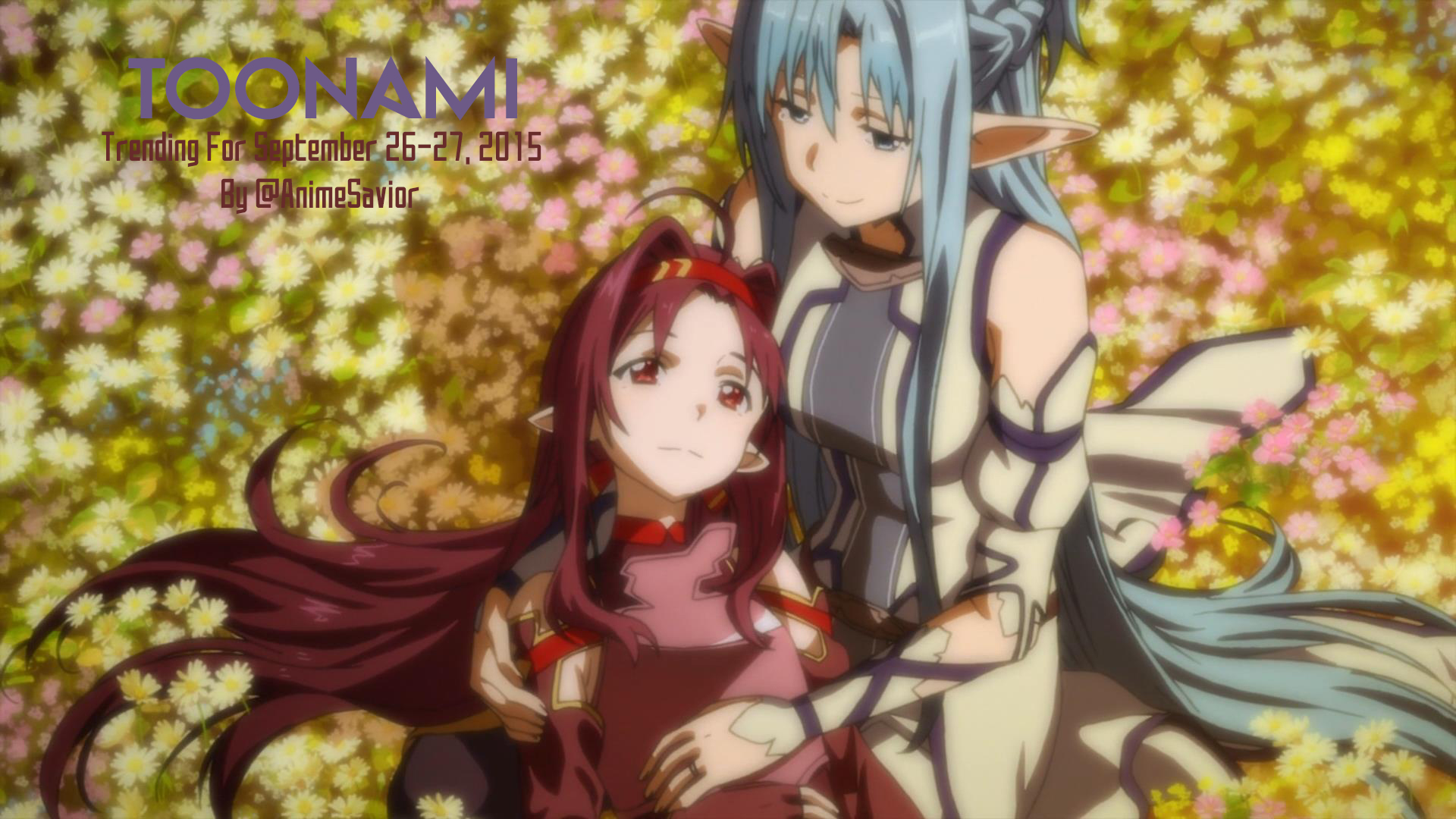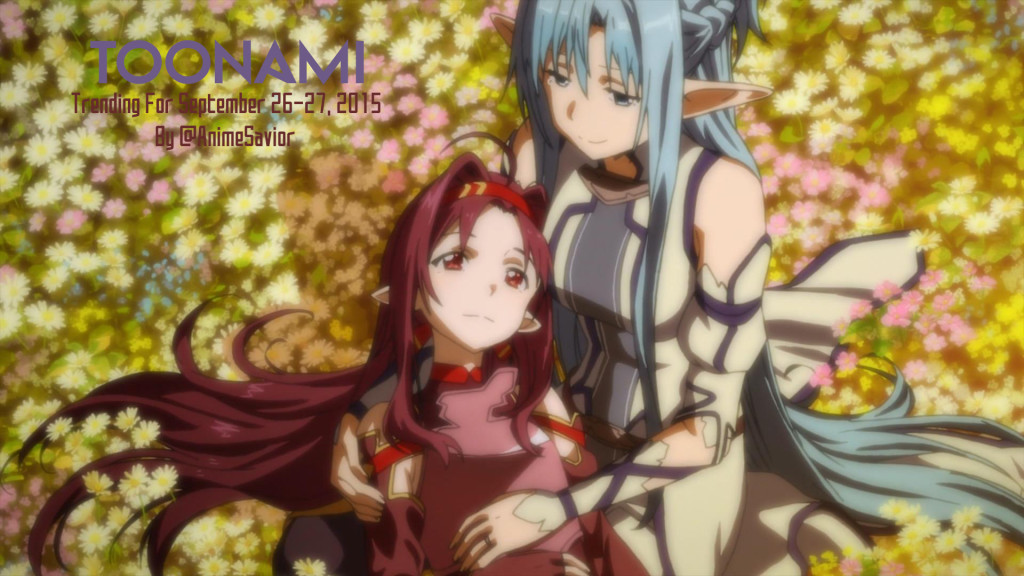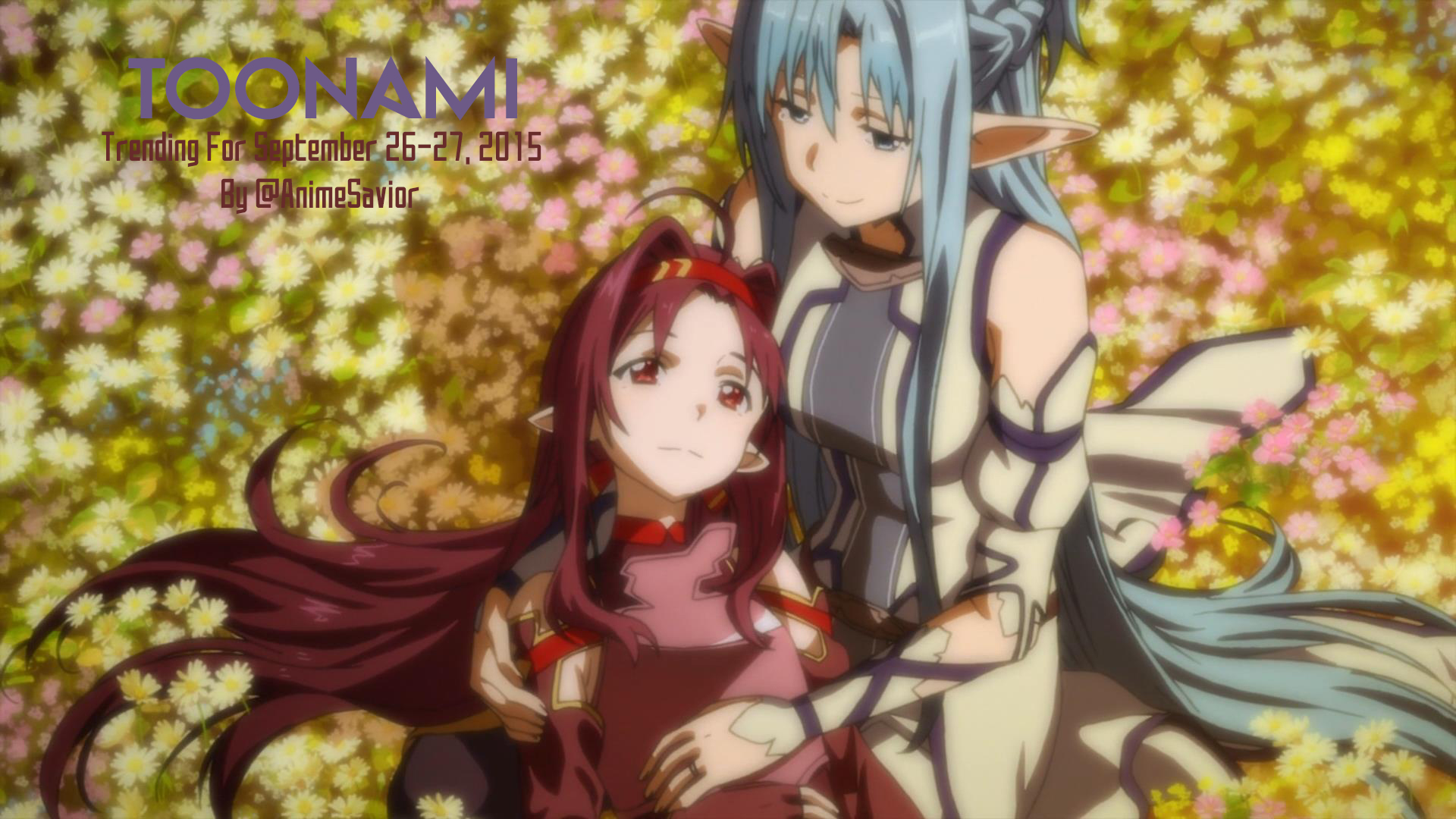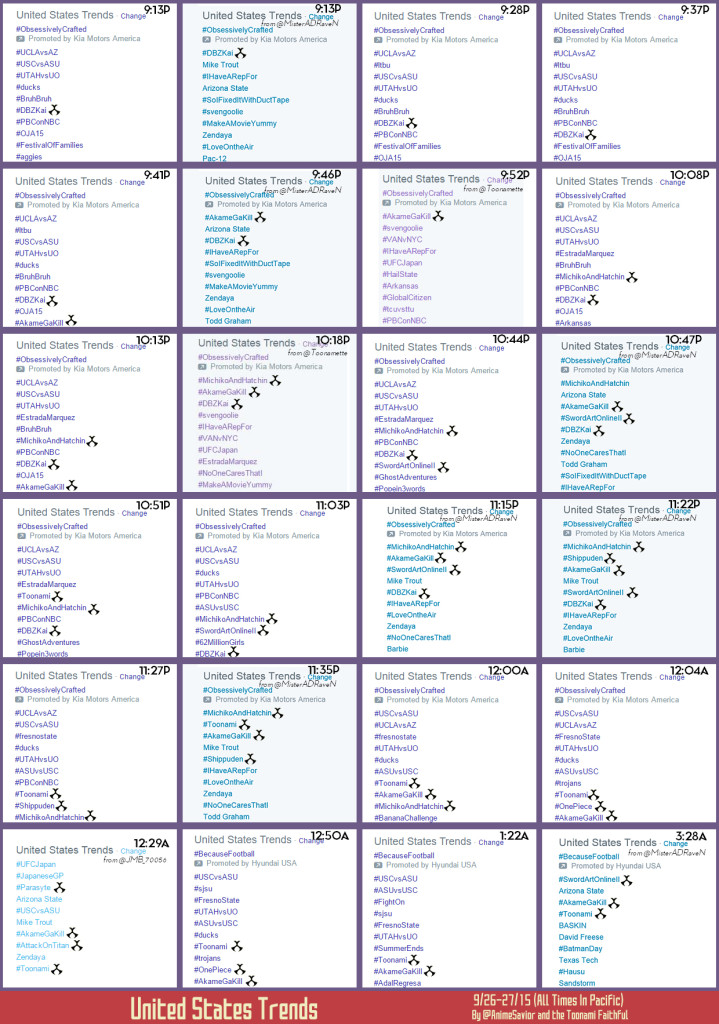 "I used to always think, "Why am I alive? Why'd I stick around for this long?" But you know what? After all this time, I think I know why now. I might not have done much but I'm glad I got to live. Cause after everything these last few moments, they're the best ever. I'm surrounded by all my friends and I got to end my journey in the arms of someone I love. […] I gave this life everything I had. I was alive."
–     Yuuki Konno, Sword Art Online II (Ep. 24)
The Toonami Trending Rundown for September 26-27, 2015. We send off Sword Art Online's second season's run (in addition to Attack on Titan's season 1 encore run) off with a bang as every show had managed to trend in the US during their respective East Coast runs, in addition to #AkameGaKill and #SwordArtOnline trending US during their respective West Coast runs. In addition, we were also treated to a promo of our newest show, #Parasyte, and that also trended in the US as a result.
Sword Art Online II trending retrospective
24 additional weeks of Kirito and Asuna and company kicking ass and beating games, and another season of Sword Art Online is in the books. While debates about it's mixed acclaim has unfortunately been well documented, something which I talked about during season 1's finale, some detractors have said that SAO's renewal would be problematic or even harmful for Toonami's growth. But as Jason DeMarco would say, television is a democracy and people vote with their eyeballs, and as the ratings and social media buzz would show, those fears were once again largely exaggerated.
During it's Toonami run, #SwordArtOnlineII has successfully trended in some capacity during 7 out of 14 weeks of the Phantom Bullet arc, as well as every week of it's airing during the Calibur and Mother's Rosario story arcs. Season 2's run also produced 5 different character and in-show content trends, Asuna in 2 occassions, Kirito in 2 occassions, including both "Kirito and Asuna", Sinon, and Death Gun.
Of course, some of you might be asking "What's next for Sword Art Online?" Well, we don't have any official details on Season 3 as of yet, but going by the light novels, the next and possibly final story arc, Project Alicization, covers Volumes 9-16+ of the novels, with it's finale still yet to be published. In addition, there is also the Progressive series, which is also currently being written, that reboots the Aincrad arc from the ground up. Whatever happens, love it or hate it, it's very unlikely Sword Art Online will be going away anytime soon, and we look forward to see what the future holds for this great franchise.
And Finally…
As the wait for SAO season 3 begins, and the wait for Attack on Titan season 2 continues, tune in next week as Parasyte joins in on the action at 1:00 am Eastern, with Michiko and Hatchin continues with it's 2nd half at it's new time at 1:30 am, while an encore presentation of Kill la Kill begins at 3. Until then, stay gold as always and keep on fighting like Yuuki had.
[divider]
Legend: The shows listed are ordered based on their appearance on the schedule. Show trends are listed in bold. The number next to the listed trend represents the highest it trended on the list (not counting the promoted trend), judging only by the images placed in the rundown. For the Twitter tweet counts, the listed number of tweets are also sorely based on the highest number shown based on the images on the rundown.
United States Trends:
#Toonami (During Akame ga Kill (West Coast), Michiko and Hatchin (East Coast) Sword Art Online (East Coast), Shippuden (East Coast), One Piece (East Coast), and Attack on Titan (East Coast and West Coast)) [#2]
#Parasyte (During Attack on Titan (East Coast) [#3]
#DBZKai [#1]
#AkameGaKill (Also during the West Coast airing) [#1]
#MichikoAndHatchin [#1]
#SwordArtOnlineII (Also during the West Coast airing) [#1]
#Shippuden [#2]
#OnePiece [#9]
#AttackOnTitan [#8]
Tweet Counts:
#Toonami [7,340 tweets]
#DBZKai [2,767 tweets]
#AkameGaKill [4,116 tweets]
#AttackOnTitan [1,684 tweets]
Special thanks to @JMB_70056, @MisterADRaveN, @Toonamette, and others I forgot to mention for spotting some of the trends on this list.
Get Infected. Only Toonami on [adult swim] on Cartoon Network.