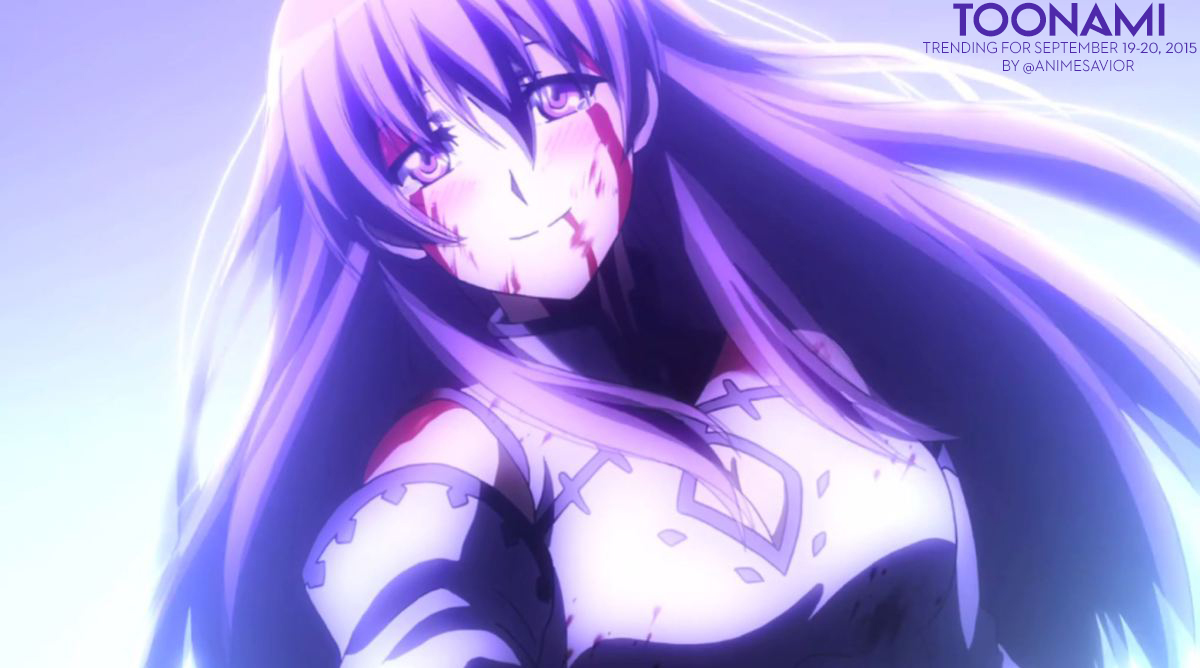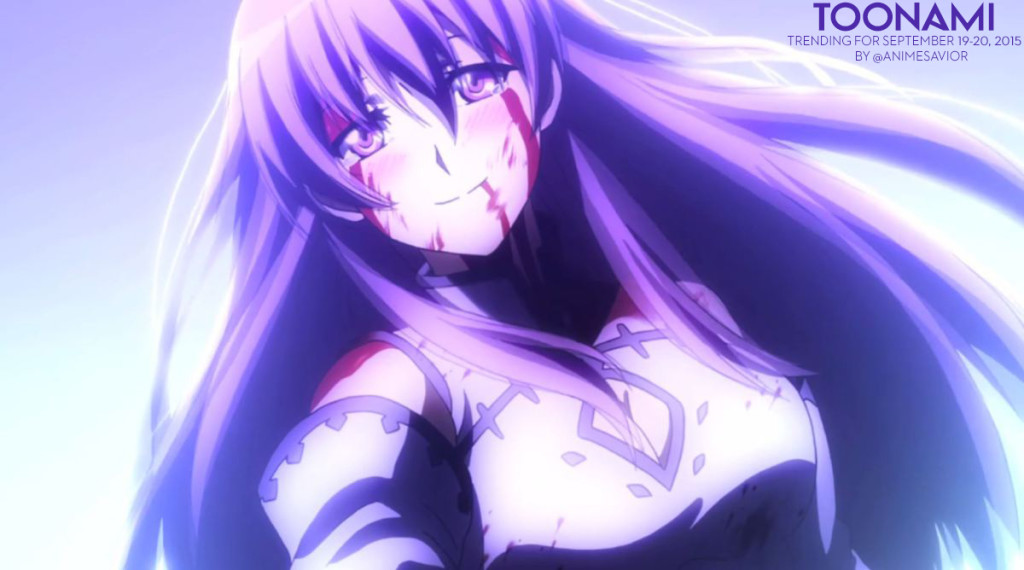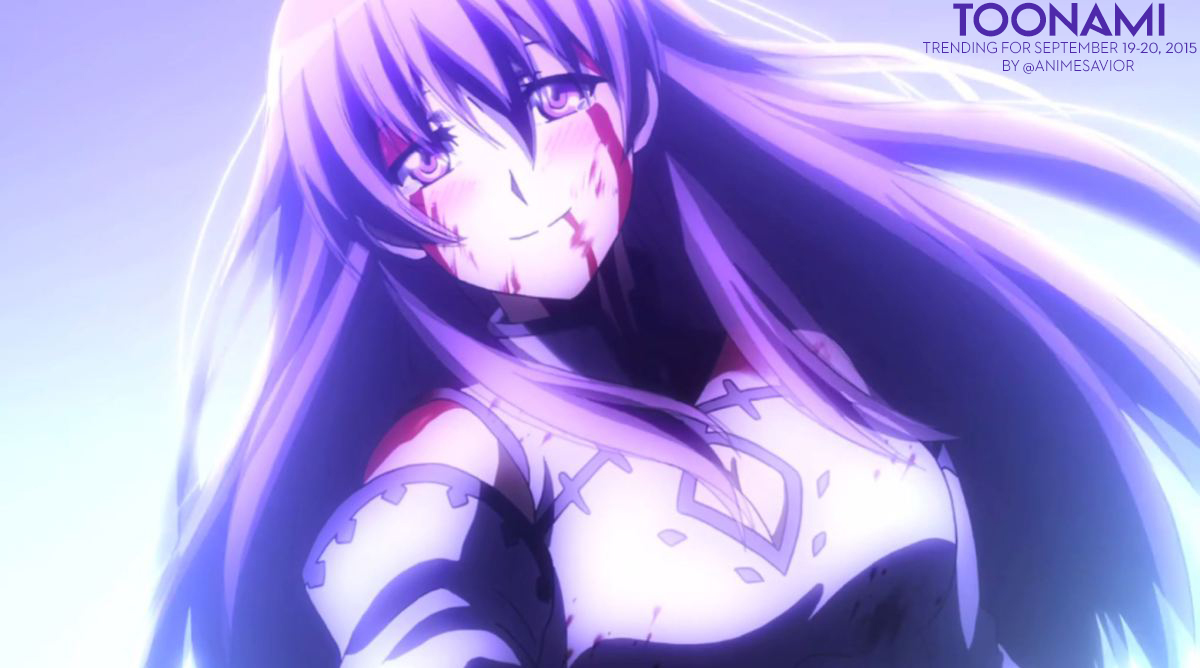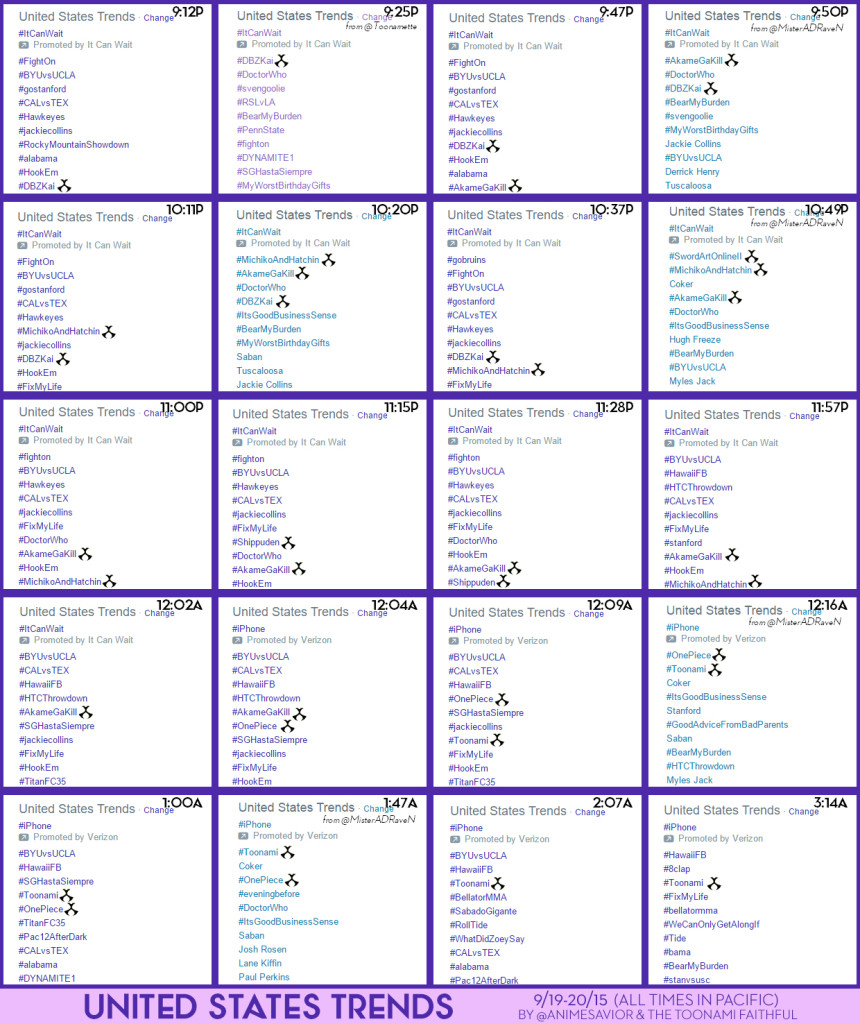 "Oh, Mine. I'm glad I could be useful. Night Raid. You were always home to me. I loved every one of you from the bottom of you. I had so much fun. [And] Tatsumi…I'm sorry. I won't be able to hold you…ever again."
–     Sheele, Akame ga Kill! (Ep. 06)
The Toonami Trending Rundown for September 19-20, 2015. A pretty decent night for Toonami's social media buzz as on Twitter, Toonami and every show save for #AttackOnTitan had managed to trend in the US, and both #AkameGaKill and #MichikoAndHatchin trended worldwide. In addition, Toonami also trended on Tumblr, and #ShingekiNoKyojin also trended on Google Plus.
Today marks the 7th anniversary of Toonami's original cancellation. Those four years off the air were some pretty tough times for both Toonami and anime as a whole, but with the block's return, things are looking up, and hopefully we can keep this going for years to come. In addition, in a few hours time as of this writing, this also marks the 16th anniversary of the Naruto series. Thanks for all the memories, and many more to come.
Tune in next week as Sword Art Online showcases it's season finale, among other great moments. You don't want to miss this. Until then, stay gold.
[divider]
Legend: The shows listed are ordered based on their appearance on the schedule. Show trends are listed in bold. The number next to the listed trend represents the highest it trended on the list (not counting the promoted trend), judging only by the images placed in the rundown. For the Twitter tweet counts, the listed number of tweets are also sorely based on the highest number shown based on the images on the rundown.
United States Trends:
#Toonami (During Michiko and Hatchin (East Coast), Sword Art Online (West Coast), Naruto Shippuden (West Coast) and Attack on Titan (East Coast and West Coast)) [#1]
#DBZKai [#1]
#AkameGaKill [#1]
#MichikoAndHatchin [#1]
#SwordArtOnlineII [#1]
#Shippuden [#7]
#OnePiece [#1]
Worldwide Trends:
#AkameGaKill [#10]
#MichikoAndHatchin [#5]
Tumblr Trends:

Google Plus Trends:
Special thanks to @JMB_70056 @MisterADRaveN, @Toonamette, and others I forgot to mention for spotting some of the trends on this list.
Witness Me. Only Toonami on [adult swim] on Cartoon Network.
Bang.