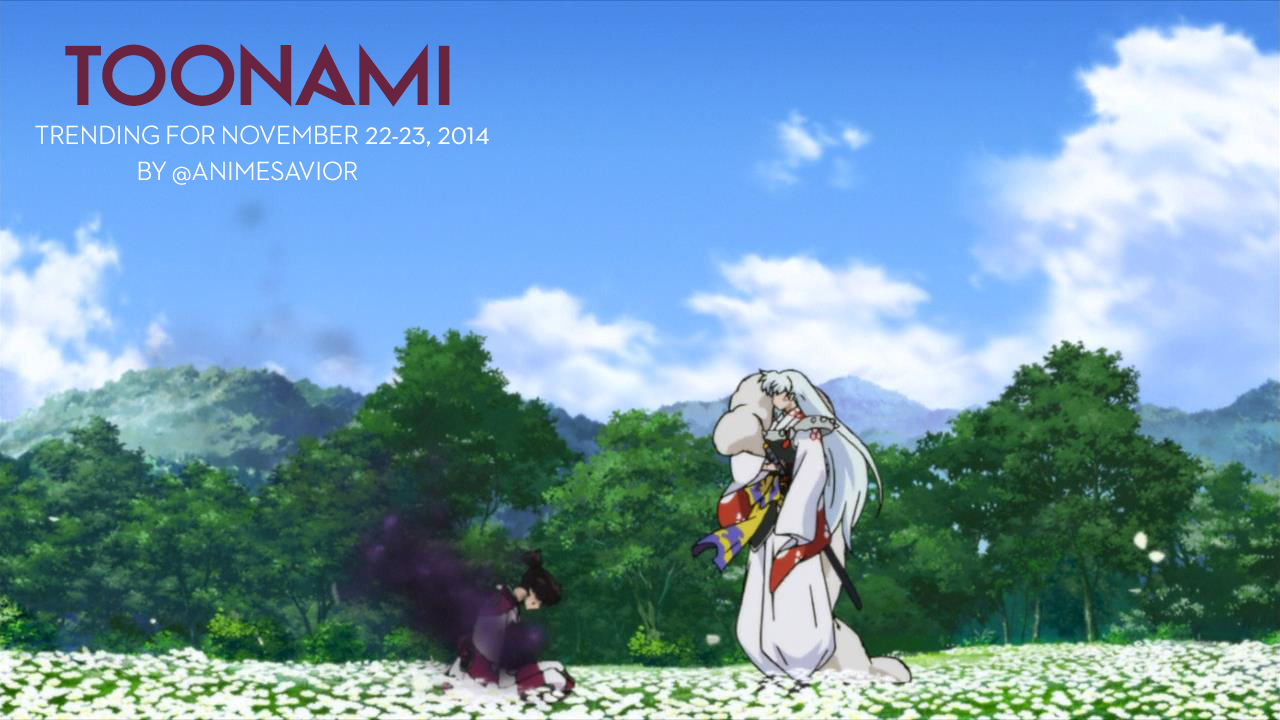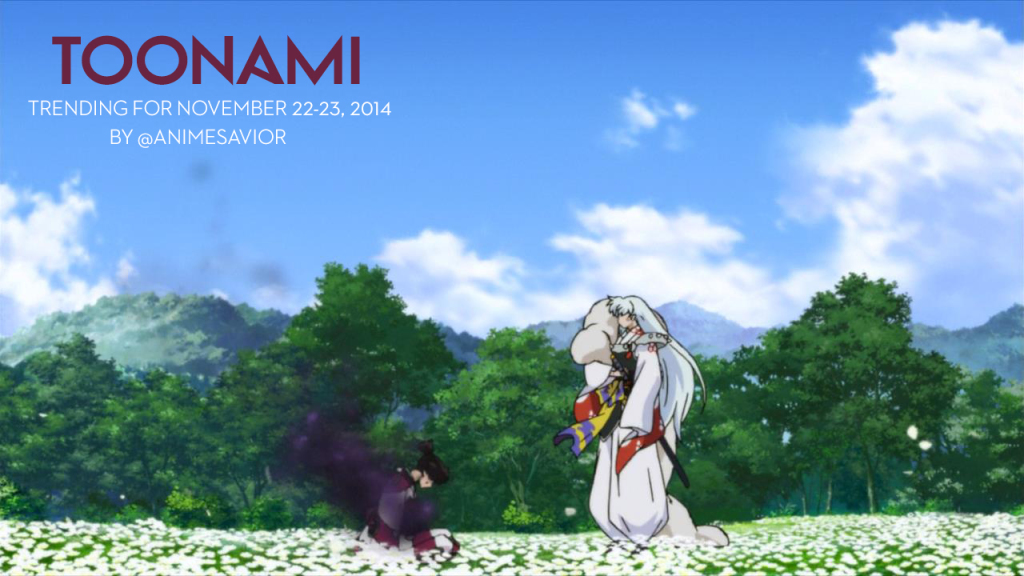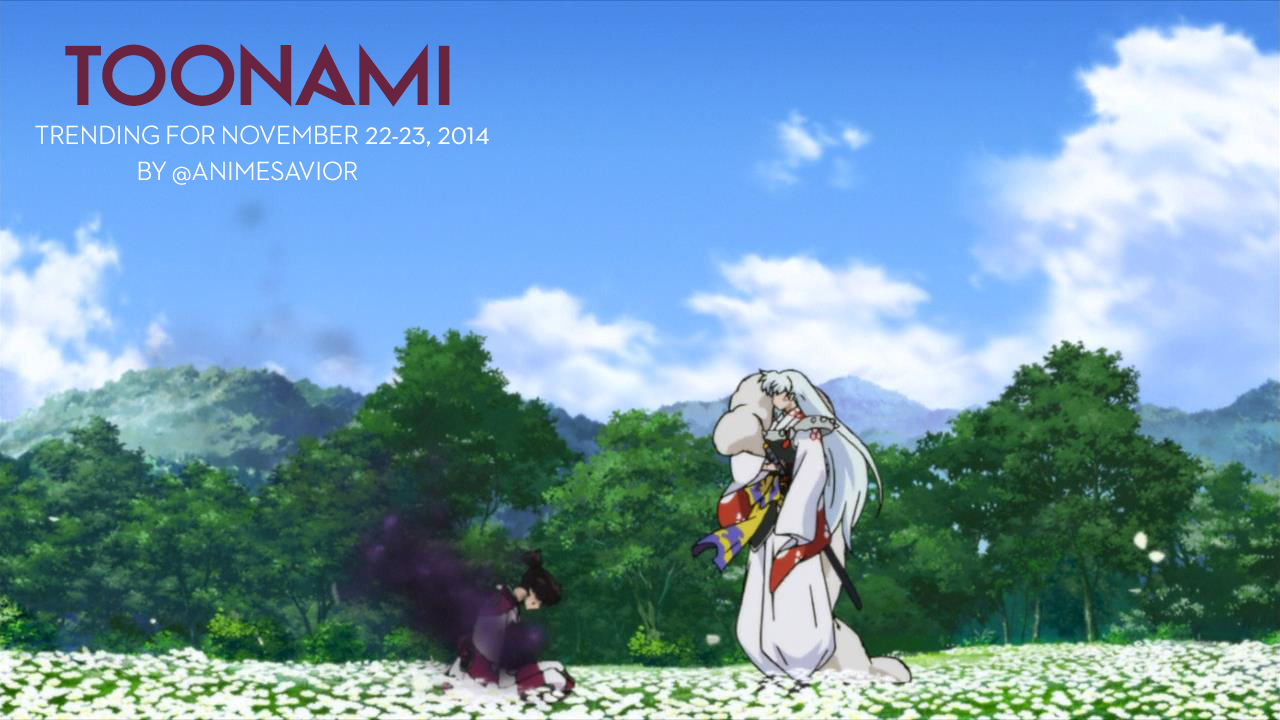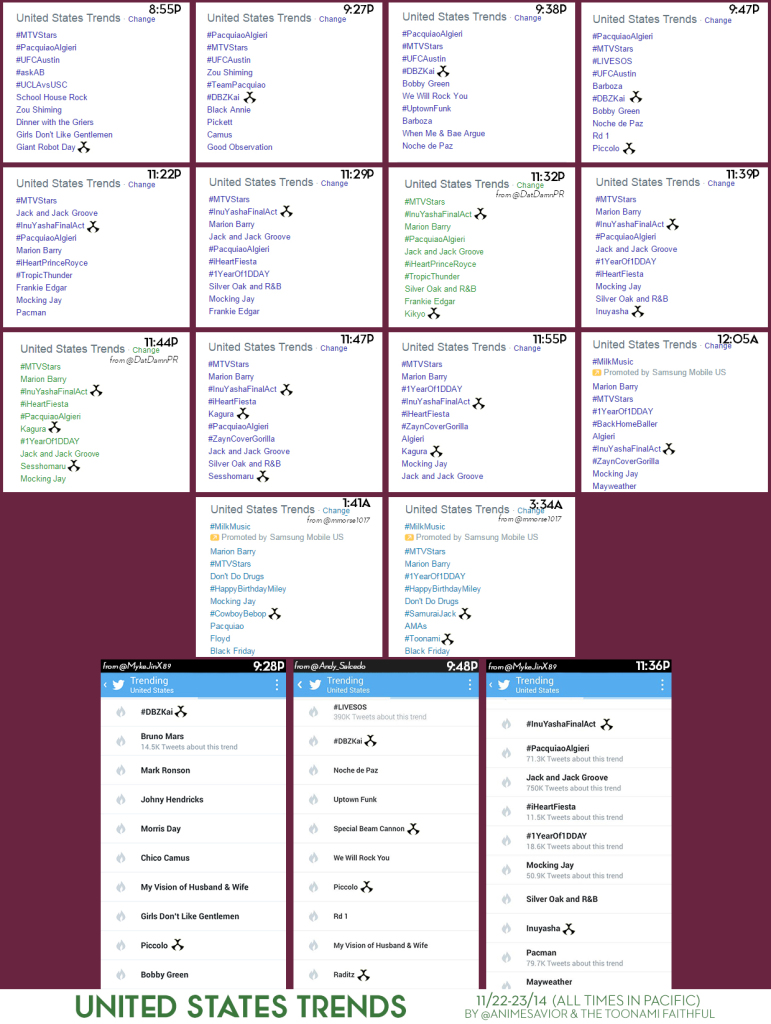 "I am the wind…the free wind."
–          Kagura, InuYasha: The Final Act (Ep. 02)
The Toonami Trending Rundown for November 22-23, 2014.  Bit of a rough night for trending with Pacquiao's decision victory over Algieri dominating the trends among other things, but Toonami managed to have a pretty good trending night regardless with Toonami, DBZ Kai, InuYasha, Cowboy Bebop, and Samurai Jack reaching the US trending lists.
In addition, both DBZ Kai and InuYasha each managed to generate some character and in-show related trends. In the case of DBZ, Piccolo, Raditz and Special Beam Cannon all trended as Piccolo unleashed his signature Makankōsappō on Raditz, but required Goku making the ultimate sacrifice. In the case of InuYasha, InuYasha and Kikyo trended as Kikyo takes the soul of Midoriko to heal herself from Naraku's inflicted wounds in addition to telling InuYasha her plan to defeat Naraku. Kagura and Sesshomaru also trended as Kagura met her bitter end by the hands of Naraku when trying to escape from him while Sesshomaru for lack of a better term bid his farewells to her.
And of course, we had a special trend when TOM asked in the opening whether there was a Giant Robot Day among the list of holidays, and that also trended in the US.
Great news in regards to IGPX. Discotek Media has just announced that IGPX will be getting a rerelease of the series in home video coming sometime next year. Additional details have yet to be announced. Also, in Attack on Titan news, it has been announced that the 2nd season is due to be released sometime in 2016. In addition, if you haven't heard, Toonami will be selling official T-shirts via Daylight Curfew starting this Thursday.
Tune in next week as we have our final regular schedule of the year, as the 2nd annual month of movies is only 2 weeks away. Until then, have a Happy Thanksgiving and stay gold.
Legend: The number next to the listed trend represents the highest it trended on the list (not counting the promoted trend), judging only by the images placed in the rundown. For the mobile app trends, the listed number of tweets are also sorely based on the highest number shown based on the images on the rundown.
United States Trends:
#Toonami (During Samurai Jack) [#8]
Giant Robot Day (During Attack on Titan) [#10]
#DBZKai [#2]
Piccolo (From DBZ Kai) [#7]
Raditz (From DBZ Kai) [#10]
Special Beam Cannon (From DBZ Kai) [#5]
#InuYashaFinalAct [#2]
InuYasha [#9]
Kagura (From InuYasha) [#5]
Kikyo (From InuYasha) [#10]
Sesshomaru (From InuYasha) [#9]
#CowboyBebop [#6]
#SamuraiJack [#6]
Worldwide Trends:
#InuYashaFinalAct [#5]
Kagura (From InuYasha) [#9]
Notes and Other Statistics:
Special thanks to @Andy_Salcedo, @DatDamnPR, @mmorse1017, @MykeJinX89, and others I forgot to mention for spotting some of the trends on this list.
Now, let's get out there and keep fighting the fight. Only Toonami on [adult swim] on Cartoon Network.