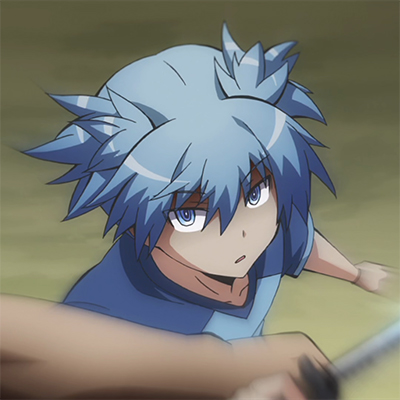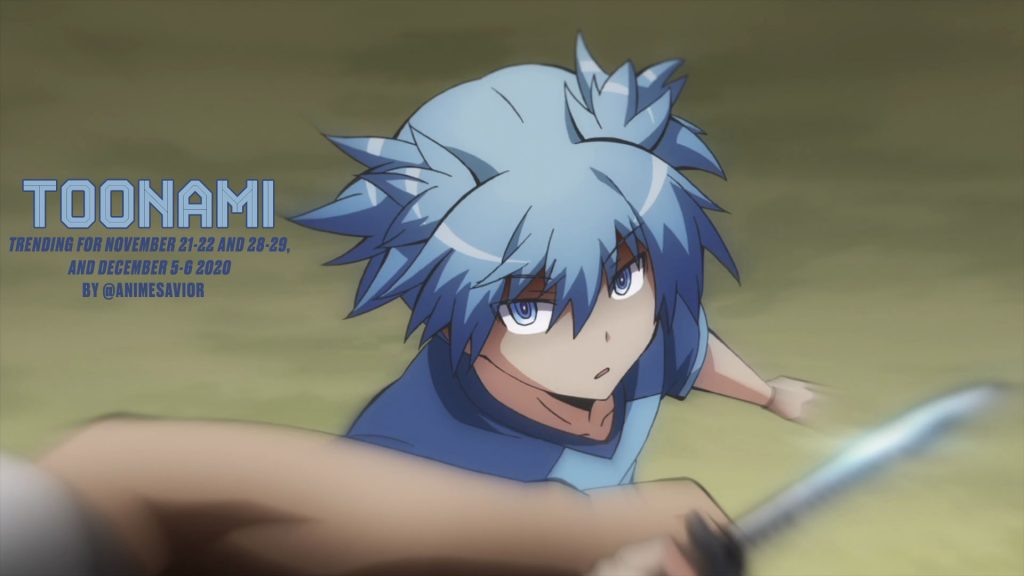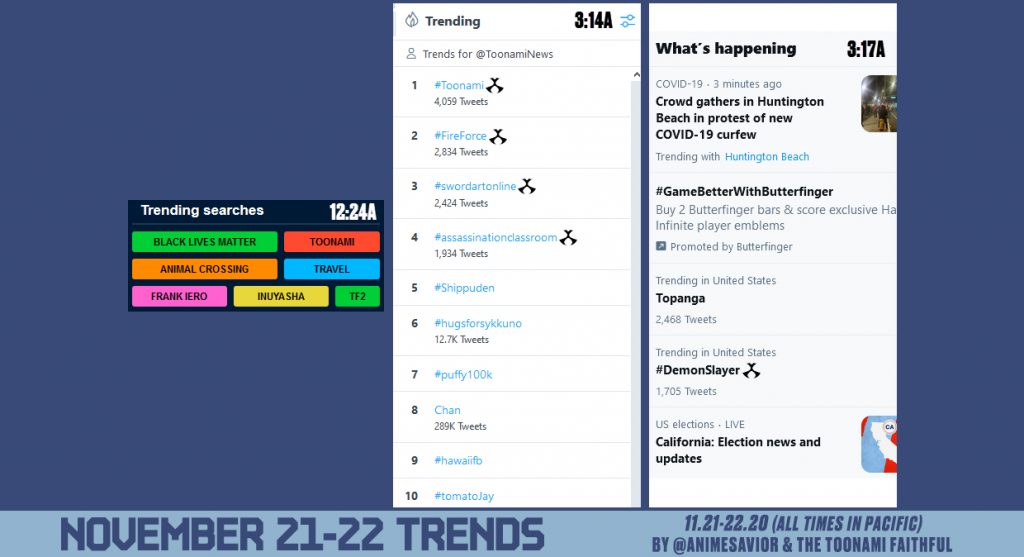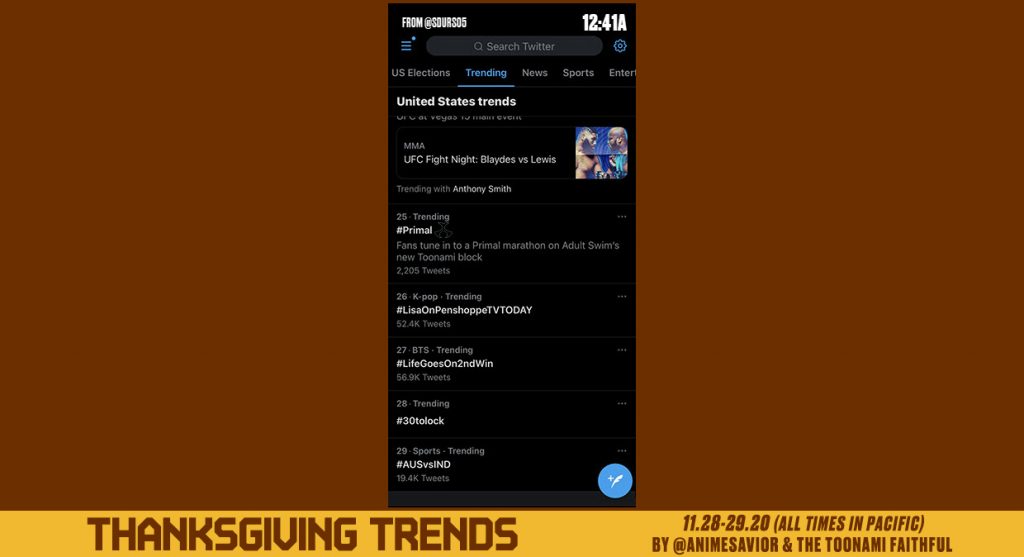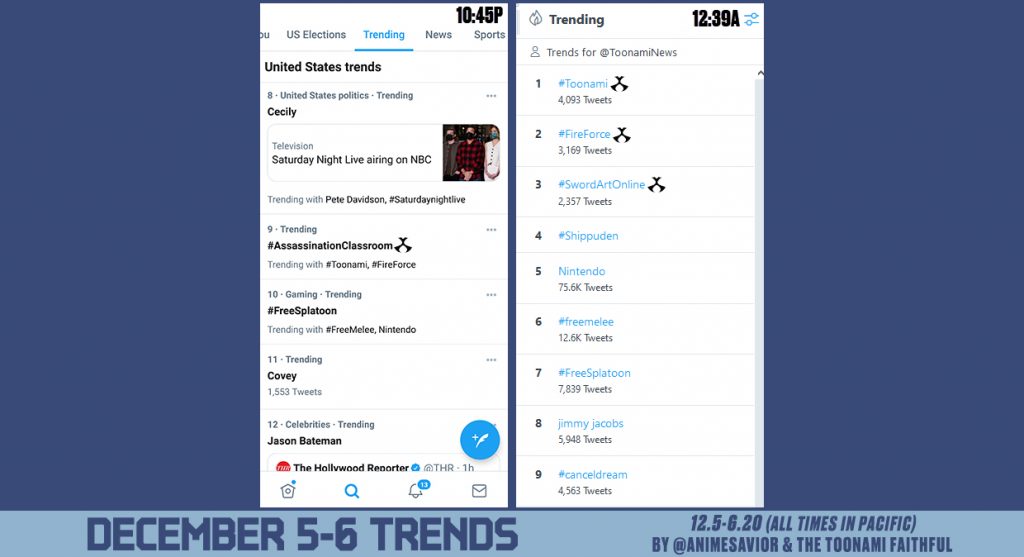 "Not going to lie [Mr. Takaoka], if we went for a round two, I'd lose. But I'll tell you something. Whatever you do, you're not the boss of us. Mr. Karasuma is our P.E. teacher, that's all there is to it. When you try to be our dad, it just makes us feel like children. Mr. Karasuma. may come off as all business, but he treats us as equals. He's approachable, he's cool, and he's got nothing to prove. Thanks for trying, but he's the class dad."
–          Nagisa Shiota, Assassination Classroom (Ep. 13)
This Toonami Trending Rundown is a triple-feature for the nights of Nov. 21-22, 28-29, 2020, and Dec. 5-6, 2020. The end of November marked the start of the holiday season, and while this season will be vastly different, with the pandemic, viewers had something to enjoy in the form of Toonami during the past few weeks.
Among some of the highlights from the past three weeks, Sword Art Online saw many of the show's recurring characters join Asuna and the rest of Kirito's friends in the Underworld. However, Gabriel and Vassago recruited an additional army of American, Chinese, and South Korean gamers to overwhelm this resistance with many under the impression that the Japanese gamers were the assaulters. Fire Force introduced Inca, who has gained the ability to sense upcoming fires and has used it to extort money and valuables as leverage to save her victims. Inca would later be revealed to be the Fifth Pillar and become the center of a war between the Fire Force and the White-Clad, as the two sides try to keep her away from the other. And Assassination Classroom introduced a new P.E. teacher for Class 3-E in Takaoka Akira, who put the students in an intense military boot camp to try and improve their skills to take down Koro-sensei. However, his extreme methods and tendency to beat down anyone who struggled or questioned his antics would receive scorn and pushback from Karasuma, Koro-sensei, and the students. Ultimately, chairman Asano would give Takaoka his walking papers, saying his antics proved ineffective.
In Gemusetto: Death Beats, Makasu, Josie, and Dr. Legs continue on their journey to the Center Of All Death, seeking passage on Captain Tytti's ferry that charters through mythological rivers. The ferry crashes and the gang finds themself face to face with Yama, the Hindu God of Death. Makasu swiftly defeats him, and the ferry continues until they land in Yama's domain, Diyu. The people of Suicidetown find themselves without a leader, a role that Makasu is more than happy to fill. The power goes to his head, and he strays further from his quest for self-love, going on an acetaminophen bender and completely misconstruing what he has learned about friendship from Dr. Legs. And in Shippuden, having been reanimated by Kabuto, Granny Chiyo reflects on her influence on Sasori's childhood when she encounters Kankuro in battle with puppets bearing a resemblance to the deceased Akatsuki member and his parents. Meanwhile, Omoi rushes to aid a group of young ninja from the Hidden Cloud Village who have encountered more White Zetsu than they can handle.
In addition, Toonami gave fans a Thanksgiving weekend marathon for the night of Nov. 28-29, as they aired the entire first season of Genndy Tartakovsky's Primal to promote WarnerMedia's new HBO Max service.
Unfortunately, few trends were spotted during these past three weeks. For the night of Nov. 21-22, the only one spotted was one for #Toonami on Tumblr. Meanwhile, the night of Nov. 28-29 had Primal trending in the United States on Twitter during its marathon. Things were a bit better trending-wise this past week as we returned to the regular schedule, as #Toonami trended in the United States on Twitter alongside Assassination Classroom and Fire Force. The full list can be seen below, which includes statistics and tweet counts from the Twitter app.
---

My Hero Academia's highly anticipated fifth season is presently in the works, and with that, Studio Bones announced that there will also be a third movie for the hit franchise. The key visual features Deku, Bakugo, and Todoroki with the words "He Will Meet 'The Three Musketeers." The new film is scheduled to premiere in summer 2021 in Japan.
/#ヒロアカ 劇場版最新作が来る──‼︎
\

『僕のヒーローアカデミア THE MOVIE』第3弾が2021年夏公開決定!!

今作も、原作の堀越耕平先生が総監修・キャラクター原案を担当!
劇場版も、更に向こうへ! PLUS ULTRA!

堀越耕平先生コメント&イラストはこちら▼https://t.co/Dud81V0oSe#heroaca_a pic.twitter.com/R5GmdYSuUa

— 『僕のヒーローアカデミア THE MOVIE』公式 (@heroaca_movie) November 30, 2020
Three Toonami-aired shows in Attack on Titan, Dr. Stone, and The Promised Neverland have new seasons on the horizon. Over the past weekend, some amazing news was revealed regarding their respective sequels:
Attack on Titan premiered its fourth and final season this past Sunday, Dec. 6, 2020, simulcasting (subbed) on FunimationNow and Crunchyroll. Prior to the premiere, Studio MAPPA and Kodansha have released a new key visual. In regards to the English dub (and possible Toonami premiere), Funimation says it's "coming at a later date."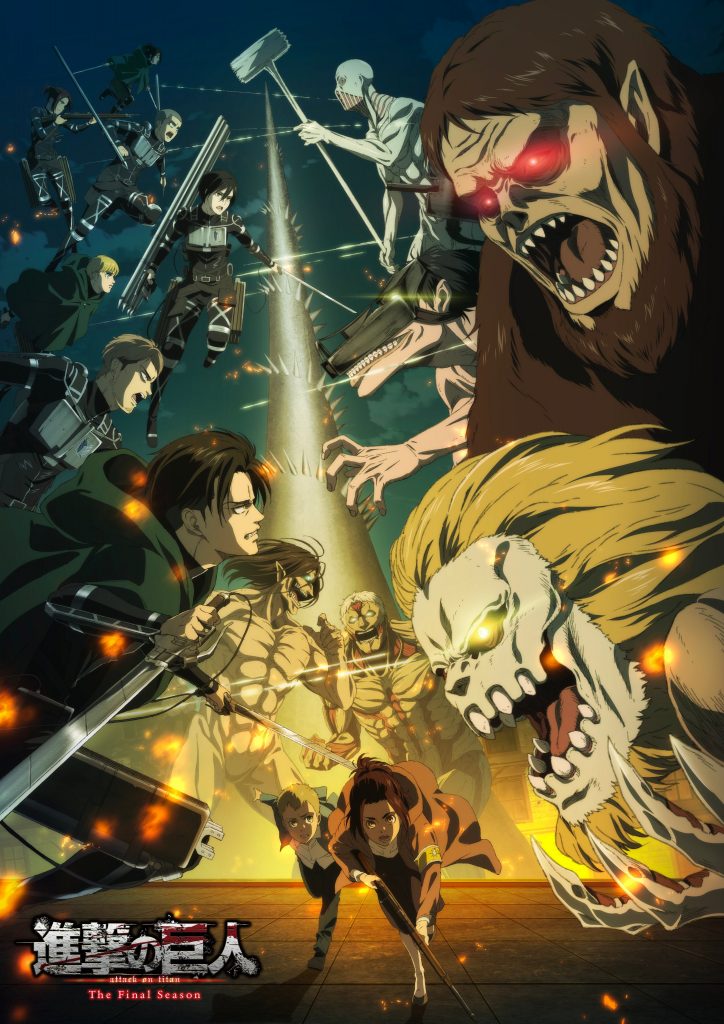 On Sunday, Dec. 6, Crunchyroll and Funimation revealed a brand-new visual and trailer for the upcoming second season of Dr. STONE, titled Stone Wars. The trailer reveals that the new season will be simulcast on Crunchyroll and FunimationNow beginning Jan. 14.
Aniplex and Cloverworks have released a new visual on Monday, Dec. 7 for the upcoming second season of The Promised Neverland. The season premiere will air on Jan. 7 in Japan, with simulcasting also expected to follow stateside.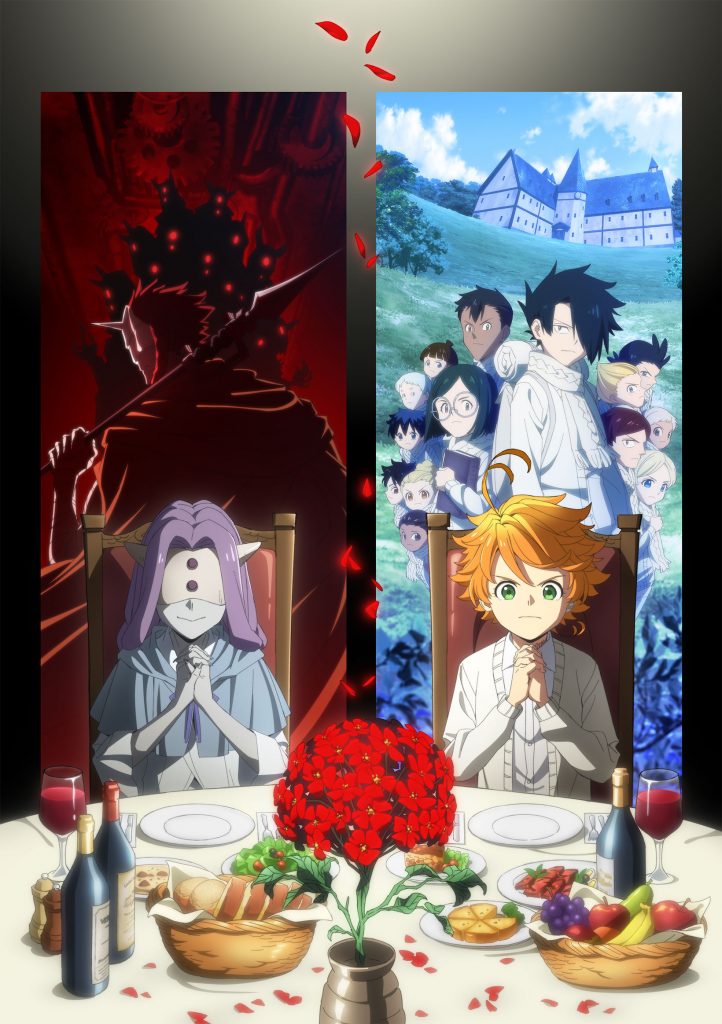 While SSSS.Gridman is scheduled to begin its Toonami run next month, fans of the show are looking forward to the sequel series in SSSS.Dynazenon. During Tokyo Comic Con on Dec. 6, Studio Trigger released some new information and a trailer for SSSS.Dynazenon. It will take place in the same universe as Gridman but will feature an entirely new cast. The series is scheduled to premiere in Japan in April 2021.
In what some are calling the anime equivalent of the Disney-Fox merger, AT&T and WarnerMedia will be selling Crunchyroll to Sony for $1.175 Billion. Crunchyroll will join Funimation Global Group, LLC, a joint venture between Funimation and Aniplex. The Funimation-Crunchyroll merger will rekindle a partnership between the two companies that lasted from 2016 to 2018. Regarding how this will affect Toonami (who remains with WarnerMedia), their co-productions with Crunchyroll (Blade Runner, Pirate Princess, and Shenmue) will not be affected by this merger. How this will affect the anime business as a whole in the long term is anyone's guess.
Also before anyone asks: this will not affect Blade Runner, Pirate Princess, or Shenmue. Those deals are clearly defined and a great co-release strategy with us and Sony is totally doable.

— SPIRAL CURSE DEMARCO (@Clarknova1) December 10, 2020
Finally, we have some breaking news. For Christmas week on Dec. 26, Toonami will be airing a marathon of Cowboy Bebop starting at midnight. The schedule of what episodes will air on the night has yet to be revealed at this time.
A week prior on Dec. 19, Toonami will be giving fans a holiday gift with another night of DC movies. Due to the upcoming release of Wonder Woman 1984 in theaters and streaming on HBO Max, the block will be airing the animated films Wonder Woman Bloodlines from midnight to 1:45 a.m, followed by Justice League New Frontier from 1:45 a.m. to 3:30 a.m. This latest schedule change also means that this upcoming Saturday's edition of Toonami (Dec. 12) will be the final regularly scheduled one for the year. While most programming will resume their respective runs in the new year, Gemusetto: Death Beat(s), on the other hand, will not be airing its season finale on Toonami, despite earlier reports. We have yet to hear official confirmation on when these final episodes will air.
---

Until next week, have yourself a Happy Hanukkah, stay safe, be sure to visit blacklivesmatters.carrd.co to see what you can do to help the fight against social inequality, and continue to do your part to stop the spread of COVID-19 and protect others by following your local health advisories. Stay at home unless essential purposes require you to go out, practice social distancing by staying six feet/two meters away from one another if possible, and wash your hands thoroughly for at least 20 seconds.
And of course, we'd like to send our condolences to all those affected by the passing of Kirby Morrow, the voice of Goku in Dragon Ball Z (Ocean Dub), Miroku in InuYasha, and Trowa Barton in Gundam Wing, among other roles. He, unfortunately, passed away this past month at the age of 47. Rest in peace, and thank you for the memories.
---
Legend: The shows listed are ordered based on their appearance on the schedule. Show trends are listed in bold. The number next to the listed trend represents the highest it trended on the list (not counting the promoted trend), judging only by the images placed in the rundown. For the Twitter tweet counts, the listed number of tweets are also sorely based on the highest number shown based on the images on the rundown.
November 21-22, 2020 Trends
Tweet Counts:
#Toonami [4,059 tweets]
#SwordArtOnline [2,424 tweets]
#FireForce [2,834 tweets]
#AssassinationClassroom [1,934 tweets]
#DemonSlayer [1,705 tweets]
Tumblr Trends:
November 28-29, 2020 Trends
United States Trends:
Tweet Counts:
December 5-6, 2020 Trends
United States Trends:
#Toonami [Trended with #AssassinationClassroom]
#FireForce [Trended with #AssassinationClassroom]
#AssassinationClassroom [#9]
Tweet Counts:
#Toonami [4,093 tweets]
#SwordArtOnline [2,357 tweets]
#FireForce [3,169 tweets]
Notes and Other Statistics:
Special thanks to @sdurso5 and others I forgot to mention for spotting some of the trends on this list.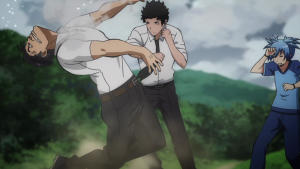 Only Toonami on [adult swim] on Cartoon Network.
Did you enjoy this week's Toonami? Let us know by commenting below or directly on our social media. And be sure to follow us on @ToonamiNews and subscribe to our podcast on Soundcloud for future content and breaking news updates.