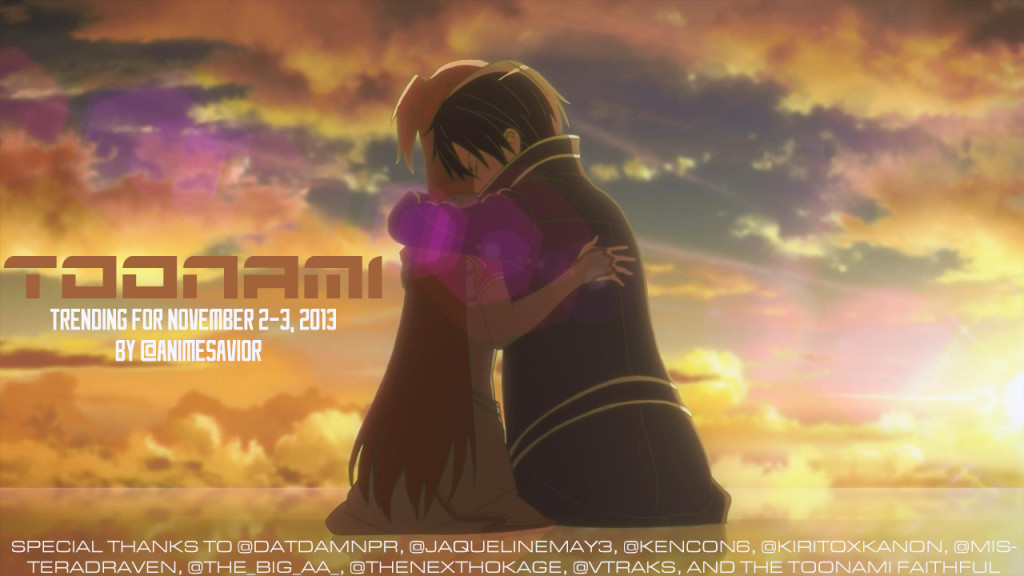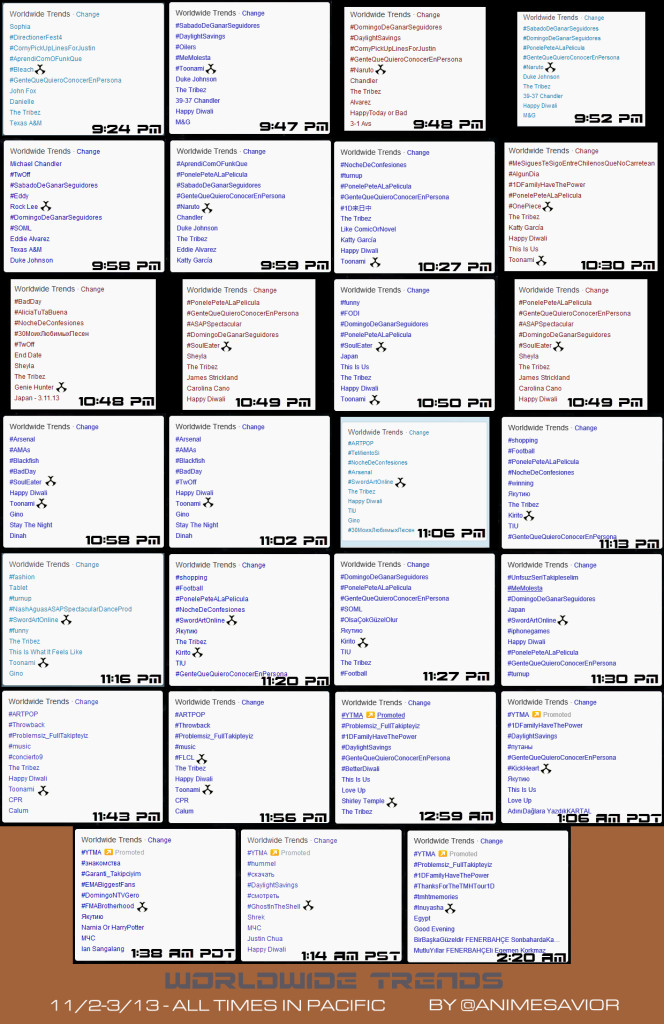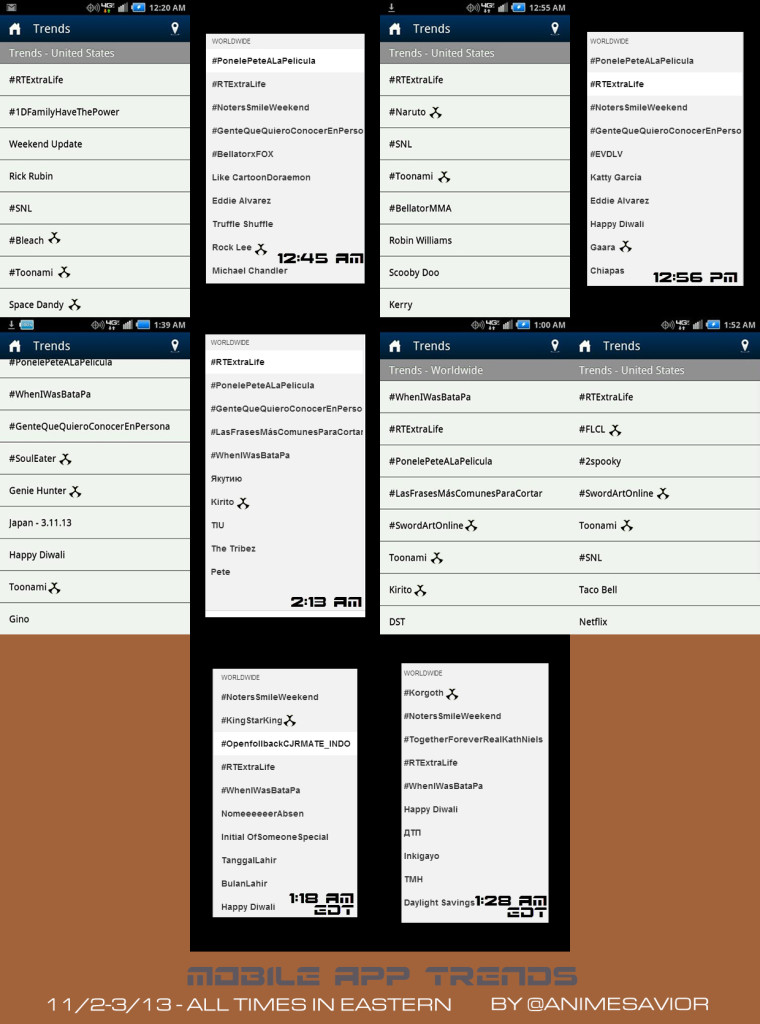 "I'm happy I got to meet you, Kazuto. And to be with you, and to live with you. This the happiest I've ever been in my whole life. Thank you for that, and I love you."
–          Asuna Yuuki, Sword Art Online (Episode 14)
"We don't care, at all, if you think a show or two that we were able to scrounge up to do something special for the DST hour (unlike oh, EVERY OTHER NETWORK ON TV, who just straight up repeats an hour) "feels too Adult Swim." We helped fund Kick-Heart, it's amazing, we love Genndy and can't air Samurai Jack or his Clone Wars, so we threw on Korgoth. Perfect fits to us. And as far as King Star King, we thought it was hilarious and had a ton of action. And it's 11 minutes of your life. If you somehow are feeling like that means we "betrayed" you, I don't have any idea what to say to you. As always, we're doing the best and trying to have fun with the limited tools available. If that makes you somehow feel like we don't love you, that's a shame."
The Toonami Trending Rundown for November 2-3, 2013. Daylight Savings is over and Sword Art Online's Aincrad arc ends with a bang, as while unfortunately the streak of perfect nights has come to an end as #IGPX failed to trend at all (sorry, Jose) and #StarWarsTCW couldn't trend worldwide, every other show trended both US and Worldwide and #StarWarsTCW trended in the US.
Among the highlights from the shows, both Garra and Rock Lee trended as Lee defeated Garra and apparently disintegrated him, as well as Genie Hunter (as an upgrade to Maka's Witch Hunter technique), as she used it to defeat Mosquito, and to end the Aincrad arc with a bang, Kirito trended as he defeated Heathcliff to complete the game as well as weeping with Asuna in regards to their relationship.
Of course, another month means another Q&A session. Among the general questions, there will be a month of movies coming up this December (though no specifics have been mentioned as of now), Toonami has to cut the OP and/or EDs for commercial reasons (as commercials in Japan tend to be shorter than their US counterparts, and Toonami needs ad money to get and make these shows), and Toonami's newest acquisition will be Space Dandy, which as you probably know will be coming this January. And speaking of Space Dandy, that also trended in the US from the Q&A.
And for the daylight savings "extra" hour, we were treated to a few specials which included King Star King, Korgoth of Barbaria, as well as an encore showing of Kick Heart, and all three shows trended both US and Worldwide. Also, after quite a few showings of the commercial, Shirley Temple apparently trended worldwide again.
I should probably mention that due to the fallback for some providers, DVRing only SAO & FLCL actually gave you the "surprise hour". If you recorded Soul Eater on the other hand, you got that plus those 2 previously mentioned shows (or if your provider had "To Be Announced" during the 2am/1am EDT hour, than that is where SAO and FLCL was). If you record the whole block or at least those three shows, make sure you have that in mind when you fire up your recordings, but if you only recorded what was supposed to be SAO and/or FLCL, unless you have the DVDs, you're going to need to check out Adult Swim on Demand or Adult Swim Gold to watch those episodes when they are posted.
But otherwise, we've got ourselves a taste of what Toonami has in store (in terms of hours) when Space Dandy joins the block in January. In the meantime, tune in next week as Sword Art Online begins the (in)famous Fairy Dance arc. Also in regards to Soul Eater, I'm not sure where exactly it is, but these next few episodes is where the anime begins to diverge from the manga. Stick around of course, but if you've been holding out on reading on the manga from this point until Toonami reached it (which is Chapter 32, if you're wondering), you can now pass go and collect $200 to buy and read the rest of the story, if you haven't already. And if you haven't, I definitely recommend you go check it out if you gained a love for Soul Eater with Toonami's airings. The possibility of a Soul Eater Brotherhood in the future is anyone's guess, but for now, enjoy the rest of the show and the manga.
Oh, and personally in regards to the DST hour, while I think King Star King and Korgoth aren't the best choices for Toonami (they were alright, personally), I do think that Toonami's specialty of showing action animation is pretty broad enough to show such action-comedies without resorting to Network Decay (though probably not frequently), not to mention it's always great for Toonami to have experimentation to see if something can really make a buzz with people.  Ditto for Sword Art Online. While quite a few of you guys have concerns over it's "otaku pandering" and "wish fulfillment" aspects (some of them valid, especially since Toonami is a gateway drug to the medium), it still has enough good parts to be a Toonami show. Some people have gone as far as saying that Sword Art Online will "kill" Toonami like Naruto supposedly did, but 14 episodes in and Toonami hasn't been canceled yet. In fact, the block hasn't looked this great in years. Really, all i can say is if you want a wide variety of action toons on Toonami, you're probably not gonna like every show that they air. And quite frankly, that's okay. I'm thinking about posting up an entire editorial to talk more about this topic sometime later this week regarding that matter if i have time, but let me know what you think about this.

Legend: The number next to the listed trend represents the highest it trended on the list (not counting the promoted trend), judging only by the images placed in the rundown.
US Trends:
Toonami/#Toonami (During Bleach, Naruto, One Piece, Soul Eater, Sword Art Online, FLCL, King Star King, Korgoth, Kick Heart, Star Wars TCW, FMA Brotherhood, Ghost In The Shell, IGPX, and InuYasha) [#1]


#Bleach

[#5]

Space Dandy (During Bleach. Phone App only) [#8]


#Naruto

[#5]

#OnePiece

[#5]

#SoulEater

[#5]

Genie Hunter (From Soul Eater)

[#10]

#SwordArtOnline

[#4]

Kirito (From Sword Art Online)

[#9]

#FLCL

[#5]

#Surprise (During the daylight savings adjustment hour)

[#5]

#KingStarKing

[#6]

#Korgoth

[#3]

#KickHeart

[#6]

#StarWarsTCW

[#4]

#FMABrotherhood

[#4]

#GhostInTheShell

[#6]

#InuYasha

[#2]
Worldwide Trends:
Toonami/#Toonami (During Naruto, One Piece, Soul Eater, Sword Art Online, and FLCL)

[#7]

#Bleach

[#5]

#Naruto

[#5]

Garra (From Naruto. Phone App only)

[#9]

Rock Lee (From Naruto)

[#5]

#OnePiece

[#5]

#SoulEater

[#5]

Genie Hunter (From Soul Eater)

[#8]

#SwordArtOnline

[#5]

Kirito (From Sword Art Online)

[#7]

#FLCL

[#5]

#KingStarKing (Phone App only)

[#2]

#Korgoth (Phone App only)

[#1]

#KickHeart

[#5]

Shirley Temple (During Kick Heart)

[#8]

#FMABrotherhood

[#5]

#GhostInTheShell

[#5]

#InuYasha

[#5]
Special thanks to @DatDamnPR, @JaquelineMay3, @kencon06, @KiritoxKanon, @MisterADRaveN, @the_big_aa, @TheNextHokage, @VTraks, and others I forgot to mention for spotting some of the trends on this list.
Just Dandy. Only Toonami on [adult swim] on Cartoon Network.