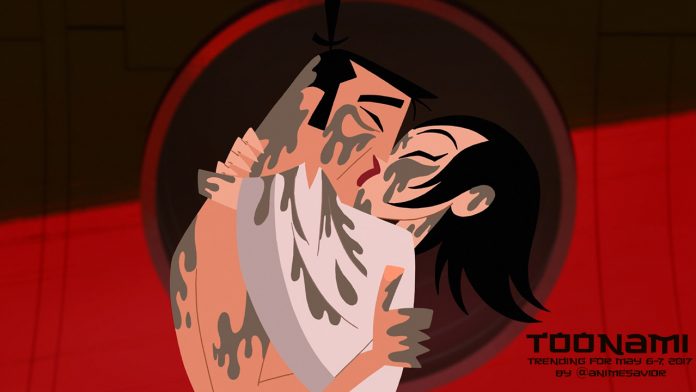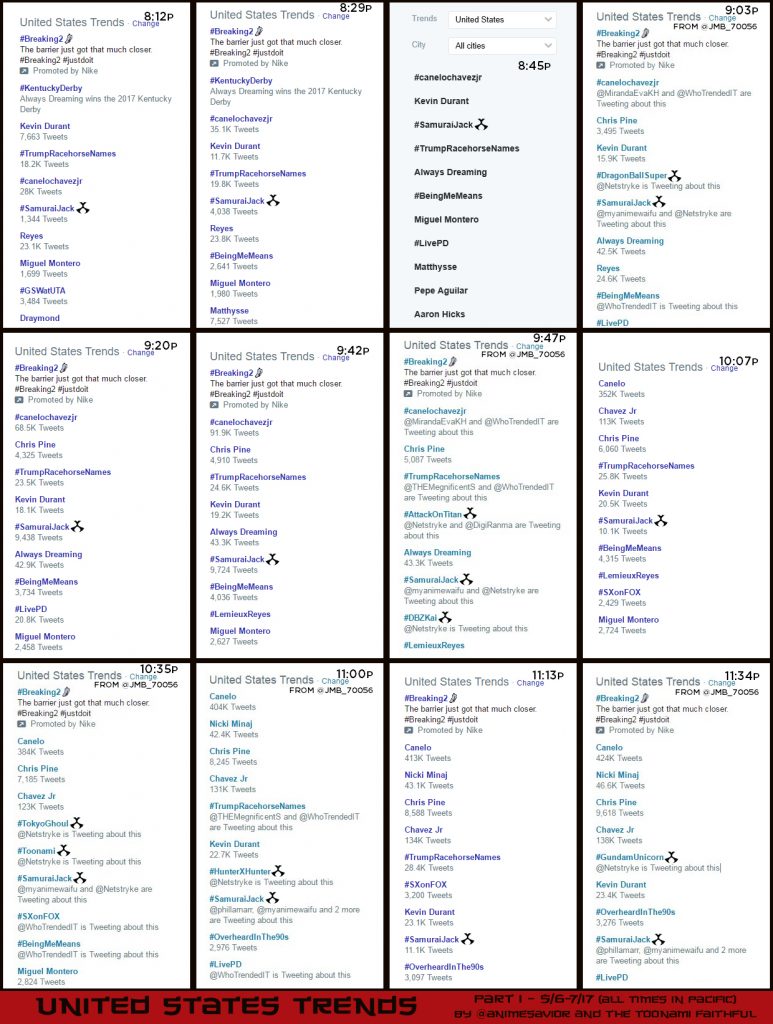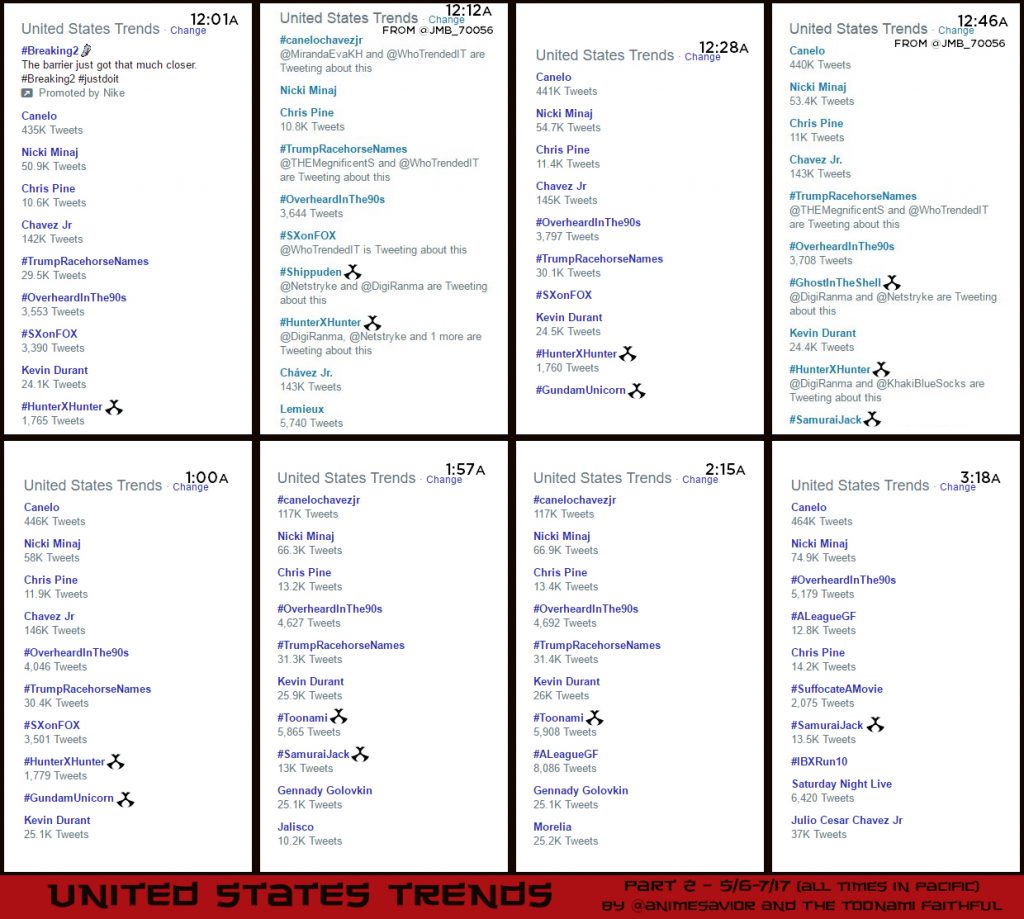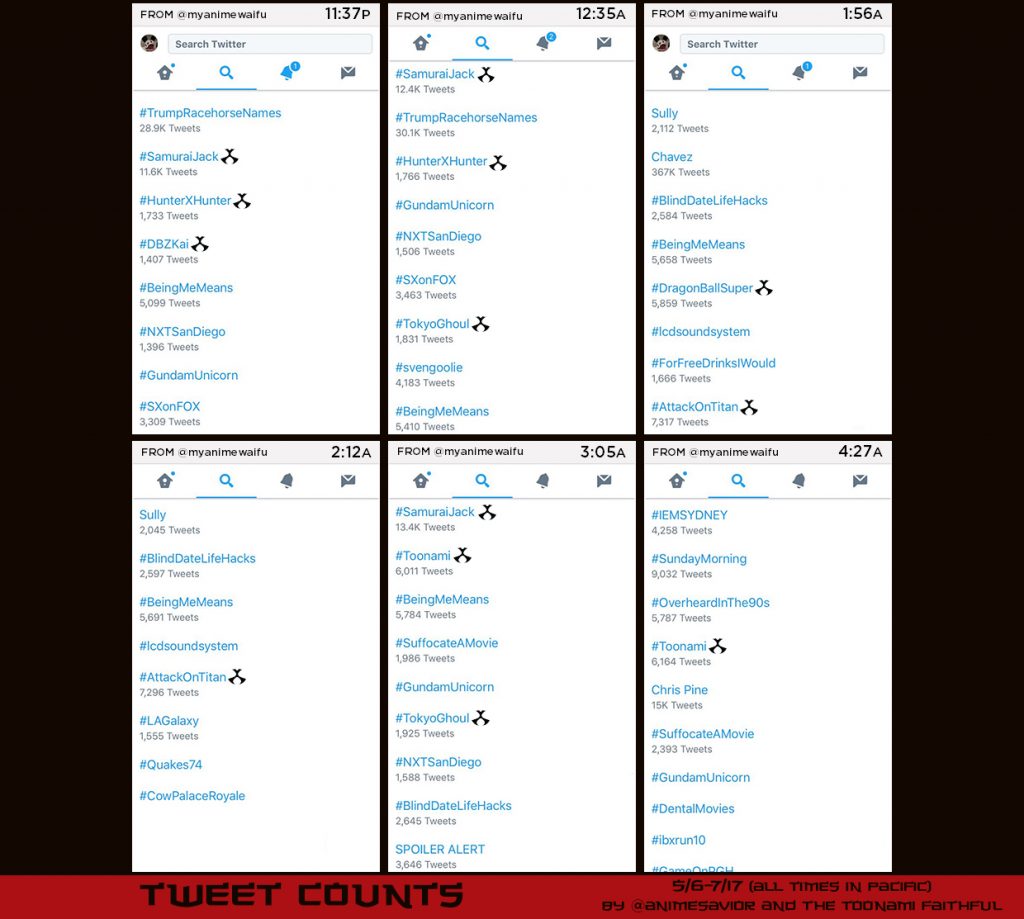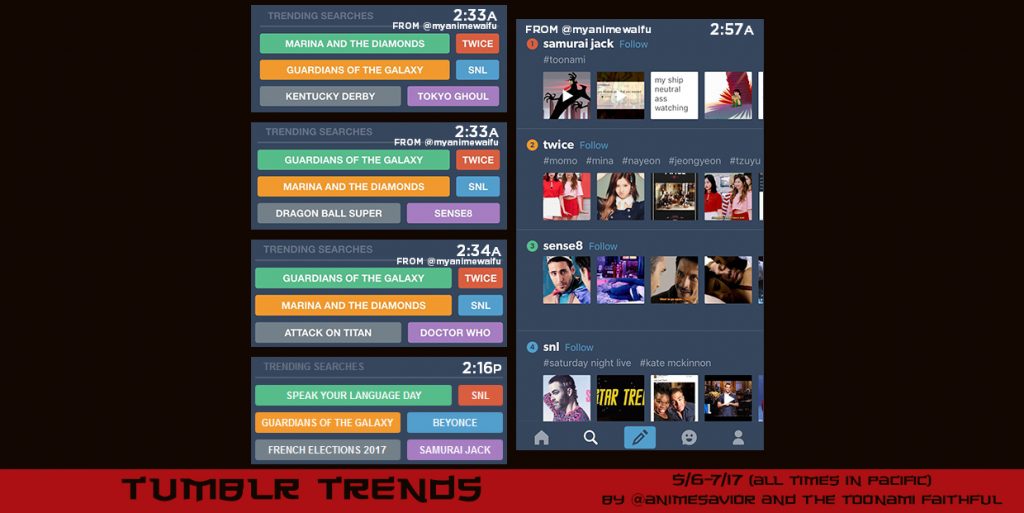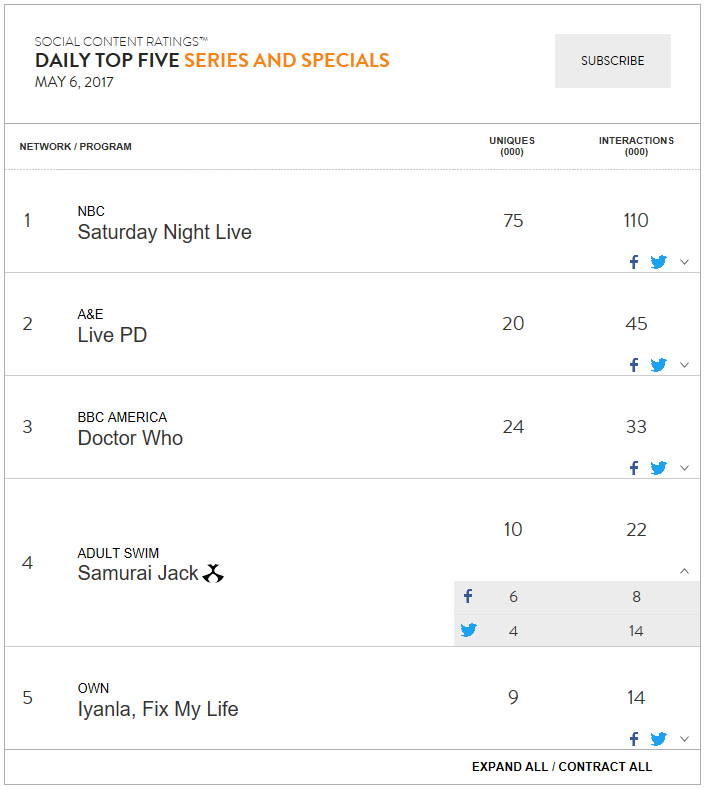 Everybody loves somebody sometime
Everybody falls in love somehow
Something in your kiss just told me
That sometime is now.
Everybody finds somebody someplace
There's no telling where love may appear
Something in my heart keeps saying
My someplace is here.
If I had it in my power
I'd arrange for every girl to have you charms
Then every minute, every hour
Everybody would find what I found in your arms.
–          Dean Martin, "Everybody Loves Somebody" (1947), which was used as the ending theme for Samurai Jack Season 5, Episode 8.
"What we learned tonight: even if someone tries REALLLYY HARD to kill you, they might still love you."
–          Tara Strong, the voice of Ashi
The Toonami Trending Rundown for May 6-7, 2017. Some big moments for the better cartoon show this week, with Jack and Ashi heading out on their quest to defeat Aku and developing their relationship along the way, while Gon and Killua try to escape from the hands of the Phantom Troupe, and Pain begins a surprise assault on the Leaf village, among other great moments.
Things would go pretty well trending-wise as every show successfully trended on Twitter during their respective East Coast airings, and Samurai Jack would also trend in the US during and after its West Coast airing as well. In addition, Samurai Jack, Dragon Ball Super, Attack on Titan, and Tokyo Ghoul would also trend on tumblr.
Finally, Samurai Jack would once again make the list of Nielsen Social's top 5 most talked about shows on Twitter and Facebook, making it to the #4 spot. This is the 20th time a Toonami show has made it onto this list since we started recording this feat and the 5th for Samurai Jack this season.
---
This week, as part of an advertisement with Warner Bros. Pictures, Toonami showcased a preview of the new film, King Arthur: Legend of the Sword, which included an interview with the film's lead actor, Charlie Hunnam. You can check it out below.
This Memorial Day weekend, following the week Samurai Jack wraps up the season, it was announced on Thursday that Toonami will have an encore marathon of all 10 episodes of season 5 in a row, so for those who missed out on the initial run as well as for those who are up for binge-watching the entire season, you'll have a chance to do so then.
Tune in next week as Samurai Jack showcases the penultimate episode of Season 5, among other great moments. Until next week, have a (early) Happy Mother's Day and see you again on Saturday for another round of the better cartoon show.
---
Legend: The shows listed are ordered based on their appearance on the schedule. Show trends are listed in bold. The number next to the listed trend represents the highest it trended on the list (not counting the promoted trend), judging only by the images placed in the rundown. For the Twitter tweet counts, the listed number of tweets are also sorely based on the highest number shown based on the images on the rundown.
United States Trends:
Toonami/#Toonami [#5]
#SamuraiJack (Also during the West Coast airing) [#3]
#DragonBallSuper [#4]
#DBZKai [#7]
#AttackOnTitan [#4]
#TokyoGhoul [#4]
#HunterXHunter [#7]
#GundamUnicorn [#5]
#Shippuden [#6]
#GhostInTheShell [#7]
Tweet Counts:
#Toonami [6,164 tweets]
#SamuraiJack [13.4k tweets]
#DragonBallSuper [5,859 tweets]
#DBZKai [1,407 tweets]
#AttackOnTitan [7,317 tweets]
#TokyoGhoul [1,925 tweets]
#HunterXHunter [1,766 tweets]
Tumblr Trends:
#samurai jack
#dragon ball super
#attack on titan
#tokyo ghoul
Notes and Other Statistics:
Special thanks to @JMB_70056, @myanimewaifu, and others I forgot to mention for spotting some of the trends on this list.
See You, Space Cowboy. Only Toonami on [adult swim] on Cartoon Network.