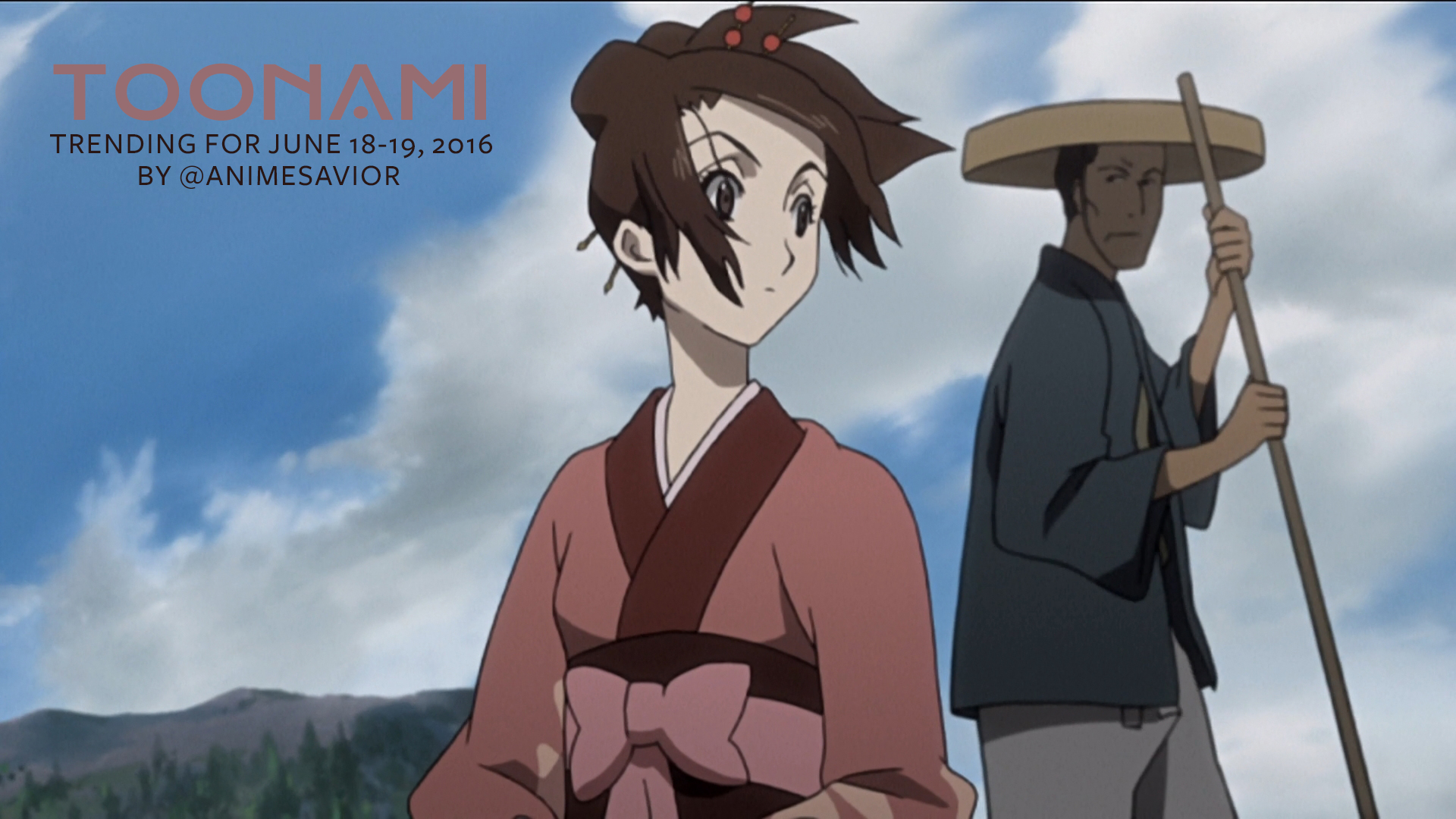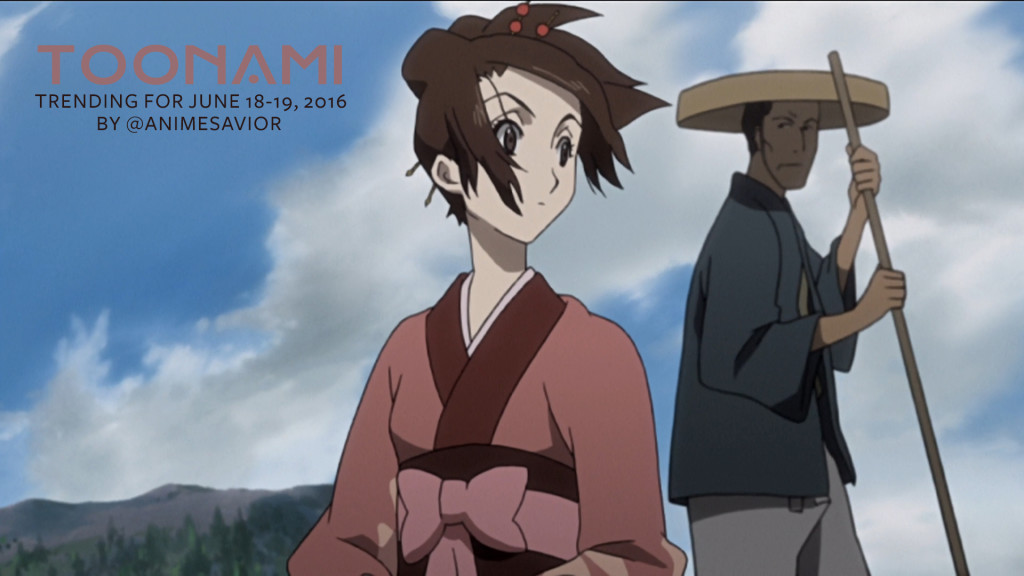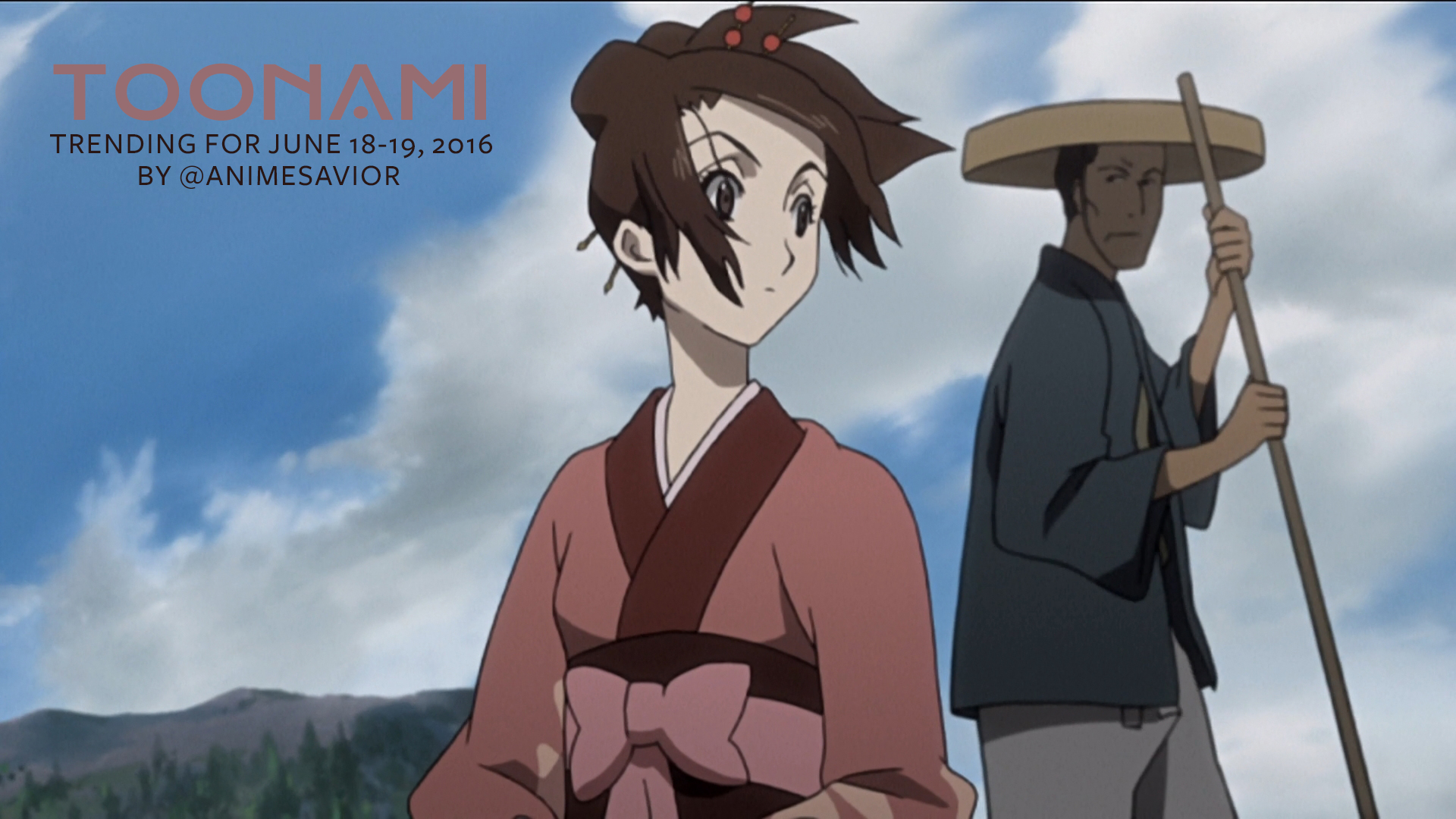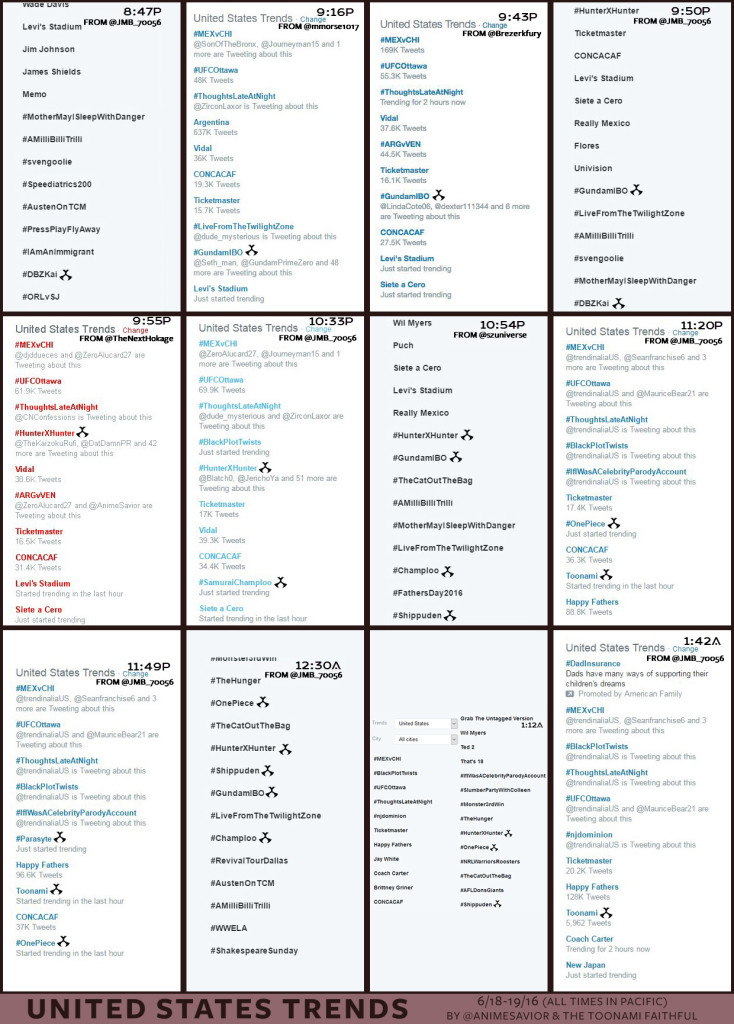 "It's been too hard to say goodbye, so I'm going the rest of the way alone. I want you to know that I really enjoyed the talk we had around the campfire last night. Before I knew it, I found myself wishing that this journey could go on forever. But then all of a sudden I got scared. When I thought of the three of us splitting up, I started to panic. Maybe I've been relying on you guys too much this whole time. I wasn't sure if I'd be able to make it on my own once this thing is over. So I gave it a lot of thought. And I decided to make this last leg of the trip alone. Just one last thing, I know you said that you'd put off your duel until our journey was over, but I really don't want you to kill each other. The souvenir castella cakes are a farewell gift from me. Take some time, eat the cakes, and try to reconsider the duel. Goodbye, I hope we meet again someday."
–     Fuu, Samurai Champloo (Ep. 24)
The Toonami Trending Rundown for June 18-19, 2016. A good night for Toonami's social media buzz overall as Toonami and every show had trended during their respective East Coast airings, the first time since April 2nd that this has occurred. Gundam IBO and Hunter x Hunter would also trend during their respective West Coast airings as well, while One Piece also trended on Tumblr.
With the Summer season now here as of Monday, the convention season is in full swing, and we should be hearing a lot of anime news in the weeks ahead. I myself will be going to SDCC next month to help you get some Toonami related news from there. Here's a couple news bits in regards to Toonami related programming:
Tune in next week as Samurai Champloo showcases the penultimate episode, among other great moments. Until next week, congratulations to the Cleveland Cavaliers on winning the NBA Championship and finally breaking Cleveland's 52 year championship curse, and stay gold.
[divider]
Legend: The shows listed are ordered based on their appearance on the schedule. Show trends are listed in bold. The number next to the listed trend represents the highest it trended on the list (not counting the promoted trend), judging only by the images placed in the rundown. For the Twitter tweet counts, the listed number of tweets are also sorely based on the highest number shown based on the images on the rundown.
United States Trends:
Toonami [#7]
#DBZKai [#24]
#GundamIBO (Also during the West Coast airing) [#7]
#HunterXHunter (Also during the West Coast airing) [#4]
#SamuraiChamploo [#9]
#Champloo [#23]
#Shippuden [#25]
#OnePiece [#7]
#Parasyte [#6]
Tweet Counts:
Toonami [6,296 tweets]
#Toonami [3,525 tweets]
#DBZKai [2,196 tweets]
#GundamIBO [2,851 tweets]
#HunterXHunter [3,481 tweets]
#SamuraiChamploo [1,092 tweets]
#Shippuden [1,031 tweets]
#OnePiece [6,355 tweets]
Tumblr Trends:
Special thanks to @Brezerkfury, @myanimewaifu, @JMB_70056, @szuniverse, @TheNextHokage, and others I forgot to mention for spotting some of the trends on this list.
Crazy Like A Fox. Only Toonami on [adult swim] on Cartoon Network.