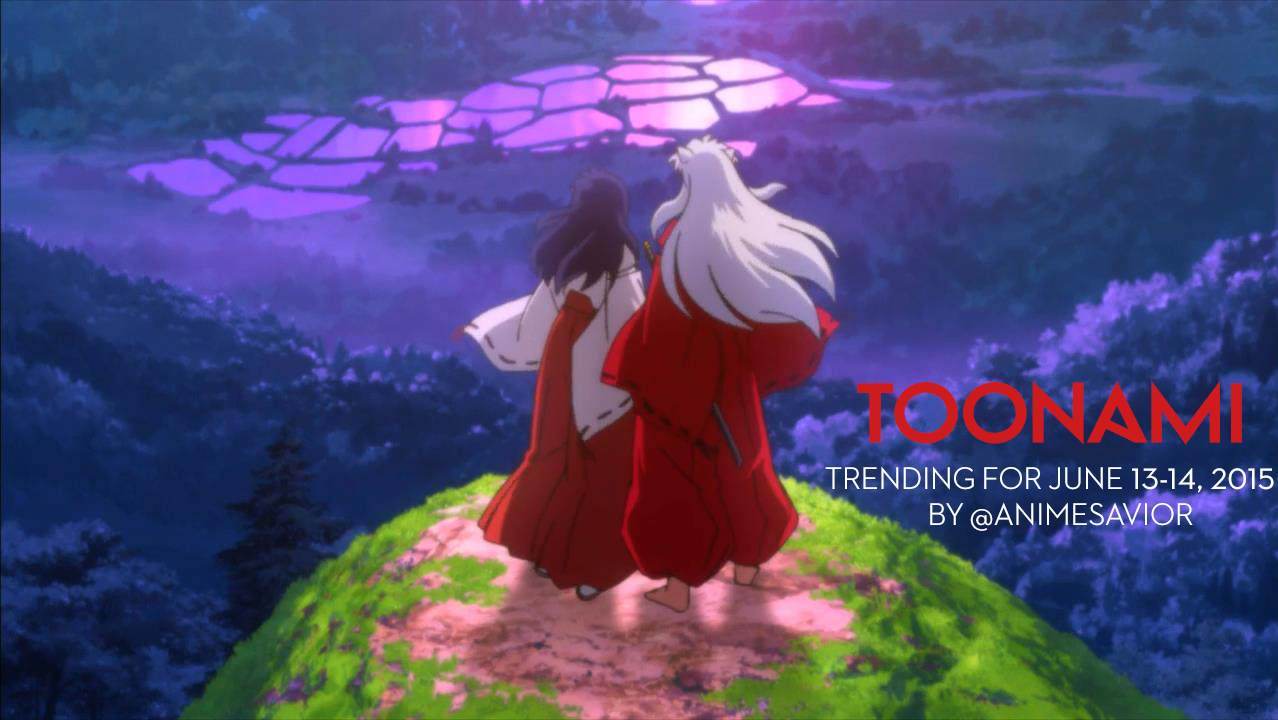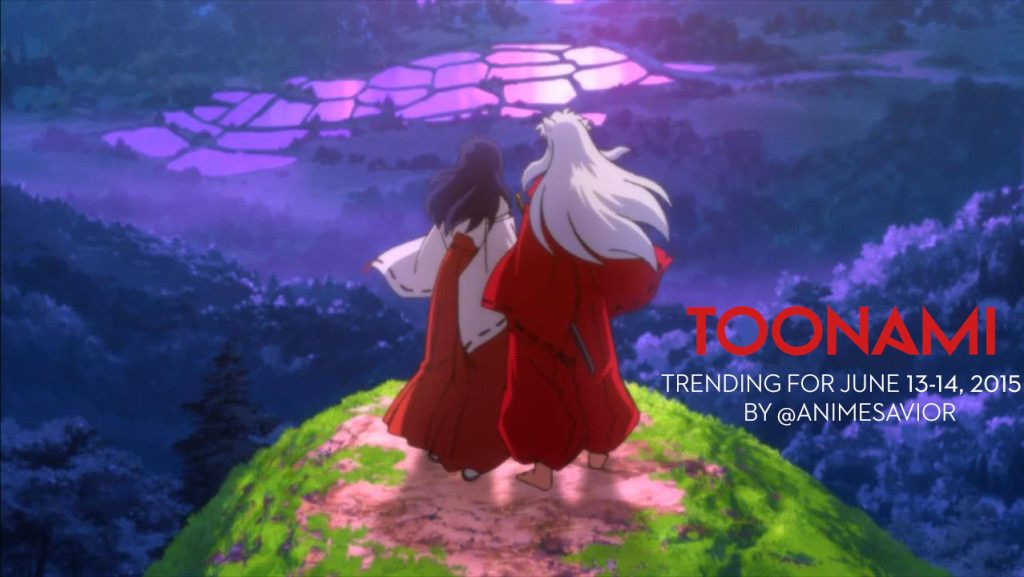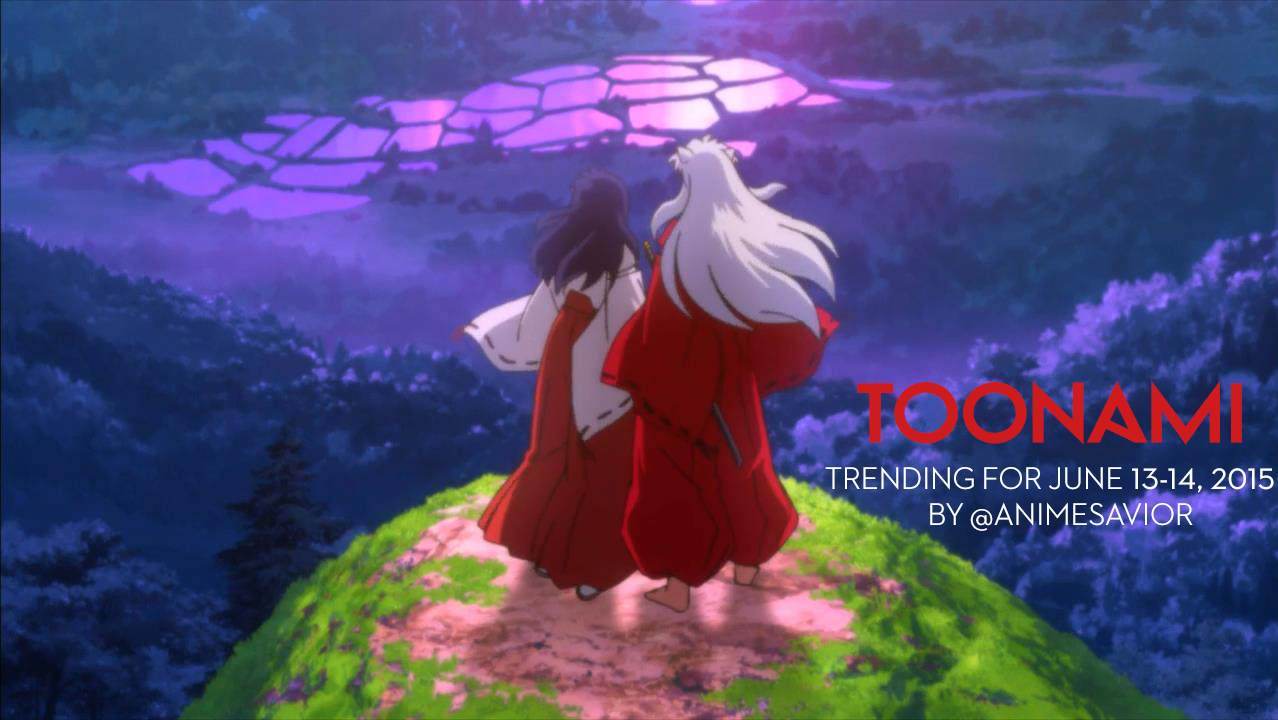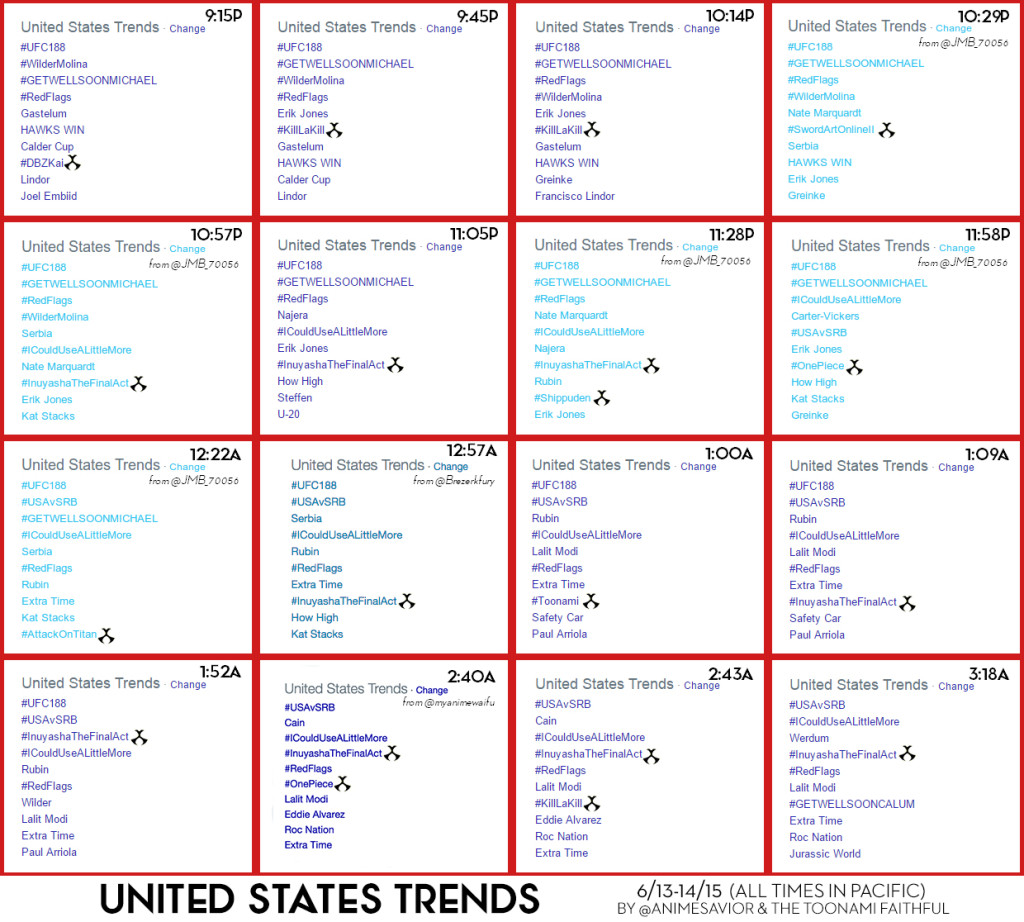 "As I live in this world, I know that things will continue to change. But I'm not worried about the future. I'm going to spend every day with InuYasha. No matter what, now I know the two of us will be together, as we head toward tomorrow."
–     Kagome Higurashi, InuYasha: The Final Act (Ep. 26)
The Toonami Trending Rundown for June 13-14, 2015. As InuYasha's run finally comes to an end after 13 years, fortunes smiled upon the Toonami Faithful as Toonami and every show on the block all trended in the US during their respective East Coast airings, in addition to Kill la Kill, InuYasha, and One Piece also trending during their respective West Coast airings.
This marks the first time since back in January 2014 that a "perfect night" of trending has occurred, and considering that we've had a bit of a drought in terms of social media buzz these past few months, it's quite a sight for sore eyes. Of course, for those wondering how the trending procedure works so we can have more nights like this, check out this video by JMB_70056.
[divider]
InuYasha Trending Retrospective
Since it first aired back in August 31, 2002, InuYasha has long been a staple for Toonami, Adult Swim, and Cartoon Network as a whole, acting as one of many "gateway drugs" into anime for millions of people over it's run as InuYasha and Kagome and company successfully destroy the Shikon Jewel and put a stop to Naraku in his tracks.
During it's run on Toonami, Final Act has successfully trended during 9 different weeks of it's run, including producing 10 different character and in-show content trends. The full details can be seen in the below image: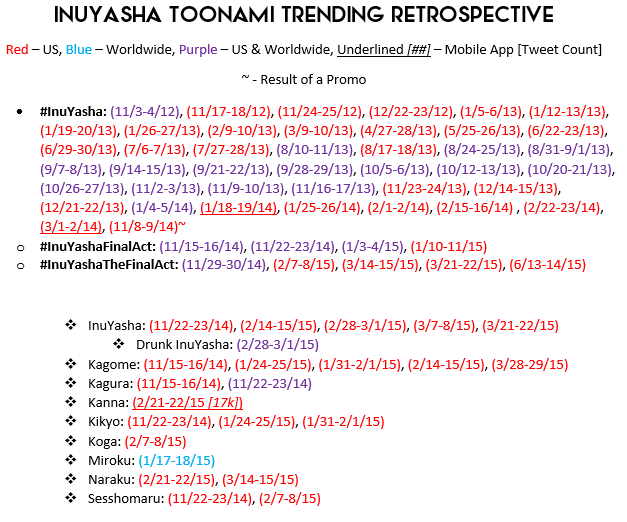 It's been a long and tedious journey for InuYasha and our crew, filled with many highs and lows, and considering that we had to wait until November of last year for Toonami to finally get Final Act, we never knew if this day would ever come. Well, today is finally that day, and I like many InuYasha fans were happy to have enjoyed the ride. Thanks for the memories, Rumiko Takahashi.
[divider]
And Finally…
Tune in next week as Michiko and Hatchin joins the block at 1 am Eastern, while Sword Art Online continues to the climax of the Phantom Bullet arc at it's new time at 1:30am, among other great moments from the other shows. Until next week, have a great E3 week, and as Kagome would say, keep heading towards tomorrow.
[divider]
Legend: The shows listed are ordered based on their appearance on the schedule. Show trends are listed in bold. The number next to the listed trend represents the highest it trended on the list (not counting the promoted trend), judging only by the images placed in the rundown. For the mobile app trends, the listed number of tweets are also sorely based on the highest number shown based on the images on the rundown.
United States Trends:
#Toonami (During Sword Art Online (West Coast)) [#8]
#DBZKai [#8]
#KillLaKill (Also during the West Coast airing) [#6]
#SwordArtOnlineII [#6]
#InuYashaTheFinalAct (Also during the West Coast airing) [#3]
#Shippuden [#9]
#OnePiece (Also during the West Coast airing) [#7]
#AttackOnTitan [#10]
Tweet Counts:
#InuYashaTheFinalAct [4,119 tweets]
#OnePiece [17.2k tweets]
Special thanks to @brezerkfury, @JMB_70056, @myanimewaifu, and others I forgot to mention for spotting some of the trends on this list.
Hello, Mother. Hello, Daughter. Hello, Mayhem. Only Toonami on [adult swim] on Cartoon Network.