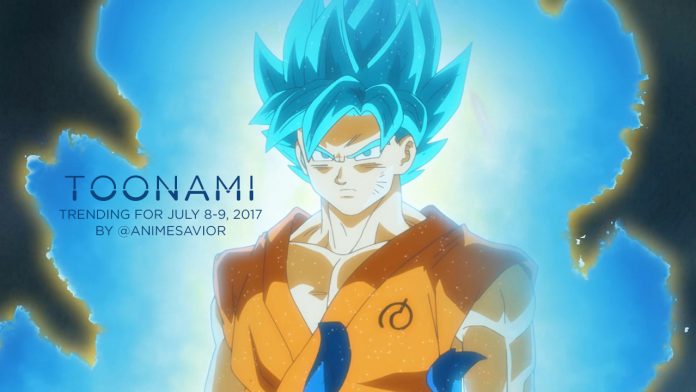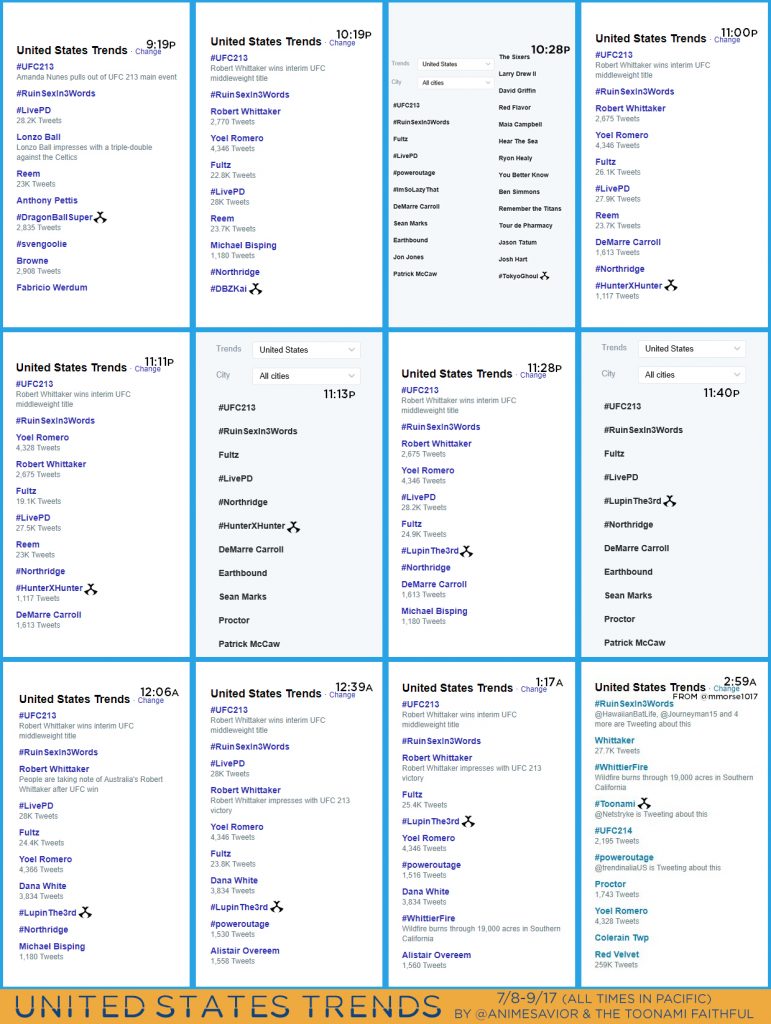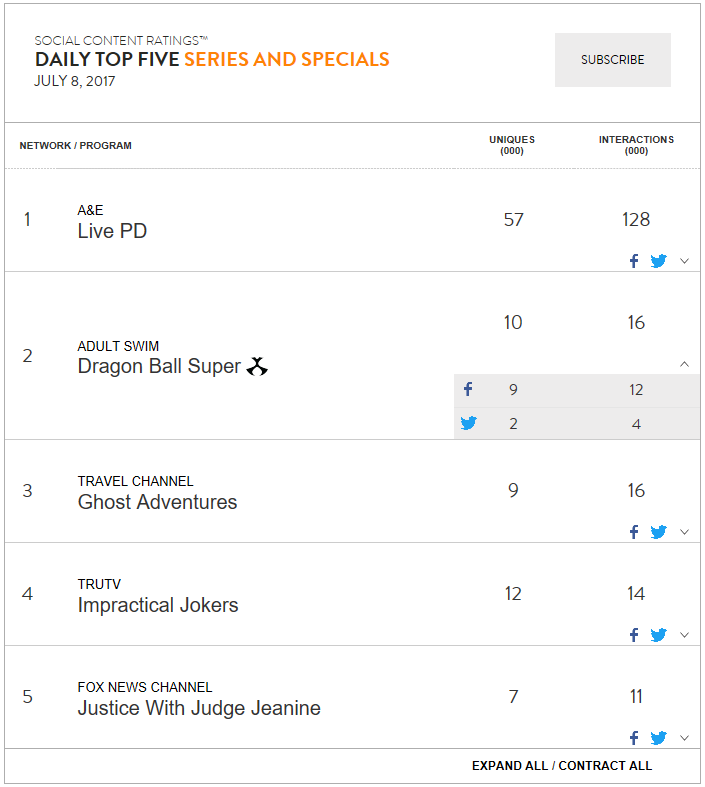 "So a Super Saiyan who's as strong as a Super Saiyan God yet is not a Super Saiyan God is now the Super Saiyan version of that? You really do need to work on your descriptions, Goku. I nearly bit my tongue just trying to spit it all out."
–          Frieza, Dragon Ball Super (Ep. 24)
"Well, I've held up my side of the deal and shown you my whole power. It's your turn."
–          Goku
The Toonami Trending Rundown for July 8-9, 2017. Big moments this week with Majin Buu being resurrected, while Tokyo Ghoul begins √A, and Kurapika makes his move on the Phantom Troupe, among other great moments.
On Twitter, Toonami and every premiere show save for Attack on Titan, Naruto, and Ghost In The Shell successfully trended on Twitter in the US during their East Coast airings. On tumblr, Toonami would trend in addition to Dragon Ball Super and Tokyo Ghoul.
Finally, Dragon Ball Super's buzz would once again get the show on Nielsen Social's top 5 most talked about shows on Twitter and Facebook, making it to the #2 spot. This is the 25th time a Toonami show has made it onto this list since we started recording this feat, and the 12th time DBS has done so.
---
This week's feature was a review of the adventure–puzzle Video Game, Rime. It received a 7.5 out of 10 score.
In addition, Toonami also showcased the newest music video by Run the Jewels, "Don't Get Captured." You can check it out here.
Tune in Saturday for the penultimate episode of Attack on Titan Season 2, while Hunter x Hunter showcases the finale of the Yorknew City arc, among other great moments. See you again then for another round of the better cartoon show.
---
Legend: The shows listed are ordered based on their appearance on the schedule. Show trends are listed in bold. The number next to the listed trend represents the highest it trended on the list (not counting the promoted trend), judging only by the images placed in the rundown. For the Twitter tweet counts, the listed number of tweets are also sorely based on the highest number shown based on the images on the rundown.
United States Trends:
#Toonami [#4]
#DragonBallSuper [#7]
#DBZKai [#10]
#TokyoGhoul [#25]
#HunterXHunter [#6]
#LupinThe3rd [#5]
Tumblr Trends:
#toonami
#dragon ball super
#tokyo ghoul
Notes and Other Statistics:
Special thanks to @mmorse1017 and others I forgot to mention for spotting some of the trends on this list.
Aww, Who's A Good Boy? Only Toonami on [adult swim] on Cartoon Network.