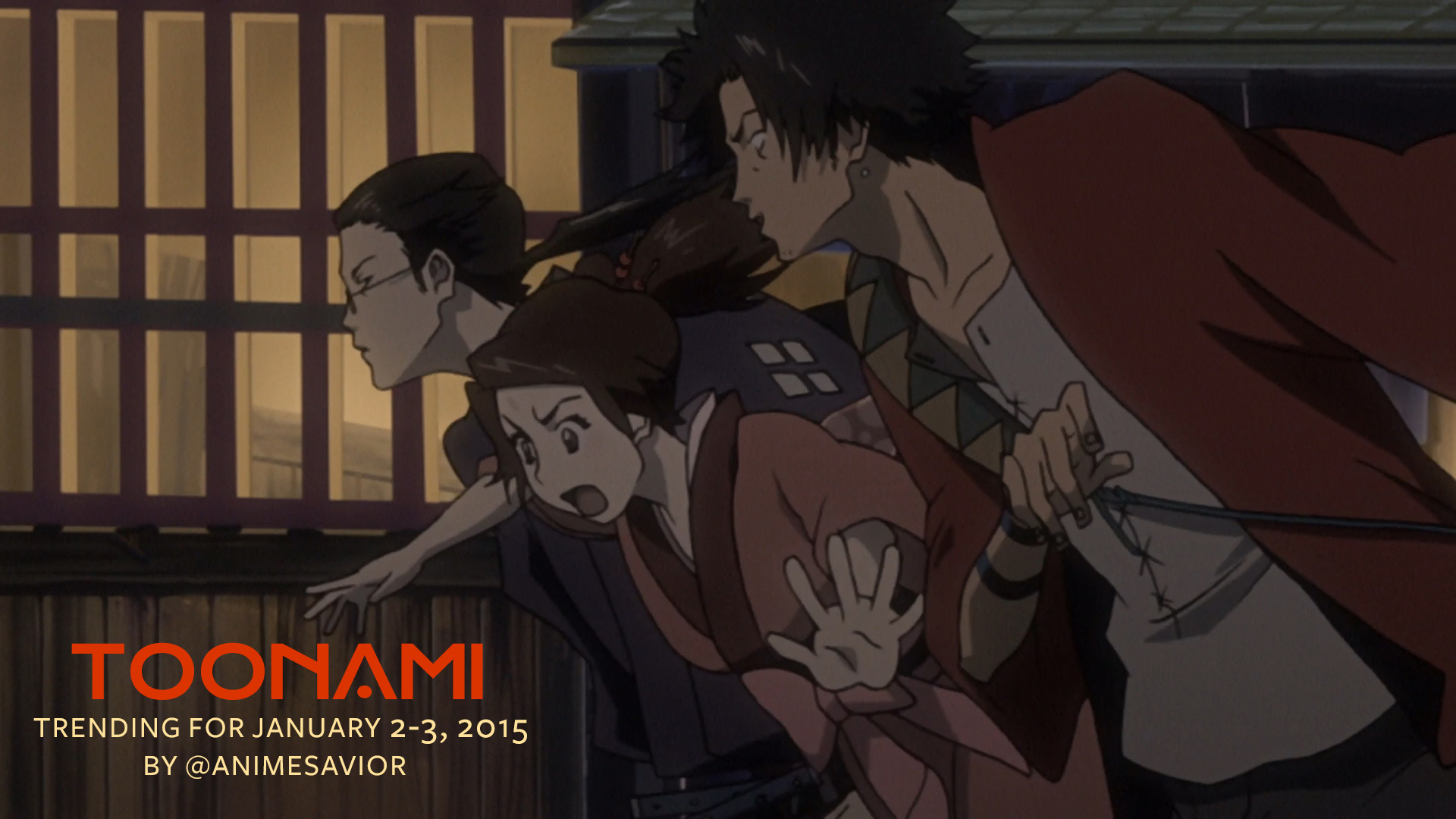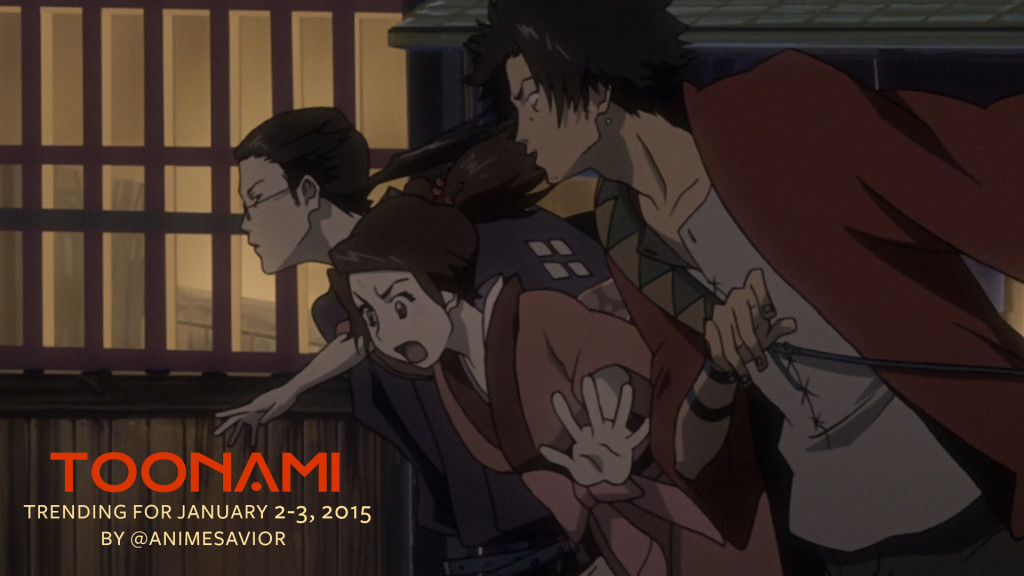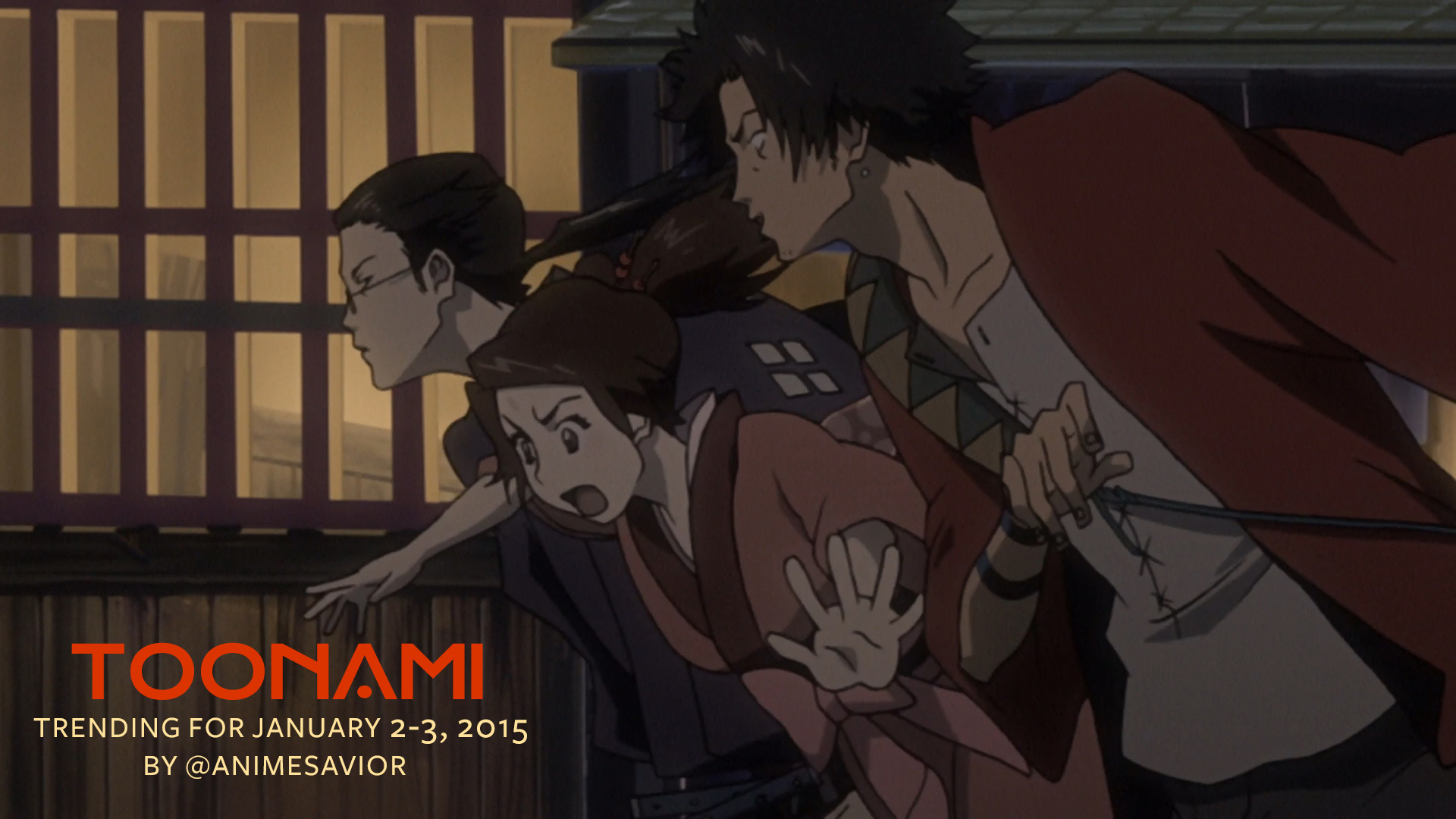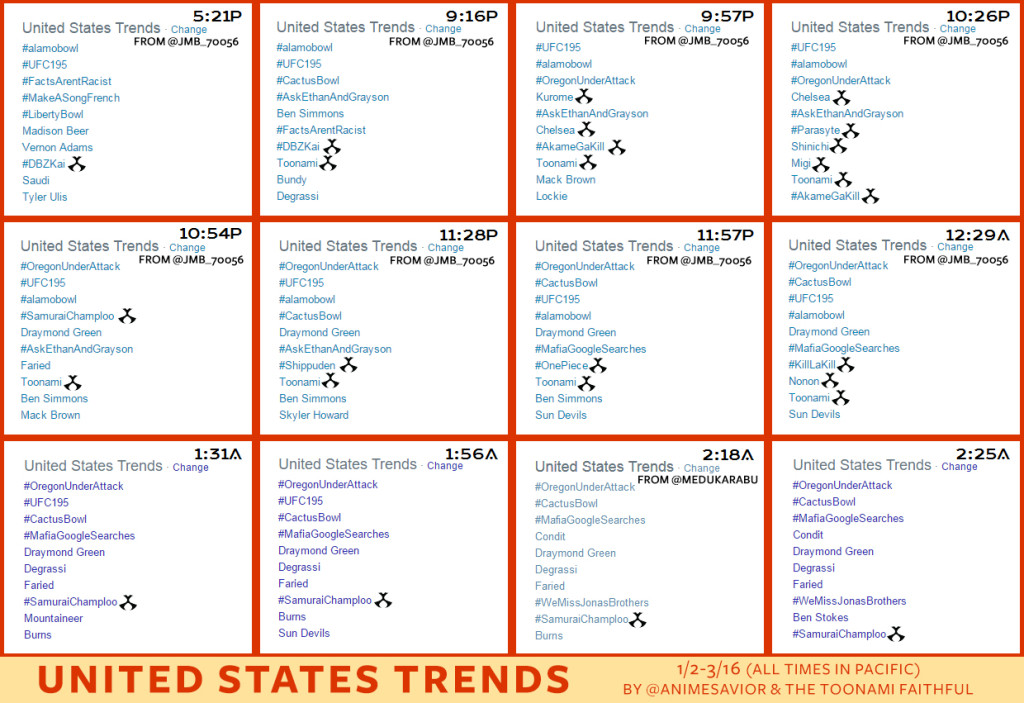 "Listen, if you promise you do this one little favor, I'll help you escape. […] There's someone I want you to find. A Samurai that smells of sunflowers."
–     Fuu, Samurai Champloo (Ep. 01)
The Toonami Trending Rundown for January 2-3, 2016. We ring in the new year as we welcome back an old classic from the Adult Swim Action days, Samurai Champloo, in addition to the return of our regularly scheduled programming. As a result, every show had trended in the US during their respective East Coast airings, in addition to #DBZKai during it's encore presentation (which has now returned with Regular CN returning the 8pm hour to Adult Swim) and #SamuraiChamploo during it's West Coast airing.
We also received some character trends from three shows. Akame ga Kill! gave us Chelsea (as she poisons and kills off Bols and almost kills off Kurome) as well as Kurome (when Chelsea found out her poison was useless against Kurome, and was killed by her in retaliation for killing Bols). Parasyte gave us both Migi and Shinichi, as Shinichi manages to save Murano from Hideo in addition to pitching a rock at at him from several buildings away to take him out. And Kill la Kill gave us Nonon, as she has her turn at fighting Ryuko in the Battle Royale.
Not much else to say other than see you again next week for another round of the better cartoon show. Later.
[divider]
Legend: The shows listed are ordered based on their appearance on the schedule. Show trends are listed in bold. The number next to the listed trend represents the highest it trended on the list (not counting the promoted trend), judging only by the images placed in the rundown. For the Twitter tweet counts, the listed number of tweets are also sorely based on the highest number shown based on the images on the rundown.
United States Trends:
Toonami [#8]
#DBZKai (Also during the encore presentation) [#7]
#AkameGaKill [#7]
Chelsea (From Akame ga Kill!) [#4]
Kurome (From Akame ga Kill!) [#4]
#Parasyte [#6]
Migi (From Parasyte) [#8]
Shinichi (From Parasyte) [#7]
#SamuraiChamploo (Also during the West Coast airing) [#4]
#Shippuden [#7]
#OnePiece [#7]
#KillLaKill [#7]
Nonon (From Kill la Kill) [#8]
Notes and Other Statistics:
Special thanks to @JMB_70056, @MedukaRabu and others I forgot to mention for spotting some of the trends on this list.
We're here to establish a New World Order. Only Toonami on [adult swim] on Cartoon Network.