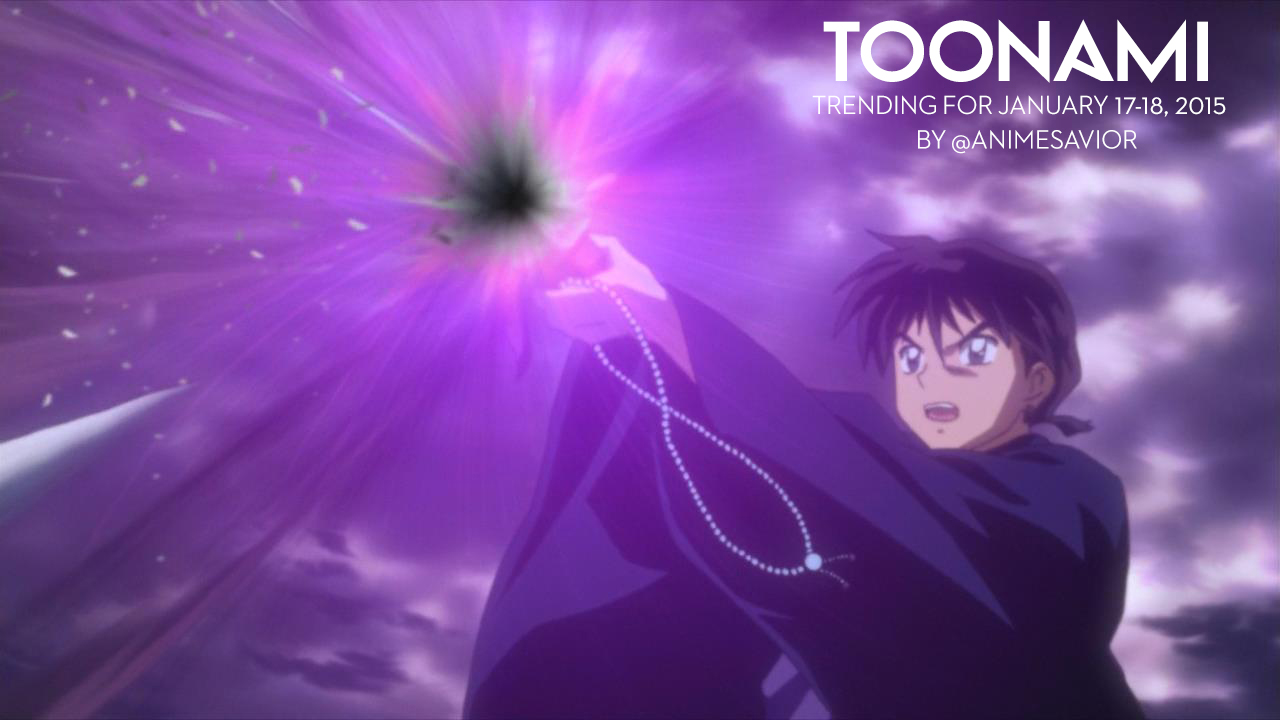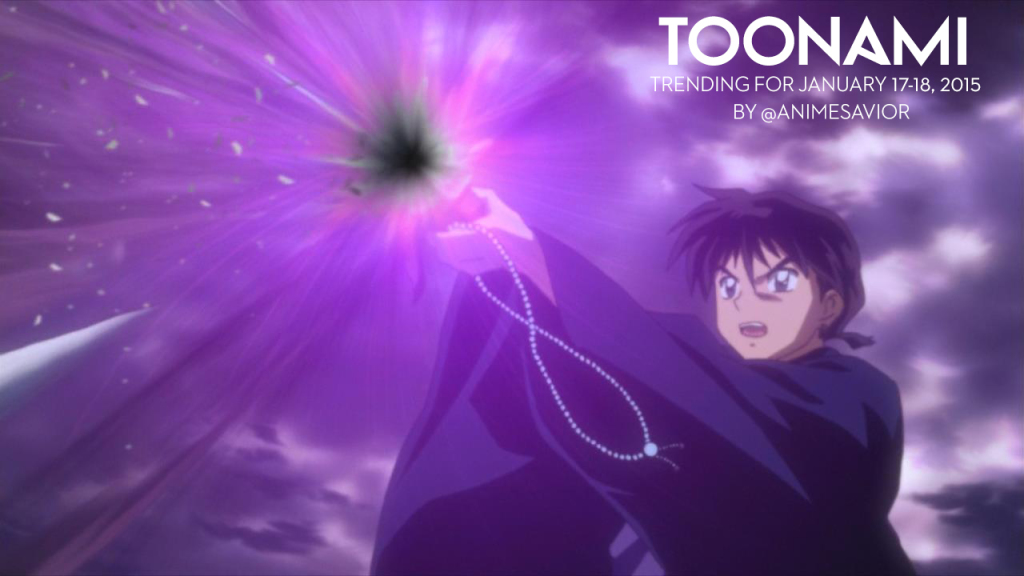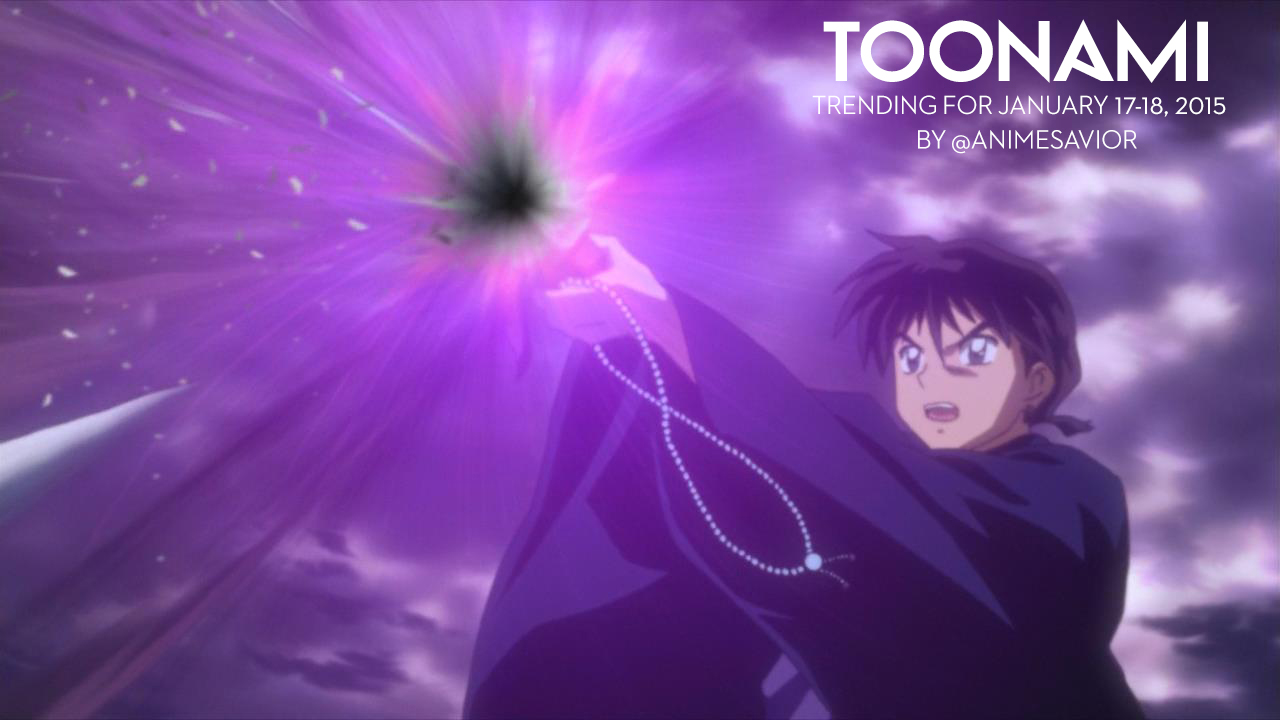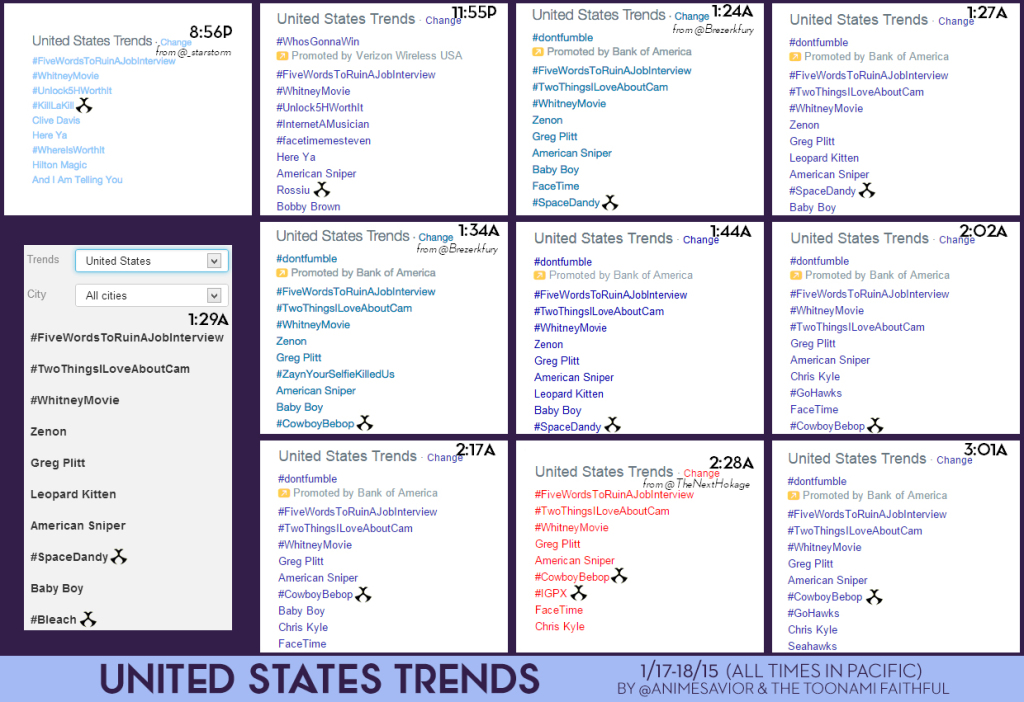 "Miroku did it for Sango. That's why he didn't close the Wind Tunnel. He knew if he could destroy Naraku, Kikyo wouldn't have to use Kohaku's shard."
–          Kagome Higurashi, InuYasha: The Final Act (Ep. 06)
The Toonami Trending Rundown for January 17-18, 2015. Bit of a down night in regards to the social media buzz as only 4 shows managed to get into the US trending lists. We did got some character related trends from InuYasha and Gurren Lagann with Miroku (as he tries in vein to suck Naraku in his Wind Tunnel) as well as Rossiu (as he revives Lordgenome to find out the truth behind the anti-Spirals and attempts to pin the blame on Simon).
Can't really say what happened there personally, but I guess we'll just do what Rossiu does and just blame Simon for it…ok not really.
For those that haven't heard the news from Otakon Vegas, beginning on February 7th on 11:30pm Eastern, Kill La Kill will make it's grand debut on Toonami. The full schedule has yet to be announced. And speaking of which, the hashtag #KillLaKill trended in the US during Attack on Titan in reaction to the announcement, in addition to Toonami back on Friday when the announcement was made at Otakon.
On a more somber note, Origa, the artist known for producing the theme songs for Ghost In The Shell, had recently lost her battle to lung cancer this past Saturday at the age of 44. May her soul rest in peace.
Until next week, have a happy Martin Luther King Jr. day and stay gold.
Legend: The number next to the listed trend represents the highest it trended on the list (not counting the promoted trend), judging only by the images placed in the rundown. For the mobile app trends, the listed number of tweets are also sorely based on the highest number shown based on the images on the rundown.
United States Trends:
#KillLaKill (During Attack on Titan) [#4]
Rossiu (From Gurren Lagann) [#8]
#Bleach [#10]
#SpaceDandy [#8]
#CowboyBebop [#6]
#IGPX [#7]
Worldwide Trends:
Miroku (From InuYasha) [#8]
Notes and Other Statistics:
Special thanks to @Brezerkfury, @_starstorm, @TheNextHokage, and others I forgot to mention for spotting some of the trends on this list.
Get Busy Living. Only Toonami on [adult swim] on Cartoon Network.