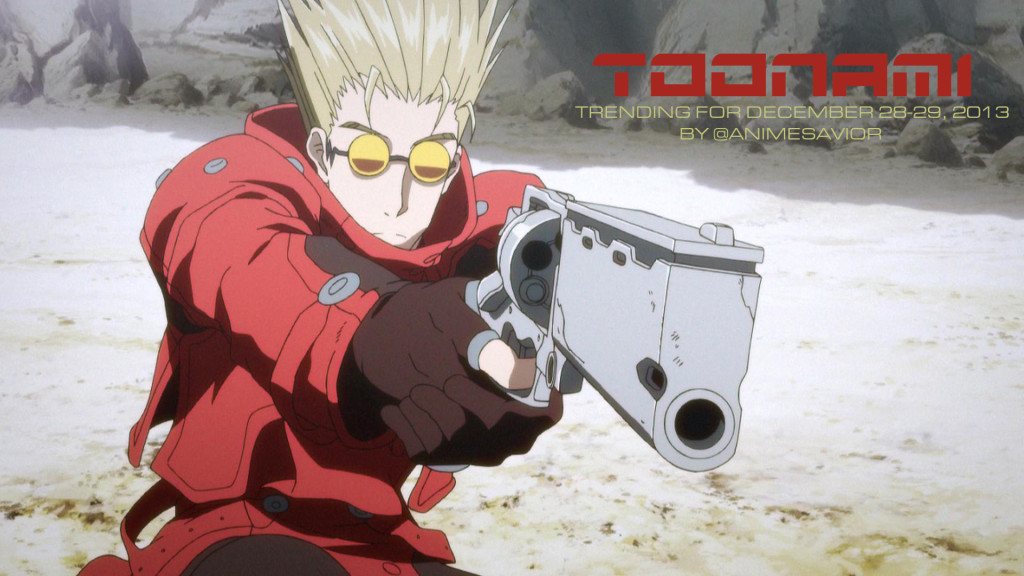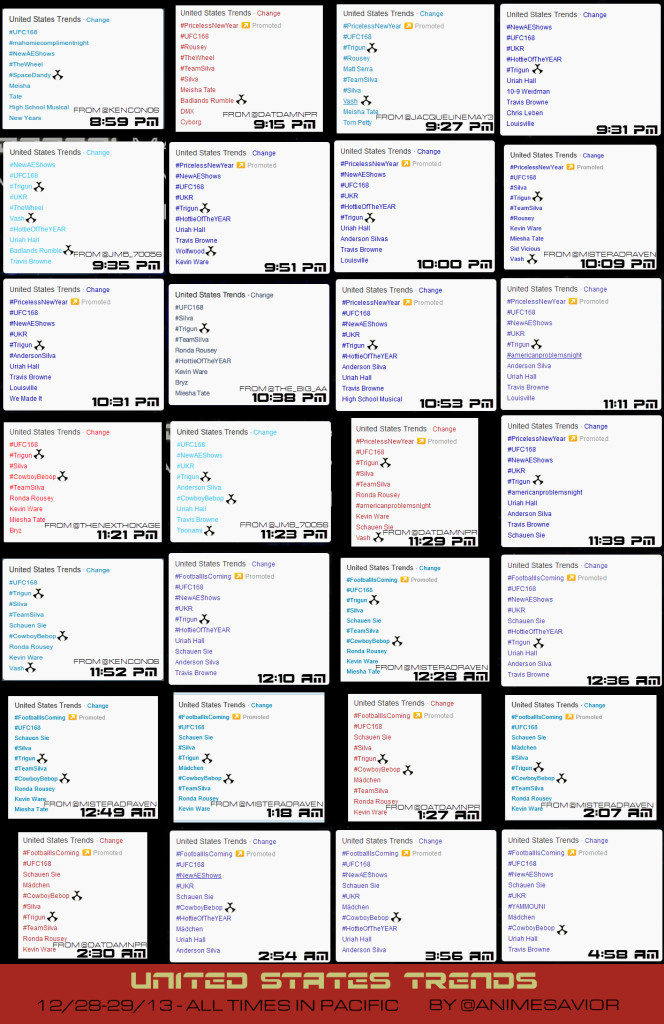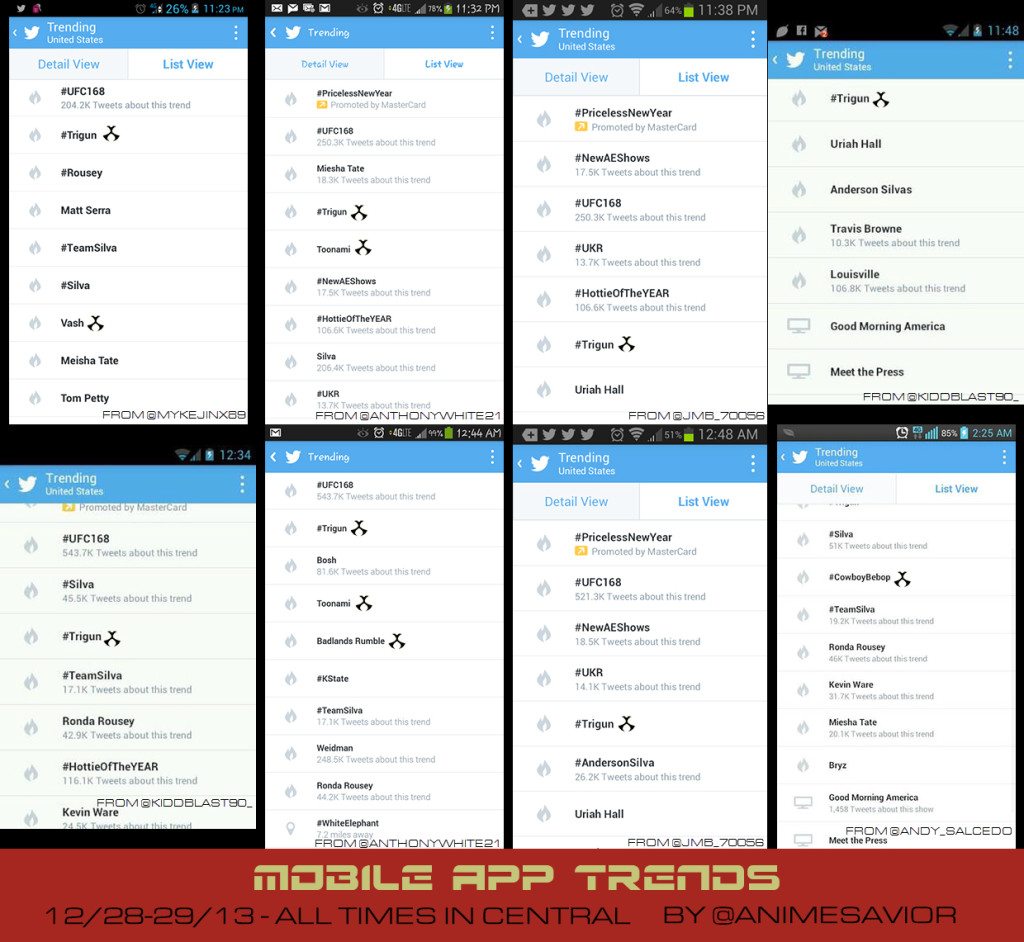 "You don't always get a bad roll of the dice even when it turns up snake eyes."
–          Nicholas D. Wolfwood, Trigun: Badlands Rumble
The Toonami Trending Rundown for December 28-29, 2013. 10 years or so since Trigun originally premiered on Adult Swim, Trigun Badlands Rumble finally makes US airwaves after a 3 year wait as alongside a "best of" Cowboy Bebop marathon, we end off the year with a blast from the past, as we got ourselves a perfect night to end the year with Trigun, Cowboy Bebop, and Toonami all trending US and Worldwide. We also got some special trends during Trigun's airing with Badlands Rumble, Vash, and Wolfwood each trending in the US. And in addition, #SpaceDandy also trended US before Toonami started as fans celebrated the show's imminent debut, just one week away. Not bad considering that Toonami was going off the heels of Chris Weidman's TKO victory over Anderson Silva, and the reaction to Silva's injury as a result. Personally, while I'm still new to UFC, what happened there was pretty speechless.
But on a lighter note, movie month is now in the books as a spectacular year for Toonami now comes to a close. But the block expects 2014 to be even bigger, and to kick things off next week, Toonami expands to 11:30pm Eastern for the premiere of Space Dandy, as well as the long awaited uncut premiere of Naruto Shippuden at 12:30am, while OG Naruto will restart at 3am, bumping Star Wars to 5am and InuYasha loses it's doubleheader but will still end the block at 5:30am. And of course, Bleach, One Piece, Soul Eater, and of course everyone's favorite (or not), Sword Art Online will all return to premiering at their regularly scheduled times.
For those that are binge watching Naruto to get to Shipppuden's starting point, I just want to give you a reminder that you got a week to get to at least Episode 135 of the anime or Chapter 245 of Volume 27 of the manga, so if you're behind, you might want to get to that soon.
And speaking of Sword Art Online, the "extra edition" will be up on the stroke of midnight on New Years Day (in Japan time) on Crunchyroll and Daisuki, so if you've already seen the whole series, go check it out. If SAO's run on Toonami is your first time seeing it however, you might want to wait till it's run ends on Feburary 15 (barring further preemptions) to check it out, since it will contain spoilers of how the Fairy Dance arc ends.
Finally, here's a little trivial fact for you, according to WhoTrended.it, @ToonamiNews was the #8 ranked account as of this writing when it comes to starting trending topics. Personally and on behalf of the ToonamiFaithful.com staff, thank you all for making Saturday nights one to look forward to every week and giving anime fans and the industry as a whole something to be proud of. In just a year and a half, Toonami has done well enough to warrant an expansion and a slew of new content including a world premiere, and I'm sure the industry has felt the benefits as a result. Who would have thought that a simple April Fools joke would turn out to be a miracle for anime in the west? Let's hope it continues to produce more for years to come. That's why I continue to support Toonami and giving you this trending rundown every week, watching some of the greatest anime and action cartoons have to offer, and meeting some great folks along the way. Have a Happy New Year, everyone and see you again next week.
Legend: The number next to the listed trend represents the highest it trended on the list (not counting the promoted trend), judging only by the images placed in the rundown. For the mobile app trends, the listed number of tweets are also sorely based on the highest number shown based on the images on the rundown.
US Trends:
Toonami (During Cowboy Bebop) [#9]

#Trigun [#5]

Badlands Rumble [#7]

Vash (From Trigun) [#6]

Wolfwood (From Trigun) [#8]

#CowboyBebop [#4]
Worldwide Trends:
Toonami (During Cowboy Bebop) [#8]

#Trigun [#3]

#CowboyBebop [#7]
Mobile App Trends:
Toonami (During Trigun) [#4. Tweet Count Unknown]

#Trigun [#2. Tweet Count Unknown]

Badlands Rumble [#5. Tweet Count Unknown]

Vash (From Trigun) [#4. Tweet Count Unknown]

#CowboyBebop [#5. Tweet Count Unknown]
Special thanks to @Andy_Salcedo, @anthonywhite21, @Darkcyberwolf, @DatDamnPR, @JacquelineMay3, @JMB_70056, @KiddBlast90_, @kencon06, @MisterADRaveN, @MykeJinX89, @the_big_aa, @TheNextHokage and others I forgot to mention for spotting some of the trends on this list.
Drop what you're doing and find cover, now! Only Toonami on [adult swim] on Cartoon Network.
Bang.