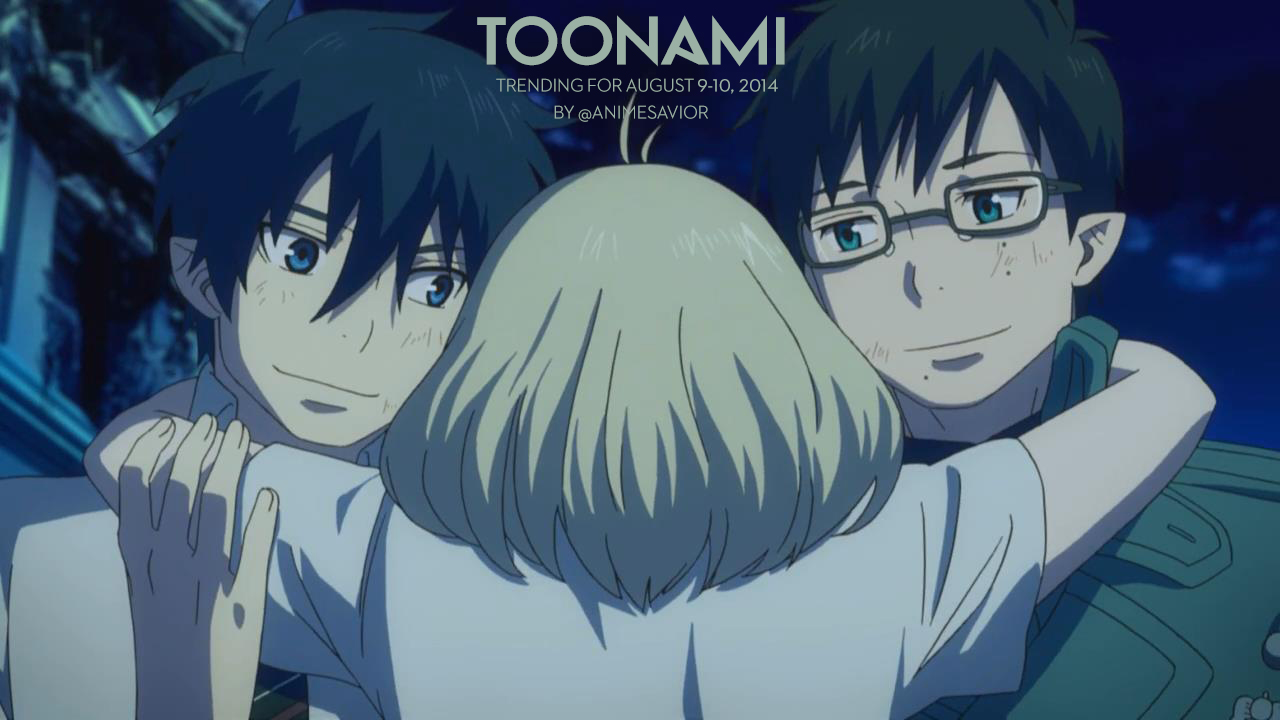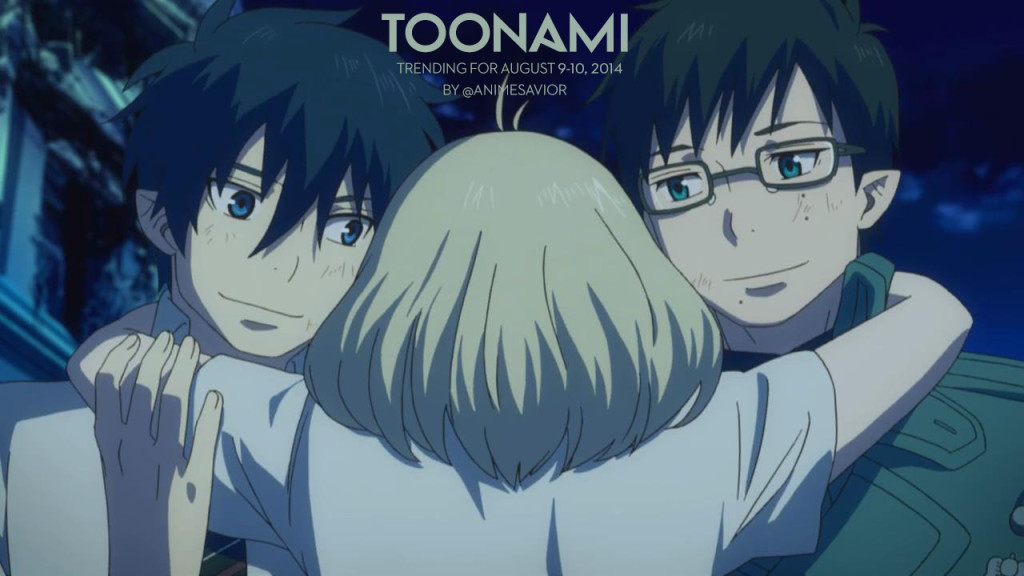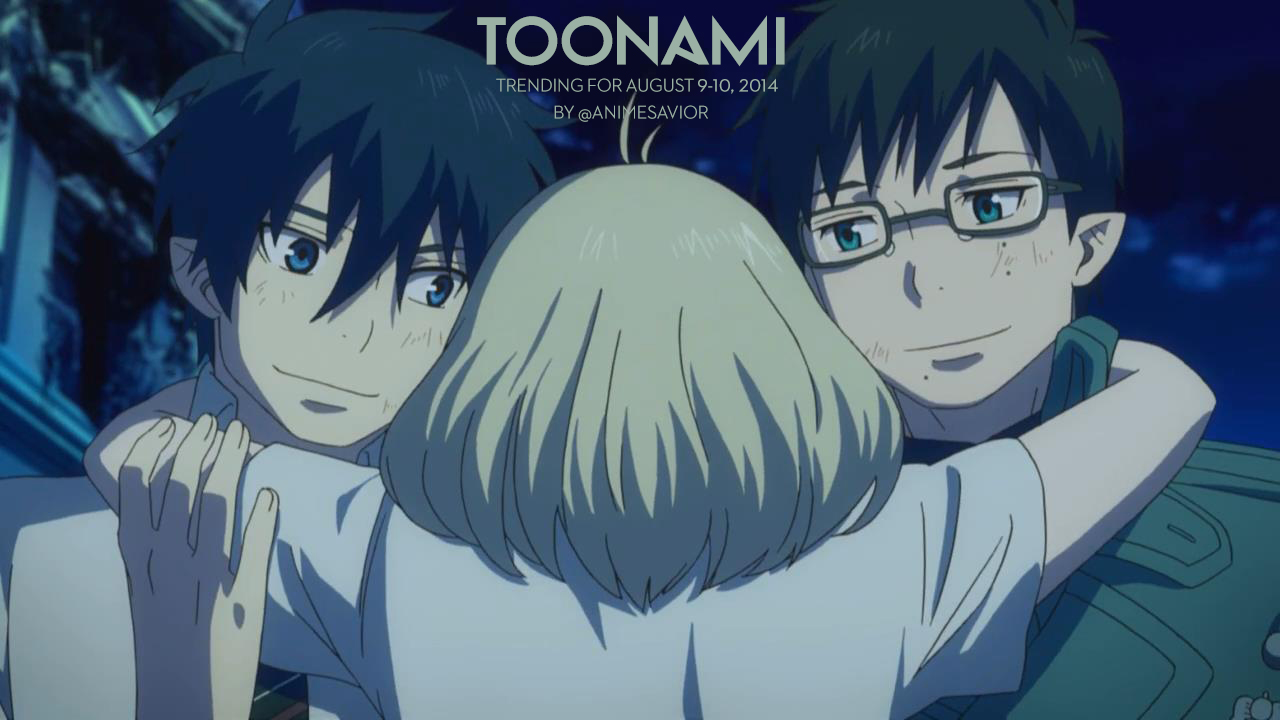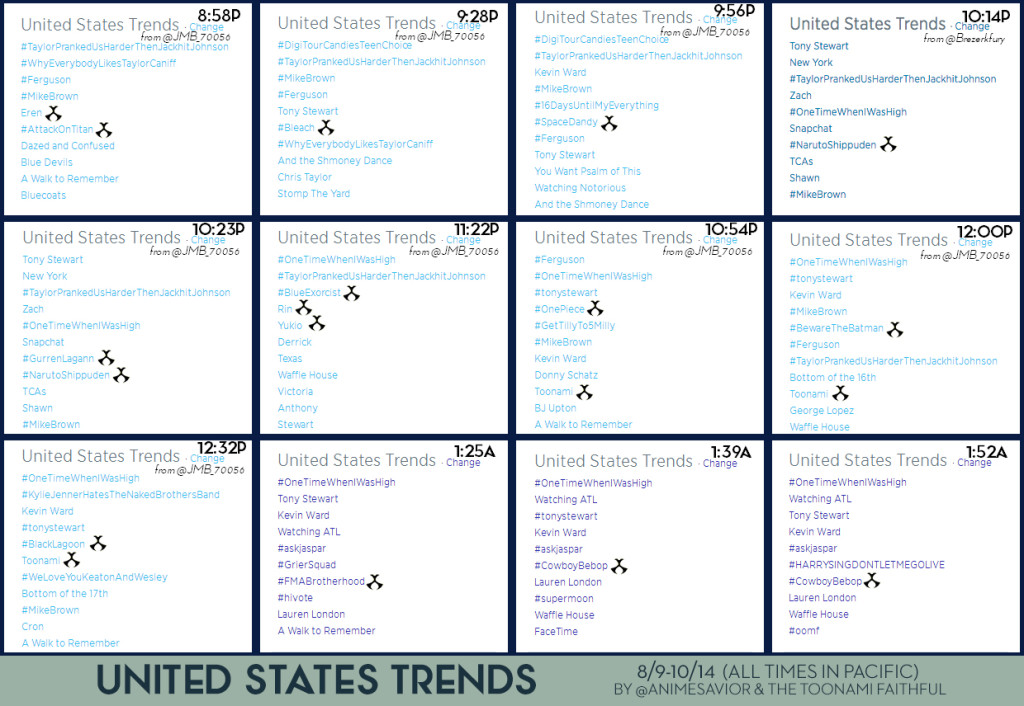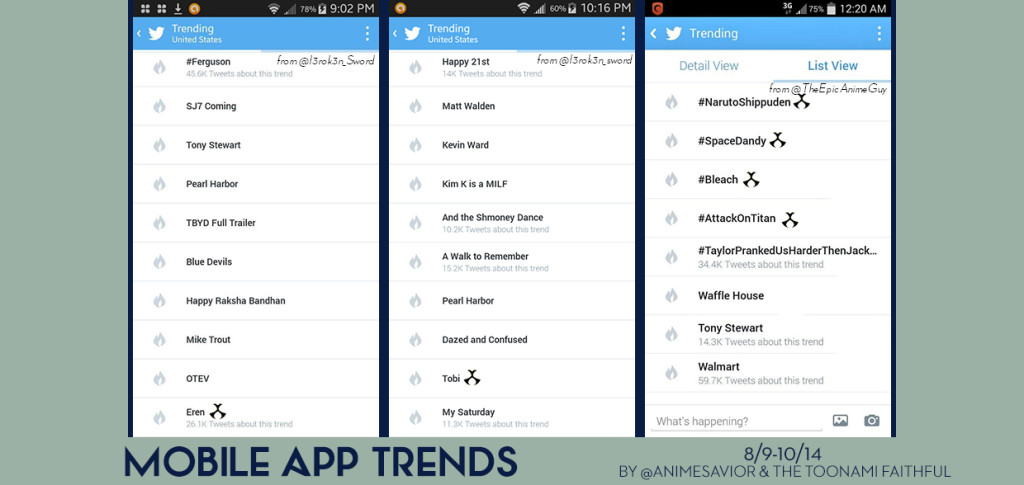 "You were too impatient [Satan]. Neither of us knows that the path we chose was the right one. That's something for our children to find out for us."
–          Yuri Egin, Blue Exorcist (Episode 25)
The Toonami Trending Rundown for August 9-10, 2014. Blue Exorcist ends it's run on Toonami with a bang as every show with the exception of OG Naruto, Star Wars TCW, and Samurai Jack trended in the US, while Blue Exorcist trended worldwide, and every show between Attack On Titan to Naruto Shippuden trended in the mobile app.
We also got some special character trends from Attack on Titan, Naruto Shippuden, and Blue Exorcist, with Eren; as the regiment debate over the fate and usefulness, Tobi; as we were introduced to the Akatsuki member, as well as Rin and Yukio as the two defeat Satan and send him back to Gehenna, making sure Blue Exorcist would end it's Toonami run on a high note.
Furthermore, we were also treated to a promo for our next show, Gurren Lagann, and that also trended US and Worldwide as a result.
Blue Exorcist Trending Retrospective
25 weeks have come and gone and the run of Aniplex's sophomore show on Toonami (unless you count FMA Brotherhood and Durarara) is now in the books. Love it or hate it, it was a tough act to follow SAO in regards to general buzz, but Blue Exorcist still managed to do very well in that regard, trending in some capacity in all but 3 weeks of its run as well as two different occasions when the show was promoted.
Blue Exorcist's buzz also produced 4 different character trends, with Rin in 7 different occasions, Satan on week 2, Shiemi in 2 different occasions, and Yukio just this week.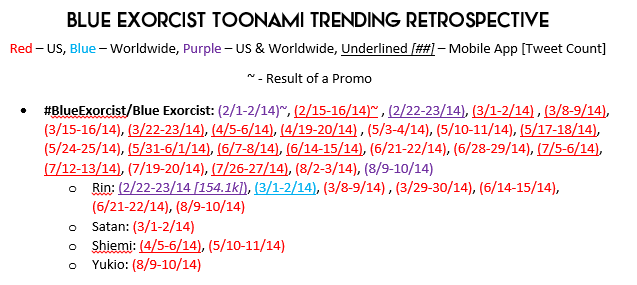 So as we say sayonara to Rin and co, for those that are craving some more Blue Exorcist, there is a film which has been dubbed by Aniplex, as well as a manga, which goes beyond the anime's scope and continues on to this day, so definitely go check those out. We wish all the best for the future of this great show.
And Finally…
Tune in next week as Gurren Lagann makes it's grand debut to the block at 2 am Eastern, while Naruto Shippuden begins the Sasuke and Sai arc, among other great moments from the other shows. Till next week, stay gold.
Legend: The number next to the listed trend represents the highest it trended on the list (not counting the promoted trend), judging only by the images placed in the rundown. For the mobile app trends, the listed number of tweets are also sorely based on the highest number shown based on the images on the rundown.
US Trends:
Toonami (During One Piece, Beware The Batman, and Black Lagoon) [#6]
#GurrenLagann (During Naruto Shippuden) [#7]
#AttackOnTitan [#6]
Eren (From Attack on Titan) [#5]
#Bleach [#6]
#SpaceDandy [#6]
#NarutoShippuden [#7]
#OnePiece [#4]
#BlueExorcist [#3]
Rin (From Blue Exorcist) [#4]
Yukio (From Blue Exorcist) [#5]
#BewareTheBatman [#5]
#BlackLagoon [#5]
#FMABrotherhood [#7]
#CowboyBebop [#6]
Worldwide Trends:
#GurrenLagann (During Naruto Shippuden) [#5]
#BlueExorcist [#2]
Mobile App Trends:
#AttackOnTitan [#4]
Eren (From Attack on Titan) [#10 with 26.1k tweets]
#Bleach [#3]
#SpaceDandy [#2]
#NarutoShippuden [#1]
Tobi (From Naruto Shippuden) [#9]
Notes and Other Statistics:
Special thanks to @Brezerkfury, @I3rok3n_Sword, @JMB_70056, @TheEpicAnimeGuy, and others I forgot to mention for spotting some of the trends on this list.
Edit @ August 11 9:50pm PDT: Got word that Tobi from Naruto Shippuden trended. Thanks to @I3rok3n_Sword and @myanimewaifu for the heads up.
Dig Deep. Only Toonami on [adult swim] on Cartoon Network.