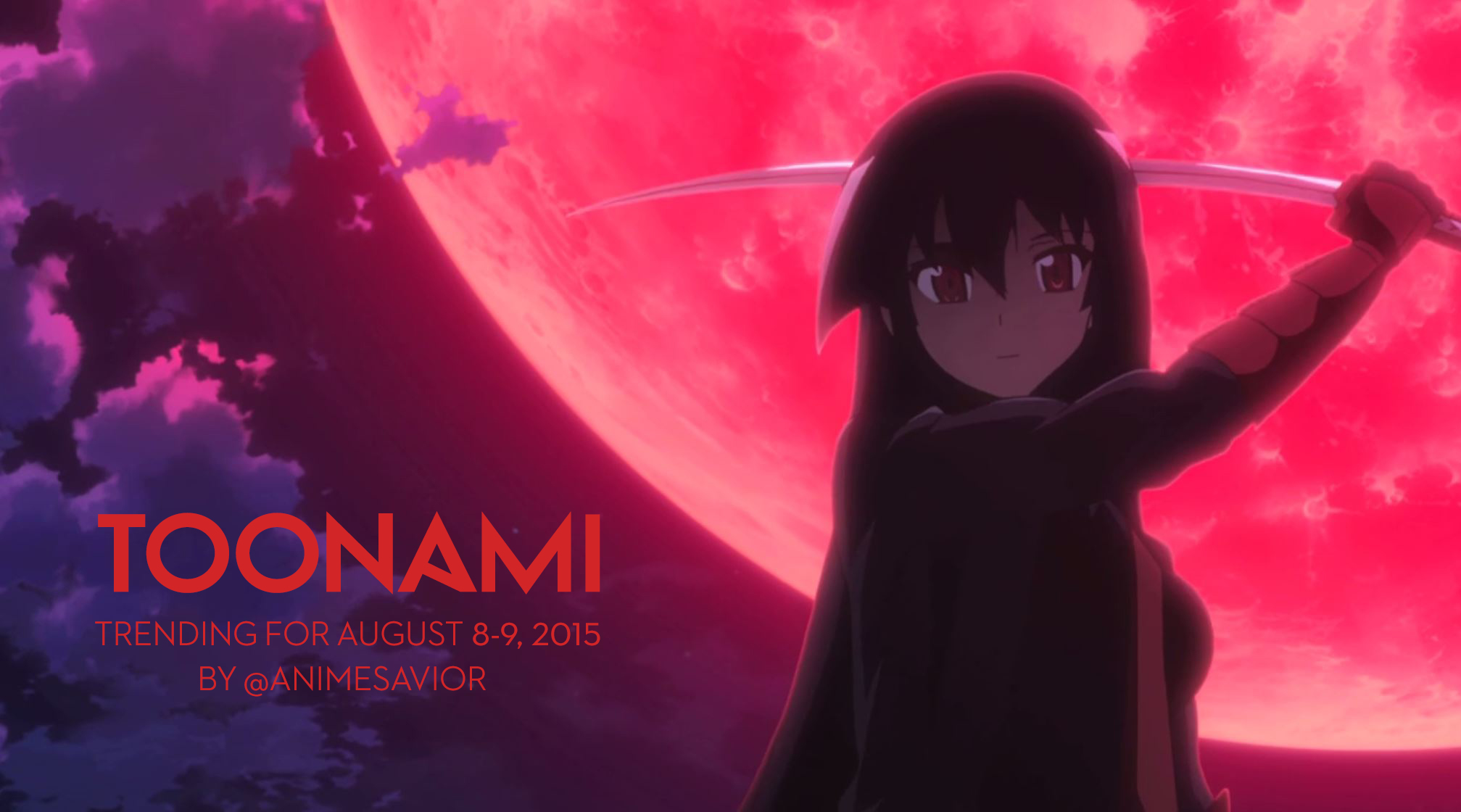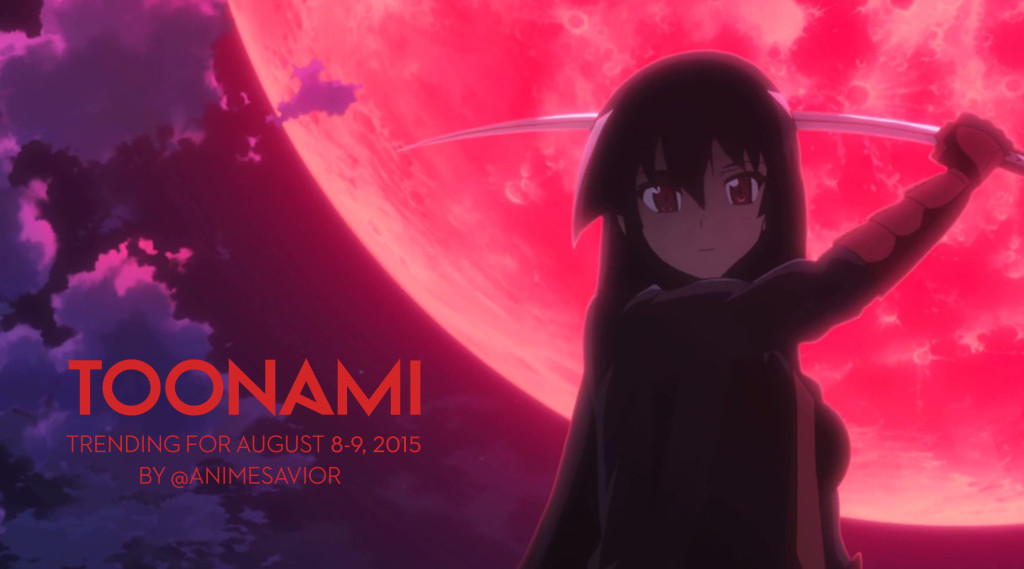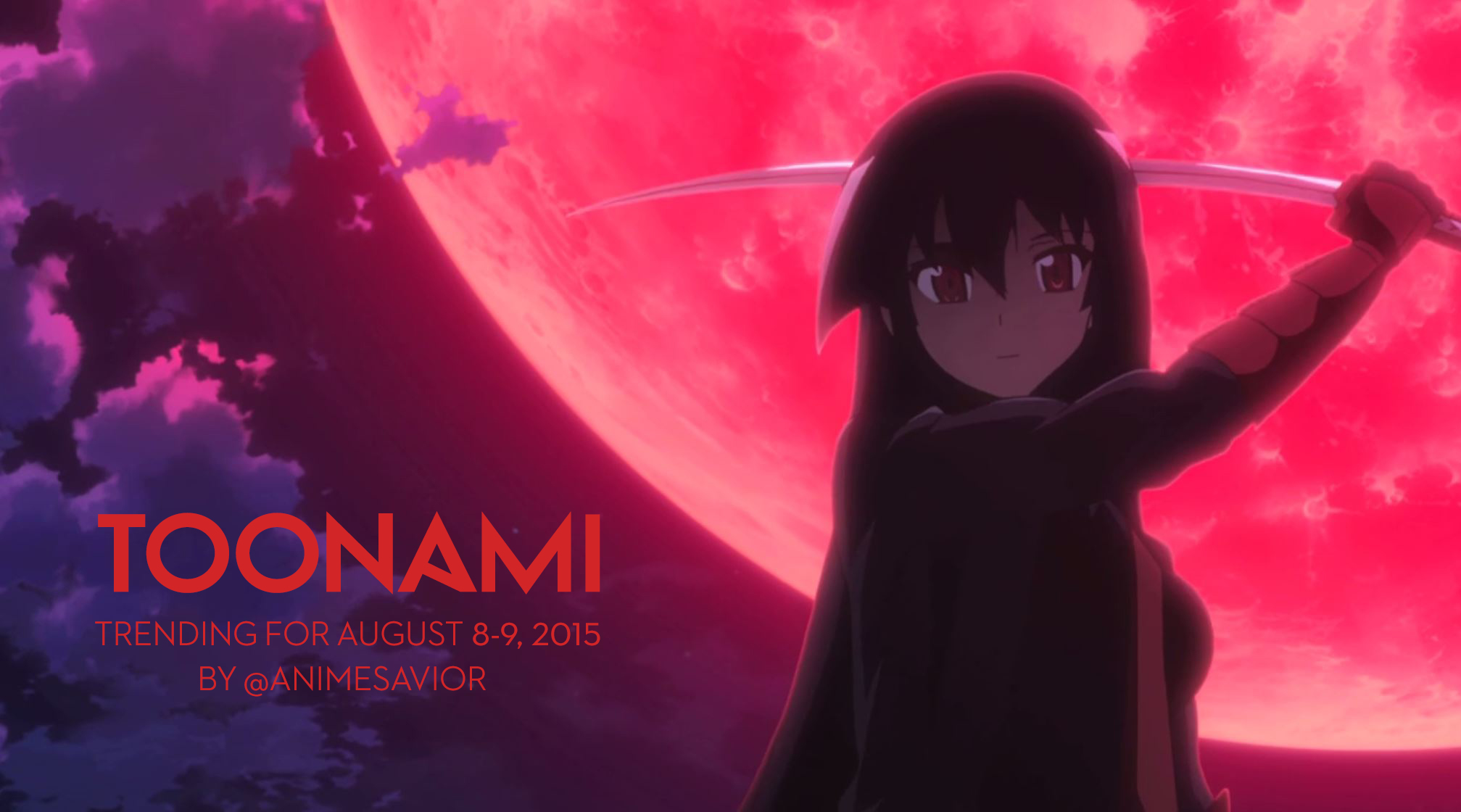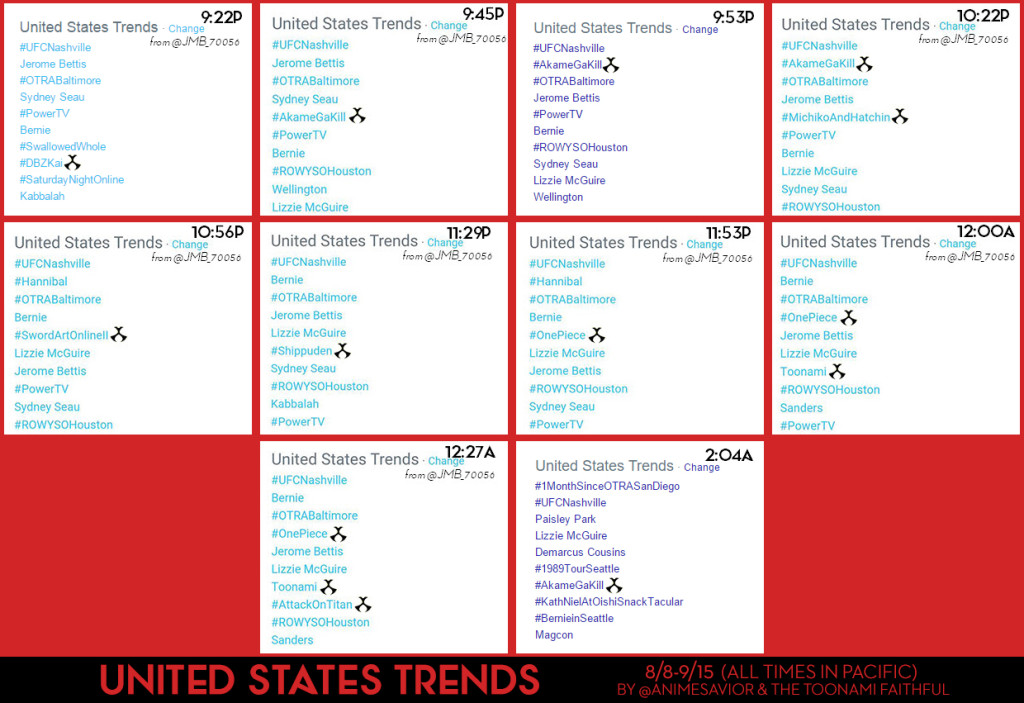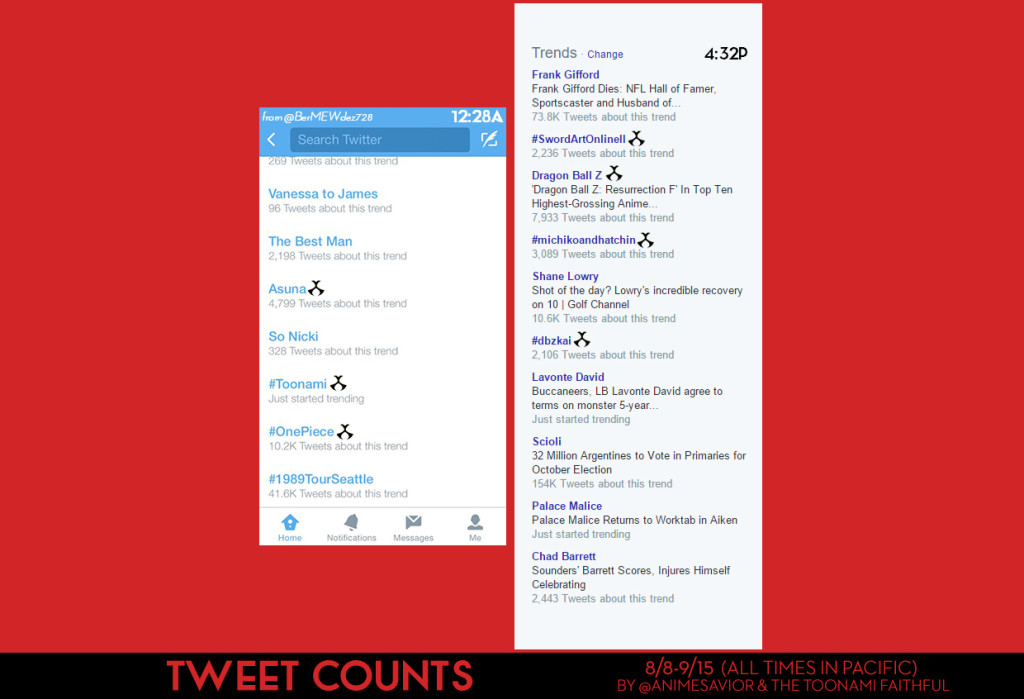 "All people must one day turn to ash. So too must nations fall into ruin. Despite the capital's wealth and prosperity, it has become mired in corruption. The heinous and the vile run rampant throughout the city. These demons are beyond salvation and are therefore silenced in the darkness by an elite group of assassins."
–     Akame ga Kill (Ep. 01)
The Toonami Trending Rundown for August 8-9, 2015. We welcome in Akame ga Kill to US shores in addition to the kickoff SAO's Mother's Rosario arc as Toonami and every show managed to trend in the US during their respective East Coast runs.
In addition, #AkameGaKill also trended worldwide during it's East Coast airing as well as trending in the US again after it's West Coast airing, making sure it's run on Toonami began on a high note. No special character and in-show content trends to report, however.
Of course, with Akame's debut, this also means that Sentai Filmworks has joined in alongside Funimation, Viz, and Aniplex as a supplier of Toonami programming. And as you may know, more from Sentai is on the horizon with Parasyte headed over within the coming months. So on behalf of the Toonami Faithful, welcome to the club, Sentai, and we sure hope this partnership will bring much great things for Toonami and the anime industry as a whole.
Tune in next week as One Piece showcases the finale of the Enies Lobby arc, among other great moments. Until next week, stay gold.

[divider]
Legend: The shows listed are ordered based on their appearance on the schedule. Show trends are listed in bold. The number next to the listed trend represents the highest it trended on the list (not counting the promoted trend), judging only by the images placed in the rundown. For the Twitter tweet counts, the listed number of tweets are also sorely based on the highest number shown based on the images on the rundown.
United States Trends:
Toonami (During One Piece (East Coast) and Attack on Titan (East Coast)) [#7]
#DBZKai [#8]
#AkameGaKill (Also during the West Coast airing) [#2]
#MichikoAndHatchin [#5]
#SwordArtOnlineII [#5]
#Shippuden [#6]
#OnePiece [#4]
#AttackOnTitan [#8]
Worldwide Trends:
Tweet Counts:
#DBZKai [2,106 tweets]
Dragon Ball Z [7,933 tweets]
#MichikoAndHatchin [3,089 tweets]
#SwordArtOnlineII [2,236 tweets]
Asuna (From Sword Art Online) [4,799 tweets]
#OnePiece [10.2k tweets]
Notes and Other Statistics:
Special thanks to @JMB_70056 and others I forgot to mention for spotting some of the trends on this list.
Edit 8/10 @ 9:00pm PDT: Added reports of tweet counts of Asuna and #OnePiece. Thanks to @BerMEWdez728 for this. There are also reports of Asuna trending in the US, however i cannot confirm a spotted trend outside of several mobile app tweets.
Everyone Will Be Seeing Red. Only Toonami on [adult swim] on Cartoon Network.