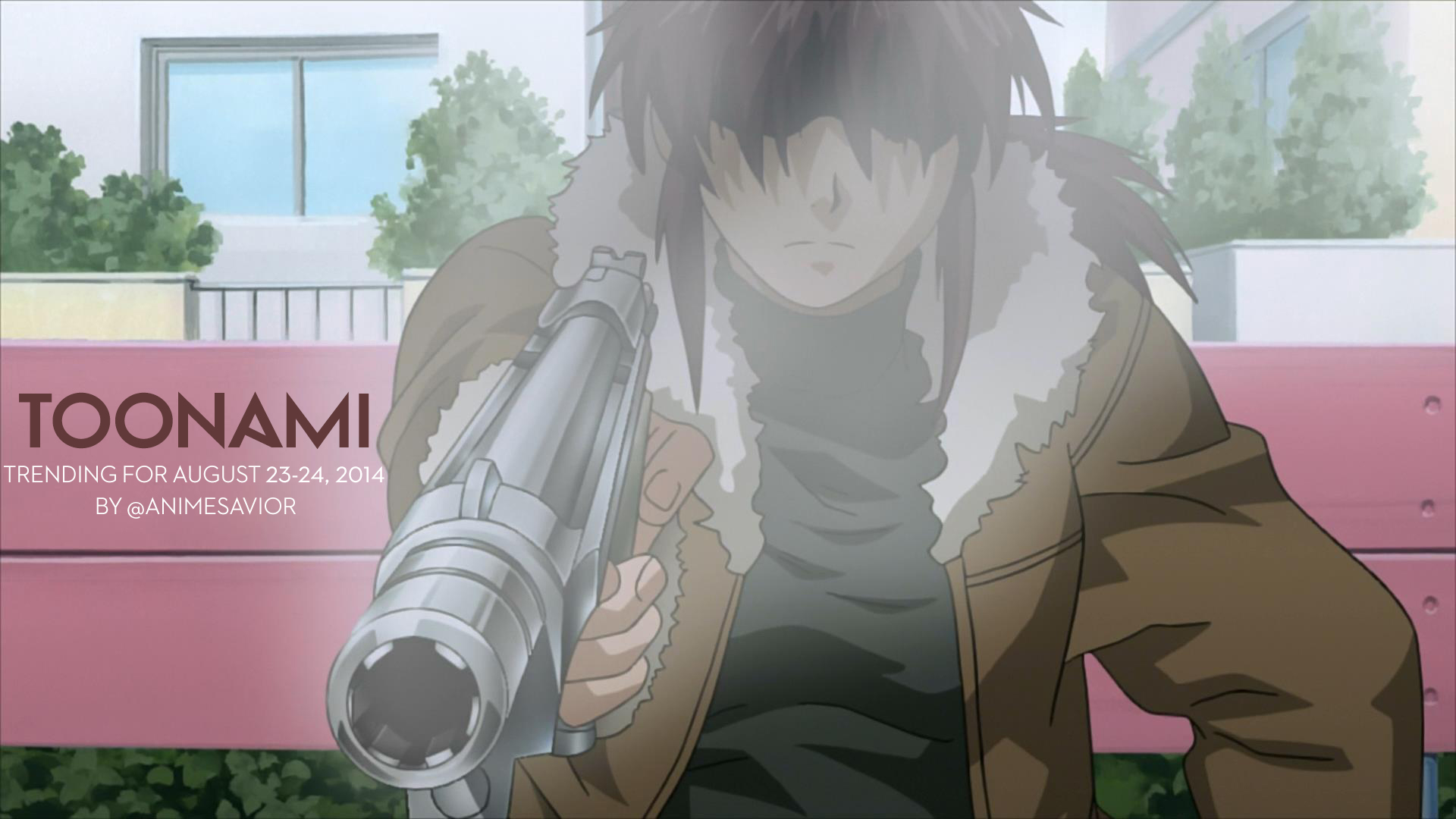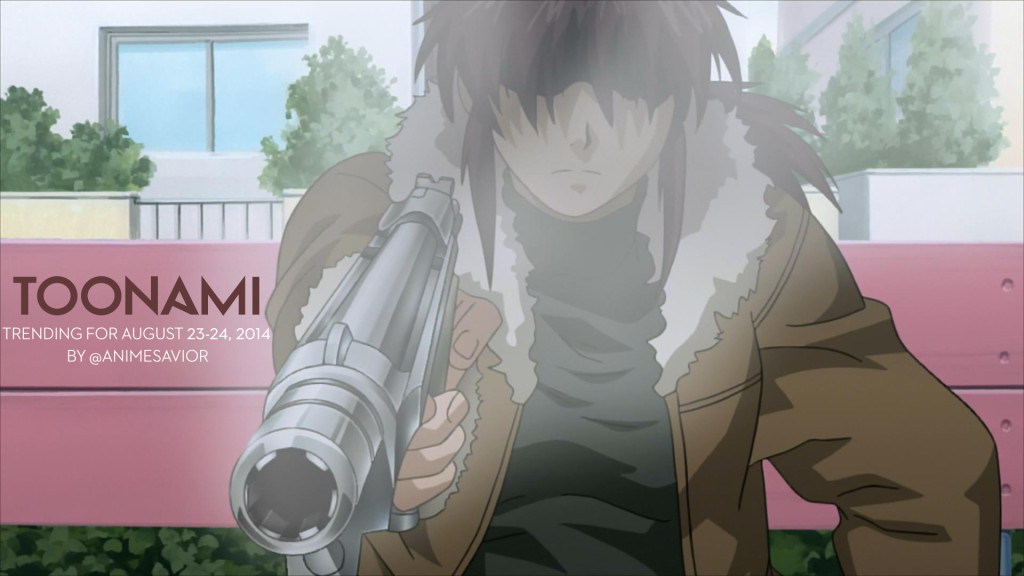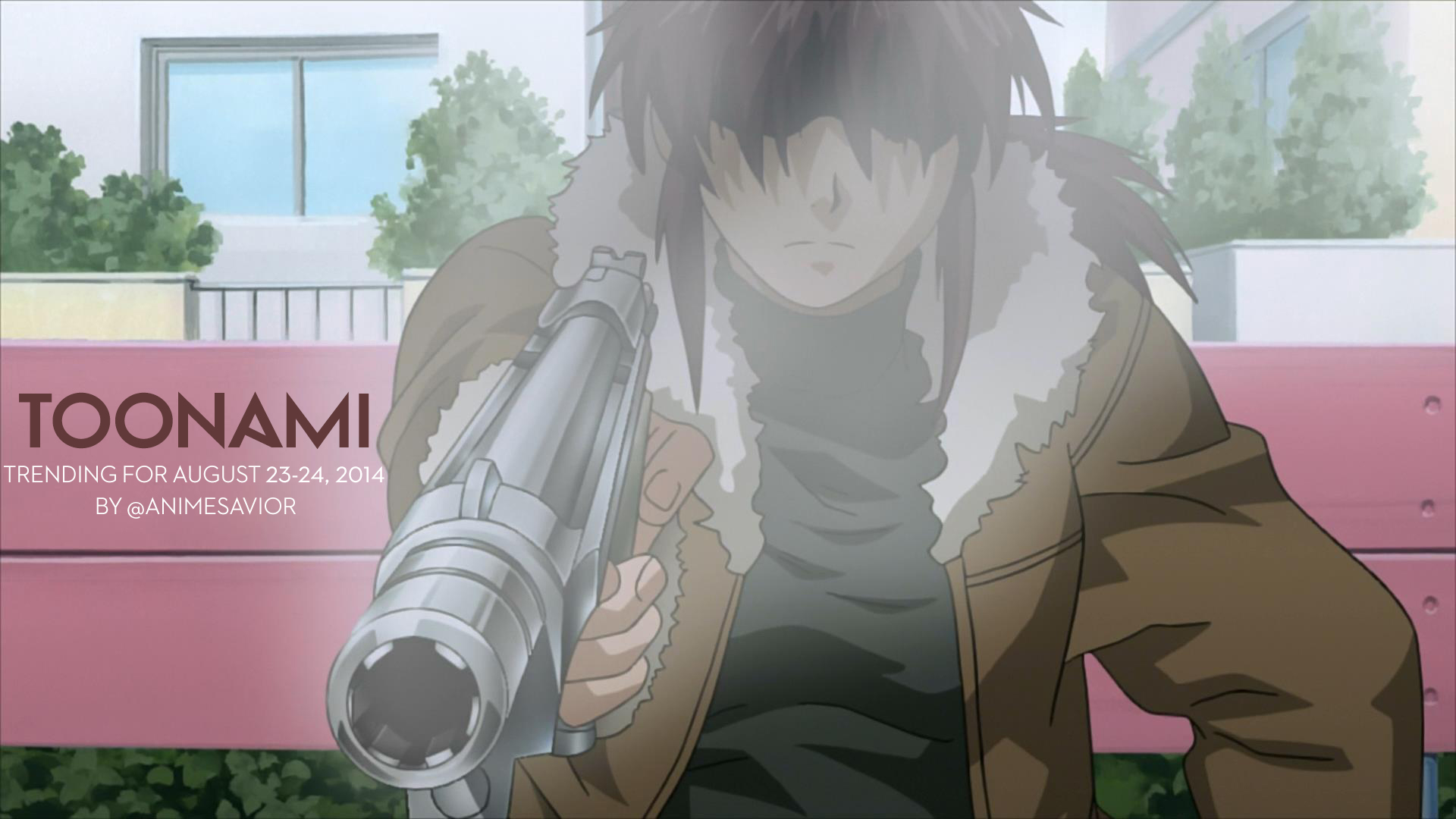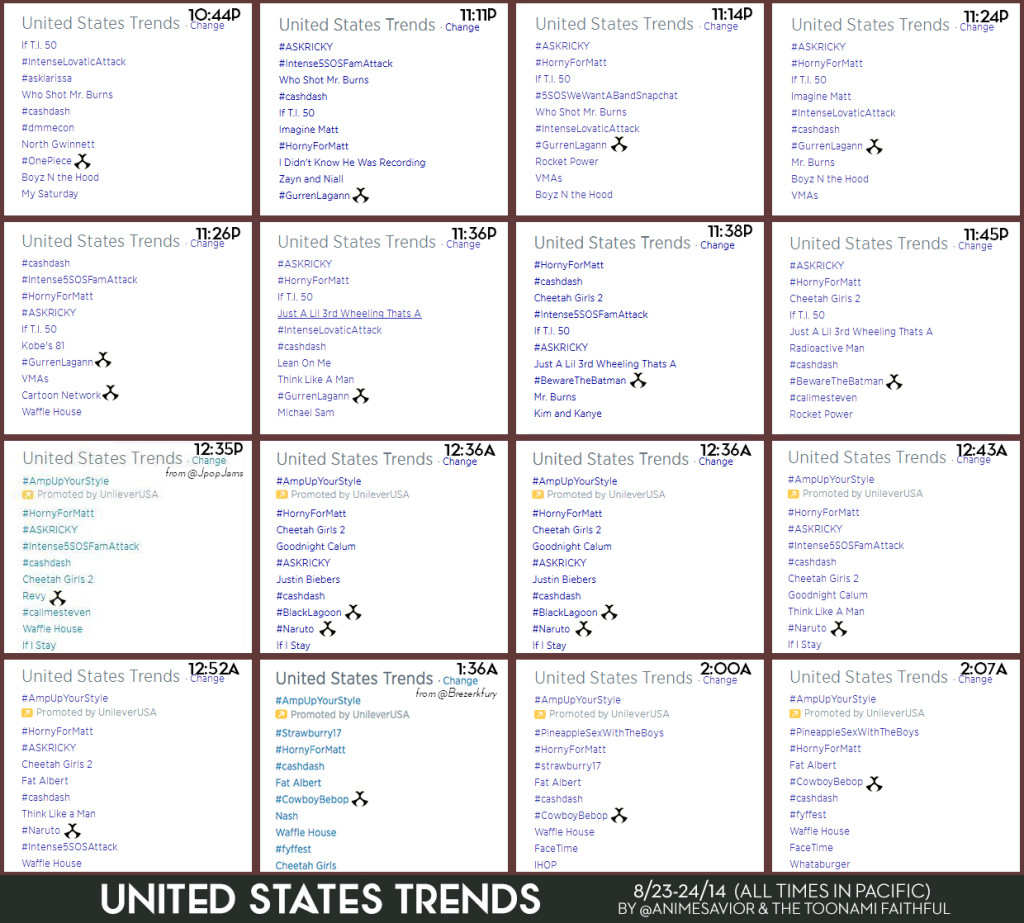 "Revy, have you forgotten? I'm already dead. I think I died the day I met you. If Roanapur is the city of the walking dead, than this is the city of the living. […] But when I look at it now through a dead man's eyes, this place is a mirage. […] Revy, I didn't come back to go back to my own life, I came to forget."
–          Rock, Black Lagoon (Episode 23)
The Toonami Trending Rundown for August 23-24, 2014. The curse of Toonami having a rough trending night during a premiere show's second week unfortunately continues as stiff competition from several events was gonna make it tough for trends on the night. Fortunately, Toonami got it's slice of the social media pie as every show between One Piece to OG Naruto as well as Cowboy Bebop and Cartoon Network (During Gurren Lagann) trended in the US and Space Dandy (including Dandy), Gurren Lagann, and Black Lagoon trended in the mobile app. We also got a character trend with Revy as she butts in to a feud between Balalaika and Rock.
Good news, everyone. We now know what the replacement of Black Lagoon is: Hellsing Ultimate will be premiering on September 13th at 3am Eastern. Hellsing's run will be significant it will be an hour long show for 10 weeks, meaning that not only Roberta's Blood Trail won't be shown (for now), but OG Naruto will be off of the schedule for the foreseeable future. But on the other hand, we'll be having premiere shows all the way till 4am Eastern, so get prepared or set your DVRs.
In the meantime, we'll have a 1 week break from the regular schedule next week due to Labor Day weekend, but tune in anyway for an Attack on Titan marathon of the first 12 episodes with an all new Space Dandy at 11:30pm just before that. Till next week, stay gold.
Legend: The number next to the listed trend represents the highest it trended on the list (not counting the promoted trend), judging only by the images placed in the rundown. For the mobile app trends, the listed number of tweets are also sorely based on the highest number shown based on the images on the rundown.
US Trends:
Cartoon Network (During Gurren Lagann) [#9]
#OnePiece [#8]
#GurrenLagann [#7]
#BewareTheBatman [#8]
#BlackLagoon [#7]
Revy (From Black Lagoon) [#6]
#Naruto [#7]
#CowboyBebop [#4]
Mobile App Trends:
Space Dandy [#8]
Dandy [#8 with 10.8k tweets]
#GurrenLagann [#4]
#BlackLagoon [#6]
Notes and Other Statistics:
Special thanks to @BerMEWdez728, @Brezerkfury, @evee4567, @Jose_CNN, @JpopJams, @KiddBlast90_, @MichaelaCapers, @Rt_Lockwood, and others I forgot to mention for spotting some of the trends on this list.
Kill Them All. Only Toonami on [adult swim] on Cartoon Network.