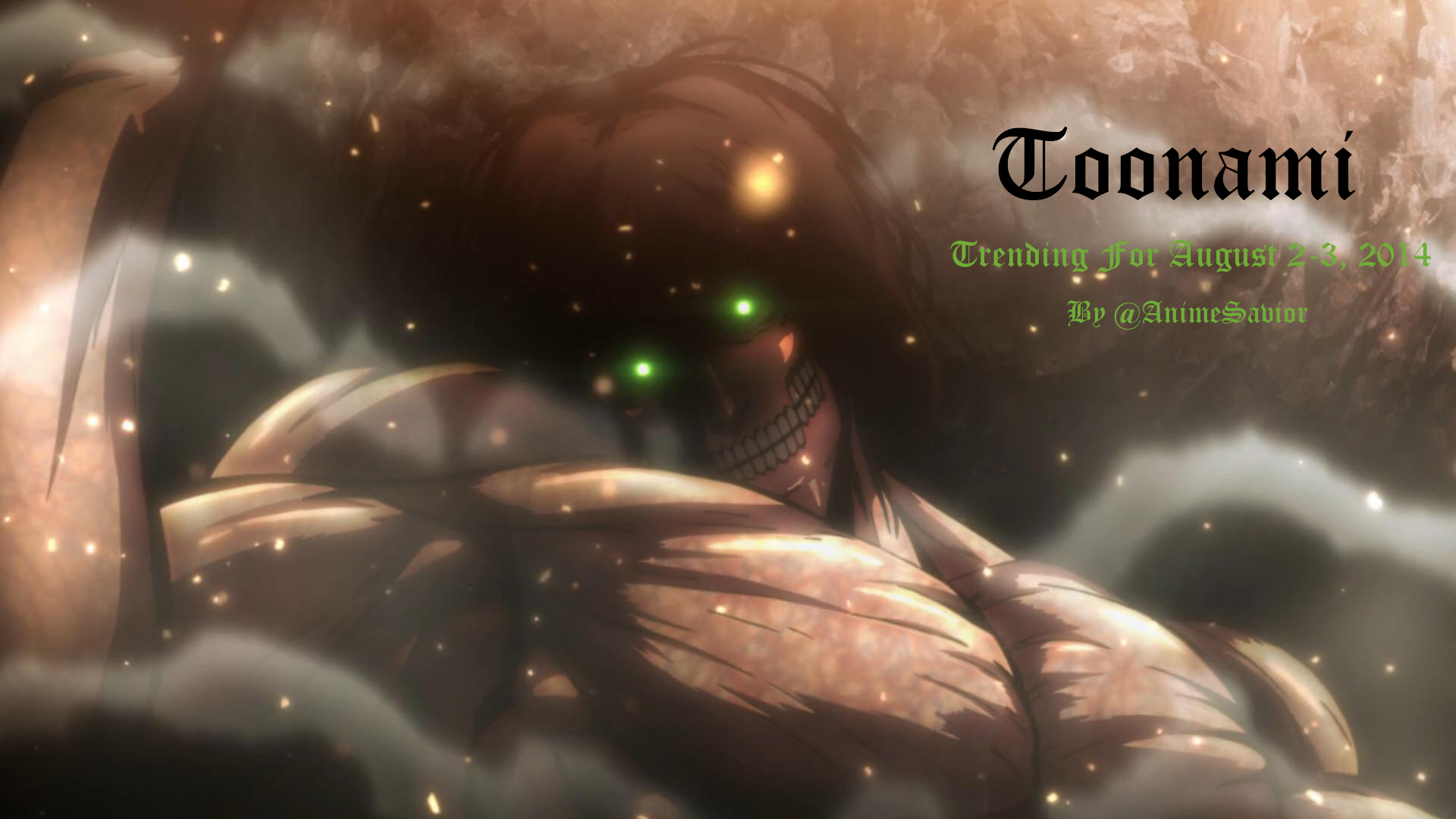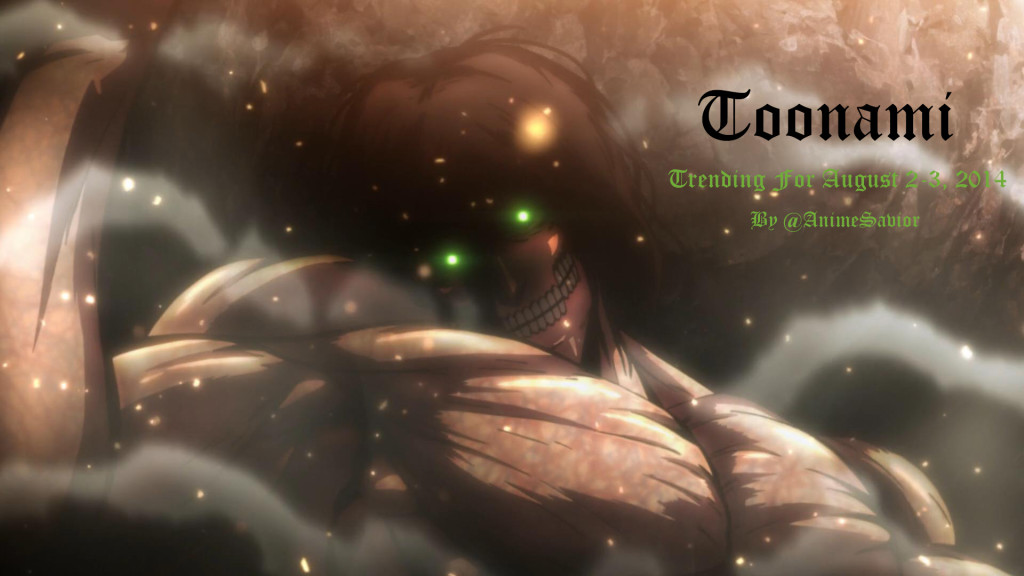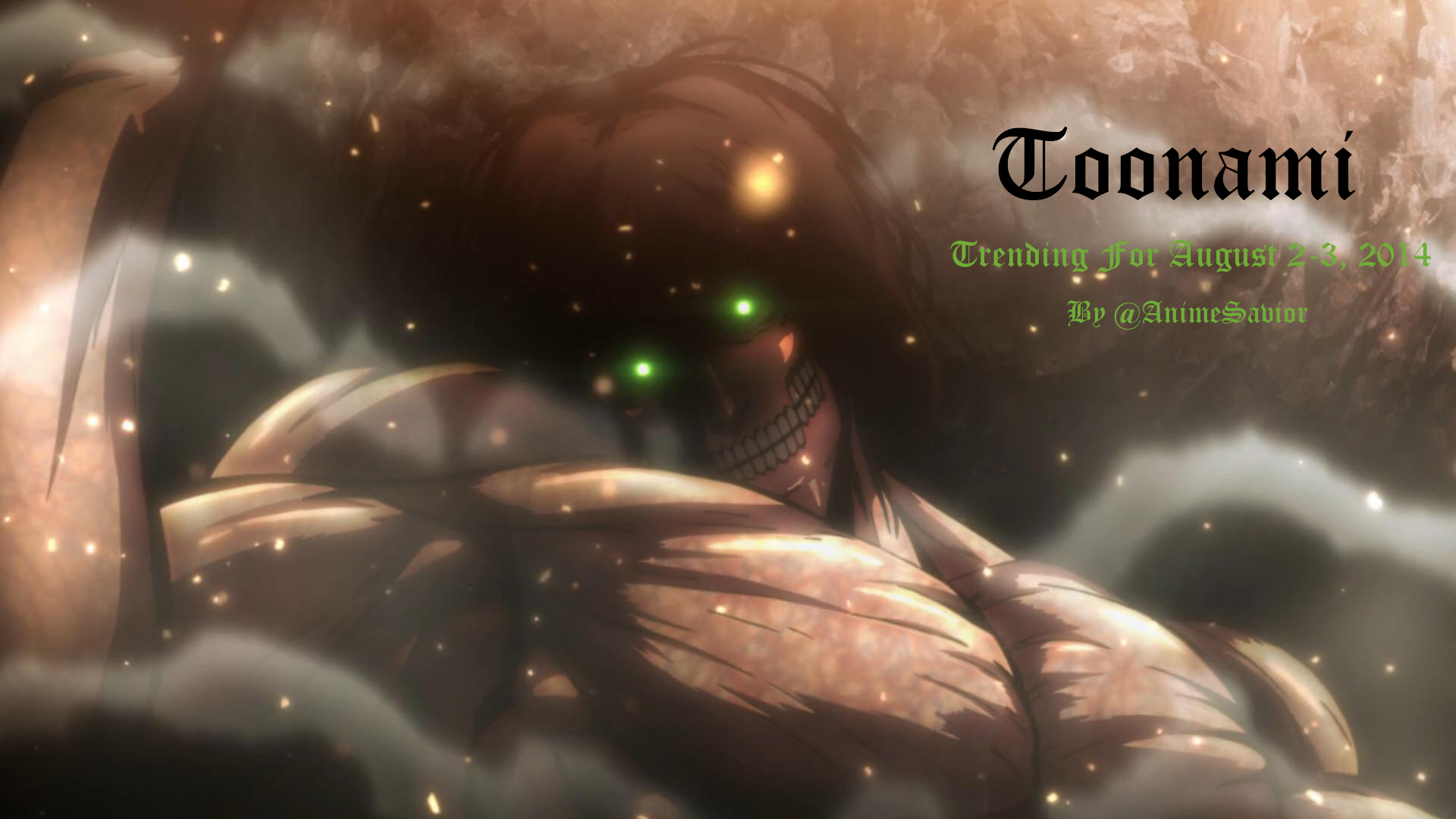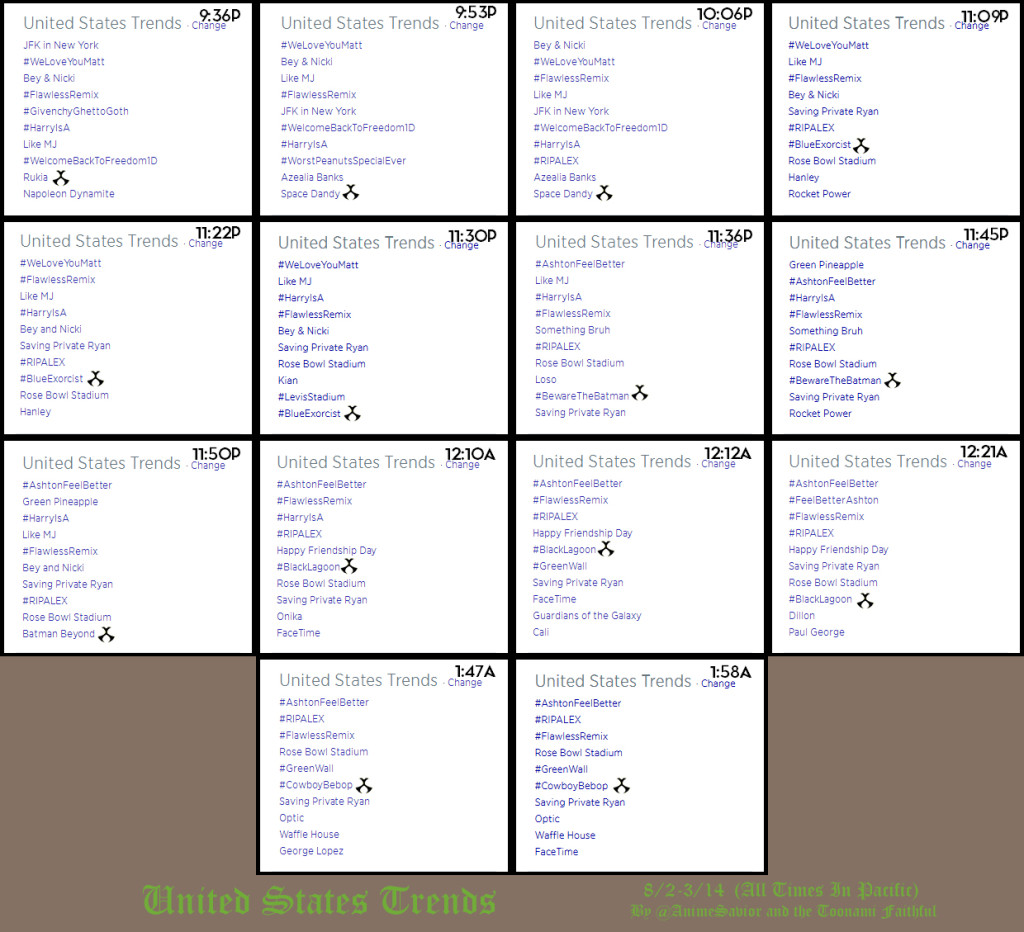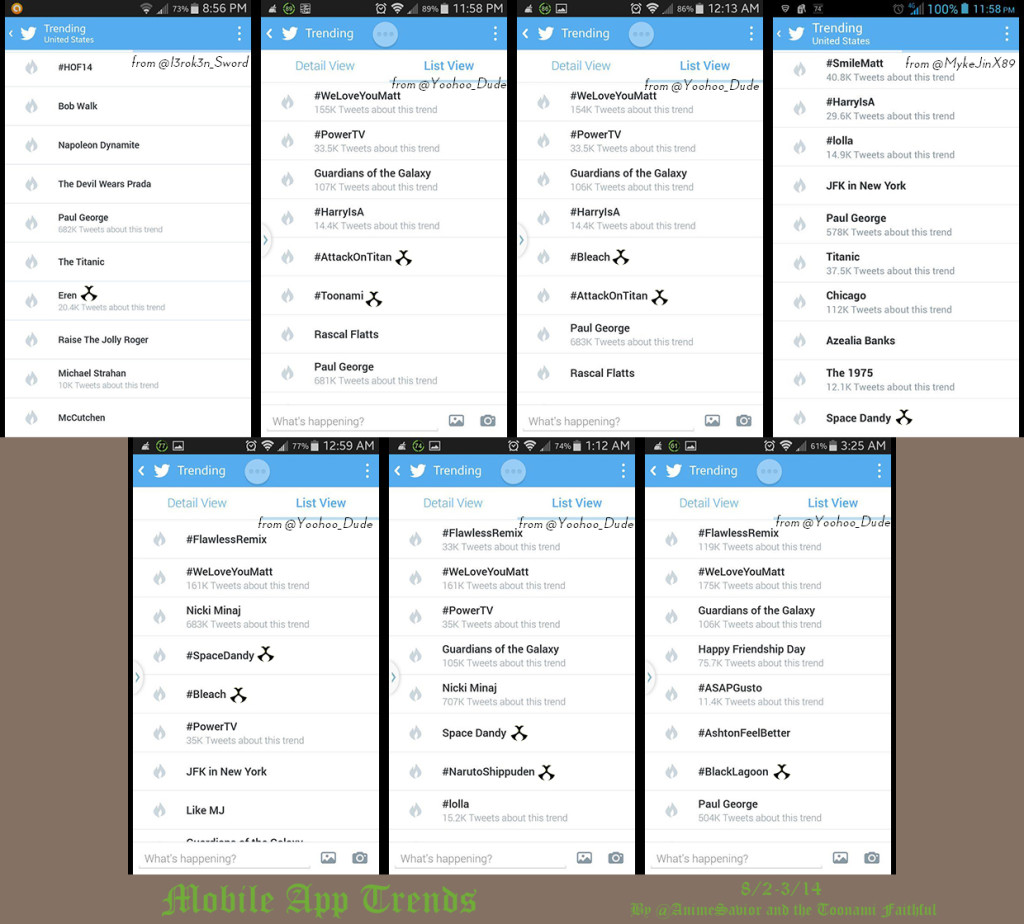 "We're born free. All of us, free. Some don't believe it. Some try to take it away. To hell with them! Water like fire, mountains of ice, the whole bit. Lay your eyes on that, and you'll know what freedom is. That it's worth fighting for. Fight to live. Risk it all for even a glimmer of real freedom. It doesn't matter what's waiting outside the gate, or what comes in. It doesn't matter how cruel the world could be, or how unjust. Fight! Fight! FIGHT! FIGHT!"
–          Eren Jager, Attack on Titan (Episode 13)
The Toonami Trending Rundown for August 2-3, 2014. Not an easy night for trending with all the various events going on, with only 4 shows trending in the US, and Toonami and 5 shows trending in the Mobile App. We did however, get some special character and in-show trends from Attack On Titan (Eren, as he successfully plugs the Trost wall hole), Bleach (Rukia as a surprising development between her, Isshin and Urahara begins to unfold), and Beware The Batman (Batman Beyond, as Toonami showcased a DC Nation short based on the said series during the break).
DBZ fans, on Tuesday, Battle of Gods will be screening in selected theaters across the US. If you're up for checking it out, see here for more information.
On a more somber note, the legendary Studio Ghibli has not been looking well since Miyazaki's retirement, with the studio contemplating a major restricting of it's operations. Rumors had it that they would be shutting down their film department, though that isn't the case so far. For the sake of anime, let's all hope they'll get through this.
Tune in next week as we get to the series finale of Blue Exorcist, while Attack on Titan begins it's second half, among other great moments from the other shows. We also got two weeks left to go until Gurren Lagann begins, so get hyped. Till next week, stay gold.
Legend: The number next to the listed trend represents the highest it trended on the list (not counting the promoted trend), judging only by the images placed in the rundown. For the mobile app trends, the listed number of tweets are also sorely based on the highest number shown based on the images on the rundown.
US Trends:
Rukia (From Bleach) [#9]
#Space Dandy [#10]
#BlueExorcist [#7]
#BewareTheBatman [#8]
Batman Beyond [#10]
#BlackLagoon [#5]
#CowboyBebop [#6]
Mobile App Trends:
#Toonami (During Attack on Titan) [#6]
#AttackOnTitan [#5]
Eren (From Attack on Titan) [#7 with 20.4k Tweets]
#Bleach [#5]
#SpaceDandy/Space Dandy [#4]
#NarutoShippuden [#7]
#BlackLagoon [#7]
Notes and Other Statistics:
Special thanks to @I3rok3n_Sword, @MykeJinX89, @Yoohoo_Dude, and others I forgot to mention for spotting some of the trends on this list.
Pretty Bad Odds…For Them. Only Toonami on [adult swim] on Cartoon Network.