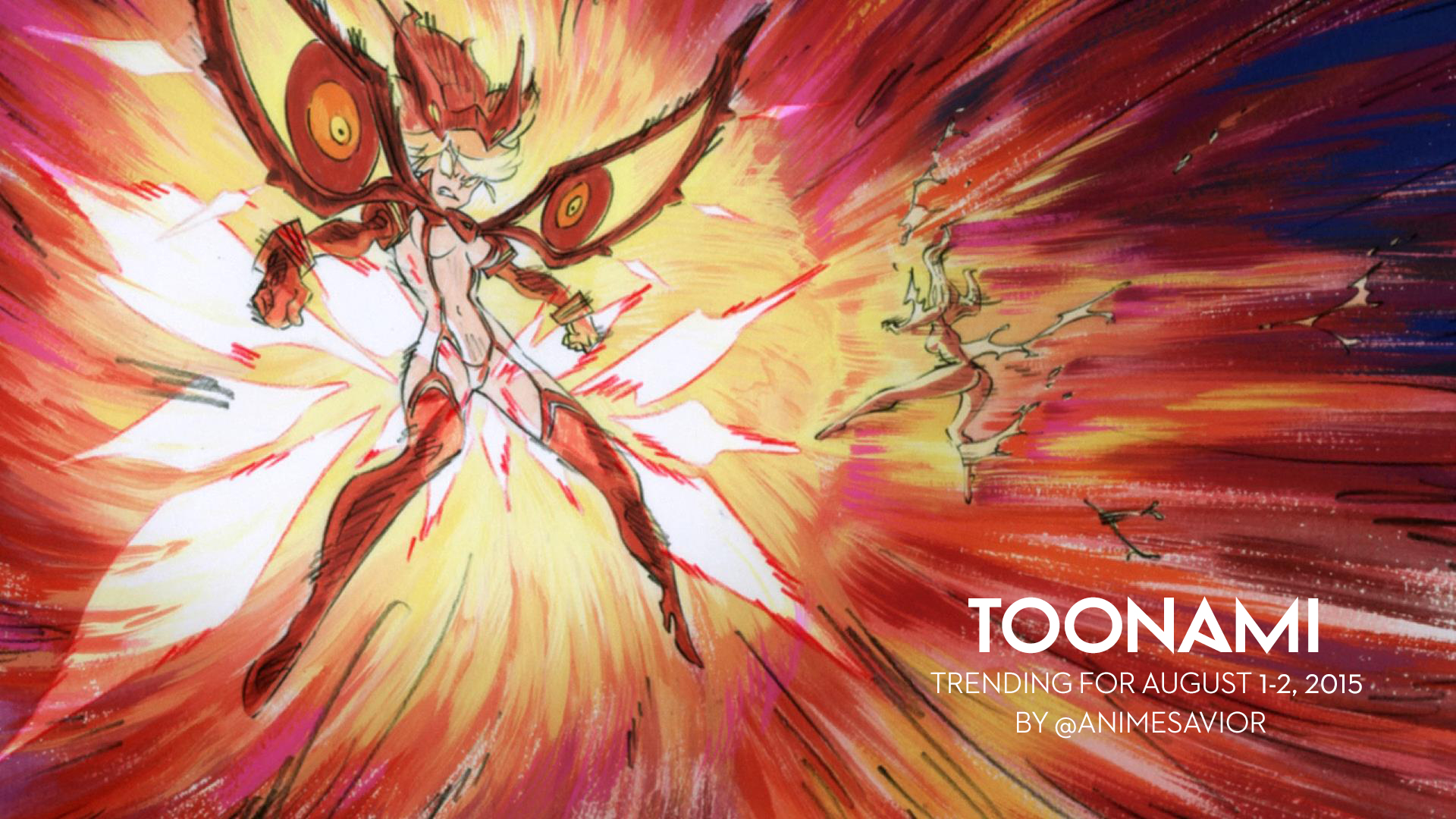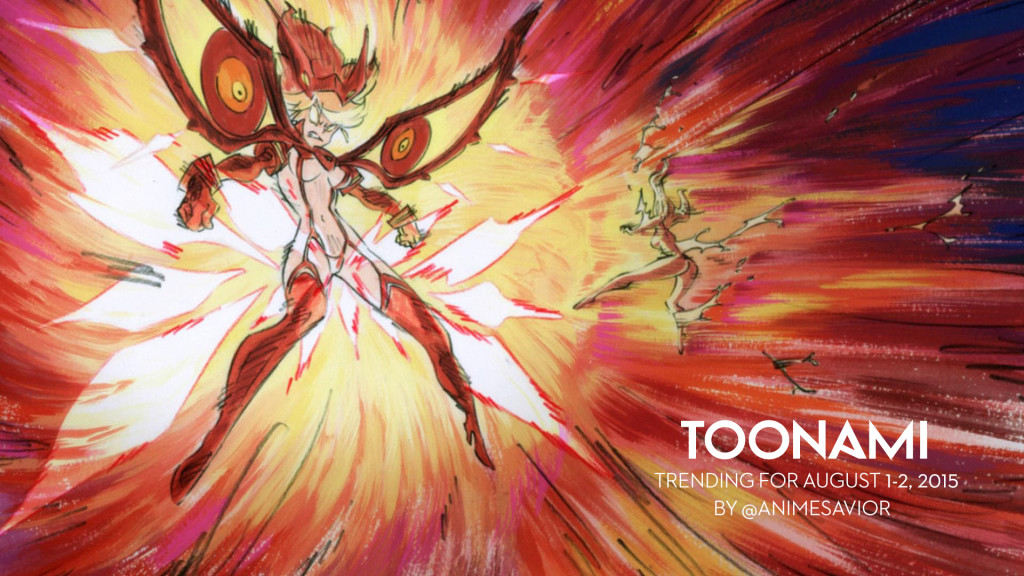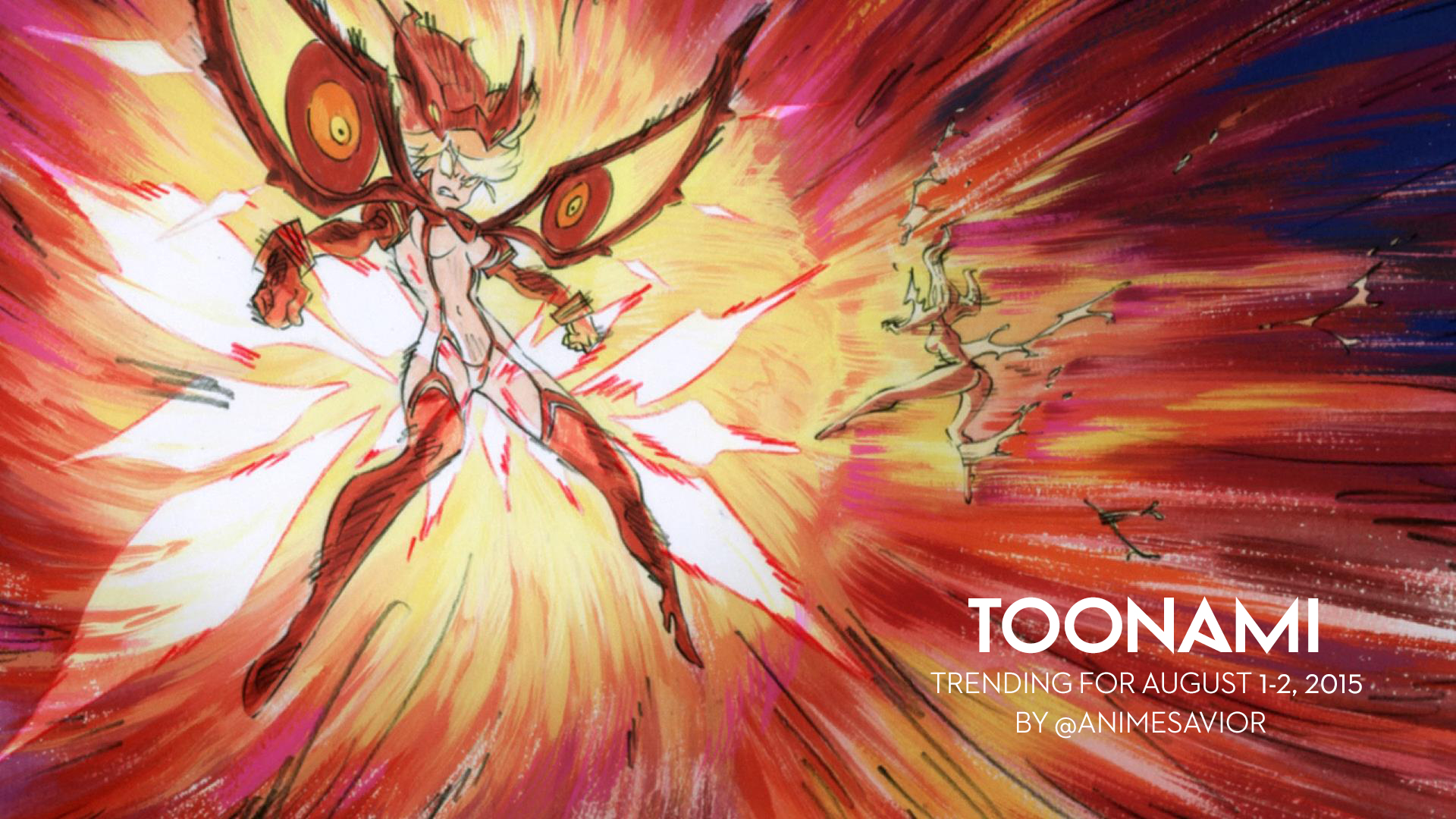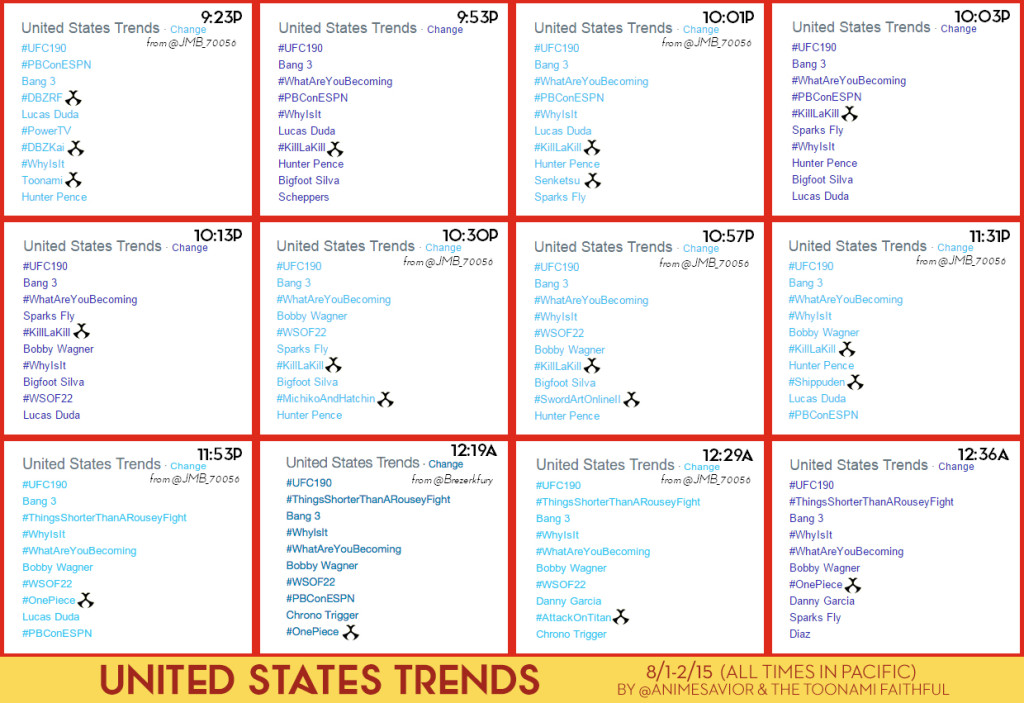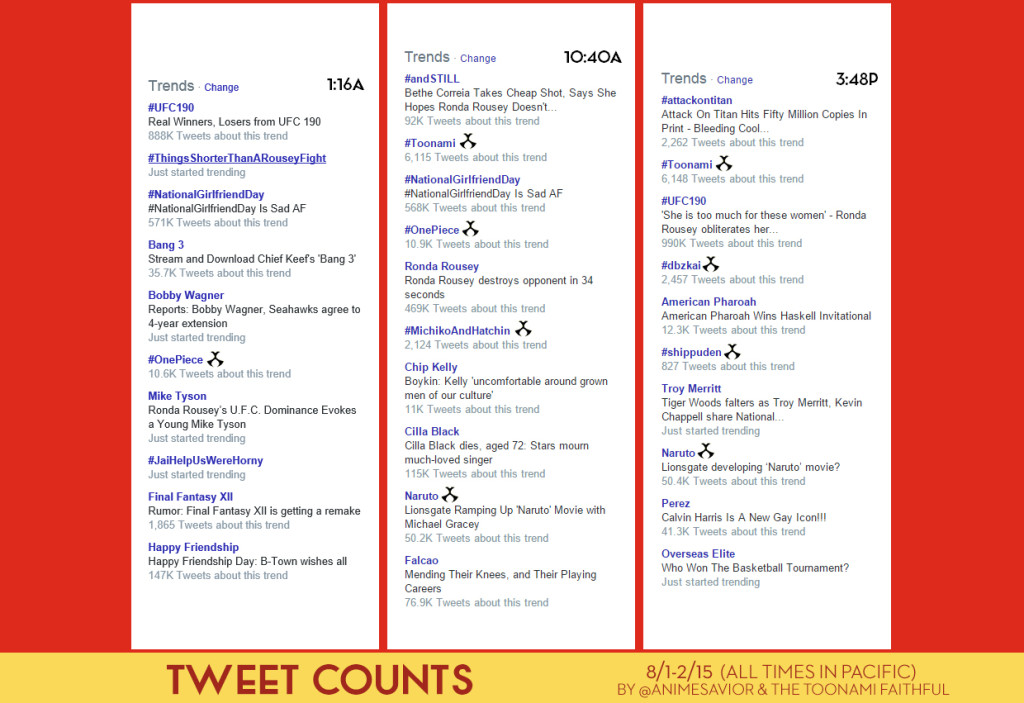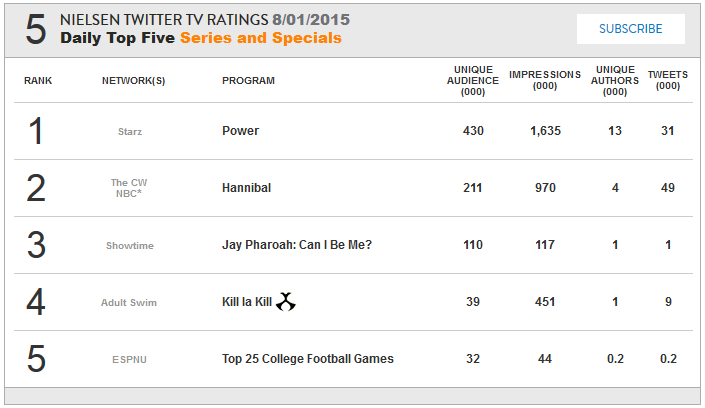 "It's alright [Ryuko]. You finished what your father started. And I'm sure he's proud. I've had a wonderful time knowing you. […] Don't cry, you cannot wear a Sailor Uniform forever. From now on, wear whatever you want. Clothes more cute than me."
–     Senketsu, Kill la Kill (Ep. 24)
The Toonami Trending Rundown for August 1-2, 2015. We send out Kill la Kill with a bang as Toonami and every show on the block trended in the US. In addition, Funimation showcased a preview of the upcoming film DBZ Resurrection F, and as a result #DBZRF trended in the US as well. Of course, for those that wish to check out the film, it airs in select theaters starting this Tuesday.
And as previously mentioned, this was the night for Kill la Kill to end it's Toonami run on a high note, and it would as the show also trended worldwide and produced a character trend in Senketsu, as he and Ryuko finally defeat Ragyo and sacrifices himself in order to take Ryuko back down to Earth. Kill la Kill would also make Nielsen Social's Daily Top Five on the night, the first time since Space Dandy's season 2 premiere that this has occurred for a Toonami show. Not bad, especially considering that Ronda Rousey's 34 second TKO victory over Bethe Correia was occurring at the same time.
Kill la Kill Trending Retrospective
After 24 weeks of Ryuko attempting to avenge her father and stop the Life Fibers from taking over the world, Kill la Kill's Toonami run is finally in the books. During it's run on Toonami, #KillLaKill has successfully trended in some capacity on Twitter during 16 out of 24 weeks of it's run, including during the Memorial Day marathon and during the week Aniplex and Toonami announced that it would be airing back in January.
Kill la Kill's buzz also brought 8 different character and in-show content trends during it's run: the Elite Four, Gamagori in 2 occasions, Mako in 6 different occasions as well as her "Fight Club" Goku uniform, Nudist Beach, Ryuko in 3 occasions, Satsuki in 2 occasions, and Senketsu in 3 occasions.
Of course, I should probably mention that Kill la Kill does have an extra 25th episode, which explains things like why Satsuki cut her hair and the fate of Honnouji Academy, but due to licensing issues, Toonami was unable to get the OVA, so you're going to need to get the DVDs to check that out. Regardless, thanks for the memories, Kill la Kill, and if the future brings more, bring it on.
And Finally…
Tune in next week as Akame ga Kill joins in on the action at 12:30am Eastern, while Sword Art Online kicks off the Mother's Rosario story arc, among other great moments. Until next week, stay gold, and don't lose your way.
[divider]
Legend: The shows listed are ordered based on their appearance on the schedule. Show trends are listed in bold. The number next to the listed trend represents the highest it trended on the list (not counting the promoted trend), judging only by the images placed in the rundown. For the Twitter tweet counts, the listed number of tweets are also sorely based on the highest number shown based on the images on the rundown.
United States Trends:
Toonami (During DBZ Kai (East Coast)) [#9]
#DBZKai [#7]
#DBZRF [#4]
#KillLaKill [#5]
Senketsu (From Kill la Kill) [#9]
#MichikoAndHatchin [#9]
#SwordArtOnlineII [#9]
#Shippuden [#8]
#OnePiece [#7]
#AttackOnTitan [#9]
Worldwide Trends:
Tweet Counts:
Toonami/#Toonami [6,148 tweets]
#DBZKai [2,457 tweets]
#MichikoAndHatchin [2,124 tweets]
Naruto [50.4k tweets]
#Shippuden [827 tweets]
#OnePiece [10.9k tweets]
Notes and Other Statistics:
Special thanks to @Brezerkfury, @JMB_70056 and others I forgot to mention for spotting some of the trends on this list.
Don't Lose Your Way. Only Toonami on [adult swim] on Cartoon Network.