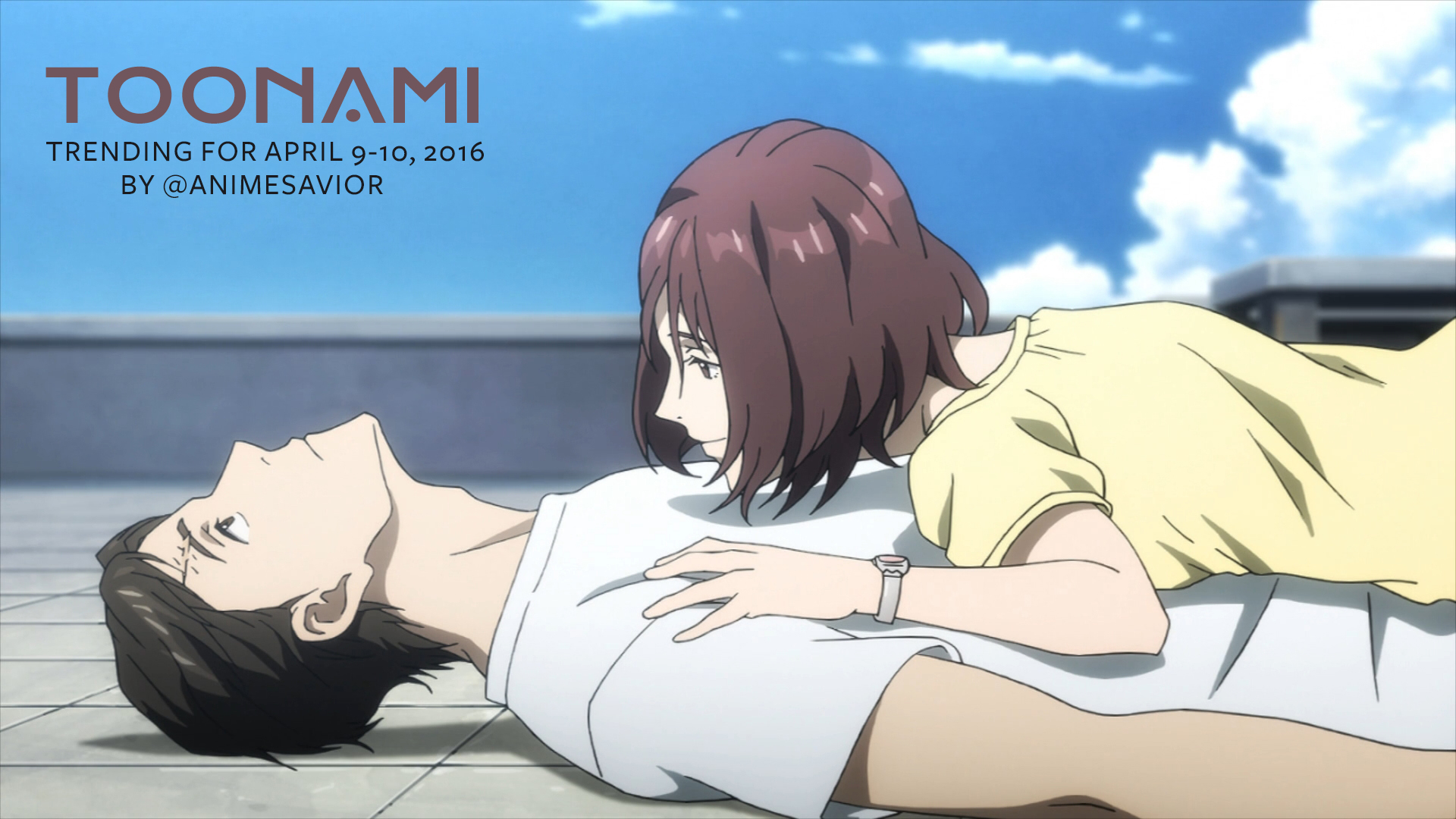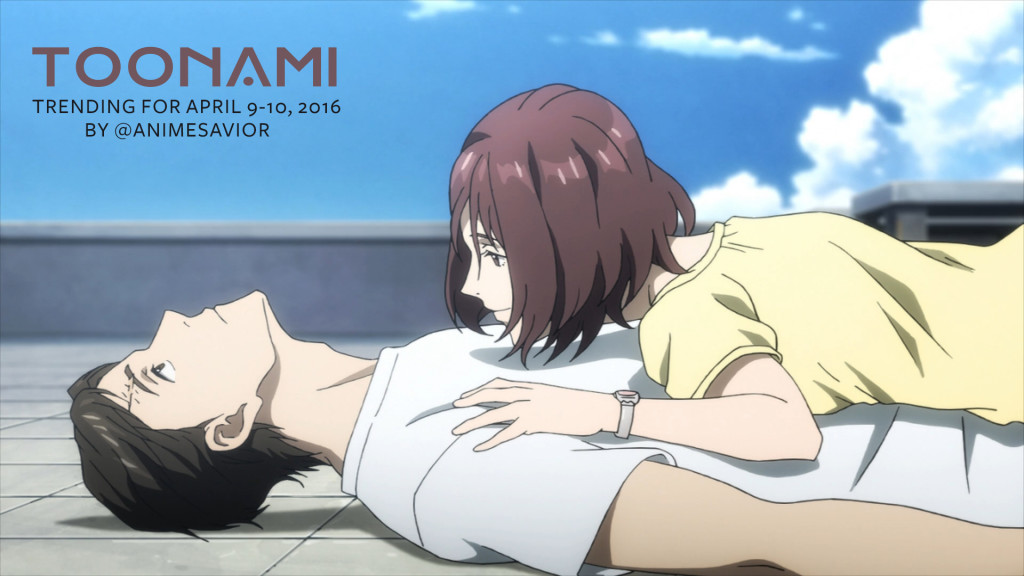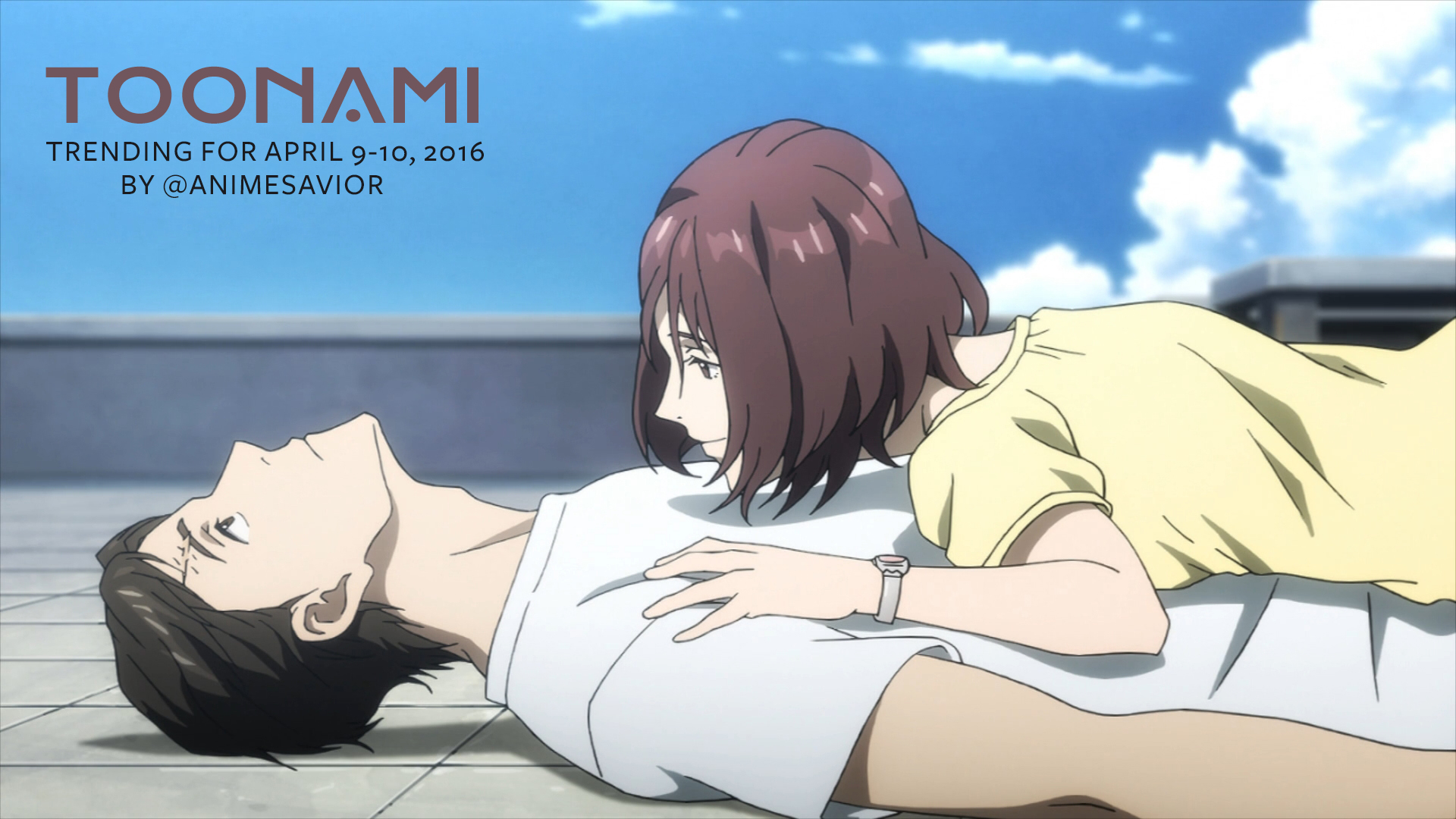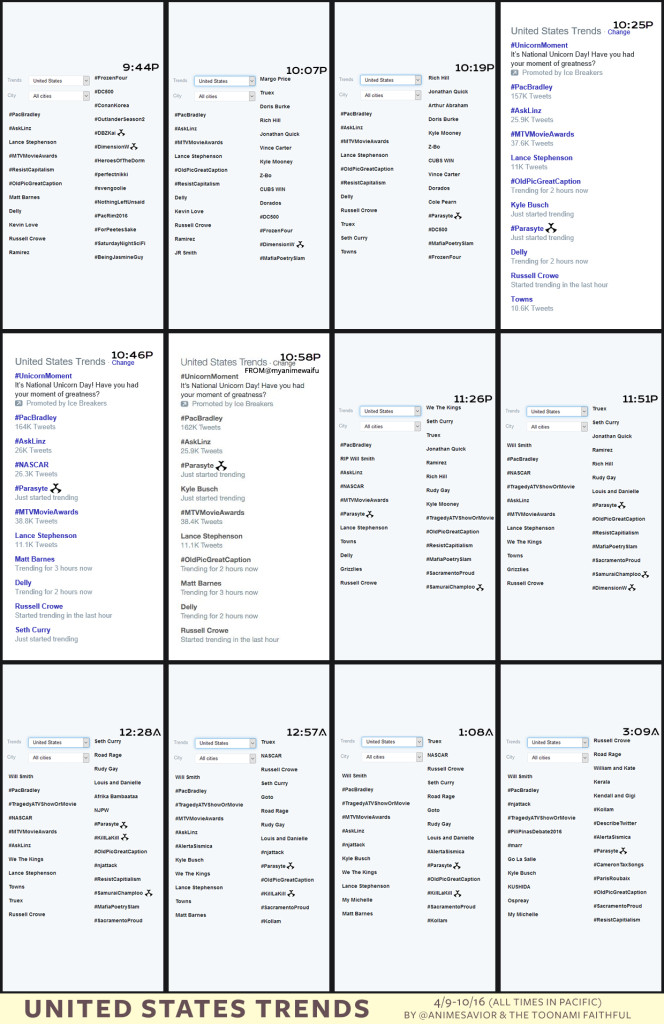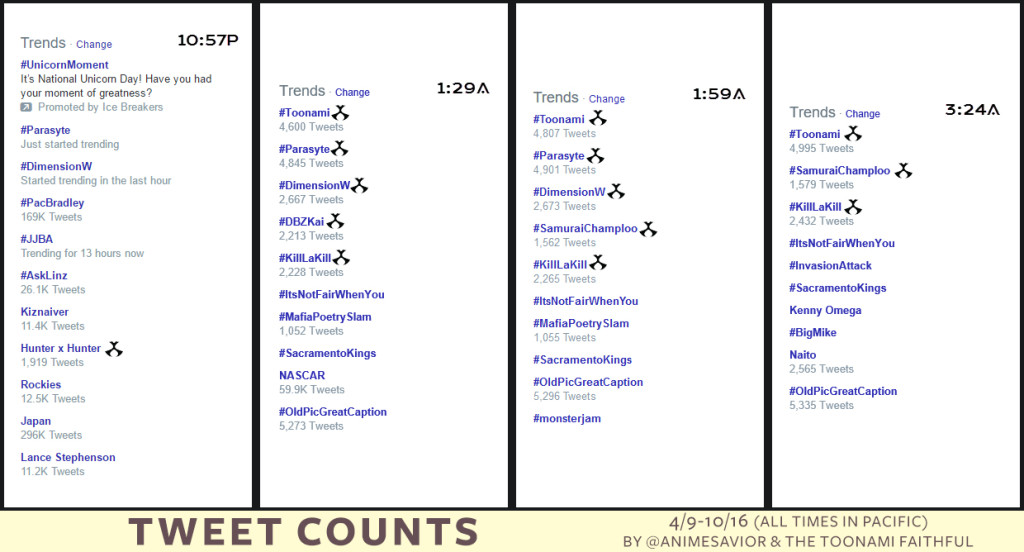 "All of us are born here together, and we live our lives trying to understand each other. Using bits of reason we accumulate along the way. Striving to find someone to relate to. And when we finally do…it's already over"
–     Shinichi Izumi, Parasyte (Ep. 24)
The Toonami Trending Rundown for April 9-10, 2016. We complete Parasyte's Toonami run on a good note (as well as send off Kill la Kill with a bang) as Parasyte as well as every show except for Shippuden and One Piece successfully trended in the US during their respective East Coast airings. In addition, Parasyte would also trend in the US during the West Coast airing. Not bad, especially considering that Pacquiao's decision victory over Bradley (and possibly his final bout overall) was occurring at the same time. No character or in-show content trends to report, however.

Back in 1988, a manga artist known as Hitoshi Iwaaki created a series known as Kiseijū, translated into English as Parasyte, which was published in Kodansha's Afternoon magazine in Japan running from 1988 to 1995. However, unlike many manga series today and even then, Parasyte had to wait until 2014 to get an anime adaptation, which eventually was dubbed and made it's way onto Toonami on October 3, 2015.
24 weeks of Shinichi fighting off the Parasytes later, and Parasyte's run is now in the books. Parasyte's run was well received in terms of social media buzz, successfully trending in the US during every week it has aired, including during the Thanksgiving weekend marathon as well as when a promo for the show was showcased the week before its premiere. Parasyte's buzz would also bring 3 different character trends, Kana, Migi in 5 different occasions as well as Shinichi in 2 different occasions.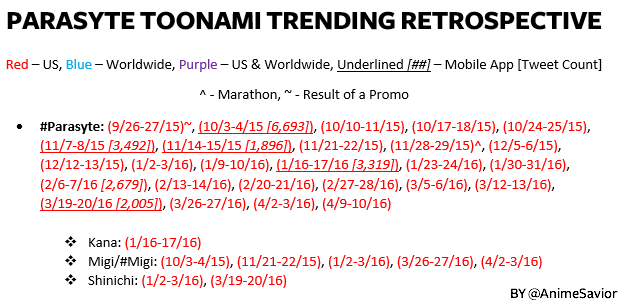 For those wanting more Parasyte, check out the previously mentioned manga, which has been translated into English and published by Kodansha Comics, as well as a two part live action movie, though I'm not sure if that's available in US shores. And unfortunately, as Sentai doesn't have a new show for Toonami to air at this current time, they'll be stuck "on the sidelines" so to speak for now, but I'm sure they'll be back with new shows at some point. In the meantime for those that wish to relive Parasyte again, Toonami will be giving it an encore run starting next week at 3 am.

Speaking of Toonami business partners on the sidelines, as Kill la Kill's encore run has come to an end and without a new show available from Aniplex that's Toonami caliber at this present time, we unfortunately have to say goodbye to Aniplex for now. Next week will mark the first time since 2013 (unless you count FMA) that Toonami has not aired a show from them. Aniplex's contributions to Toonami since its revival, Blue Exorcist, Gurren Lagann, Kill la Kill, and of course Sword Art Online have each brought great ratings and overall buzz to the better cartoon show, and I'm sure we'll be talking about them for years to come, especially with Ordinal Scale presently in production.
Unfortunately, the issue is that outside of rerunning those shows, there's not much they can offer right now. While their newest acquisitions including Your Lie in April and Erased are all good shows in their own right, most aren't action shows, and with Toonami being an action cartoon block, that's the main factor among other things that makes or breaks a popular or acclaimed anime from getting on Toonami's radar. (Granted, Sentai has a similar problem as well, and I could be writing this same thing for them if a new Sentai show isn't here in 24 or so weeks from now.) While some have touted Toonami getting shows like Durarara, Fate/Stay Night, Magi, and Madoka, for some reason or another those shows just couldn't make it on the block at least at this current time, and so here we are.
Of course as we've seen with Samurai Jack, FLCL, and Hunter x Hunter, nothing is impossible and the future brings many possibilities including new Aniplex productions that would be Toonami caliber and not to mention with future seasons of Sword Art Online being a matter of not if, but when, we're pretty sure Aniplex will be back airing shows on Toonami at some point. So on behalf of the Toonami Faithful, thanks for the memories Aniplex, and we hope to see you back soon.

Tune in next week as Hunter x Hunter makes its long awaited debut on the better cartoon show. Until next week, congratulations to Villanova for winning the National Championship and stay gold.
[divider]
Legend: The shows listed are ordered based on their appearance on the schedule. Show trends are listed in bold. The number next to the listed trend represents the highest it trended on the list (not counting the promoted trend), judging only by the images placed in the rundown. For the Twitter tweet counts, the listed number of tweets are also sorely based on the highest number shown based on the images on the rundown.
United States Trends:
#DBZKai [#16]
#DimensionW [#17]
#Parasyte [#3]
#SamuraiChamploo [#24]
#KillLaKill [#19]
Tweet Counts:
#Toonami [4,995 tweets]
Hunter x Hunter [1,919 tweets]
#DBZKai [2,213 tweets
#DimensionW [2,673 tweets]
#Parasyte [4,901 tweets]
#SamuraiChamploo [1,579 tweets]
#KillLaKill [2,432 tweets]
Special thanks to @myanimewaifu and others I forgot to mention for spotting some of the trends on this list.
Here's One More For The Road. Only Toonami on [adult swim] on Cartoon Network.