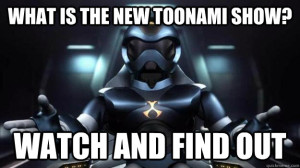 Today, Jason Demarco, creator of Toonami, announced via Twitter that the backdoor(which provided the Samurai 7 leak) and on air schedule(which had the recent Sword Art Online premiere date leak) are now both dead and will no longer be leaking any new series.   PLUS the Toonami crew will no longer be giving schedules to TV Guide(who provided the Soul Eater leak), the main point of all of this in the words of Demaro is as follows…
We believe in surprise and we believe in planning, to give a show premiere maximum impact. NOT messy internet bullshit. That's how we feel.
Are you glad there will be no more leaks for future Toonami shows and schedules? Do you prefer on air surprises or getting the news weeks before hand? Tell us in the comments below or in the Toonami Faithful forum!
Sources: Jason DeMarco's Twitter Status
Jason DeMarco's Twitter Reply