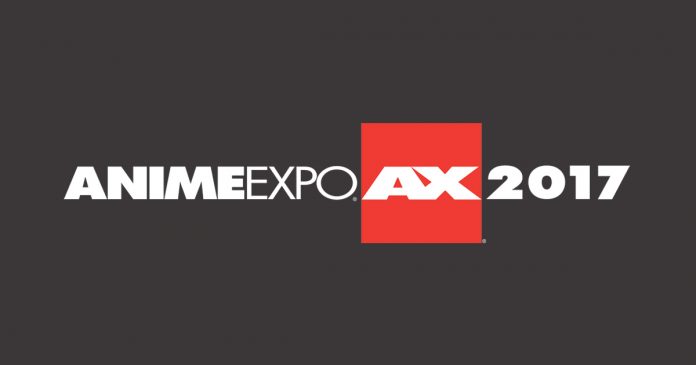 Covering Anime Expo alone probably wasn't the best decision I've made. Never having experienced the biggest anime convention in the country before, it might have been a little much for me. There were so many panels I wanted to attend, so many people I wanted to interview, and things I wanted to buy at the dealer's hall. However, I could only do so much. It was a lot of work getting to all the places I had to go to, which took a ton of energy out of me. But if you asked me if I would cover the convention again, I'd do it in a heartbeat. Anime Expo was fantastic and something I will look forward to next year. The convention turned out to be the big celebration I expected it to be.
Anime Expo offered a ton of premieres for fans, premieres that even Japan wasn't able to see. Among those, the first three episodes of Ancient Magus' Bride were shown to viewers. George Wada, the President of WIT Studios, purposefully wanted to showcase this series to a Western Audience before Japan got to see it. Anime Expo also got to host the premieres of Cardcaptor Sakura: Clear Card Arc Prologue and the Tokyo Ghoul Live-Action movie (first ever live-action movie to premiere at Anime Expo). Fans were also treated to the world premieres of both Welcome to the Ballroom and Violet Evergarden.
To me, all of this just proves how important the Western audience is to Japan. You often hear the narrative that Japan cares more about their domestic audience than the international (and by a large margin). And while I do think they put more stock in their domestic market, they apparently also care a lot about fans worldwide. Other countries are now getting world premieres involving anime, which is something I didn't expect would happen as much as it has in recent memory. The global reach of anime will continue to branch out and reach more and more people, and I think events like this can only strengthen the relationship between studios in Japan and companies in other countries.
Besides world premieres of anime, some English dubs were also showcased at Anime Expo, such as Digimon Adventures tri.- Chapter 3: Confession (with a Q & A with some of the English cast), Fate Grand/Order (which included the celebration of the release of the mobile game), Anohana, and Food Wars. All of which I'm sure got fans excited. I know many who have been anxiously waiting for the dub of Food Wars to be released. I, too am always excited for more shows to receive an English dub, and I was very pleased that more and more titles are getting that treatment. It isn't always a given, especially with companies like Aniplex USA and Sentai Filmworks. So being able to see sneak peaks of these series in English had to have been a fantastic treat for everyone.
When it came to the panels, I thought Studio Trigger had a tremendous showing at the convention with their industry panel and live drawing event. The line to get into both was massive, and I'm sure not everyone could attend those events. Studio Trigger are the masterminds behind hit series like Little Witch Academia, Kill la Kill, and Space Patrol Luluco, which has given them a large fan base. Plus they had a few announcements of anime titles that have many people excited for the studios' future. I'd also include Sentai Filmworks as having had a stellar convention due to the panels they had. Those included a Food Wars dub premiere and having both the authors of popular light novel series, Is it Wrong to pick up Girls in a Dungeon? and No Game No Life, at the convention. All were events that fans wanted to check out.
Another nice added feature to help those who might have missed or couldn't attend a certain panel, there were broadcasts on Anime Expo's Twitch channel. It was in Petree Hall, which limited streamers only to events that were held there, but I still thought it was a nice service to offer. It made things easier to navigate around if I had two panels I wanted to go to at the same time: I could watch one on my phone (if I could connect to a cell tower), and sit in on the other. That's always a tough thing to deal with at conventions when you want to go to more than one event at the same time and you have to make a tough choice on which one to miss. So having some panels air on Twitch helped alleviate the disappointment of missing some cool events.
Not to be outdone, Toonami had themselves a convention (even though there wasn't a Toonami panel). The FLCL panel had one of the longest lines I saw at the convention, with many folks not even able to get in. A poster was given to fans that showcased Haruko. Fans were also treated to a 40-second promo that debuted a new song by The Pillows. We also learned that there WILL be a break in between seasons two and three, making me speculate that they will be two different stories. Not much was revealed to fans concerning the story, the characters, and the voices (as Kari Walgreen hasn't been asked to record any lines for Haruko), but many fans still are just excited as ever to see this story continue. If you weren't able to attend the convention or the panel, here's a link to the stream we did (sorry for the camera work) during the panel.
"Nobody cares about or wants a sequel to FLCL" they said https://t.co/lRh4ghOkpw

— SuperElite BusDriver (@Sketch1984) July 2, 2017
Toonami's partners wanted to get in on the announcement action, as two shows were announced for the lineup this year. VIZ Media announced that JoJo's Bizarre Adventure: Stardust Crusaders will air on the block starting July 29 at 12:30 a.m. (after Attack on Titan season two ends). Gundam will also be returning to Toonami with the second season of Iron-Blooded Orphans set to join in October.  As Editor and Chief of Toonami Faithful (Sketch) mentioned before, Toonami's lineup will look eerily similar to that of 2016. Toonami will be going the sequel route with these new acquisitions and they hope that the popularity of the previous seasons will carry over. It will be interesting to see how both these shows perform, considering how well Iron-Blooded Orphans did previously on Toonami, as well as how much "star" power Stardust Crusaders can bring. After all, this is the JoJo that brought the JoJo fandom to the forefront on social media. I know that actors of the series are pretty excited to have it seen by millions of people on television, and this premiere could become the shot in the arm the block needs.
JoJo's Bizarre Adventure: Stardust Crusaders joins #Toonami's lineup this summer! ORA ORA ORA! #JJBA pic.twitter.com/KMwo2NueK3

— VIZ (@VIZMedia) July 3, 2017
It's official! The Season 2 English dub of Mobile Suit Gundam: Iron Blooded Orphans will premiere on #Toonami October 2017! #RaiseYourFlag pic.twitter.com/dgclJwVBuI

— Tom Bauer (@TomBauerVO) July 2, 2017
There also was a plea by fans of Toonami to air one particular show that is one of the more requested series so far.
Yo @Clarknova1, JUST SAYIN' <3 #MobPsycho100 #toonami pic.twitter.com/TasrPwwEZC

— Chris Niosi (@Kirbopher) July 2, 2017
Toonami Faithful will have a total of six interviews to share with everyone from the convention. We talked to a wide variety of people, from voice actors, (Kyle Hebert, Dameon Clarke, Tom Bauer, and Christina Kelly), to director Alex Von David, the producer of the Dragon Ball Z Mobile game Dragon Ball Z Dokkan Battle (Toshi), and the executives of Toonami (Jason DeMarco and Gill Austin). We will do our very best to bring those to you as quickly as possible, as all the conversations were informative and entertaining. There wasn't any breaking news for fans in these interviews, but Jason and Gill did state they are working on another Total Immersion Event, which will come at some point, as well as a reiteration as to which shows are the most requested.
With all the fun I had there were a couple of issues that came up during the convention. One was the dreaded line to get into the convention, as well as the line for registration. I was worried about getting from place to place, especially with the horror stories I heard from previous years. I was lucky that I was able to get in and out with very little wait time, but I know that general attendees weren't so fortunate. This had to have been a huge drag since it took some people over four hours just to begin their convention experience. That's not fun, and because of how understaffed the convention was, I'm not surprised at how slow things went. Plus, when metal detectors are involved, I know the process of getting inside will be slow.
Anime Expo 2017 is this weekend and the line to get in is a special kind of hell https://t.co/4R0VEz1trM pic.twitter.com/T5lGmSO2br

— Kotaku (@Kotaku) July 1, 2017
I found it odd that in one room in particular (Petree Hall) attendees weren't asked to leave. So if you wanted to, you could have just stayed in that one hall (which had a lot of panels) and spent your day there. I understand the theory of it, considering that having so many people leave that hall would cause a MASSIVE traffic jam, but I have a feeling that not having people clear out might have caused the issues of getting attendees into the room on time. They'd have to start moving those who stayed closer to the front (if they'd move) and then begin to let new attendees in and try to fill the room. I'm sure it led to many headaches for the staff to make things go smoothly.
I also wasn't a huge fan of the app that Anime Expo made, and would have preferred that they use Guidebook. My issue was that I never received an update when a panel I was interested in was about to start, so I was constantly checking the app (probably blocking traffic) to make sure I was headed to the right spot at the right time. Instead of the app doing that automatically, you had to set the notifications yourself, which I didn't know until Monday. The app did send notifications about location changes for the shuttle buses, panel cancellations, and big concert events that were going to happen, which was nice. But I hope next year those notifications will also include panels you have selected to go to.
Final attendance #'s for #AX2017 are in! Check out our website to learn more + read about highlights → https://t.co/pHfpEISc48 pic.twitter.com/aKmVSkbGPo

— Anime Expo (@AnimeExpo) July 5, 2017
Overall, I'm amazed that I survived my first Anime Expo. The sheer number of people at the convention had me in awe. So many come to this convention to have the time of their lives, and I'm sure many fans did. With all the panels and cosplay on display, there wasn't much this convention didn't offer. There was even a panel where Corgi's were cosplaying! I do think that this convention was a little too much for one person to handle and hope to have more help when I cover it again. However, I highly recommend going to Anime Expo at least once if you've never been. Just like the Super Bowl or WrestleMania, significant events such as this should be experienced at least once to understand why so many people go and return to it. There were so many amazing panels offered, and the chance to meet a lot of cool individuals made the trip feel like a dream. It wasn't perfect, but Anime Expo did the best it could, and I cannot wait to go again.
C.J Maffris is an editorial writer for Toonamifaithful.com. He wishes more people could have joined him on his adventures through Los Angeles. You can follow C.J on Twitter @SeaJayMaffris to talk all things anime and Toonami.