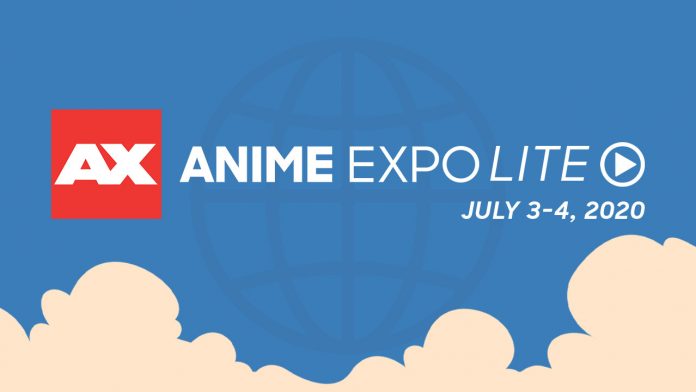 With the state of the world right now from COVID-19, I applaud how both FUNimation and Anime Expo did what they could to bring anime fans something to cheer them up. Many (especially those of us here at Toonami Faithful) miss being able to work the convention circuit. So with both companies trying to give the experience virtually, I believe many fans were able to have some sort of excitement this summer. And while there were some interesting benefits from having these conventions streamed for thousands of anime fans, my mind wonders what could've been done to make things even better. So the staff writers at Toonami Faithful will help paint a picture of how we felt Anime Expo Lite and FUNimationCon performed for their fans.
When these online conventions were first being announced, I had my reservations. I wasn't sure what either event would entail, but I was optimistic that they'd be fun to catch periodically. I didn't think either of the conventions would garner as much attention as they did. But to my surprise, it seemed like many anime fans were rushing to their computers to make sure they could catch fun panels like the My Hero Academia voice actors panel, or the premiere of Fire Force season two (English dub). It created a fun little environment, and one wonders if the impact this experiment could lead to more virtual conventions in future years.
The benefits from having these online conventions didn't jump out at me until much later. It was nice knowing that if there were multiple panels that attracted interest, so you didn't have to make a difficult choice. You could pull up every link of every stream, and have them all playing. Sure, you'd have to pick which panel you'd want to hear. But the fact that there'd be less information lost became a huge bright spot. Plus, no waiting in lines to go to the bathroom or grab food. Everything was going on in the comfort of your home and allows you more freedom to do what you want.
And the fact that you'd only need five tabs open for every stream made things convenient and easy to find. As long as you had the schedule (which was easy to find) you weren't going to miss anything. This made it easier to plan and overall created a nice balance between watching panels and continuing on with life. It was a nice feeling and one that I wish conventions would provide in the future.
This leads me to say that maybe larger conventions like Anime Expo should do more to stream their panels and events. I know they already do for one of the larger rooms that has constant panels each and every day. But I think that, with the fear of contracting COVID-19, it'd be wise to continue this trend. Not to outright replace going to a convention, but to allow more fans who might not have the financial capability to get a chance to feel they are a part of something. It's not as if this virus is going to just disappear when we are in the year 2021. There will be a need to stay vigilant to keep everyone healthy and safe. But keeping everyone at home and providing more streams is a great first step in providing more content for fans.
However, the biggest question on many fans' minds was why did FUNimation and Anime Expo hold these online conventions at the same time? Personally, I didn't mind, since it allowed for both Friday and Saturday to be full of interesting panels to check out. Typically when at a convention in person, I try to make it to as many panels as I can. Just having the one convention would allow things to move at a slower pace, but I like giving fans more content. After all, isn't that what we want? But I do understand there were questions about the scheduling choices made. I don't believe there's a rift between the two, but it was odd. Maybe it'd been better for each to happen on their own weekend, but that's something for FUNimation and Anime Expo to discuss.
Still, no online convention is without its fair share of troubles, such as connection issues for both fans and hosts alike, and what happens when a stream goes down (which happened to Anime Expo's YouTube page for a bit). So it isn't like online conventions are foolproof.  Some of the live panels came across like everyone was trying their best to scrap something together to get a passing grade (the Warner Brothers panel comes to mind). Perhaps more of the streams could be prerecorded to make sure everything goes smoothly. If any stream fails or goes down, companies could upload these videos for everyone to see (which some places were doing). 
Here are some thoughts about the online conventions from other staff writers at Toonami Faithful who were partaking in all of the festivities!
Umeko Long: Virtual conventions felt like the best alternative this year in response to the current pandemic. It also gave fans, like me, the opportunity to have the convention experience that wouldn't have been able to attend due to distance, personal obligations, financial reasons etc. But even though fans couldn't be there in person, it was awesome to see previews of new shows coming this fall and other announcements of things to come. That being one of my favorite parts from conventions, it didn't feel like I missed much of the action. I will say, I was greatly impressed with how the FunimationCon went. The panels that I watched started on time and ran smoothly (which I was nervous due to how fickle the internet can be sometimes). Lauren Moore, Content Production Manager at Funimation, was an awesome host on the numerous panels she attended. It appeared that Funimation took the time to plan everything out and executed a wonderful experience for this to be a first virtual convention. And considering how lackluster Anime Expo Lite felt, I greatly appreciated what FunimationCon did. If Anime Expo decides to do more virtual conventions, hopefully, they can do something about their platforms they streamed on because they weren't as reliable as I'd like.
It was nice to be in the comfort of my home watching these conventions. Yes, it would've been better to be at the actual convention to be in the same room as the hosts, voice actors, and other industry members. It also would've been nice to meet my fellow Toonami Faithful people for the first time and meet new friends as well. Hopefully, we'll be able to attend in person conventions in the future.
Varun "VLordGTZ" Gupta: When I first learned that Anime Expo Lite and Funimation Con were happening on the same weekend, I was perplexed. While it's good for fans to have multiple options, it creates a fragmented experience. The simultaneous events made covering both jarring, as you'd have to shift back and forth between the different streams. I wish Anime Expo and Funimation would have instead collaborated on a single online convention so that it felt more consolidated. Both conventions still had a passable amount of content on their own, making neither feel like an inferior experience for coverage.
The majority of the panels that I reported on were industry panels, which tended to be inconsistent. Early on, one of the strangest experiences was during Funimation Con's Shonen Jump panel, where technical difficulties cause the video to jump several minutes ahead, skipping all the announcements in the process (they were later revealed). Unfortunately, Viz Media's industry panel also had its own set of problems, announcements were wedged in-between voiced actor interviews. EIGHT new licenses were announced within roughly two minutes, placing me in a panic as I attempted to report on them all. It would have been better to have all of the announcements together, with the interviews to follow later. The con experience wasn't purely frustrating, though, as there were some panels that were genuinely fun to cover. During J-Novel Club's industry panel, president and founder Sam Pinansky did an excellent job in creating an entertaining and humorous panel that was appropriate for the virtual setting. This energy made covering the panel equally enjoyable, as the announcements provided you with an urge to talk about them (like Slayers being licensed!). Among my issues with the weekend, J-Novel Club reminded me why I love covering conventions: the fan excitement.
Overall, I think this year's online conventions were mostly a learning experience for companies. While some effectively delivered their news, many struggled to adapt to the changed format. On a personal note, while covering these conventions was less stressful than a real-life Anime Expo, the resulting highs of the cons were equally low. I wouldn't be opposed to covering an online convention in the future, but I hope we see some drastic improvements.
HappyKuroKitty: When I realized Anime Expo (AX) wouldn't happen this year I was very vexed. One of my favorite aspects of attending AX is getting together with my anime-loving friends, meeting new people, and being generally surrounded by all manner of cosplayers and weebs. The atmosphere is exciting, there is always something to see or do, and you are guaranteed to find at least one fan who is as obsessed over a series as you are. However, AX managed to pull together a diet-version of its programs and panels that sated our need for content and news while temporarily immersing us in the world of anime and manga. And the best part? It streamed online for free with absolutely no waiting in lines!
I enjoyed attending the industry panels each year, and VIZ Media in particular was a special treat. The virtual panel this year featured the voice actors of Naruto (Maile Flanagan), Boruto (Amanda Miller), and Sakura (Kate Higgens). Higgens, in particular, was an exceptional addition since she normally does not attend conventions. As a huge Naruto/Shippuden/Boruto fan, it was a lot of fun to hear them talk and laugh about their favorite memories over the years. In Addition, there was a fair amount of other content – I was particularly pumped to see The World Ends With You the Anime news/panel, which clearly demonstrated that Anime Expo had the ability to successfully make big announcements. Though I value the immersive experience of attending conventions in person, there was plenty done to make me feel like I was part of a community as it was happening in real-time online.
While I sorely missed the social interaction, the virtual panels were a gratifying alternative. There are elements unique to the in-person experience, like the sassy interactions Miss Maki Terashima-Furuta of Production I.G. USA has with the audience, or the elaborately made costumes by some amazing cosplayers, complete with detailed props. The virtual live-streams featured this year was a great (and affordable) way for fans around the world to hear from producers, artists, voice actors, and other industry professionals. I anticipate future conventions including more live-stream opportunities and adopting the AX Lite/Funimation model, but you can definitely count on this writer to be there at the next live one!
——————————————————————————————————————–
And there you have it. I applaud the attempt to create a bit of fanfare for anime supporters out there. And hope that things will be better next year to allow more events to actually happen. I do hope that Anime Expo will look into possibly capping entries to the convention, and then having more events streamed for those at home to join. I'd call both online conventions a solid starting point to help make these types of social gatherings more accessible for the future.
C.J Maffris is the Editor-in-Chief at Toonamifaithful.com. Feel free to follow C.J on Twitter @SeaJayMaffris
Don't forget to check out the Toonami Faithful Podcast!