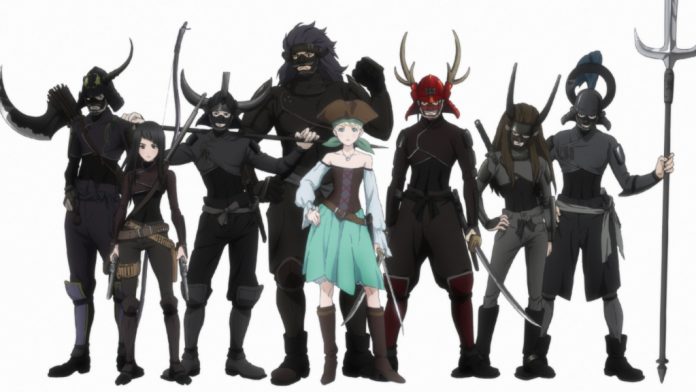 The year 2020 has been trying for everyone, especially with COVID-19 wrecking lives both metaphorically and sadly quite literally. While the hit the Toonami fandom has taken is nowhere NEAR the same to those who have to deal with this pandemic firsthand, this recent pandemic has given fans less escapism due to production delays. My Hero Academia has had to rerun episodes, and JoJo's Bizarre Adventure: Golden Wind's dub had to be put on hiatus to give the crew extra time to record at home (although it has recently returned). Besides production delays, this pandemic has also affected the time slots for Toonami, as new dubs have become more difficult to procure. All of these speed bumps along the road have created a dark rain cloud over the Toonami fandom, as there are fewer and fewer new things to see. And even after the announcements for Adult Swim Con, there still seems to be an air of uneasiness amongst fans. Despite all of that, there are some resources Toonami fans can look into as they try to find something enjoyable and things to look forward to later this year.
First of all, as The Hitchhiker's Guide to the Galaxy would advise, don't panic. This situation is far from the first crisis Toonami's faced, nor is it the worst. It's also not uniquely harmed, as the television landscape has felt the effects of slowed production all over the place. You can put down your "Toonami is over" speeches, the block is fine even if the traditional numbers take a hit, as they invariably will. I know I'm not unique – I stopped watching when JoJo was pulled, but I am waiting for something new to pull me back. As I'm sure, many Toonami fans are as well. But I don't believe fans should hold any trepidation when they hear others haven't been as locked in to watch the block. Especially considering how crucial Toonami is viewed by the powers upstairs (after all, you don't create original programming for a sinking ship). Don't forget twelve years ago, Toonami was outright canceled, so I don't think anyone needs to be pessimistic about what's going on and how it relates to the block. When Toonami returned from cancellation, its popularity grew back over time, so given that it can bounce back from literal death, we need not worry.
The question then becomes, what is a Toonami fan supposed to do to help pass the time while the block recovers? And while this long stretch of weariness for fans may seem never-ending, know that more is being done behind the scenes to help create more memorable moments on the block. Of course, while viewers wait, the obvious answer is likely something you're doing already, watching anime online. Whether you're on a big streaming kahuna like Netflix and Hulu, or you're on a dedicated anime platform like FUNimationNow and Crunchyroll/VRV, there's plenty of content to be watched.
This recent uptick in dubbing gives fans good hope for new shows to appear on Toonami soon. With both My Hero Academia and Paranoia Agent completed, Toonami will have to begin filling those times (hopefully with something new). Maybe Toonami could reach out to FUNimation considering the dubbing process has picked up a bit, with a few recent series completed. The first few that come to mind are the psychological thriller ID:Invaded, and the action series Darwin's Game. Assuming Adult Swim has the budget to procure either of these newer FUNimation series due to the recent coronavirus pandemic.
COVID-19 hasn't just left a lot of us at home with little to do; it's taken a massive bite out of the financial world. This effect cannot be overlooked, due to live sporting events being canceled since March. Hopefully, the restart of sports can help alleviate the issue. It means Turner, the owner of Cartoon Network, potentially had less cash to spend, and it can trickle down to Toonami. So Adult Swim has to be frugal with what shows they pick up for the block, as they likely don't have the funding they have had before. And with other major parts of the "Turner Empire" having to cut costs to stay afloat, that means that Adult Swim and Toonami would feel the effects of these decisions as well. Thankfully, there is potentially another hope for newer content to find their way toward Toonami.
Crunchyroll has, as long speculated, stepped in with content for Toonami. We already knew the two were partnering on Uzumaki and a Blade Runner anime, but with the recent announcement at Adult Swim Con, Fena: Pirate Princess is due to join us next year. With three original projects confirmed, it's a clear sign that Crunchyroll is a positive force for the block's future. With that in mind, a Toonami fan can embrace hope for the future, as clearly there's a good source of new content.
Of course, this still leaves 2020 itself with some holes, but given the strength of this partnership, I believe we can hope for some shows they already have dubbed showing up to help stop the gap. What those series could be is anyone's guess, but there are plenty of choices at Toonami's disposal. Series like In/Spectre or My Next Life as a Villainess: All Routes Lead to Doom! offer some unique prospects if either could join the lineup down the line. These or any of the many Crunchyroll dubs would be a huge asset to Toonami. But Crunchyroll is not the only reason to be hopeful for new content.
Older shows are likely less expensive to pick up, and Toonami has mentioned they'd look at older classics, so let's take a look at a few older titles that could be heading our way as well. My first thought would be Tiger & Bunny, an anime focusing on superheroes, very similar to My Hero Academia. On the older side would be Blood Blockade Battlefront, an amazing supernatural-themed adventure written by Trigun scribe, Yasuhiro Nightow. Lastly, 2018's SSSS. Gridman from the incomparable Studio Trigger (Kill la Kill, Promare, and comprised of much of the former Gainax staff that made Gurren Lagann) would also be an interesting angle for Toonami to look at acquiring. Gridman brings giant robot/Tokusatsu vs. Kaiju action and examines some deep themes, which could be a smash hit for the Toonami audience. And while there are a ton more series I could have mentioned, the main point is that hidden gems are out there for Adult Swim to look at.
We could see any or none of these shows, but until we're in better times, Toonami will have to be budget-conscious with the shows it selects. Thankfully, as demonstrated by listing several possibilities, there's no need to worry. I repeat, there's no need to worry. There's a cavalcade of options available, be it through a partnership with Crunchyroll, FUNimation working out a deal, or with older content, good shows are still on the way. Stay strong and keep hope; even in bad times, there are always options.
Laserkid is a guest contributor to Toonamifaithful.com. Feel free to follow Laserkid on Twitter @laserkidprime, and listen to him on the Demon Slayer Podcast and The Dumb Weebs Podcast.
Don't forget to listen to the Toonami Faithful Podcast!