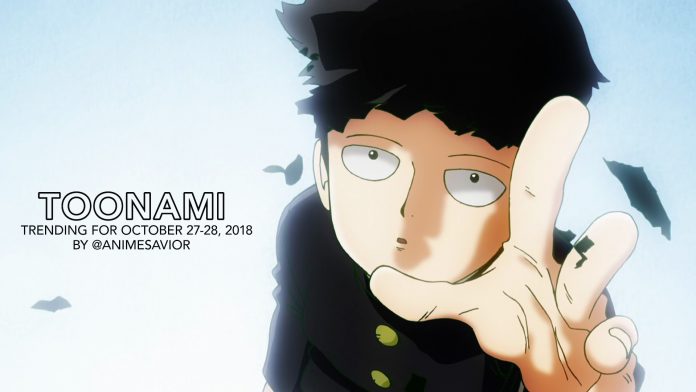 "You idiot, [You aren't nobody] You're Mob, and you are the student of the new star of the paranormal world: Reigen Arataka!"
–          Reigen Arataka, Mob Psycho 100 (Ep. 01)
The Toonami Trending Rundown for October 27-28, 2018. In a moment fans have been waiting since 2016, Mob Psycho 100 has finally gotten over the hump and made its long awaited debut on the better cartoon show. Meanwhile, among other moments, Deku reels from his battle with Todoroki, while Levi finds Kenny, severely injured and down to his last knees by the battle, and Josuke and Okuyasu meet Tonino, who makes them some rather unique Italian cuisines to say the least.
For this week's social media buzz, things were a bit difficult with several big sporting events going on at the same time, as only #Toonami would trend on tumblr. No trends on Twitter this week, though we did spot some tweet counts for #Toonami, #MobPsycho100, #AttackOnTitan, #JoJosBizarreAdventure and #HunterXHunter.
---

Mob's arrival into Toonami also created a partnership with Crunchyroll, which was partly spurred by the AT&T/WarnerMedia merger. Jason DeMarco isn't sure what we could see with this partnership as of now, saying "It's too early to really say, but we have a lot of ideas I'm hoping come to fruition!" We'll see what happens ahead, but nonetheless, having two of anime's most prolific distributors working together is a good sign of what's to come and once again is another example that nothing is impossible for the better cartoon show.
Of course, we should mention that a sequel to Mob is in the works, set to premiere in Japan in January. All I can say is if you want the sequel to come quicker than the wait for season 1 was, keep supporting Toonami and this show as always.
In other news, Hollywood has taken notice of Toonami and Anime's resurgence in recent years, and last Wednesday, Shueisha and Toho have announced that they have partnered up with Legendary to create a My Hero Academia feature film. Also on Monday, Kodansha announced that they have partnered up with Warner Bros to produce an Attack on Titan live action adaptation, with Andy Muschietti of IT fame serving as the series director. Both shows join the likes of Sword Art Online, Akira, Cowboy Bebop, Battle Angel Alita, and Your Name as some of the more recent titles Hollywood has been looking into adapting. Whether they can succeed or be another tale of Hollywood's spotty record with Anime, Cartoon, and Video Game adaptations, we shall see.
Until next week, have a Happy Halloween, congrats to the Boston Red Sox on winning the World Series and stay gold.
---
Legend: The shows listed are ordered based on their appearance on the schedule. Show trends are listed in bold. The number next to the listed trend represents the highest it trended on the list (not counting the promoted trend), judging only by the images placed in the rundown. For the Twitter tweet counts, the listed number of tweets are also sorely based on the highest number shown based on the images on the rundown.
Tweet Counts:
#Toonami [5,355 tweets]
#MobPsycho100 [3,030 tweets]
#AttackOnTitan [1,914 tweets]
#JoJosBizarreAdventure [2,957 tweets]
#HunterXHunter [1,586 tweets]
Tumblr Trends:
Notes and Other Statistics:
Special thanks to @myanimewaifu and others I forgot to mention for spotting some of the trends on this list.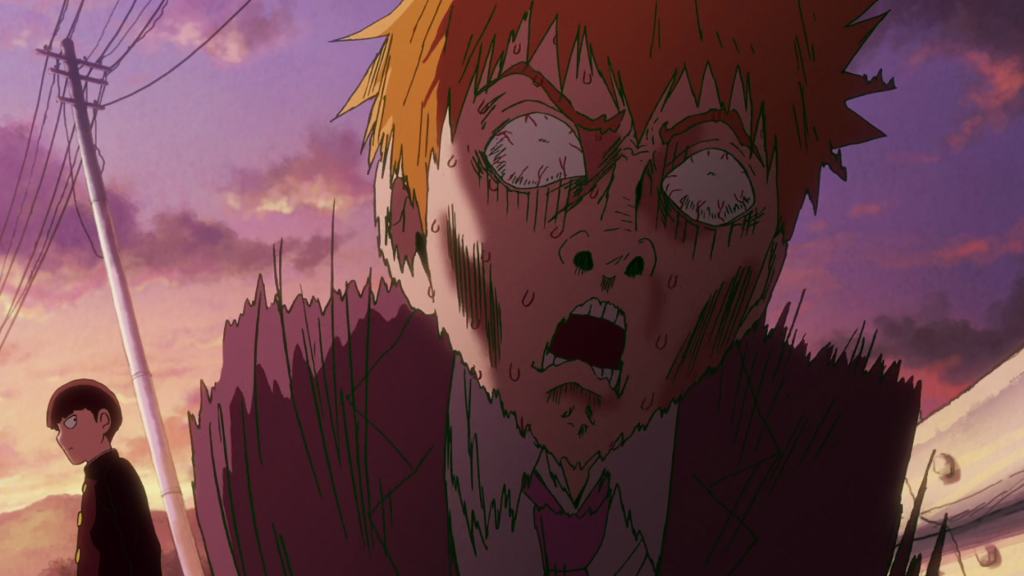 Only Toonami on [adult swim] on Cartoon Network.
Toonami Tweets of the Night for October 27-28, 2018