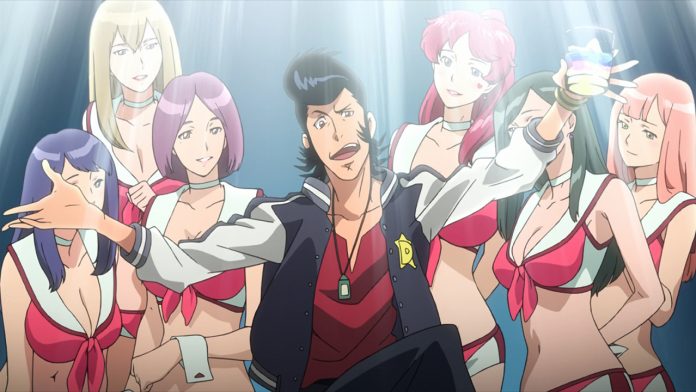 Just announced by Jason DeMarco and on Toonami's Facebook page, it has been announced that the Toonami classic Space Dandy will be returning for another run beginning on January 27th at 2:30 am Eastern, replacing Lupin the Third Part IV on the schedule as the series has only 3 episodes left to air as of this writing. Naruto Shippuden and Outlaw Star will be moved up by 30 minutes to 1:30 and 2 am respectively.
#Toonami fans, I'm happy to announce we are bringing the weird and wonderful SPACE DANDY back for another run: https://t.co/72aMq3jud9

— DUKE TOGO DEMARCO (@Clarknova1) January 5, 2018
For those who missed out on the original broadcast, the synopsis is as follows (source: ANN)
"Space Dandy is a space hunter, someone who is paid to search for new, undiscovered alien species. It's an industry where the prize goes to the person who finds aliens the fastest. Dandy searches unknown planets for strange beings with his companions, QT the worn-out robot and Meow from Betelgeuse. Meanwhile, they're being chased by minions of the Gogol Empire, for reasons that are still a mystery."
Space Dandy originally aired on Toonami with season 1 premiering from January 4 to March 29, 2014 and season 2 from July 5 to September 27, 2014, as the first show in the modern Toonami era to be given a simuldub, dubs that were released at the same time or shortly after the Japanese broadcast. Dandy's success lead to an increase of these simuldub productions by FUNimation, with Dimension W, Attack on Titan season 2, and Black Clover being among such productions that have aired to date on the better cartoon show.
According to Jason DeMarco, a new show was originally intended to premiere on the 27th instead, but unforeseen events and circumstances forced the show's announcement and the premiere to be delayed to a future date.
Full disclosure- we had a different show ready but unforeseen events have caused us to have to push that one back a bit (don't worry, it'll be here eventually!). Luckily, Dandy was waiting in the wings! pic.twitter.com/qWyXtjRlYL

— DUKE TOGO DEMARCO (@Clarknova1) January 5, 2018
No we still plan on running it. Ran into a few legal issues.

— DUKE TOGO DEMARCO (@Clarknova1) January 5, 2018
What are your thoughts on the recent news? Let us know by commenting blow or directly on our social media.