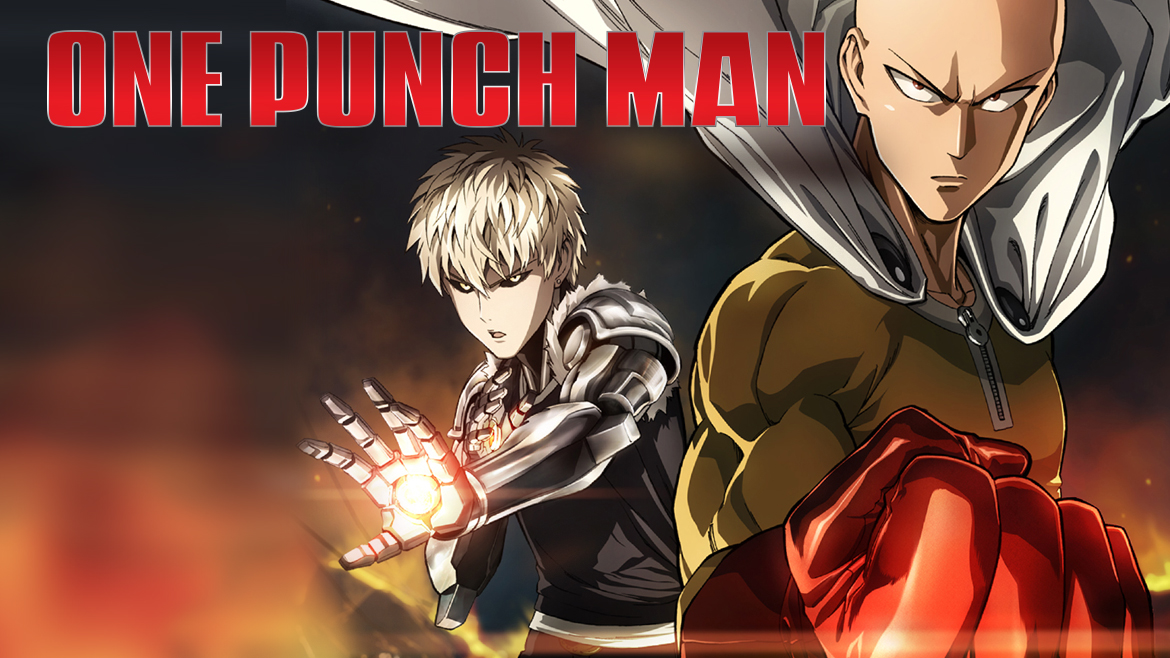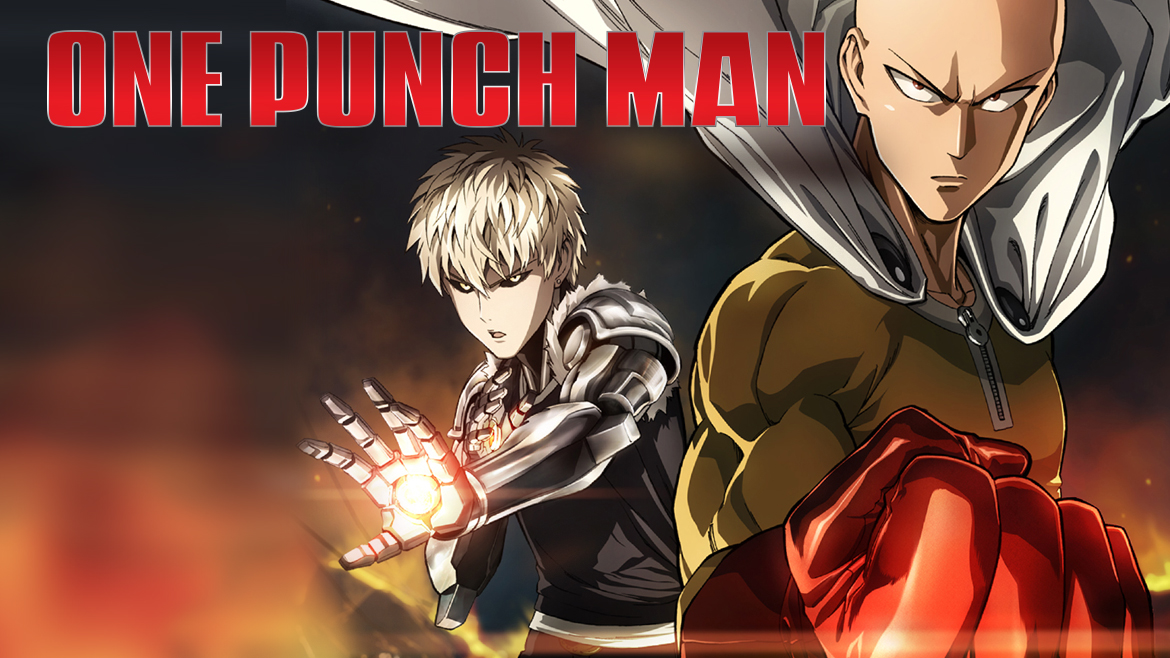 With news that might have surprised very few, the hit anime series One-Punch Man will be joining Toonami's lineup this month. Let that sink in for a bit.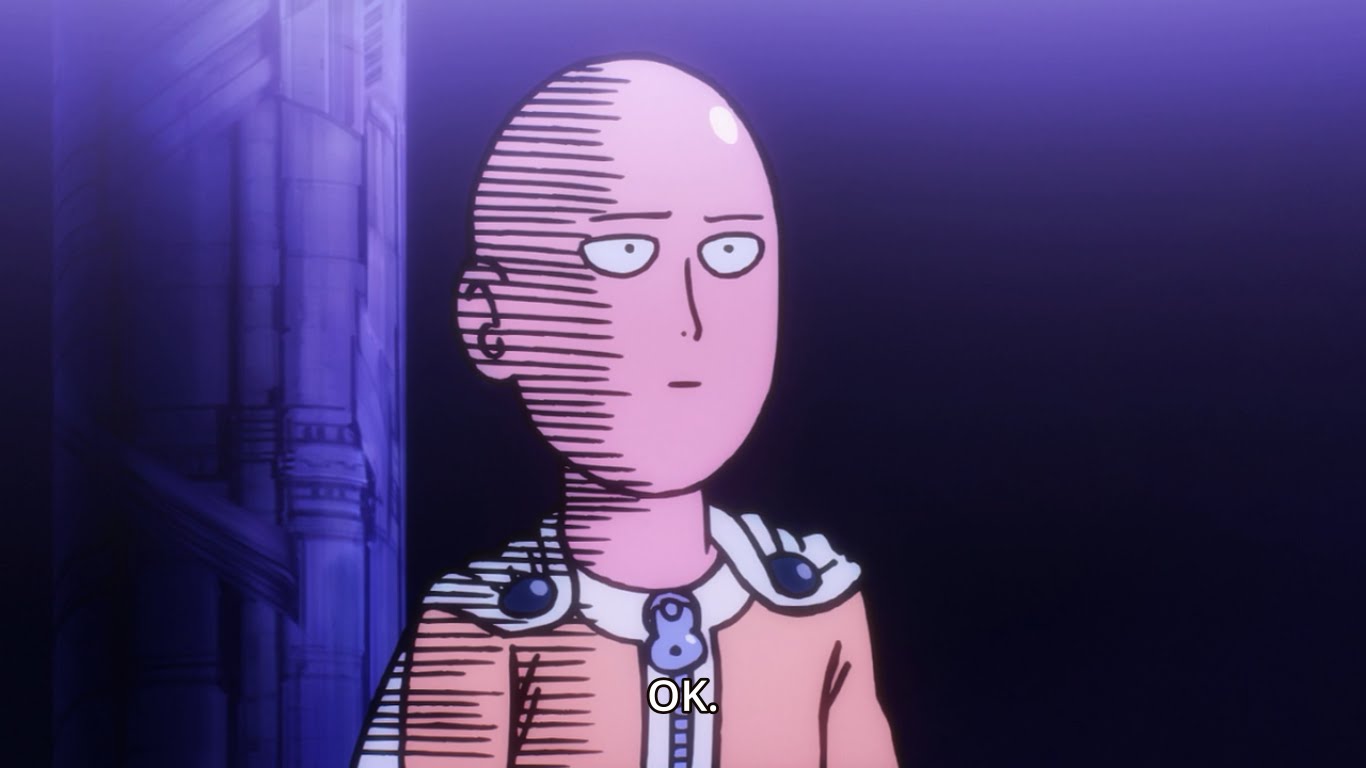 One punch!!!!!!!!!!!!!
Now with that out of the way, this is a monumental announcement that Toonami made at Anime Expo (the biggest anime convention in the country). This show has had fans begging for more since it premiered last year as a simulcast, and I'm sure most are thrilled that Saitama will get to reach a broader audience. Even though the series is already quite popular, there's no harm in having more eyes see a superhero robust enough to end a battle in one punch.
It's even better that One-Punch Man will get to follow Dragon Ball Z Kai, which starts off the block at 11:30 p.m. Having the most recognizable franchise warm up before its newest series, one that has been labeled the next biggest show in anime, gives Toonami itself a lethal one-two punch. While I'm not expecting both shows to have over two million total viewers, I do expect a nice boost for both of them. I'm sure Toonami creator Jason DeMarco could inform fans of the demand for this show, as I would guess it was the number two asked for show (behind Jojo's Bizarre Adventures). One-Punch Man blew up as it hit the anime scene with its 12 episodes, and fans will be rewarded if they weren't already able to catch it.
That brings up another interesting point, which is that while One-Punch Man was certainly a popular show, it wasn't simulcast on a typical anime streaming website like Crunchyroll or FUNimation.com. Instead, it aired on Hulu and Daisuki.net which is not a knock on either of those services. One now has a reputation of disliking anime unless it's a huge hit, while the other is still an unknown. With how awesome this series is, I'm sure a lot of people decided to go to either website and become either a subscriber or use the free version of Hulu to view it. But it cannot be underestimated how large of an audience it could have had if it was on Crunchyroll. I'm not sure how much the anime audience in the U.S. watches Hulu for simulcasts, considering that I'd think they would use Crunchyroll and FUNimation for this purpose more so than these other websites. To some extent, Hulu, Daisuki.net, and Amazon Prime are all new in the anime simulcast business (not so much Hulu but you get my point). Nevertheless, it's hard for me to believe that the audience was as big as it was without it being on Crunchyroll, and that's the beauty of Toonami.
https://twitter.com/Clarknova1/status/749640808236773377
Toonami grabs a broad audience, and could be a huge gateway for One-Punch Man to become even more mainstream that it already is. Believe it or not, some people either haven't seen the series or haven't even heard of it, which Toonami can rectify very quickly. Casual viewers will tune into the block to check out the latest superhero that is making everyone lose their minds. I have said this once, and I'll say it again; superheroes are in hot demand. This story takes the superhero narrative and makes it into a parody that's both rewarding and hilarious (if you think the banter between Tony Stark and Steve Rodgers is good, just you wait). However, some mysterious plot points will keep viewers interested and wanting to learn more. I won't get into it to avoid spoiling anything for those who haven't seen One-Punch Man so that their reaction can be more organic, but near the ending you'll see what I mean. I was surprised at how some plot points weren't answered right away kept me interested in watching the entire series (of course the wonderful animated action-sequences helped too).
One-Punch Man is a series that many, including those at Toonami Faithful, wanted to see air on the block. Not just for the exposure, but it's also simply fun to watch. While I'm sure some have picked apart the series (mostly due to the hype and their dislike of anything hyped), One-Punch Man is a pleasure which unfolds before fans' eyes. I enjoy the fun, as I'm sure many fans do. Anime series are heavily reviewed and graded, and I felt it was nice that there have been a few shows like this one that are just enjoyable to watch even if you are typically a tough critic.
@Clarknova1 1 million views in JUST under one day! pic.twitter.com/rq7ZtGh7L9

— corey barnes (@myanimewaifu) July 3, 2016
So fans only have to wait a little longer, with the promo that Toonami recently aired last Saturday (which I can't stop watching!) only whetting the appetite for those pumped to watch the series. It sounded great with all the explosions, battles, and the dub cast (at least those we could hear). Max Mittleman being cast as Saitama was unexpected (with fans), but I was speechless while listening to his monologue. It didn't even sound like him, based on roles that I have heard him play before, such as King from The Seven Deadly Sins, Inaho in Aldnoah Zero, Hikari Sakishima in A Lull in the Sea, and Kosei Arima in Your Lie in April. He sounded much more gruff, which is about how I'd predict Saitama would sound like in English. Plus, Mittleman's talent at playing a deadpan character (Inaho) is impressive, given how hard that can be for an actor. Plus, his emotional range has been displayed before, in Your Lie in April and A Lull in the Sea, so he can match the "mood swings" Saitama goes through. So there's no need to worry about how Saitama sounds. VIZ Media also released the dub cast for the other main characters, such as Genos (Zach Aguilar), Speed 'o' Sound Sonic (Erik Kimerer), and Mumem Rider (Robbie Daymond). I'll be interested to see who else is cast in this series but all fans can do is wait.
It's great that Toonami is getting yet another big name anime series to join its lineup. It's nice, too that One-Punch Man is a 12 episode show that can give the block more flexibility down the road. Hopefully, Toonami can get the rights to play another new series immediately afterwards, instead of what happened when Dimension W ended, but I'm sure they are prepared for that when the time comes. Right now, let's just enjoy the fact that another dub premiere will be making its way to Toonami, and it's a show that many anime fans wanted. It will feel like a quick three months due to how entertaining it is. I just hope fans are ready for some sweet action from the hero we all need.
C.J Maffris is an editorial writer for Toonamifaithful.com. He enjoyed the series so much that he now reads the manga, and cannot get enough of One-Punch Man. Feel free to follow C.J on Twitter to talk all things One-Punch Man @SeaJayMaffris