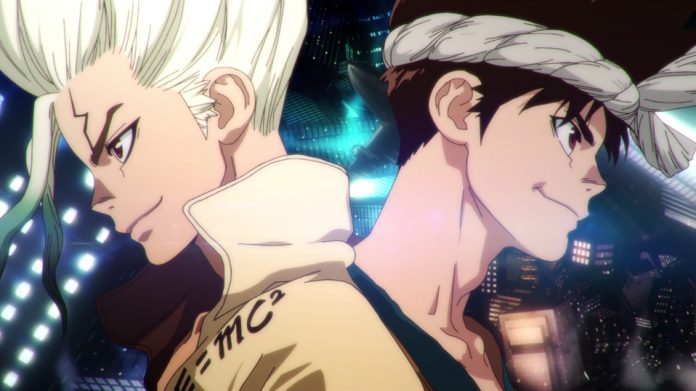 Toonami has picked up several huge titles as of late. Between Fire Force, gen:LOCK, and fall's upcoming Demon Slayer: Kimetsu no Yaiba, it seemed like the block couldn't get any better. Of course, our expectations were once again shattered when Toonami announced that Dr. Stone would be joining the lineup on Aug. 24. With the series now joining the Toonami family, let's take a look at what makes this show such a great addition to the block.
Dr. Stone focuses on the adventures of the high school prodigy Senku and his brute-force friend Taiju. When the entire world is suddenly turned to stone, Senku and Taiju wake up 3,700 years in the future.  With the technology and resources of a modern society gone, Senku and Taiju begin a quest to rebuild civilization from scratch with the power of science. The series originally started as a manga in Weekly Shonen Jump back in March 2017 and has quickly become a staple of the magazine. The series' mix of action, adventure, and science allowed it to stand out among its fellow contemporaries, and it has only continued to capitalize upon that.
Save humanity with science every Saturday at midnight on Toonami!

👨‍🔬🧪: https://t.co/FfbMJTqX75 pic.twitter.com/Kt6ZwDQJA3

— Dr. STONE (@DrStone_EN) August 23, 2019
While Dr. Stone's premise alone is enough to warrant attention, what has kept the series so successful is the creative duo of writer Riichiro Inagaki and artist Boichi. Inagaki had previously gained recognition for his hit football series Eyeshield 21, but following the conclusion of the manga in 2009, Inagaki took a long absence from full serialization. In a recent interview for Manga Plus, editor Hiroyuki Honda explained that Inagaki eventually reached out to him with interest in starting a new series. When they reviewed Inagaki's various ideas, Dr. Stone immediately stuck out to Honda since he had no idea what the finished work would turn out to be. Thus, Dr. Stone was decided as Inagaki's next serialized work. As development began on the series, Honda and Inagaki felt that they should have someone else draw the manga, leading to Boichi's involvement.  Boichi had been previously known for his action manga Sun-Ken Rock in Shonen Gahosha's Young King OURs. But he was now seeking an original story to illustrate under Shueisha. After Honda showed Boichi Inagaki's storyboards for Dr. Stone, he was sold on the premise and came on board as the series' artist. Both these creators were not strangers to the world of manga, and that was evident in Dr. Stone from the outset.  Boichi's detailed visuals and Inagaki's refined storytelling instantly sold readers on Dr. Stone's world and made them excited for what's to come.
Dr. Stone starts with only our two initial leads, but you will notice that the cast expands at a rapid pace. While this could be overwhelming in most stories, Inagaki handles it masterfully.  Every character in Dr. Stone has a role to play in the larger narrative and has their own unique skills that contribute to the world's restoration. As a result, the cast ends up being incredibly diverse in characterization and consistently entertaining. There's never a dull moment in Dr. Stone, and Senku and his friends help keep that in check.
We are less than 24 hours away until another night of Toonami, featuring the US television premiere of #DrSTONE. We hope to see you then. pic.twitter.com/saSrECDOiL

— Toonami News 👨‍🔬💎 (@ToonamiNews) August 24, 2019
As expected of the title, Dr. Stone has a heavy focus on science. To recreate the modern world, Senku uses his vast scientific knowledge to jumpstart the development of the stone world. What makes Senku's ideas even more interesting is that they are grounded in the real-life fundamentals of science. When interviewed by Viz Media at Jump Festa 2019, Inagaki mentioned that he tries his best to research and understand various scientific concepts. To ensure the accuracy of Dr. Stone's science, Inagaki also discusses his ideas with his science consultant Kurare. The effort that Inagaki and his team put into the scientific integrity of the series is truly commendable, and it makes Senku's inventions within the story all the more fascinating.
A series as ambitious as Dr. Stone was going to be challenging to adapt into an anime, but animation studio TMS Entertainment took up the challenge. Director Shinya Iino and his team show tremendous respect towards the original manga, and try to transition it into animation perfectly. This respect is especially evident in the series' first episode, where the anime opts to adapt the first two chapters of the manga. While many recent Weekly Shonen Jump adaptations have chosen to cover less material in their debut episodes, Dr. Stone's anime chose to reach a point that gives viewers a good idea of the story's direction. More silent scenes from the manga are also reworked to better fit the anime, including a fantastic montage of Senku and Taiju conducting experiments at the end of the first episode. You can tell that there is a lot of care and attention to detail placed into every facet of the show. Which makes me even more confident about the future quality of the anime.
this is basically nightmare fuel

[via Dr. STONE] pic.twitter.com/f9NM3ciq1Q

— Funimation ⚔️ (@FUNimation) August 22, 2019
What Dr. Stone will provide to Toonami fans is differentiation from the current action-heavy shows on the lineup. While Dr. Stone does occasionally has fights, most of its story revolves around using modern knowledge to overcome the challenges of the stone world. These challenges can lead to some high tension situations, but the result is a very different type of action than what Toonami fans are used to seeing. Viewers who have been wanting a more adventure focused story on the block will get what they are looking for with Dr. Stone. And it will bring more variety to Toonami's lineup as a whole.
I've been a fan of Dr. Stone for a long time, so I'm incredibly happy to see it join Toonami. Between its fascinating story and entertaining adventure elements, I think Dr. Stone has what it needs to thrive on the block.And I hope that Toonami fans feel the same way. Get excited, because Dr. Stone is going to rock your world.