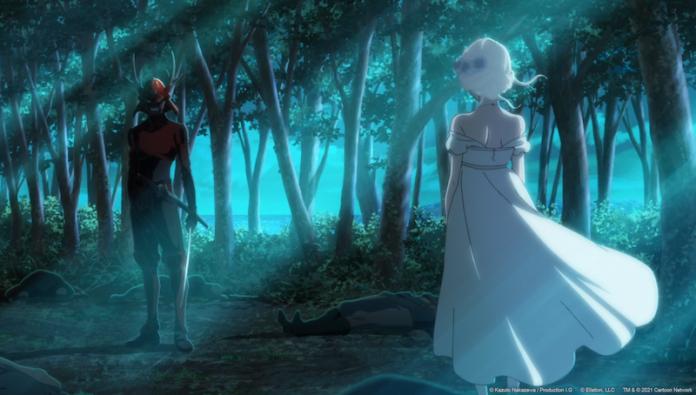 Adult Swim has announced that Fena: Pirate Princess will debut on Toonami on Aug. 14 at midnight with a special two-episode premiere. While Toonami is airing the English dub of the series, Crunchyroll will also be streaming the subtitled version of Fena: Pirate Princess worldwide outside Japan.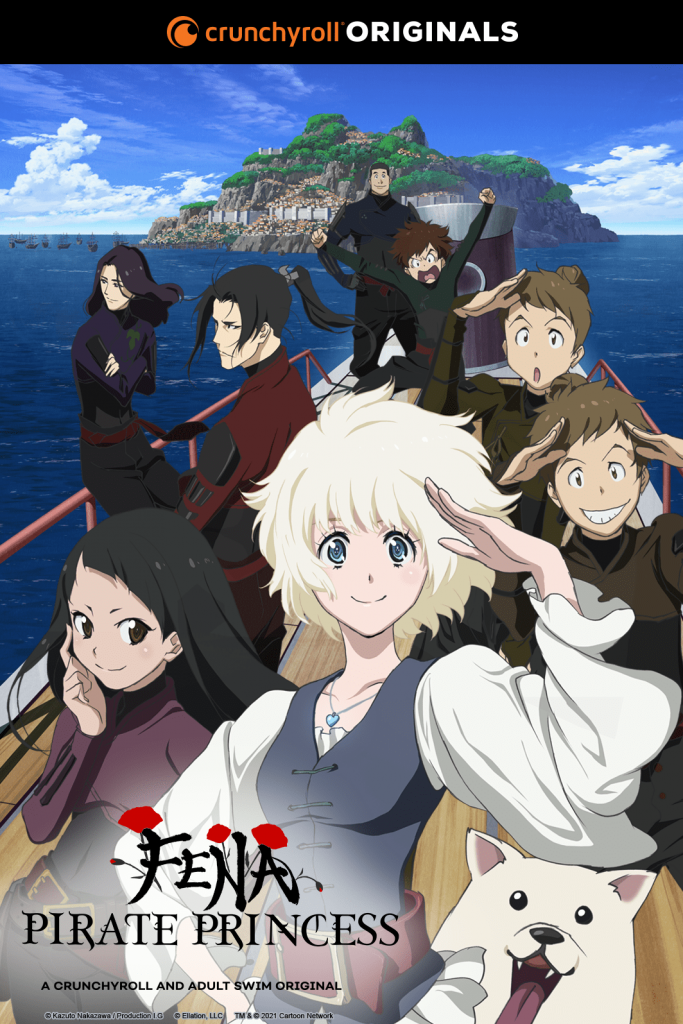 A new key visual for the series has been unveiled, alongside new trailers from Adult Swim and Crunchyroll.
The English cast list for Fena: Pirate Princess has also been revealed (according to the Warner Media press release):
Brittany Cox as Fena Houtman: A positive, cheerful orphan despite her traumatic past. Known for her pale skin and glowing silver hair.
Robb Moreira as Yukimaru: The introverted, katana-wielding bodyguard of the Houtman family. He is extremely protective of Fena.
Nicholas Corda as Shitan: This handsome, elite warrior can kill with his bow and arrow—or his looks. Though on the surface he seems aloof, he greatly values his friends.
Anjali Kunapaneni as Karin: Raised by a family of blacksmiths, Karin geeks out over technology like her rifle, which she uses to great effect in battle.
Brandon Winckler as Enju: Kaede's elder twin. They both use a spear and wakizashi in battle, they're both friendly and mischievous, but Enju feels he's more dependable than his younger brother.
Darrel J Delfin as Kaede: Enju's younger twin. They both use a spear and wakizashi in battle, they're both friendly and mischievous, but Kaede feels he's more manly than his elder brother.
Alan Lee as Tsubaki: The oldest and most mature member of the group, he manages everyone's wild energy. He's also the cook, but when he fights, he uses a short ninja sword.
Thomas E Wynn as Makaba: This mountain of a boy prefers fighting in close quarters with brass knuckles. When he's not fighting, he's kind-hearted and mild-mannered.
Frank Todaro as Salman: An older knight who was once called "Salman the Onslaught" for being so deadly with a spear. He's known Fena since she was a girl as he served the Houtman family for some time.
Doug Stone as Otto: Another older knight who served the Houtman family and possessed an intimidating nickname in his younger days—"Otto the Blitz" for his quick swordplay.
Along with the cast announcements and news, Crunchyroll also shared some pictures of the series that fans will get a chance to see on Adult Swim. Many fans probably saw this move coming after the recent schedule changes that Toonami announced last week. It's becoming an exciting time to be a fan of the block as their first original is on the horizon!
Are you excited for Fena: Pirate Princess? Tell us on our social media pages or in the comment section below!
Don't forget to listen to the Toonami Faithful Podcast!