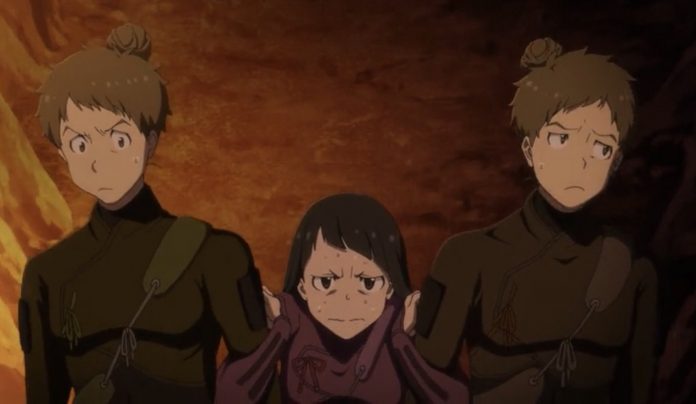 The stakes have been raised in the latest episode of Fena: Pirate Princess, the last four episodes have done a decent job at building tension, and while we weren't given a spectacular fight, fans must be at the edge of their seats wondering what will happen next. Fena: Pirate Princess continues to keep fans interested, and now it decides to leave us on a cliffhanger involving Fena's life? Sign me up. I'm hooked on this show and find the tiny drops of lore to be enough to quench my thirst for more knowledge.
We begin with Shitan reading a note from a carrier pigeon that is then played out for viewers to see. Shitan's brother Kei is talking with Master Yukihisa. Kei feels worried about Shitan being assigned to help Fena due to his loyalty to Yukimaru (we saw snippets of this when he was training Fena). However, the two bring up being manipulated by something called the "witch's influence." They are worried that Yukimaru (who Kei saved back when he and Fena were separated) has already fallen victim to it. Not much else is explained about this new phenomenon, but it adds an interesting element that makes sense in high sea adventures. Much like the myths on harpies, sirens, etc., Fena: Pirate Princess continues to bring real-world examples into the story that cannot be lost on viewers.
Fena and her friends then chart a course to France after learning about the stone from the Burgermeister, which lead to a nice moment of Fena looking more like a captain of the group (where nearly everyone raised their hand in agreeing on where to go). The pirates resupply and find themselves at an ancient former mining site, "Orlèans." Sadly, there are many entrance holes at the start leaving it up to Fena to decide which one to go (which leads to a cute conversation between her and Karin). But a bit behind them is O'Malley and her motley crew of brigades, who seem to have a plan up their sleeve involving our heroes.
Fena continues to lead the way, and she seems to have a strong feeling she's been to this place before. She's been making every correct call on which path to take and seems to know how to open every mechanism that blocked them. Yukimaru seems a bit nervous about the situation (or it could be because he's in love with her), but I will admit, it was alarming to see Fena so quiet as she led the way (with O'Malley's team following). The decisiveness was great to see from a leadership point of view, but the atmosphere and the circumstances where Fena suddenly took more command can lead to those close feeling like something is off. Of course, this could be the beginning of Fena's transformation into the pirate queen we all know her to be. But, seeing this side of her in an environment where you have to keep your cool was a nice bit of growth to see.
After a long trek (with a few hijinks, such as scaring Karin), the group finds themselves in a spacious corridor after lighting the place up with fire. Fena and the gang then walk to the middle of the room where a large tree stump was. A glass contraption in the stump looked similar to Fena's stone, with markings in an undecipherable language written underneath. Fena places the stone in the gadget, and with the help of Makeba, he peers over a hole in the tree stump to find the invisible markings (Roman numerals) on the stone that the Burgermeister mentioned in the previous episode. Fena would venture off by herself to another room and begins to get teary-eyed when looking at a plaque stating this is where Joan of Arc was laid to rest. Fena, while tearing up and asking why this place called to her, is rudely captured by O'Malley.
At least we finally get a showdown between O'Malley and Fena, revealing that she has aligned themselves with the Goblin Pirates, a famous and ruthless group that has murdered countless people over the years. With Fena in their grasp, Yukimaru and the rest of the Goblin Pirates are forced to disarm and give them what they learned from the stone and the tree stump. Afterward, O'Malley backs out of her deal and instead not only takes the information but Fena as well, with hopes that the Goblin Pirates will die of hunger as they are stuck in Orlèans.
Fena: Pirate Princess has always looked visually appealing, but it stood out a ton more this episode. The corridor with the tree stump especially caught my eye due to how the blue fire in the room appeared and how light glistened in the water as Fena and company walked through it. And seeing the room Fena was captured caught my eye due to the level of detail on the plaque. I've always been a fan of Production I.G.'s visual work from a ton of their projects like B: The Beginning, Haikyu!!, and Psycho-Pass. All are properties I enjoyed visually. But the level of detail that went into Fena: Pirate Princess is astonishing and adds that extra something to make an anime series feel complete. Since episode one, it's been a huge selling point of the show, and it hasn't let up ever since. It was even keeping track of Fena's hair growing back!
Again I'm left wanting more from Fena: Pirate Princess due to what was dropped on us (lore-wise) this episode. I'm interested in the back story of Kei and Yukimaru since the two are rivals in terms of combat prowess. Plus, what is this "witch's influence" that was mentioned before? And how is Fena involved with it? I need to know! And I felt as if the audience was teased from a big bloody battle considering the reputation of Yukimaru and the crew. I wanted to see some heads roll and considering what O'Malley has done with and to Fena, I can only assume vengeance is on the menu. Fena: Pirate Princess has had a fantastic start, and it has continued to end at great moments to keep everyone invested for more.
Episode Rating: Yukimaru's red ears don't lie, he LOVES Fena 😉
Don't forget to listen to the Toonami Faithful Podcast, the number one place to hear all kinds of commentary on the iconic action block.
And make sure you listen to the new podcast project FenaCast where every two weeks we discuss all things Fena: Pirate Princess!