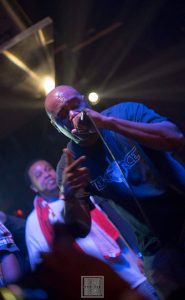 Every blue moon you get to see something rare shining in the distance.
Sometimes, it's just a glint. Sometimes, you realize as you walk closer, it's just a piece of glass that was reflecting the moonlight.
Then, in that one rare instance, it finally happens.
You find that gem that has been teasing you all of your life…
…and it's inside of a 5 in x 5 in plastic case!  
Ladies, gentlemen, and nerds worldwide! I present to you the creator of that gem, which is known as Tek Support.
TekForce.
We asked TekForce to tell us how it all began for him. Explain to us what makes him tick. I'm going to let him tell it in his own words:
"Music…Ohhhhh Music…it's been a part of my life for as long as I can remember. I actually don't really recall a time where it wasn't around me. As a kid, my parents used to play Al Green, The Temptations, pretty much anything Motown when I was growing up. My dad would sit around with a glass of Crown and be playing jazz throughout the house with my mom cooking something good in the kitchen. In the my older brothers room though, he would be playing HIP-HOP."
"He started out playing LL COOL J, Run-DMC, Curtis Blow, all the greats. I'd never heard anything like it. These dudes were basically talking over beats, but it made sense and sounded DOPE! In the later years, I developed an ear for hip hop, and by the time I was a teenager I had my OWN groups that I could identify with. I'm talking A Tribe Called Quest, Leaders Of The New School, Gangstaar, Wu-tang….there was so much influence musically in my life. There's a reason they call the 90's the "Golden Era of hip hop, you literally found ANY type of sound you were looking for."
"I grew up watching anime, playing video games, and just engrossing myself in nerd culture. None of my friends really understood the passion, but it was EVERYTHING to me. When I was about 25, I wrote my first song, called, "Better Get A New Plan". It was really, really wack, but started me down the path of writing. About the same time, I had a Sony Playstation and started using the Music Generator to make beats that had samples of anime and video games. I thought to myself, "YOOOO, why don't I try to rhyme about what I love!".
"The next song I made was called, "Keeps The Party Live". I made that when I went by the name "TEK45". That song encompassed my love of games, and had a Solid Snake reference in it to boot. At the time I started posting songs to this old site "ACID PLANET". At the time nobody knew what the hell I was talking about so it wasn't really accepted."
"I got discouraged, and continued to write songs and perform here and there, but nobody really gave a damn. A few years ago, I started to really push myself, and to see what could happen. I changed my name to TekForce through a friend's suggestion. The concept of the album "Tek Support", came through another friend, and I decided to flesh that idea out. I took everything I loved, and started writing about it, took my time. I didn't want to rush what would be my very first album. Even before it was released, I started game planning with some of my homies, to see how we could get the word out there. When it was released, a lot of people really dug it, it sold well, and it's been reviewed multiple times."
"There are still people who haven't heard the album. But my confidence is higher, my drive is greater, and I have wayyy more work to do. I couldn't be happier!"
Here's some fire off of Tek Support! This is "Optimal" 
[soundcloud url="https://api.soundcloud.com/tracks/244822742″ params="auto_play=false&hide_related=false&show_comments=true&show_user=true&show_reposts=false&visual=true" width="100%" height='450′ iframe="true" /]