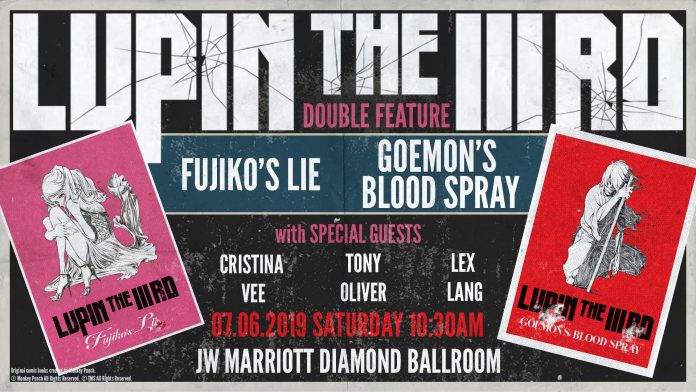 When thinking about the numerous long-running anime franchises that are out there, few have brought me as much entertainment as Lupin the Third. Starting from its humble beginnings as a wacky action manga by Monkey Punch (real name Kazuhito Kato), Lupin the Third has become beloved by people worldwide. While Toonami fans are familiar with the TV anime incarnations of Lupin (Part 4 and Part 5 particularly), they may not be aware of the other recent Lupin productions. Among these include the Lupin films helmed by Redline director Takeshi Koike. Back in 2014, Koike started his work on the Lupin franchise with the debut of Jigen's Gravestone, a sequel to Sayo Yamamoto's The Woman Called Fujiko Mine TV series. This year at Anime Expo, TMS Entertainment brought along the English dub premieres of the next two installments in Koike's film series, Goemon's Blood Spray and Fujiko's Lie. As a fan of Lupin, this went to the top of my coverage list at the con, and it's safe to say that I made the right decision.
Inside for the room for Lupin! I'm in the front row with the squad!@LumRanmaYasha @Jecka1021 @kiirobon pic.twitter.com/Ckqt0XIT3o

— VLord The Pro Manga Addict (@VLordGTZ) July 6, 2019
While Takeshi Koike's Lupin films are meant to take place in the same timeline as The Woman Called Fujiko Mine, they aren't exactly the same thematically. The Woman Called Fujiko Mine was a darker and nuanced take on the Lupin franchise, utilizing depictions of nudity and violence to convey its message about self-identity and sexuality. While Koike's take on Lupin has a similar grit, there's no underlying commentary within their narratives. That's not to say that Koike's Lupin films are bad by any means. Rather, it's a different interpretation of what Lupin the Third can be, placing a more significant focus on action and violence. One of the best parts of the Lupin franchise is that there's no static interpretation of its characters or world. Just like The Woman Called Fujiko Mine, Koike's series sets out to make its unique mark on Lupin history, and it succeeds wholeheartedly in doing so.
Goemon's Blood Spray centers around Lupin's samurai companion Goemon Ishikawa. When hired as a bodyguard for the head of a yakuza family, Goemon encounters the assassin Hawk, who ends up killing the family's boss. Having failed in his duties, Goemon sets out to regain his honor as a samurai by taking Hawk's head.
While Goemon is a regular member of Lupin's gang, he is easily the one who has gotten the least focus across the entire franchise. As such, I was excited to see the beloved samurai finally get some dedicated attention. While Goemon is usually depicted as an untouchable figure, this film forces him to push past his limits to overcome a new obstacle. We even get to see Goemon relearn his skills as a swordsman, and hone his reflexes to prepare for his coming battle. The downside to this is that the rest of the usual Lupin cast doesn't get a lot of screentime. Lupin, Jigen, and Zenigata are all present in the film, but they are primarily bystanders in Goemon's conflict. Unfortunately, Fujiko has an even smaller role, being absent entirely from the final act. While these may sound like some significant negatives, Goemon's Blood Spray manages to be a fantastic film in spite of it all. Part of this can be attributed to Hawk being a solid antagonist. No matter what is thrown at him, Hawk manages to survive endless attacks, and his over the top mannerisms are incredibly entertaining. Hawk's invincibility helps establish him as an increasingly formidable opponent for Goemon, which leads to their final confrontation being all the more exciting. Goemon's Blood Spray understands what audiences want from a Goemon focused film, satisfyingly delivers on those expectations.
Fujiko's Lie focuses on the series' signature femme fatale Fujiko Mine. This time around, Fujiko is posing as a housekeeper for a man named Randy, who has embezzled a large sum of money from the Godfrey Mining corporation. When the mysterious assassin Binkam kills Randy, Fujiko is forced to go on the run with Randy's son Gene. Who is the last remaining person who knows the money's whereabouts.
If I have one massive complaint about Koike's Lupin films, it's that their treatment of Fujiko up to this point has been pretty disappointing. While Jigen's Gravestone disserviced her with its unsettling naked toruture scene, Goemon's Blood Spray opted not to give her a role in the larger plot. Fujiko's Lie is the film that finally breaks this trend, demonstrating her cunning and seductive talents on a level that hasn't been present in the franchise (since The Woman Called Fujiko Mine). As mentioned in the title, the film focuses around a specific "lie" that Fujiko is telling, but beyond that, Fujiko's character within the film is based around numerous lies. Whether its children, her comrades, or her enemies, Fujiko manipulates them all to get what she desires. Each of her actions feels meticulously planned out, and seeing the net result is fantastic. Binkam is a strange antagonist, as he starts as a mindless human weapon, but his interactions with Fujiko cause that to be warped. As Fujiko continues to mentally and sexually coerce him throughout the film, we see Binkam gain a sense of individuality. And the expression of it is both disturbing and fascinating. What makes the film's story even better is that Lupin and Jigen are given an interesting subplot, piecing together the mysteries within each of Koike's Lupin films. This direction will be especially satisfying for long-time fans of the franchise, who will likely have a good idea of what Lupin and Jigen's discoveries are foreshadowing. There's so much to like about Fujiko's Lie, and it may very well be the best installment in Koike's film series so far.
The Lupin III screening was awesome!!!! The dubs turned out great with pitch-perfect performances and sound design that was booming beautifully in the auditorium! Definitely check out Spray of Blood when it hits home video in September and Fujiko's Lie when it comes out! #AX2019 pic.twitter.com/82spQivKZ2

— LumRanmaYasha (@LumRanmaYasha) July 6, 2019
As you'd expect from Takeshi Koike, one of the biggest draws of both these films is the are the action sequences, and they fully deliver. In Goemon's Blood Spray, every fight seems to top the next in terms of spectacle. By the time the film reaches the final encounter between Goemon and Hawk, what viewers see can only be described as pure insanity. While the action in Fujiko's Lie isn't as straightforward as its predecessors, it still has some amazing pieces of animation whenever she and the rest of the Lupin gang are forced to fight. Fujiko's solo fight near the end of the film is particularly incredible, showing how she can hold her own against even the toughest of enemies. Vehicle sequences are also a signature of Takeshi Koike, so it's no surprise that both of these films have at least one major car chase scene. Each vehicle sequence uses some solid animation that sends the audience a rush of adrenaline while quickly raising the tension of the scene. If you're looking for some excitement, neither of these films will disappoint.
The English dubs for both of these films were also fantastic. Interestingly, Koike's Lupin films use a different cast than the ones present in the dubs of Part 4 and Part 5. The one exception to this is Lex Lang as Goemon, who's performance in Goemon's Blood Spray perfectly captures to subtleties in Goemon's character. The other performances are nothing snuff at either though, as Cristina Vee nails Fujiko Mine, doing a great job of conveying her seductive and manipulative personality. Meanwhile, Keith Silverstein and Richard Epcar both do a superb job in their roles as Lupin and Zenigata, respectively. Each gave a performance that stays true to the character while still feeling like a unique take on the role. These casting changes will likely be jarring to those only familiar with the recent Lupin TV anime dubs. I think this cast fits the roles of the characters just as well, and the distinct cast helps distinguish Koike's film series from more traditional Lupin works.
Click on over to @rightstufanime where #LUPIN THE IIIRD: Goemon's Blood Spray on blu-ray pre-order has begun!
https://t.co/zkfI3v3YM8 pic.twitter.com/AsTmKBryvX

— TMS Entertainment (@tmsanime) July 17, 2019
Overall, both Goemon's Blood Spray and Fujiko's Lie were great films and fully lived up to my expectations. I have no clue what Takeshi Koike has in store for his next Lupin film, but I am already aboard the hype train. For those who haven't ventured into Koike's film series yet, Disotek has released the first installment Jigen's Gravestone on home video. Plus, Goemon's Blood Spray will be available on September 24th. There is currently no release date for Fujiko's Lie, but it will likely come in the near future.  If you're looking for an action-packed and gritty take on the Lupin franchise, these films will satisfy your needs and then some.
Goemon's Blood Spray
Rating: 8/10
Pros: Great animation, amazing battle sequences, and a solid emphasis on Goemon's character.
Cons: Minimal time given for the supporting cast to shine.
Fujiko's Lie
Rating: 9/10
Pros: Great animation, fantastic depiction of Fujiko, and an interesting subplot.
Cons: Less action heavy than previous films in the Koike series.
Varun Gupta (VLordGTZ) is an editorial writer for Toonamifaithful.com and All-Comic.com. Feel free to follow Varun on Twitter @VLordGTZ