The Toonami Faithful site, that was started by myself and Paul, grew into a lovable family just over a year ago from now. I always thought that this site would mainly provide news, until Jose joined the staff. That was just before the site was made public. This enabled us to go to conventions to provide the coverage you've seen over the year. Just to think it has come a long way… let's have a look back shall we?

From this: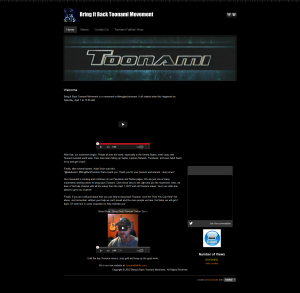 To this: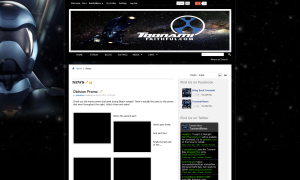 Currently: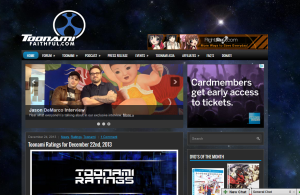 So I am just going to make a short Top 5, because I can't think of a Top 10.
5) Toonami and our site being still around, also awaking others out of slumber.
4) Momocon and NYCC, I have to say both was extremely fun. Although I think NYCC was the most exhausting convention yet, also being able to meet most our staff here at Toonami Faithful.
3) The podcast, it's a lot of fun to listen and to be a part of. Hopefully we keep giving you awesome content to listen to each week!
2) Our fans you are just great! I really didn't think we would grow the way we did being able to go to these things is a blessing.
1) Being a part of something that means more than a block, is this community which goes back to my number 2. But this block means a lot to me, I used to watch DBZ with my father. My brother would watch sometimes as well, this was the best quality time we ever had. Unfortunately, neither of them are with me anymore and Toonami brings back good memories.
That is really it for me, oh also I am making a fan contest! Nothing to big, but I am awfully tired of our background!
Requirements
A Spacey design, must match our current design. And a resolution of 1920×1080
Send to my Email Dansherl@ToonamiFaithful.com and I will pick the best one, good luck!