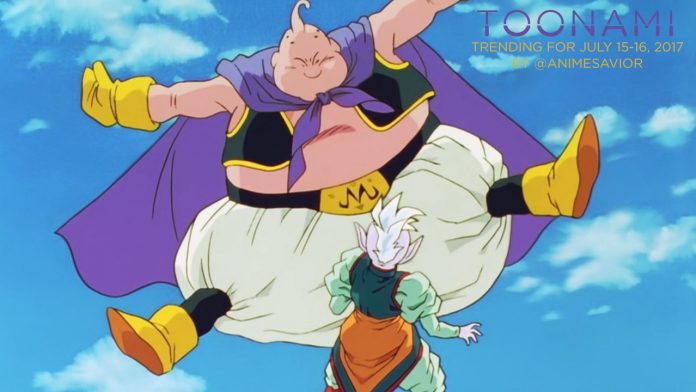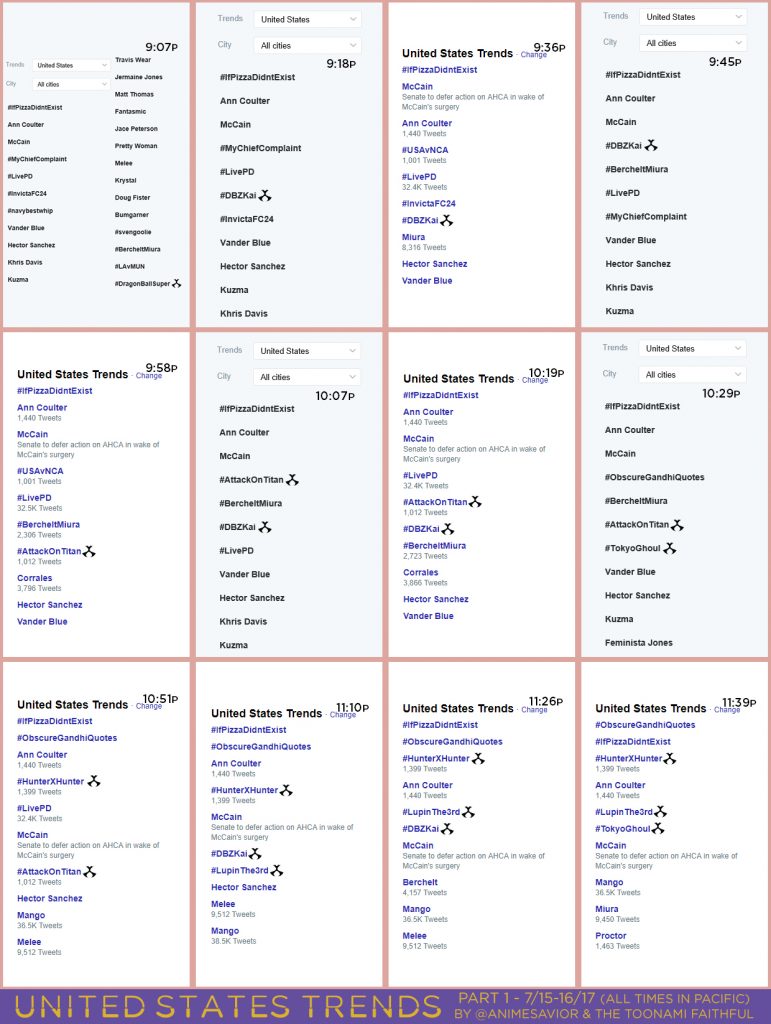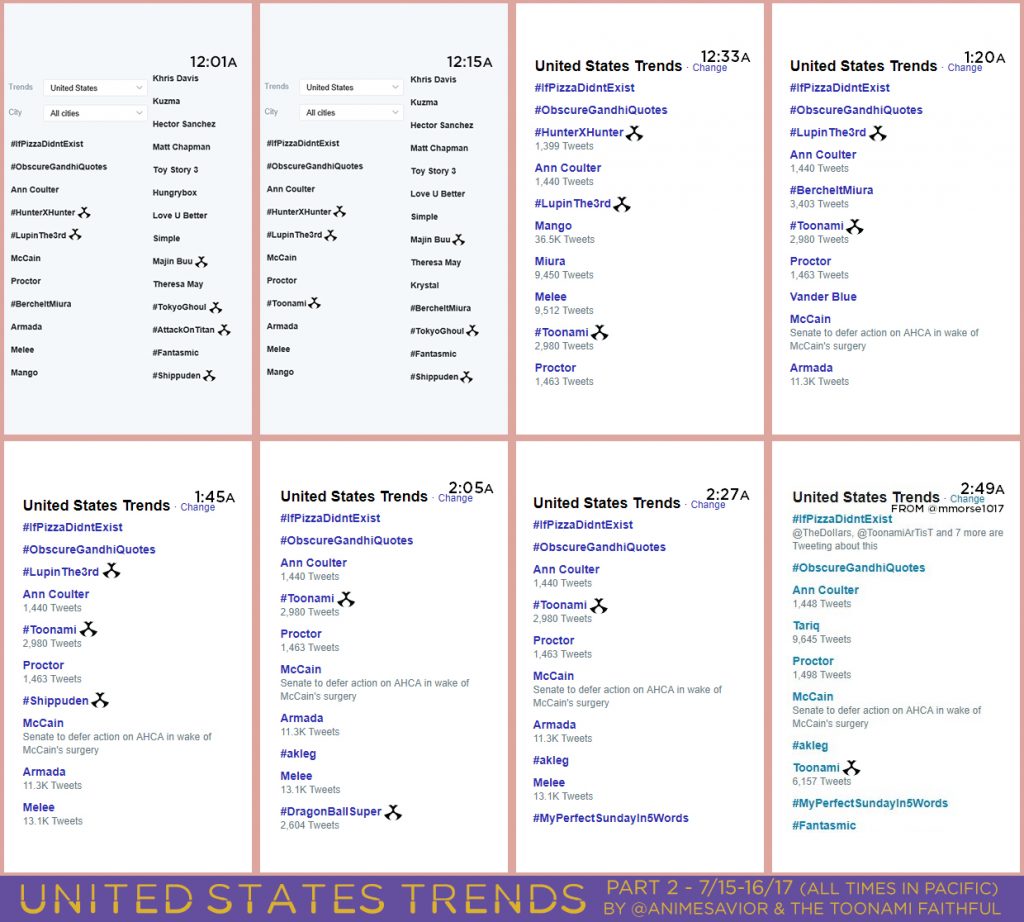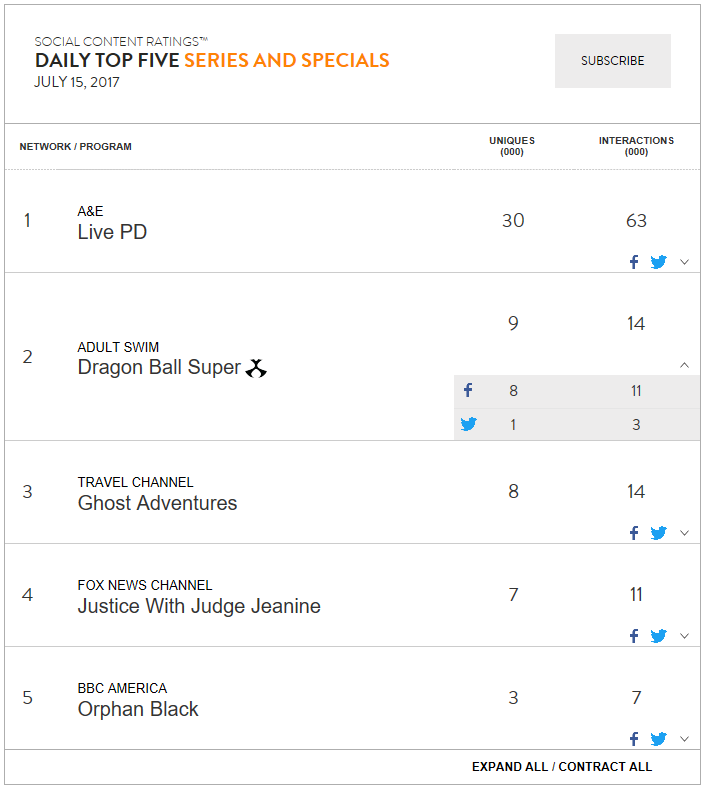 "I wouldn't write us off just yet, Supreme Kai. I mean, sure, his power is off the charts. But I'm not looking at this as an unwinnable fight just yet."
–          Gohan, Dragon Ball Z Kai: The Final Chapters (Ep. 26/124)
The Toonami Trending Rundown for July 15-16, 2017. Some big changes are coming about with several shows are reaching the end of their respective seasons/story arcs or are beginning anew, as Frieza unleashes his new Final Form to counter Goku's, while Kaneki defects to the Aogiri, and Hunter x Hunter's Yorknew City arc comes to a close, to say nothing about Attack on Titan season 2 at its penultimate episode.
On Twitter, Toonami and every show successfully trended on Twitter save for Ghost In The Shell during their respective East Coast airings, as well as #DragonBallSuper and Toonami during its West Coast airing. On Tumblr, Toonami would trend as would Dragon Ball Super.
DBZ Kai also produced a character trend in Majin Buu as he gains enough energy to be hatched out of his egg. While everyone (except Shin) was thrown off by Buu's "goofy" appearance, they would learn very fast that looks are very deceiving as Buu proceeds to pummel everyone.
Finally, Dragon Ball Super's buzz would help get the show on Nielsen Social's top 5 most talked about shows on Twitter and Facebook on the day for the 13th time in the show's run so far, making it to the #2 spot. This is the 26th time a Toonami show has reached this list since we started recording this feat.
---
This week's feature was a review of the shoot 'em up video game Nex Machina. It received a 8.5 out of 10 score.
Comic-Con is coming up this week, and yes I will be going once again as a member of the press representing Toonami News and the Toonami Faithful. With another live episode of Toonami Pre-Flight planned on Thursday night, we'll be hearing some info regarding the next Total Immersion Event as well as some other potential surprises ahead. We'll let you know if anything news or announcements come about, so stay tuned and for those headed down to San Diego, have a great time and I'll see you around the convention halls.
Tune in next week as Attack on Titan showcases the season 2 finale while Hunter x Hunter begins the Greed Island story arc, among other great moments. And of course, the countdown to the premiere of Stardust Crusaders is only 2 weeks away. See you again next week, and we do wish a Happy 20th anniversary to the One Piece franchise. Perhaps one day, we'll see you back on the better cartoon show, but regardless thanks for the memories, and here's to many more to come.
---
Legend: The shows listed are ordered based on their appearance on the schedule. Show trends are listed in bold. The number next to the listed trend represents the highest it trended on the list (not counting the promoted trend), judging only by the images placed in the rundown. For the Twitter tweet counts, the listed number of tweets are also sorely based on the highest number shown based on the images on the rundown.
United States Trends:
Toonami/#Toonami [#4]
#DragonBallSuper [#10]
#DBZKai [#6]
Majin Buu (From DBZ Kai) [#19]
#AttackOnTitan [#4]
#TokyoGhoul [#22]
#HunterXHunter [#3]
#LupinThe3rd [#3]
#Shippuden [#7]
Tweet Counts:
Toonami [6,157 tweets]
#Toonami [2,980 tweets]
#DragonBallSuper [2,604 tweets]
#AttackOnTitan [1,012 tweets]
#HunterXHunter [1,399 tweets]
Tumblr Trends:
#toonami
#dragon ball super
Notes and Other Statistics:
Special thanks to @mmorse1017 and others I forgot to mention for spotting some of the trends on this list.
Who Wants Some? Only Toonami on [adult swim] on Cartoon Network.