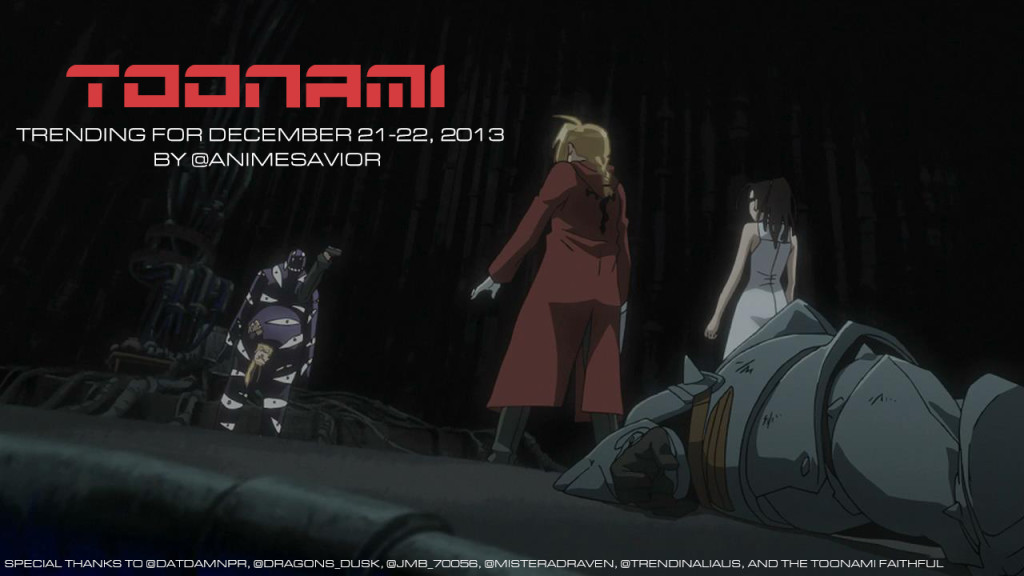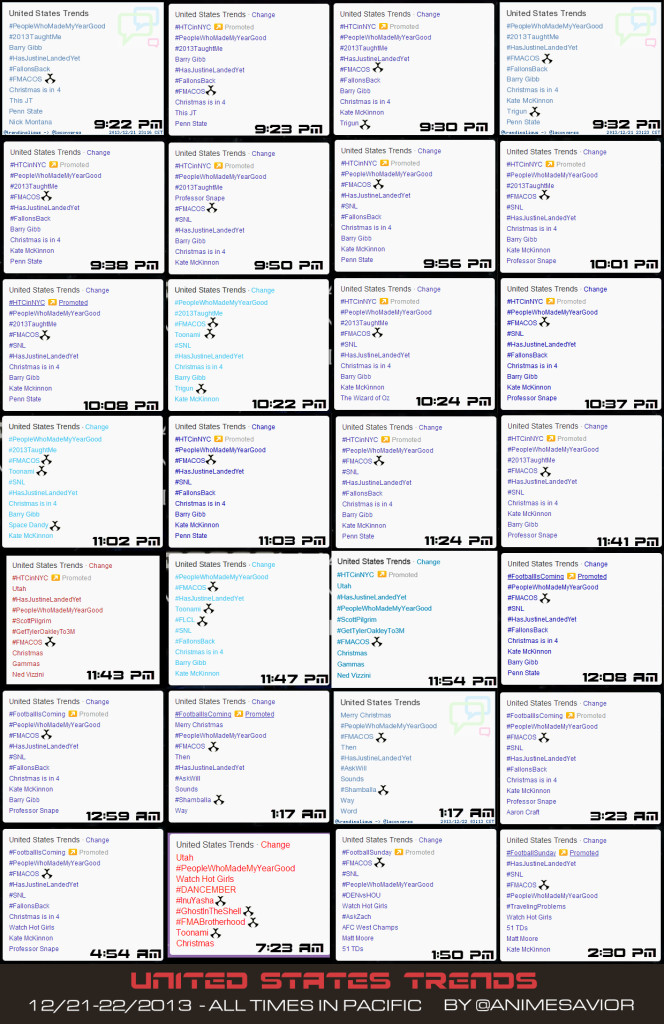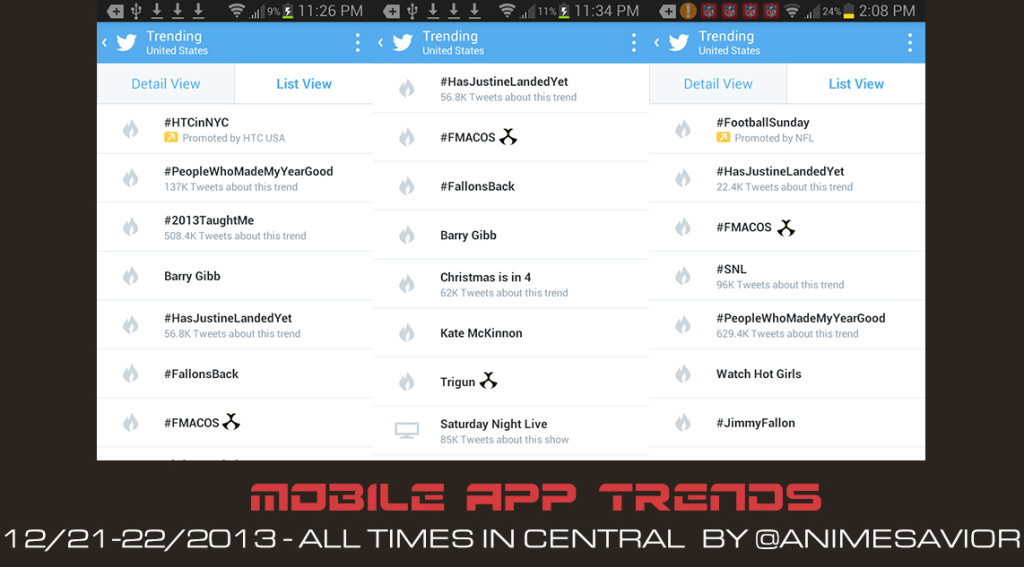 "And now, greetings to the three of you, my pretty sacrifices.  Welcome to my castle. Please everyone, make yourselves at home."
–          Father, Full Metal Alchemist: Brotherood (Episode 58)
The Toonami Trending Rundown for December 21-22, 2013. Full Metal Alchemist: The Conqueror of Shambala makes it's long anticipated debut on Toonami as we had some rough competition with Jimmy Fallon hosting SNL and Twitter having technical issues, things went well regardless as #FMACOS and Toonami trended both US and Worldwide, and much like Akira and Summer Wars, #FMACOS also trended for it's west coast airing as well, including Toonami's designated hashtag #Shamballa. We also witnessed a promo for next week's film, Trigun as well as another Space Dandy trailer, this time with dubbed voices, and both shows also trended in the US. Unfortunately, due to said technical issues, no other show outside of FLCL managed to trend US or Worldwide, though US trends of #FMABrotherhood, #GhostInTheShell, and #InuYasha were spotted an hour after Toonami ended in the west, and #FMACOS was even spotted trending more than 7 hours after Toonami ended in the west as well.

Tune in next week as Toonami airs Trigun: Badlands Rumble to end off the year with a bang, to go alongside with a "best of" marathon of Cowboy Bebop to get ourselves prepped for Space Dandy, which that and Shippuden is only two weeks away. And on that note, this is the last week of the InuYasha doubleheader, as once it returns on January 4th, it will be relegated to 5:30am Eastern while Star Wars will take the 5am slot to make way for OG Naruto restarting at 3am. Other than that, see you again next week, Merry Christmas and Happy Kwanzaa to all, and to all a good night.
Legend: The number next to the listed trend represents the highest it trended on the list (not counting the promoted trend), judging only by the images placed in the rundown. For the mobile app trends, the listed number of tweets are also sorely based on the highest number shown based on the images on the rundown.
US Trends:
Toonami (During FMA COS) [#4]

#FMACOS (Also trended during it's west coast airing) [#1]

#Shamballa [#8]

Trigun (During FMA COS) [#9]

Space Dandy (During FMA COS) [#9]

#FLCL [#5]

#FMABrotherhood [#7]

#GhostInTheShell [#6]

#InuYasha [#5]
Worldwide Trends:
Toonami (During FMA COS) [#4]

#FMACOS [#3]
Mobile App Trends:
#FMACOS [#2. Tweet Count Unknown]

Trigun [Tweet Count and Highest Position Unknown]
Special thanks to @DatDamnPR, @JMB_70056, @MisterADRaveN, @trendinaliaUS, and others I forgot to mention for spotting some of the trends on this list.
Edit 12/22 @ 4:30pm PST: Edited image to include a spotting of #FMABrotherhood, #GhostInTheShell, and #InuYasha trending in the US. Special thanks to @Dragons_Dusk for spotting this.
Things are about to go bang. Only Toonami on [adult swim] on Cartoon Network.