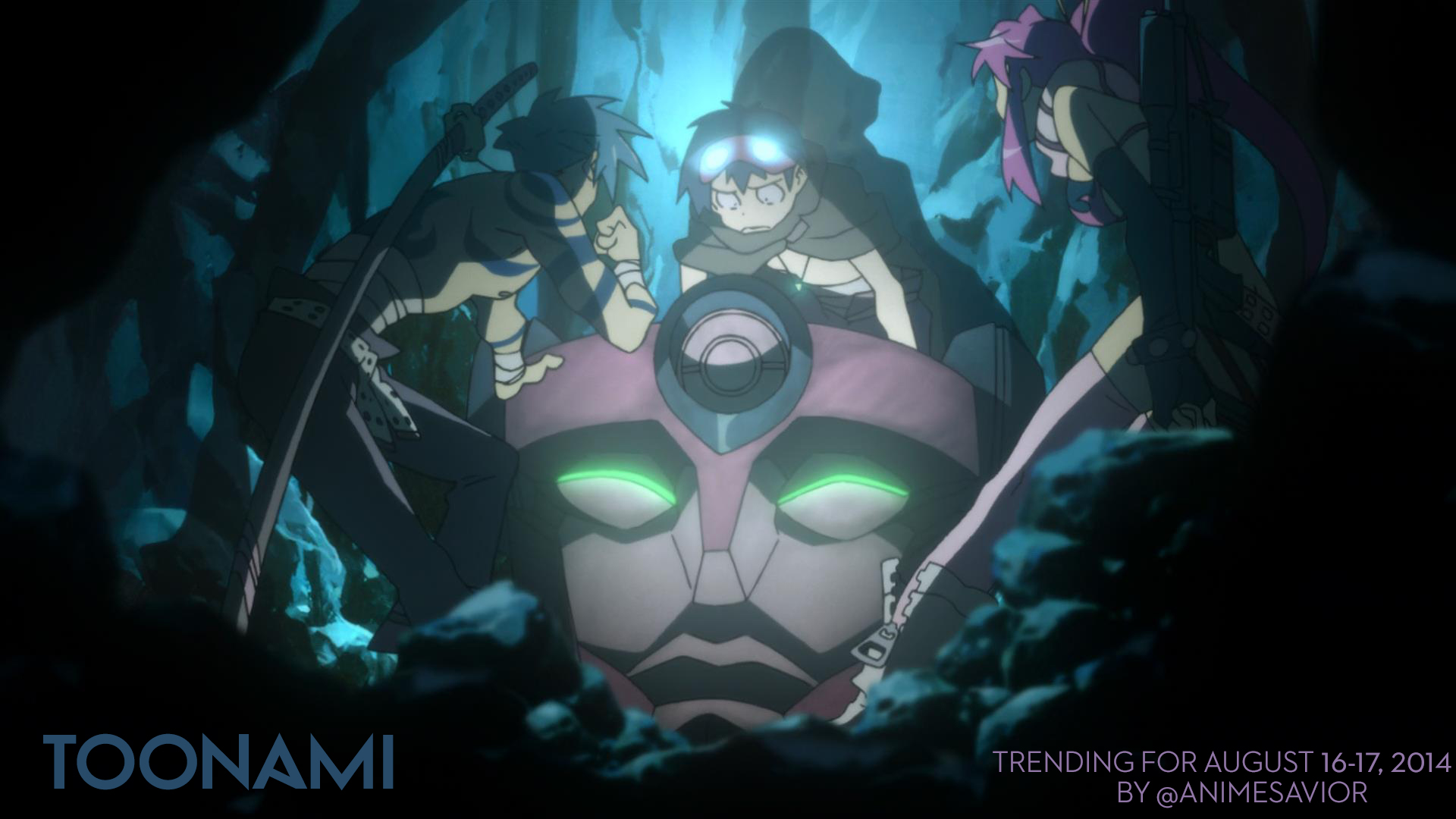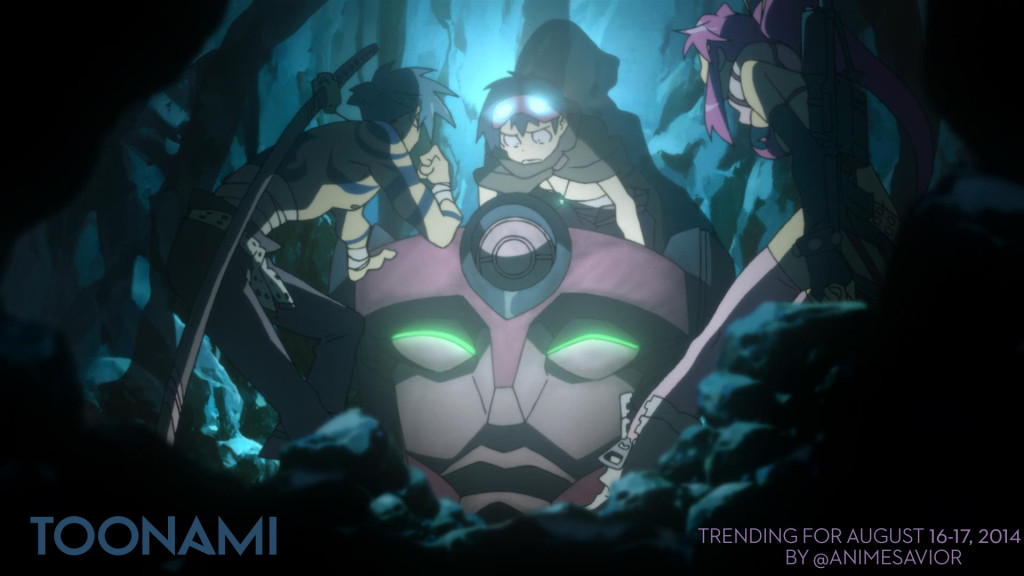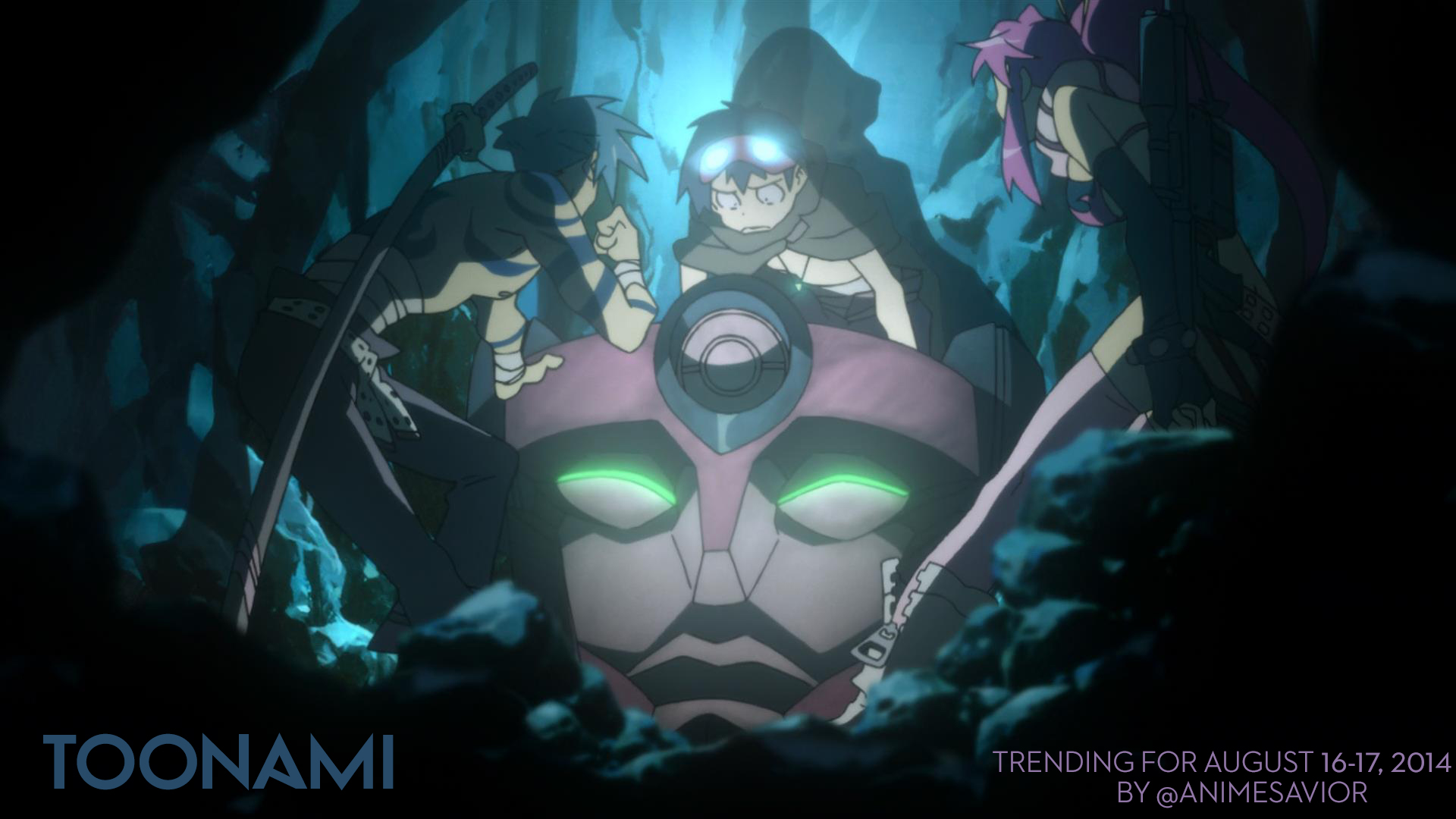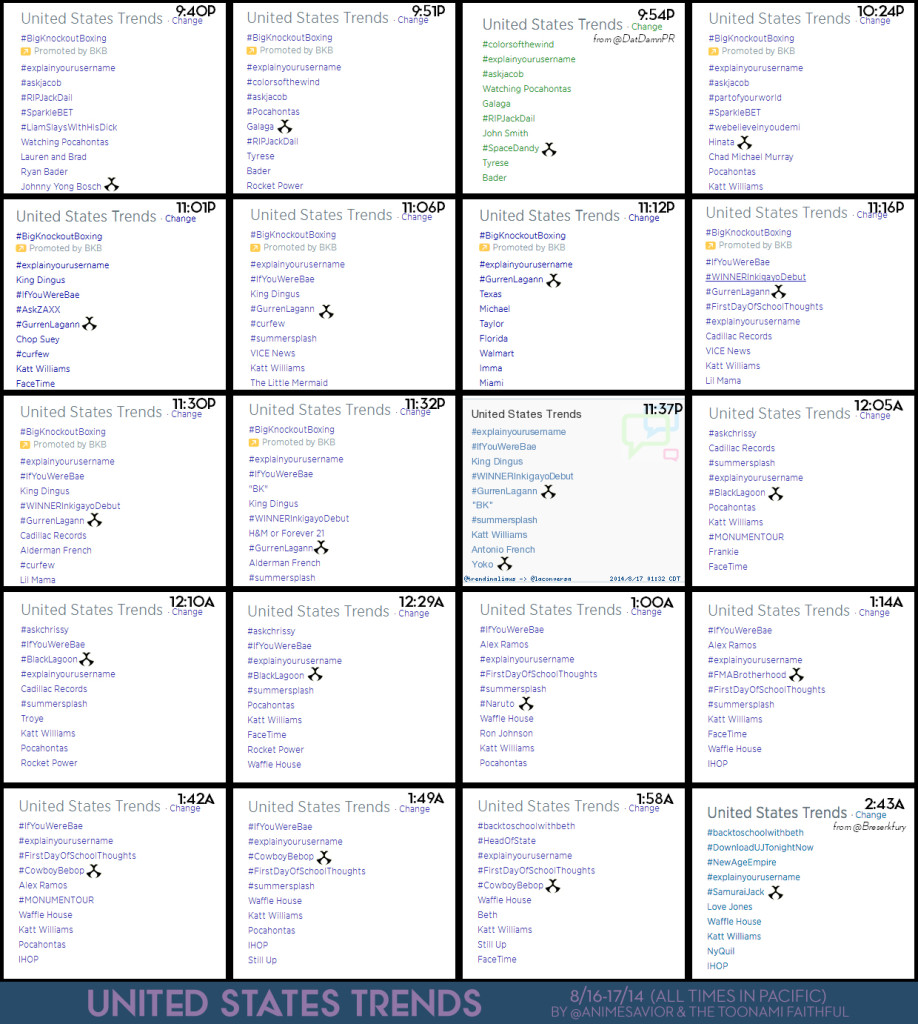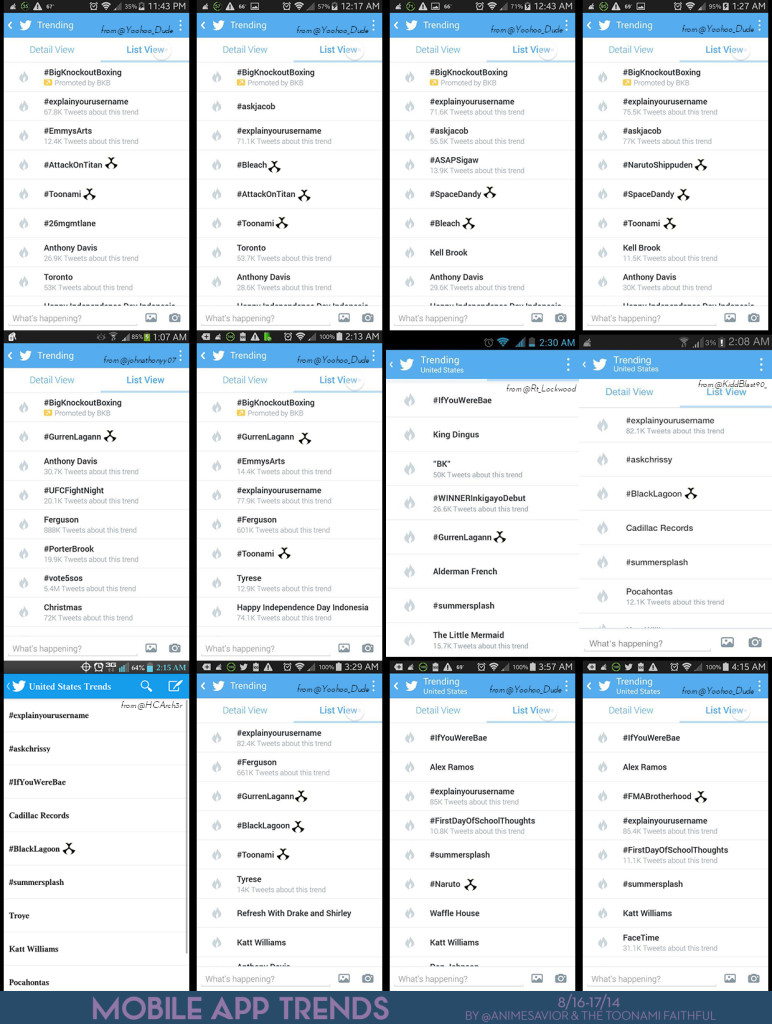 "Kick logic out and do the impossible. Remember that, that's the way Team Gurren rolls!"
–          Kamina, Gurren Lagann (Episode 01)
The Toonami Trending Rundown for August 16-17, 2014. Gurren Lagann launches onto Toonami with a bang as while several shocking events have rocked the Twitterverse lately such as the protests in Ferguson, among others, Toonami gave folks a much needed break from it all as all but 6 shows trended in the US and all but 5 shows trended in the mobile app. No worldwide trends to report, unfortunately.
We also got some special trends from Space Dandy (Johnny Yong Bosch, as we were introduced to his character, Johnny, the leader of the Jaichro empire and an aspiring Rock Band member as well as Galaga, as Johnny plays a theme from the classic game.), Naruto Shippuden (Hinata, as she faints during her encounter with Naruto…twice.), and Gurren Lagann (Yoko, as she, Simon and Kamina manage to defeat the Gunman and make it to the surface.)
Not gonna be able to watch Toonami on Labor Day weekend? Late to the Attack on Titan party? Well, 2 weeks from now, Toonami will be showing an Attack on Titan marathon from 12-6, showcasing the first 12 episodes with only Space Dandy premiering that night at 11:30pm Eastern.
Furthermore, remember the time when Moltar asked if "Toonami is a failed experiment, destined for destruction?" Looking back, obviously it was anything but, but TOM 5 and the Toonami crew are once again asking for your input for suggestions to make the block better. Send your suggestions to their Tumblr ask box or write in to the Williams Street studios. I'm sure they'll be open to any suggestions short of doing stuff like airing live action or engaging in "otaku pandering", as they say, so let em know what you want.
Tune in next week as Black Lagoon showcases the penultimate episode of The Second Raid, among other great moments from the other shows. Till next week, stay gold and always make the impossible possible.
Legend: The number next to the listed trend represents the highest it trended on the list (not counting the promoted trend), judging only by the images placed in the rundown. For the mobile app trends, the listed number of tweets are also sorely based on the highest number shown based on the images on the rundown.
US Trends:
#SpaceDandy [#8]
Galaga (From Space Dandy) [#5]
Johnny Yong Bosch (From Space Dandy) [#9]
Hinata (From Naruto Shippuden) [#6]
#GurrenLagann [#2]
Yoko (From Gurren Lagann) [#10]
#BlackLagoon [#3]
#Naruto [#6]
#FMABrotherhood [#4]
#CowboyBebop [#3]
#SamuraiJack [#5]
Mobile App Trends:
#Toonami (During Attack on Titan, Naruto Shippuden, Gurren Lagann, and Black Lagoon) [#4]
#AttackOnTitan [#3]
#Bleach [#3]
#SpaceDandy [#4]
#NarutoShippuden [#3]
#GurrenLagann [#1]
#BlackLagoon [#3]
#Naruto [#6]
#FMABrotherhood [#3]
Notes and Other Statistics:
Special thanks to @Brezerkfury, @DatDamnPR, @HCArch3r, @johnanthony07, @KiddBlast90_, @RT_Lockwood, @trendinaliaUS, @Yoohoo_Dude, and others I forgot to mention for spotting some of the trends on this list.
Kids Love It. Only Toonami on [adult swim] on Cartoon Network.