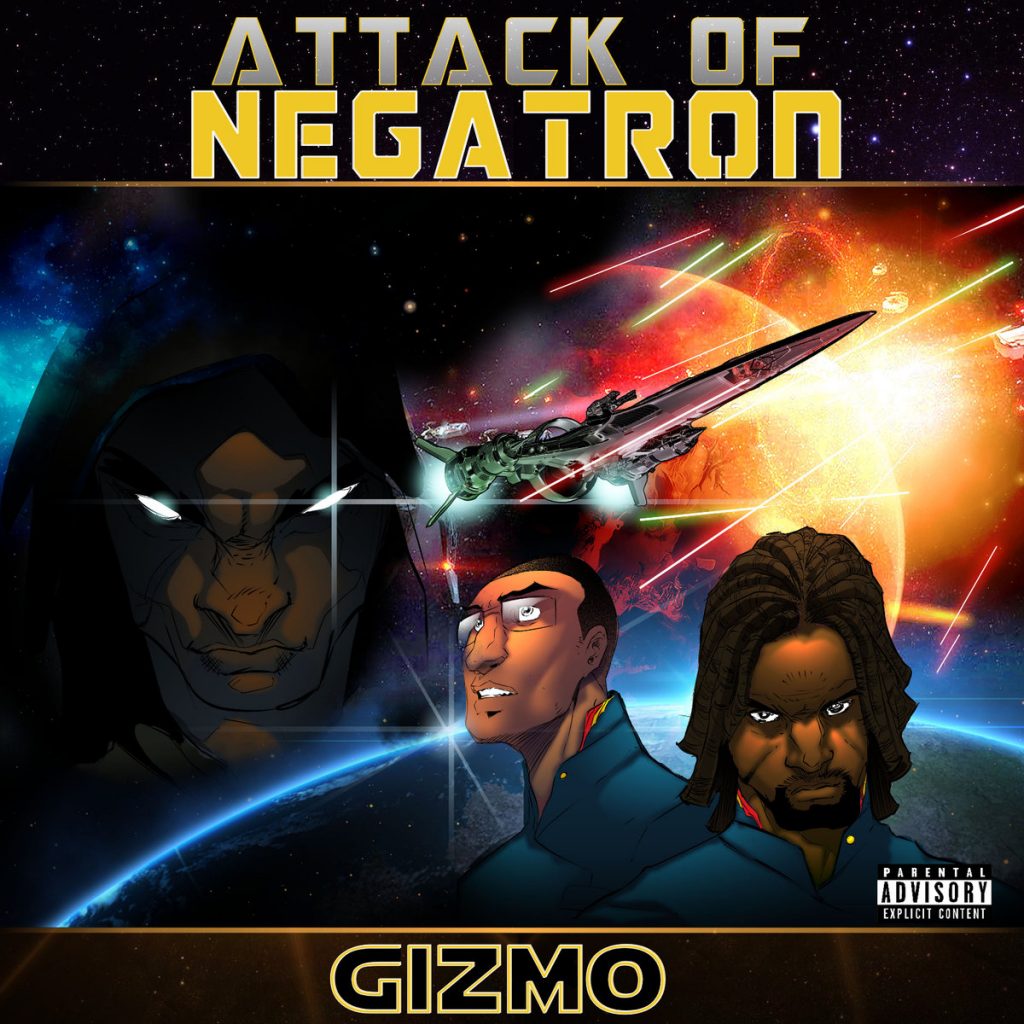 Sitting back, relaxing and just reminiscing on how rap was so diverse and unique back in the day, I had the privilege of listening to hip/hop when it was still meaningful and had the kind of impact that made you want to support an artist and show undying love to the art form. It has become apparent that these days, however, it is really hard for an artist to do that. There has just been a disturbance in the realm of rap that took the rap world by storm like Order 66 and the sacred art of hip/hop has been decimated. Now we have an artist named Gizmo bringing his own style to the nerdcore world in the form of "Attack of Negatron" with some influences that stem from Star Wars, comic book villains and some Star Fox as well. We might as well get slippy and start barrel rolling into this album. Gizmo definitely brings some heat with his delivery.
I couldn't do anything but smile because of the jazzy undertones, bluesy feels, execution of strings, horns, the masterful timing of percussion to get that rhythm right and then the perfect blend of 808s and baseline drops. I like the way Gizmo switches up his styles. At one point, I thought I was listening to something along the lines of A Tribe Called Quest and De La Soul then he switched it up and gave me something similar to Nemesis with those munchies for your bass. I am definitely impressed with his repertoire and the fact that this album is mellow. This is something I could definitely listen to and just forget about all my cares in the world for some serious release therapy.
This is an album that would get the women on the dance floor in the club and have them slow grinding up on you the way it was for me when I went to the L.R. Hall for a party on a weekend. Gizmo: What more can I say despite the fact that when I heard his tracks Puff Pass and Bad John I lost my mind because I went back to the days when regulating was popular and you had to bring your a game if you wanted to impress the crowd.
This album is a Nerdcore Hip Hop classic in the making. I give it the seal of approval Geek-E Inc. Productions style. I would say the way Giz performs as an emcee is very masterful and he paints a picture as he spits on the microphone which is why I give this album a 9 out of 10. It has the consistency of a smooth cognac that just goes down easy with silky notes that make it pleasing and Gizmo definitely pleases your auditory senses on so many levels. This album is worth purchasing multiple times over, so check it out and support Gizmo.
You can hear and download his full album by using the player below. Be sure to follow Gizmo on Twitter @HeyItsGizmo and on Facebook by clicking here.
[soundcloud url="https://api.soundcloud.com/playlists/209541092″ params="auto_play=false&hide_related=false&show_comments=true&show_user=true&show_reposts=false&visual=true" width="100%" height="450″ iframe="true" /]