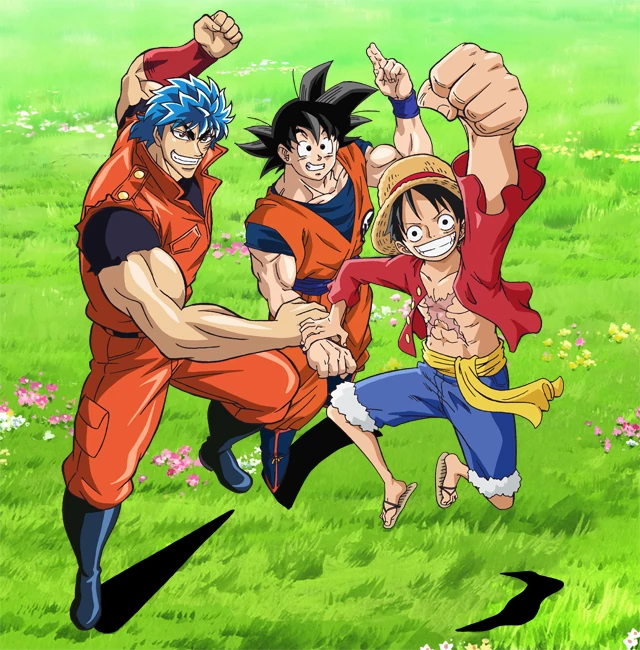 I don't think anyone saw this coming. Toonami dropped a bombshell in their most recent schedule update, announcing that they would be airing the TV special featuring a crossover with One Piece, Goku, and, Toriko the Gourmet Hunter on March 4 at 1 a.m., recreating that classic phrase fans know and love. Only Toonami. But that isn't the only difference fans should see come March 4, and we are here to break it all down for you and explain just how crazy this announcement is!
🚨LINE-UP ALERT🚨

The legendary crossover episode from episode #590 of #OnePiece will be seen ONLY on #Toonami!

It features #DragonBallZ and #Toriko characters all interacting with our favorite pirates on March 4th at 1 A.M. EST! 🏴‍☠️ pic.twitter.com/JD2hUgXPvo

— Toonami Faithful (@ToonamiNews) February 17, 2023
The night starts with back-to-back episodes of My Hero Academia at Midnight, and then it's on to the main course as the heroes of three Weekly Shonen Jump series join forces to capture a legendary deep sea creature. And if that isn't enough One Piece action for you, stick around for another episode of the Punk Hazard arc at 1:30 a.m., followed by Naruto: Shippuden and Genndy Tartakovsky's Primal rounding out the night.
Only Toonami (the phrase mentioned earlier) rarely applies to acquisitions airing on the block these days. Nearly everything that isn't an original production has not been exclusive to Toonami in the U.S., making it difficult for Adult Swim to have new series at the ready, especially with how challenging finalizing deals have been. So it is an absolute treat to have this crossover special make its U.S. premiere on Toonami first, meaning you'll have to tune in to find out instead of streaming services that have dominated the anime space. The special was skipped over during the One Piece simulcast (originally episode 590) and was not released on home video in Japan (or the U.S.). It was long presumed it would never be dubbed, but Toei Animation has confirmed via a press release that the special will be airing dubbed. They snuck this right under our noses, creating a bit of fanfare for long-time Toonami and One Piece fans. 
from the press release Toei sent out you can thank @samster299 for the image pic.twitter.com/b4SiIF4VNB

— Sam (@szuniverse) February 17, 2023
The crossover special also marks the U.S. Television debut of the series Toriko. FUNimation previously dubbed 53 episodes and simulcast the remainder as it aired in Japan (subtitled). The series follows Toriko (Ian Sinclair, Dandy on Space Dandy) and his companion Komatsu (Josh Grelle, Armin on Attack on Titan) as they seek out the rarest ingredients to build the ultimate dish. It was popular during its initial run in Weekly Shonen Jump, and the anime grabbed a lot of fans despite not having a chance to be on TV before. I'm not the biggest fan of speculating, but perhaps this could be the start of Toriko finding a way to be on Adult Swim in the future. It's a long shot, but anything can happen, considering Toonami's relationship with Toei Animation. 
It is exciting that the crossover is airing, but there is an additional caveat. One Piece episode 590 is only the second part of the original one-hour crossover special, which began in Toriko episode 99. That episode was also skipped during the Toriko simulcast and has yet to be made available in the U.S. Viewers might feel confused jumping right into the second part of the special. The gist is that all three groups took part in a race where the prize was some rare meat, but there was an ulterior motive for bringing together the most potent fighters, which becomes evident in the second part. Don't get me wrong; I'm all about getting an exclusive like this, but seeing how this adventure begins would have been an even crazier prospect that would have Toonami fans dancing with glee. 
The One Piece x Dragonball x Toriko crossover special has never streamed and was skipped on DVD. This is ONLY #Toonami baby! https://t.co/RZ4t8iD5bo

— Sketch (@Sketch1984) February 17, 2023
It certainly is an exciting way to kick off March for Toonami. There may yet be more surprises in store for the block's birthday month, and hopefully, it will be a little while before we know what new series will be joining when the schedule settles down. As it is clear that Toonami is still in a holding pattern since the finales of both Yashahime: Princess Half-Demon and Made in Abyss aired already. For now, we can look forward to the U.S. premiere of the Toriko x One Piece x Dragon Ball special, which is probably one of the biggest surprises Toonami has thrown our way for some time. And nothing can prepare you for a dub cast crossover where Ian Sinclair will voice both Brook and Toriko, Sonny Strait will play double duty as Usopp and Krillin, and Chris Sabat will play triple duty between Zoro, Vegeta and Piccolo. It is fanservice on top of fanservice, which I'll gladly take. 
We still have some moves! https://t.co/W9ptKyk5kN

— SPIRAL CURSE DEMARCO (@Clarknova1) February 17, 2023
What do you think about the crossover special episode debuting on Toonami before anywhere else? Do you think this could lead to Toriko joining the block at some point? Tell us in the comment section below or our social media pages!
Don't forget to listen to the Toonami Faithful Podcast, the best podcast to stay up to date on all things Toonami and hear the best commentary about the block you won't hear anywhere else.