Toonami fans were excited for the latest original Housing Complex C that debuted this Saturday! And considering the fate of the last three originals, many are thankful that a new series found a (hopefully) permanent home on Adult Swim. And all eyes are on Bleach now that we have an English cast list for the new season debuting this month! If you're curious about everything that's happened, continue reading this latest installment of This Week From Toonami!
We are sad to report that a few Toonami original series have been removed from the Adult Swim website, and we have more information as to why that is. Many noticed how abruptly Blade Runner: Black Lotus was taken out of the lineup, leaving some to speculate on what might have happened (primarily due to people thinking the series isn't popular). However, it was due to it, and others like Fena: Pirate Princess and Shenmue: The Animation were written off. Of course, with those being co-productions with Crunchyroll, which could have also played a factor, it would appear that these projects will be gone from Toonami's library, bringing us back a few steps before these originals were around. Jason DeMarco took to Twitter to talk about the recent removal. He mentioned how it is possible to buy the series on iTunes and go to Crunchyroll to watch them; they can still have a physical release, and that despite how well Shenmue: The Animation performed, it looks like another season isn't in the cards. However, DeMarco also mentioned that future projects shouldn't be affected like the previous ones, which does make us wonder how much Sony and Crunchyroll played into this recent change alongside the moves made by Warner Bros. Discovery recently. There's a lot to unpack, but sadly we don't have all the answers.
Now that it is October, it is officially Bleach season! To kick things off, Aniplex released a new short trailer to get fans excited about the new anime set debut later this month! And according to Anime News Network, another promo will be published on Oct. 8 to highlight the 13 Court Guard Squads. But that wasn't everything as VIZ Media announced the English cast for the upcoming story arc for Bleach. As you guessed, Johnny Yong Bosch and Michelle Ruff return to voice their iconic roles of Ichigo and Rukia. Other voices such as Stephanie Sheh, Derek Stephen Prince, Wally Wingert, and Doug Erholtz will be returning, which has many fans pumped. However, Chad's English voice was noticeably absent from the latest announcement, which is certainly interesting to wonder about since he is involved in the final arc. Also, we are still unsure where the English dub for the Thousand-Year Blood War arc will be broadcast, leaving many to wonder if it will find a home on a streaming service like Crunchyroll, Hulu, HIDIVE, or maybe Toonami.
The official website for Sword Art Online the Movie -Progressive- Kuraki Yūyami no Scherzo published a new trailer for the second Progressive film this week. As of now, it looks like the new release date of Oct. 22 for Japan is still good to go after being delayed from premiering in August. And after checking this trailer out, the film looks to be building on what many felt was a great start to the Progressive films. When more information is out on when fans in the U.S. can see it, we will make sure to tell you!
We continue to keep track of the milestones that One Piece Film Red gains each week as it once again stayed at the top spot in the Japanese box office for its eighth week in a row! And it has now reached sixth place for the highest-grossing anime film of all time, usurping Ponyo (it's also now the eleventh highest-grossing film of all time in Japan). Now, things get interesting as we wait to see if it can crack the top five list currently held by massive hits like Spirited Away and Demon Slayer: Mugen Train. Right now, the next film in One Piece Film Red's sights is Howl's Moving Castle, as we wait to see if and when the latest One Piece movie will crack the illustrious top five placement.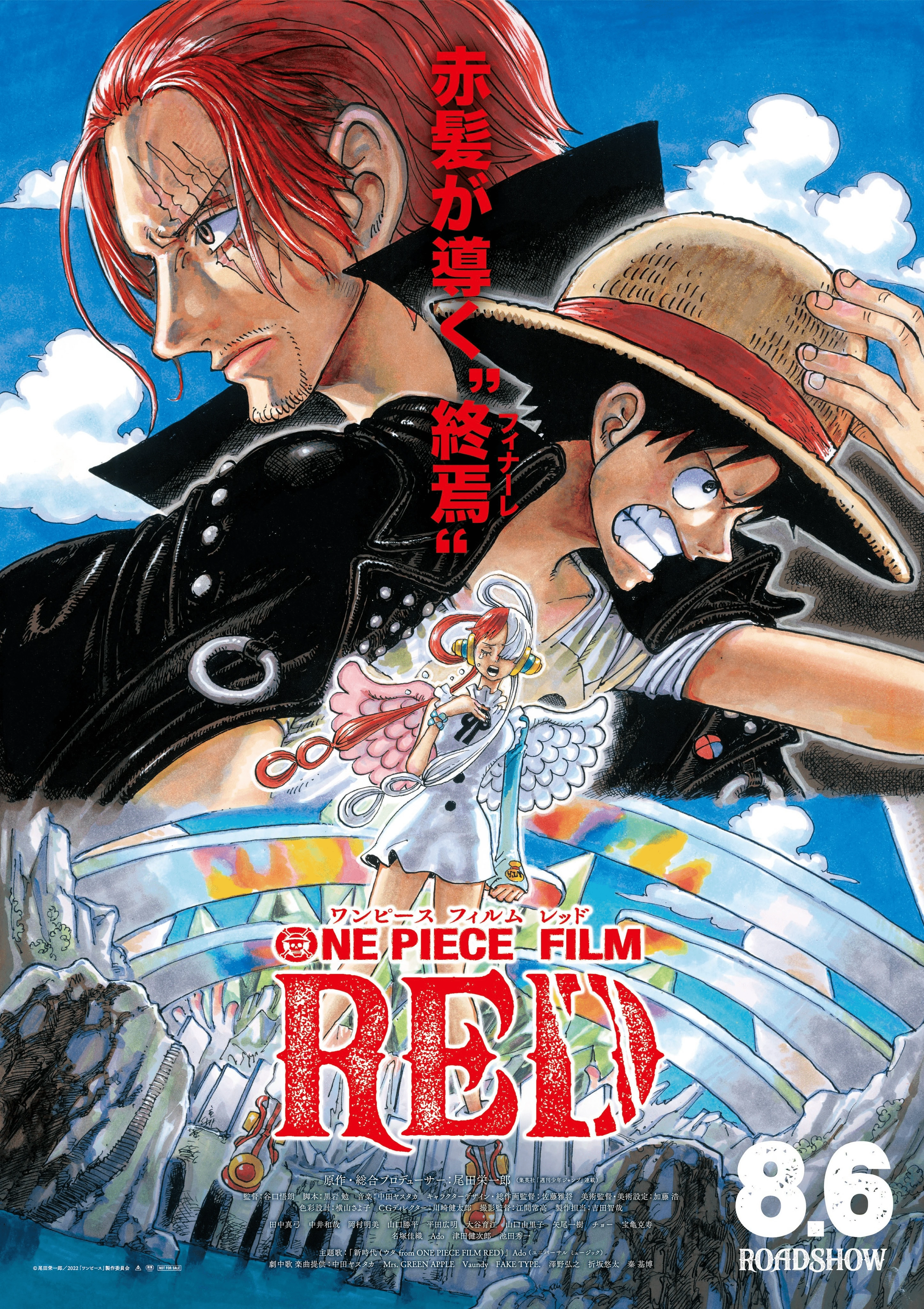 If there's one thing that has been fun to see since we've started this weekly article is the anime collaborations that pop up from time to time. This latest one had us hungry, and we found it fun to watch with Lupin, Jigen, and Goemon making a stop at the fast food chain McDonald's! The commercial advertises the new mobile order drive-thru function on their app in Japan. This combination works so well, and we enjoy how we are seeing more and more Lupin stuff in the public eye in all kinds of advertisements/collaborations.
We saw this ad, so you all will have to suffer with us. A One-Punch Man mobile game (One Punch Man: The Strongest) was released in the U.S. this week, and it would appear that they decided to advertise this in a way that would certainly get your attention. We've been noticing all kinds of ads for this latest entry in the mobile game field, but this video is genius in a hilarious way to entice people to check it out. If you are interested, the game is available on Android and iOS phones for anyone to play!

Something that caught our attention was the podcast Sailor Moon Fan Club is looking for passionate Toonami fans back during its time on Cartoon Network. We aren't sure what the project could entail, but we wanted to give it a shoutout to fans to help suggest anyone that might be able to help out on what could be a huge undertaking! But while we wait to learn more, make sure you give the podcast a follow to find out what's going on with the call to action made!
On the newest episode of The Toonami Faithful Podcast, Andrew "Sketch" Hingson brings in Paul Pescrillo, Varun "VLordGTZ" Gupta, and Happy Kuro Kitty to talk about the two Batman films that aired on the block to celebrate Batman Day! The gang loved the nostalgia of Mask of the Phantasm returning to Toonami since it aired on the Cartoon Network block and came back when we were kids! And it was fun to hear commentary that wasn't possible from us back when we first saw the iconic film, such as all the flashbacks going back and forth. It's a fun conversation and one we hope you can listen to, especially with how much fun everyone had! However, the group also discuss the latest Housing Complex C news at the time and the block's schedule changes.
Toonami Faithful was able to check out the first episode of the new original Housing Complex C. Staff writer Happy Kuro Kitty was able to write out a sneak peek article to preview what fans should expect from the new horror series. She was interested in where Housing Complex C will go after one episode (with the series only being four episodes long) and loved many of the callbacks from popular horror flicks she's seen through the years. If you're wondering what elements she noticed, such as certain camera angles and whatnot, make sure you give it a read!
Staff writer Umeko Long published an article for Anime News Network to prepare fans for My Hero Academia's newest season! Long was able to write a quick guide for fans to get reacquainted with the last season of the hit shounen series! She writes about the backstory for Shigaraki and what led him to be the central antagonist he is now, Deku's newest quirk, and how the espionage aspect has helped invigorate My Hero Academia. With the new season premiere, we hope you check out Long's article before you watch the first episode. And who knows, maybe we will be lucky enough to see it on Toonami (fingers crossed).

You can follow us on Twitter, Instagram, and Facebook. You can listen to the Toonami Faithful Podcast on Soundcloud, iTunes, Spotify, etc. for interviews, discussions, and breaking news updates. Listen at the link below or on your podcast platform of choice:
CJ Maffris is the Editor-in-Chief at Toonamifaithful.com. He also produced and directed the Toonami documentary, What Toonami Means To Me. Feel free to follow CJ on Twitter @SeaJayMaffris