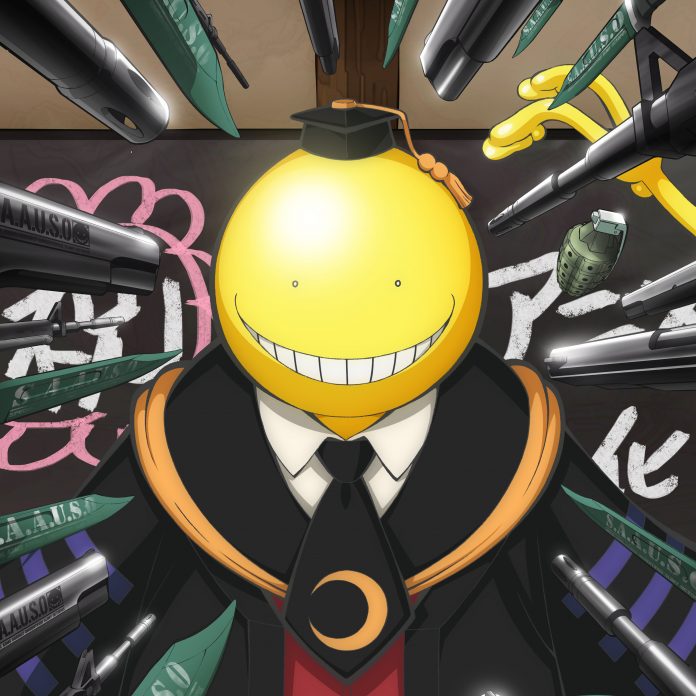 (via Studio Lerche)
The latest acquisition from Toonami could be the start of something extraordinary for fans. Besides bringing a new series to the lineup, Adult Swim pulls out a gem from five years ago, joining Black Clover, JoJo's Bizarre Adventures, and Fire Force. While many were excited about the news (due to worries about the block broadcasting new series), there is an exciting aspect of Assassination Classroom airing at the end of August. Toonami chose an older series instead of picking up the latest SimulDub by FUNimation. I'm sure we can chalk that up to the COVID-19 pandemic, but I'm hopeful that Toonami will continue to look to the past to bring fans something to watch for the future.
A complaint I'd see from a handful of Toonami Faithfuls throughout the past couple of years was that Toonami wouldn't take a chance on a lesser-known series. Much like Michiko and Hatchan, during Toonami's earlier years, the block searched for exciting content that anime fans might have overlooked or missed. It would allow Toonami to continue doing what it has done in its early Cartoon Network days and expose fans to something they'd never seen. And in the first years of Toonami's Adult Swim run, the block did just that. They brought attention to older series that had been "slept on," rather than bringing out every single hit that came an anime fan's way.
However, I wouldn't necessarily call Assassination Classroom an unknown gem that people missed during its initial run. While the manga was serialized in Weekly Shonen Jump, the property became a huge hit that was only strengthened by the anime adaptation. The mascot of Koro-sensei was enough for me to dive into the manga. I was blown away by the story and social commentary involving the high pressures of the education system (with a bit of self-worth thrown in). This series tells a beautiful story about underdogs labeled as trash who overcome the odds to better themselves and save the world. Sure, they have to kill their teacher, but Koro-sensei doesn't let that affect his teaching methods to enrich his students. Rather poignant, and something I hope fans enjoy watching.
But the biggest reveal is that Toonami decided to pick up an older, and relatively long, completed English dub. Lately, Toonami has been grabbing as many SimulDub series as they can afford. Whenever a series blows up on social media AND receives an English dub soon after, many fans suggest that Toonami pick it up. And to Adult Swim's credit, they've done it, listening to their fans and giving a newer feel to Toonami. It allows the block to feel more like a streaming service and keep up with platforms like FUNimationNow and Crunchyroll.
With Toonami doing that, I believe the block is moving away from their roots, in the sense of offering something cool that others might have missed. And while there's always a risk in going back to pick up something that was previously popular, I commend Toonami in continuing to give older series a chance. Unlike Tokyo Ghoul (which is an example of this decision backfiring), I think Assassination Classroom is an excellent choice to air on the block. It fits with what Toonami fans are accustomed to and adds some elements rarely seen on the block. On social media, Toonami fans either call this series a huge favorite (and can't wait to watch again), or something they didn't finish and now have a reason to view. That's precisely the kind of sentiment I want to hear more.
Toonami seems better when it offers a broader variety of content. Original content, the latest anime series, and older titles create a wonderful mix. Much like with cooking, each element is vital for the whole dish. Lately, Toonami has seemed to focus too much on the SimulDubs coming out of FUNimation, or quick English dubs such as Sword Art Online, The Promised Neverland, and Demon Slayer. Not to say Toonami shouldn't go for these series (because I enjoy them all), but I think adding some older series that haven't had a chance on the block has been missing. I always wanted that, and I think many fans will appreciate more selections like this.
Even though I've already watched Assassination Classroom, the experience of watching it with Toonami fans is too alluring to ignore (something mentioned on a podcast yet to be released as of this writing). And adding a completed series was a wise choice, with COVID-19 still being a considerable problem. Bringing in a series that isn't a SimulDub makes me wonder if more selections like this are on the horizon. I'm all about seeing more of this happen in the future. I don't want Toonami to ignore every SimulDub series, but I'd like the block to balance both newer titles and older ones. Hopefully, this will create a diverse platter of content for fans to enjoy.
C.J Maffris is the Editor-in-Chief at Toonamifaithful.com. Feel free to follow C.J on Twitter @SeaJayMaffris
Don't forget to listen to the Toonami Faithful Podcast!