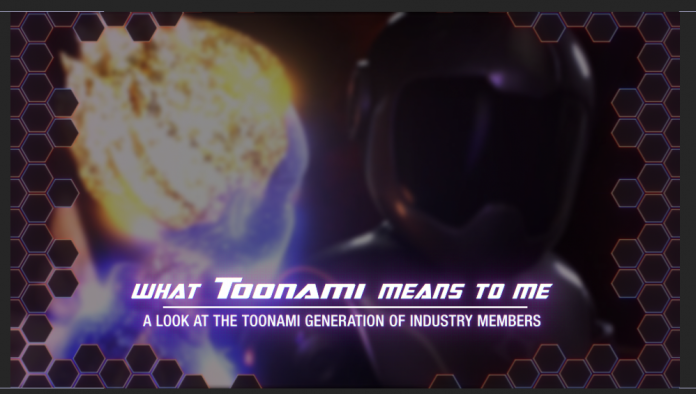 ************************************************************************
Nov. 2019
"Hey Jen, I have a great idea for a guest article! Since you've heard your voice on the block, I think it would cool to hear your perspective on that since most of our fans and readers might not ever experience that. What do you think?"

"Sure! But I don't think I'd be able to give you much. Why not try to get a few people to do a project for this! Oh! Instead of a written one, let's do a video thing! I'm sure it'd be fun!"
March 2020
"Well, it looks like with everything canceling, I might have to shelf this idea till conventions are back. Oh well. At least I have this project mapped out."
"No! The fact that things are closing means you should do this for this year! Bring a little fun and something exciting to fans!"

Dec. 2020
"C.J, I thought this was going to be a 20-minute video. NOT A FULL-LENGTH FEATURED FILM!"
************************************************************************
I felt as if the backstory for why this project came to be, and some of the memorable quotes from the person who gave me this idea would be important context for this preview piece. Honestly, I wasn't expecting a lot of attention for this documentary (not that I'm complaining). I always go at projects under the assumption that either people might notice and think it might be interesting to check out (but don't), or mistake Toonami Faithful as Toonami and quickly realize the mistake and leave. And while I'm sure both of those situations will happen, the attention that this whole project has grabbed, SINCE CHRISTMAS EVE, has blown me away. I didn't expect many people to share a two-minute trailer that I whipped up so quickly. I didn't think the trailer would be played over twenty-thousand times by fans. I still can't believe that Crunchyroll wrote a short article to help promote the documentary. And I'm more surprised that Jason DeMarco noticed the trailer and can't wait to check it out (mostly because I don't feel my work isn't all that important). And here we are! As Toonami Faithful gets ready to release a documentary at the calm before the storm, I wasn't even sure it was going to be finished ever (oh, were things looking dire). I can't wait to share with the anime world this work. I can't wait to share with the anime world this work. And while I'll be excited to hear how people enjoyed it, I'm more interested to hear how they liked the music (done by a former staff member and still good friend Alien Renegade). How cool the graphics looked (by the best Toonami archiver in CabooseJr). And all the wonderful guests who agreed to be a part of this. I'm still in awe, and the fact that so many people have helped along the way is humbling, sobering, and such a relief. So allow me to open up, be a bit personal, and give you a preview about what has become my pride and joy since working at Toonami Faithful.
Full disclosure, the conversation I had above was with Jennifer Losi, a voice actress who I've gotten to know well thanks to Anime Expo. She was super sweet, not only in her interview that we conducted, but had the most heartwarming conversation (in my eyes) with a guest we just wrapped up a talk with Marissa Lenti. The two had a wonderful chat, both complimenting one another, as it was the first time either saw each other face to face (a fact that even I sometimes forget that the cast doesn't see each other that often). Jen couldn't have been more gracious, and after she finished her interview, we'd see her as we ran all around for other assignments. Later, she indulged a rather selfish request on my behalf to interview both Daniel Limjoco (a social media manager of ours) and myself, just for a little extra flavor for our Anime Expo coverage, which was so fun to do! Afterward, we all stayed in touch and would randomly chat about the latest announcements to sending good vibes.
As the Editor-in-Chief at Toonami Faithful, I always want to think of written content to provide to our readers. While my articles have become sparse in the past couple of years, I love being able to work with anyone and everyone to give all kinds of wonderfully written words the spotlight they deserve. So in November, I had the idea of having a voice actor/actress write out why it meant so much to hear their performance on the block and why Toonami was critical to the anime industry. I knew I would never have that feeling, and the same can be said for our fans and readers. So I approached Jen thinking she'd be perfect for this project. She couldn't have been more gracious after agreeing. But before she began, she planted an idea into my head about asking multiple people what that feeling is like and why the block is so important. Thoughts were swirling around in my head, to where I immediately thought of a featured-length documentary (remember, this tidbit, it's essential). Excited as she was, Jen offered to gather up contact information for me to use and sent out feelers on her end to see if anyone was interested (spoiler they were). And thus, I began mapping out how I was going to do this, and the content I needed to make it happen.
I figured the best time would be during the convention circuit, considering I planned to go to more than my usual Anime Boston and Anime Expo excursions. Wrote down some notes about what I wanted (beauty shots of convention halls, b-roll of fans lining up at panels, cosplay of characters from Toonami series, etc. And of course, looking at guests lists to see who I thought would be interested. And after five months of preparing, everything was looking great! Jen got back to me and compiled a list of so many interested guests, making me feel comfortable. It looked possible; it looked like I was going to be able to do this.
And then the world stopped, thanks to a global pandemic.
I vividly remember the conversation I had with Jen after Anime Boston canceled. Saddened but understood (and thankful that the convention aired on the side of caution and safety), I figured I would shelf this idea for 2021, or at least at a later date when I felt safe going to conventions. Jen had other ideas. She pushed me (in a good way) and cheered me on, saying BECAUSE of everything, a piece like this is needed to help make others happy. And while she understood how difficult things could get, mostly since we are all stuck at home, Jen mentioned how doing this project with everyone solely online might be a perfect time capsule for this year. And so I pushed on and did what I could.
Thanks in large part to her recommendations, I was able to talk to 13 (!!!) wonderful guests, all who told me such amazing stories. About watching Toonami as a kid, to being inspired to join the industry, to the elation they had when their performance was heard on the iconic block, to you name it. Some mentioned how watching it as a kid captured their attention and imagination and helped spark a passion for acting. Some would discuss how the block doesn't talk down to them and would instill essential life lessons that involve respect, bullying, hate, etc. (and speak out for Black Lives Matter). Others mentioned how friendly the Toonami and voice acting community is, which makes the accomplishment of being on the block even better. So many stories that touched my heart and will touch yours as well. They were all excellent and made things crystal clear why a project like this was so fun.
Toonami is often credited with making anime more mainstream, as creating fans of the medium. But rarely (if ever) was Toonami credited with inspiring many to join the anime industry. Think of legends in the field of sports, music, and acting. Due to their ability and greatness, players like Michael Jordan and Tom Brady inspired future generations to follow in their footsteps to reach "immortality." And while the performances on the block go a long way in doing just that, Toonami was the means for this future generation to find a passion that they had. To act, to do the same thing that Steve Blum, Yuri Lowenthal, Mary Elizabeth McGlynn, Johnny Yong Bosch, and a few others have done to this current generation. And another way of looking at it is that if it wasn't for Toonami, the actors and actresses we love to hear now might not have been a part of the voice acting community, which would have been a significant loss for anime fans!
And so I conducted the interviews, grabbed the b-roll thanks to CabooseJr, Duelist, and SlimD716, to then face the largest monster of my career. I was sifting through over 260 minutes of content to make a coherent story about this topic. It was daunting, and I know the way I attacked it wasn't the most optimal (starting by simply putting the b-roll in first, then adding the bits from interviews I wanted to keep, then followed up by music and narration. But, slowly but surely, I was getting things done, to at least a respectable level. I will never forget the encouraging words that both Jen and Alien sent me through the months. It meant the world to me and gave me enough to continue to work.
I'll never forget the conversation I had with both Jen and Alien after they previewed my piece when I finished the first draft. Both were blown away and loved how Alien's music was sprinkled in throughout the entire project. Then Jen hits me with the "I thought this would be a small 20-minute video. NO WONDER you were freaking out over this." I laughed. I laughed so hard in a way I haven't done much all year. This full-length featured film felt like the only reasonable thing to do with the number of guests I had (which could've been more, but I had to end it at some point). A full-length documentary was the only answer I had to an idea thought up back in 2019. It was great, and their eyes help catch A LOT OF THINGS I needed to fix (which I did). And hopefully everyone will be able to enjoy the final product that has been keeping me awake for the past two weeks.
So there you have it. This is the story of how I ended up doing a project like this for the first time and how amazed I am at its reception. I hope you found out coverage as well as the documentary itself insightful and fun. And while some might think it's over after the video is released, know that there's still more coming. Due to the interviews, Toonami Faithful will release all of the interviews (what was cut out) and have them on their Patreon page. So if you're curious about how they went, I suggest going there to listen for yourself! I'm at a point now that I can start reciting the words verbatim and fall asleep thinking of certain tracks Alien produced. What began as a friendly idea turned into a major project that has become my pride and joy at Toonami Faithful. I'm unsure if I'll do another one of these, but the fact that I accomplished it once means everything. Thank you so much for reading this, and thank you for check out the documentary!
The documentary will debut on Toonami Faithful's YouTube and Facebook page!
C.J Maffris is the Editor-in-Chief at Toonamifaithful.com. Feel free to follow C.J on Twitter @SeaJayMaffris
Don't forget to listen to the Toonami Faithful Podcast!