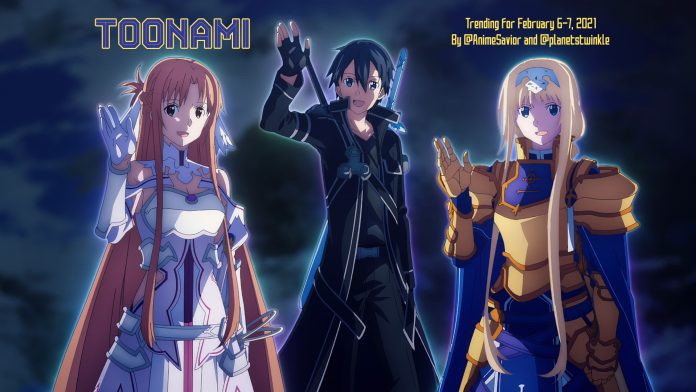 Toonami saw the end of an era this week as Sword Art Online: Alicization – War Of Underworld came to a close. Bittersweet expressions of gratitude came from cast members and fans alike, and many expressed hope that more Sword Art Online would air on Toonami in the future. Additionally, TOM 3's adventure in space began in the premiere installment of Cosmo Samurai, bearing a mid-2000s anime aesthetic and featuring a Japanese-speaking cast.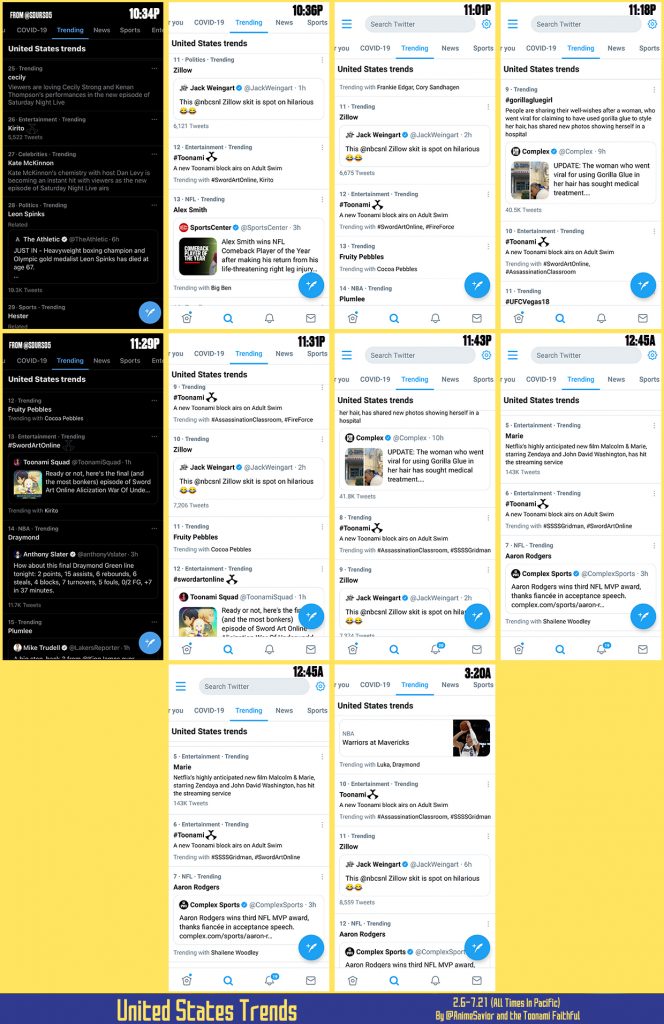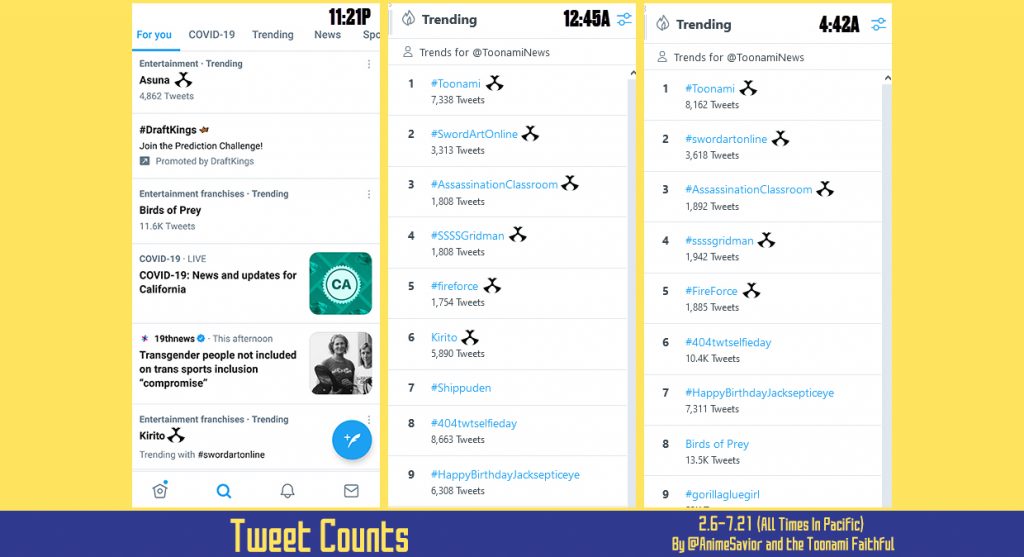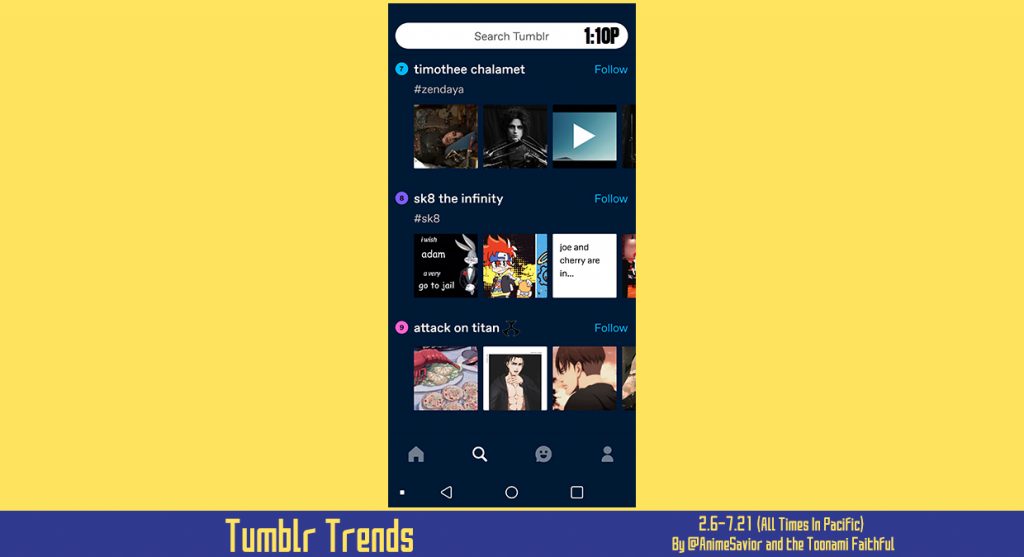 The full list, including statistics and tweet counts from the Twitter app and Amr Rahmy's Fan Screening analytics app, can be seen below.
Legend: The shows listed are ordered based on their appearance on the schedule. Show trends are listed in bold. The number next to the listed trend represents the highest it trended on the list (not counting the promoted trend), judging only by the images placed in the rundown. For the Twitter tweet counts, the listed number of tweets are also sorely based on the highest number shown based on the images on the rundown.
United States Trends:
#Toonami [#6]
#SwordArtOnline [#12]
Kirito (From Sword Art Online) [#26]
#FireForce [Trended with #Toonami]
#AssassinationClassroom [Trended with #Toonami]
#SSSSGridman [Trended with #Toonami]
Tweet Counts:
#Toonami [8,162 tweets]
#SwordArtOnline [3,618 tweets]
Asuna (From Sword Art Online) [4,862 tweets]
Kirito (From Sword Art Online) [5,890 tweets]
#FireForce [1,885 tweets]
#AssassinationClassroom [1,892 tweets]
#SSSSGridman [1,942 tweets]
Tumblr Trends:
Notes and Other Statistics:
Special thanks to @sdurso5 and others for spotting some of the trends on this list.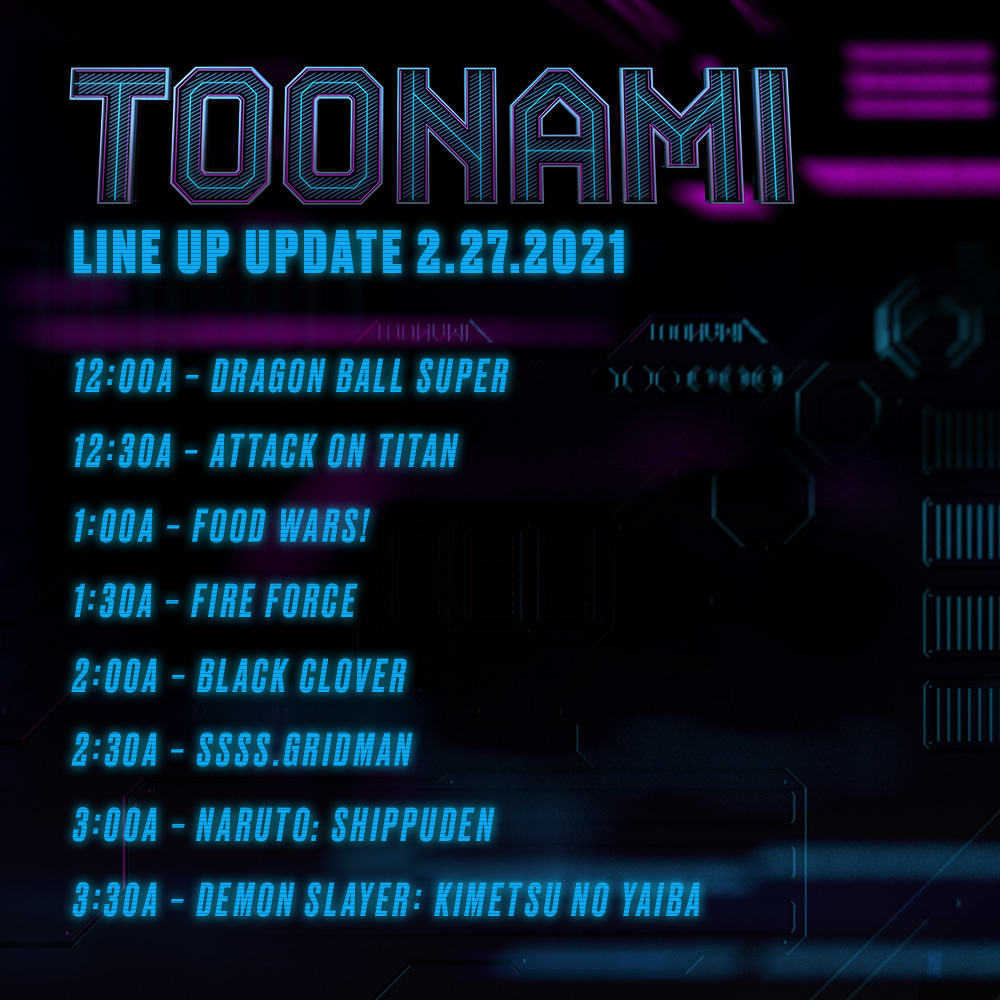 Toonami announced on their official Facebook page on Feb. 10 that Food Wars Season Three is finally joining the block after months of fans asking and anticipating when it would air. As reported by Toonami Faithful, Assassination Classroom is taking a break and may return to the block at a later date.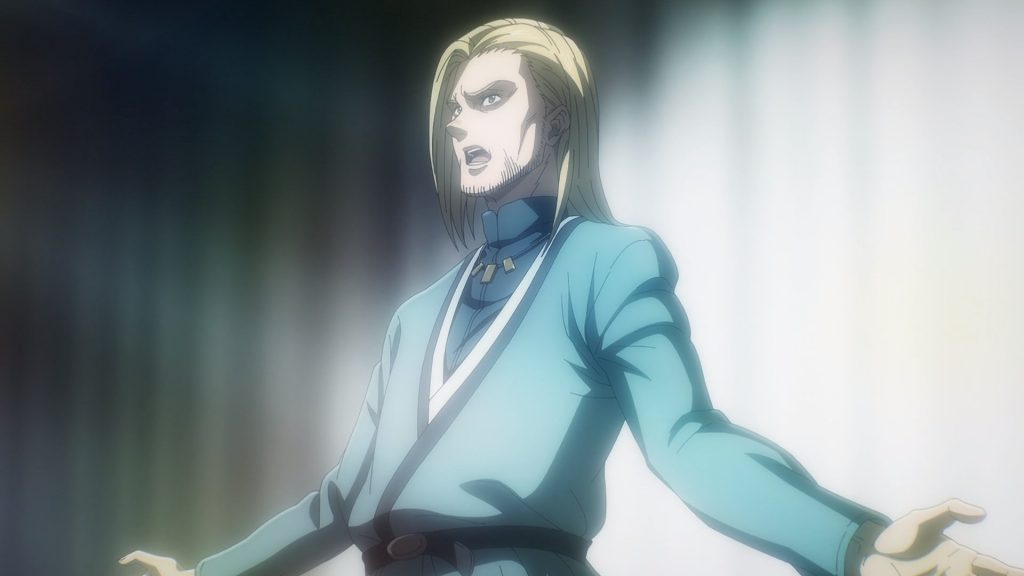 In Cosmo Samurai, SARA sends TOM 3 into space in an escape pod as the Absolution MKII is about to self-destruct. TOM runs into trouble when he's pursued by two foreign ships that destroy the pod, leaving him dismembered among the wreckage. A group of vagabonds called the Cosmo Samurai rescue TOM and brought him aboard their vessel. The Tournament Of Power heats up in Dragon Ball Super when the Pride Troopers enter the fray and team up against Goku, Kale, and Caulifla. Willy Tybur reveals the true origin story of Marley and Eldia in a stage play and declares war on Paradis in Attack On Titan. Falco also learns Mr. Kreuger's true identity when Eren and Reiner meet face to face for the first time in four years. As always, check out Umeko's in-depth episode review for more details.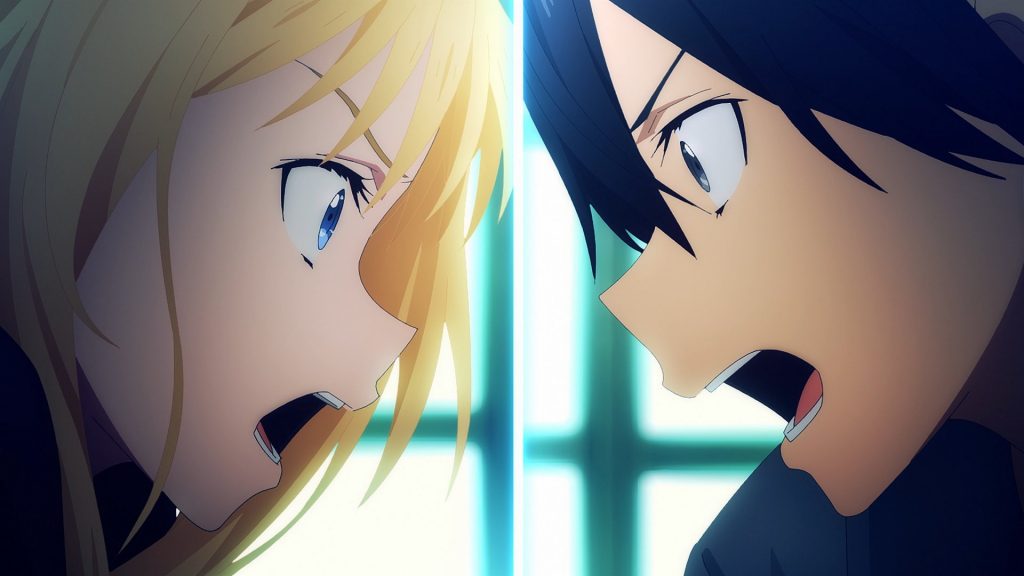 Kirito finds a special delivery waiting for him when he arrives home in Sword Art Online: Alicization – War Of Underworld: Alice Shuberg, who missed Kirito so much that she mailed herself to him in a giant box! Later, Alice receives a mysterious message containing an IP address, which can be used to log back into Underworld. She, Kirito, and Asuna return as heroes when joining the Integrity pilots in destroying a giant monster. In Fire Force, Members Company 8 reports the Evangelist's plot and potential connection to the Holy Sol Temple to Captain Obi. Still, they cannot act until the church thoroughly assesses the information the brigade brought to light.Joker would also ask Benimaru to investigate the information privately, and together they staged an attack on the temple.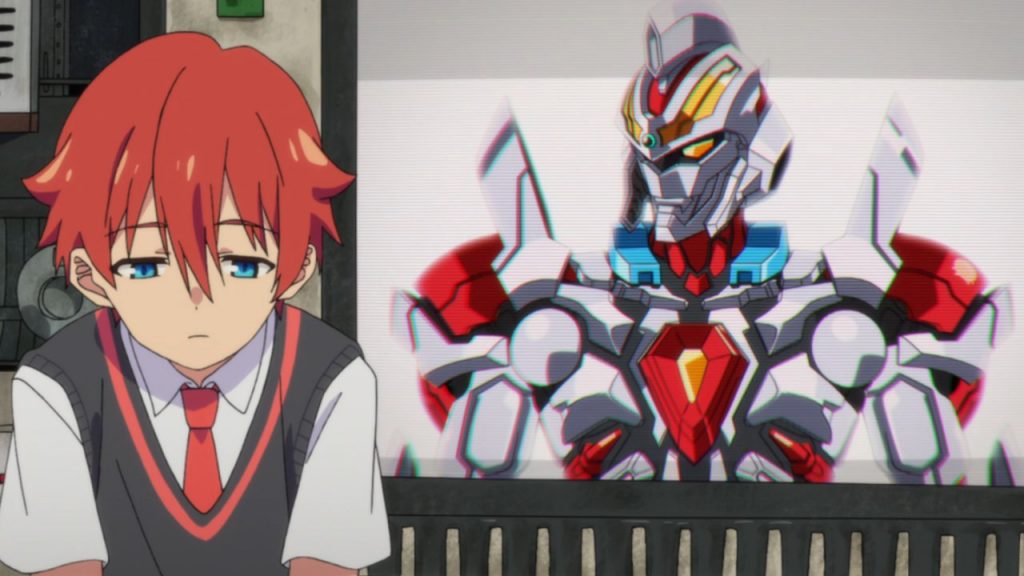 Karma takes down the villain thought to be holding the antidote for the viral infection plaguing his classmates in Assassination Classroom, but he turns out not to have the antidote at all. Class E collects intel and tries to sniff out another lead for where the cure might be, despite the clumsy interference of a trust fund kid hellbent on flirting with Nagisa. Gridman's true identity is in trouble in SSSS.Gridman, when Akane suspects Yuta may be the one controlling the giant hero. She attempts to get close to Rikka to investigate her hunch, but when their outings turn out to be group dates with Internet idol group Arcadia, Akane orders Anti to kill the boys. Yuta later realized that he has feelings for Rikka when he feels jealous of her spending so much time with Arcadia.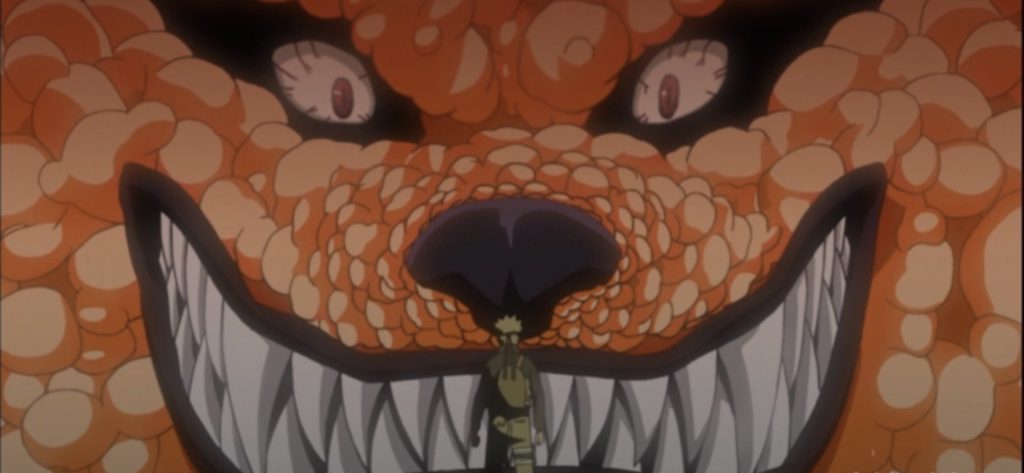 Naruto: Shippuden reflects on Kurama's journey as a Tailed Beast, from his many masters to his long-term plan to free himself from the seal binding him to Naruto. Inosuke and Tanjiro come to blows over his box in Demon Slayer after Inosuke recognizes a demon inside. A Kasugai crow cuts the conflict short and leads the slayers to a mansion run by a family once rescued by demon slayers. Despite their relentless bickering, the boys begin to bond as they settle in for the night.
Did you enjoy this week's Toonami? Let us know by commenting below or directly on our social media. Be sure to follow us on twitter @ToonamiNews, and on Instagram and Facebook as @ToonamiFaithful. You can listen to the Toonami Faithful Podcast on Soundcloud, iTunes, or Spotify for interviews, discussions, and breaking news updates. Listen at the link below or on your podcast platform of choice:

Celia Rose is a social media manager for ToonamiFaithful.com. Feel free to follow Celia Rose on Twitter @planetstwinkle