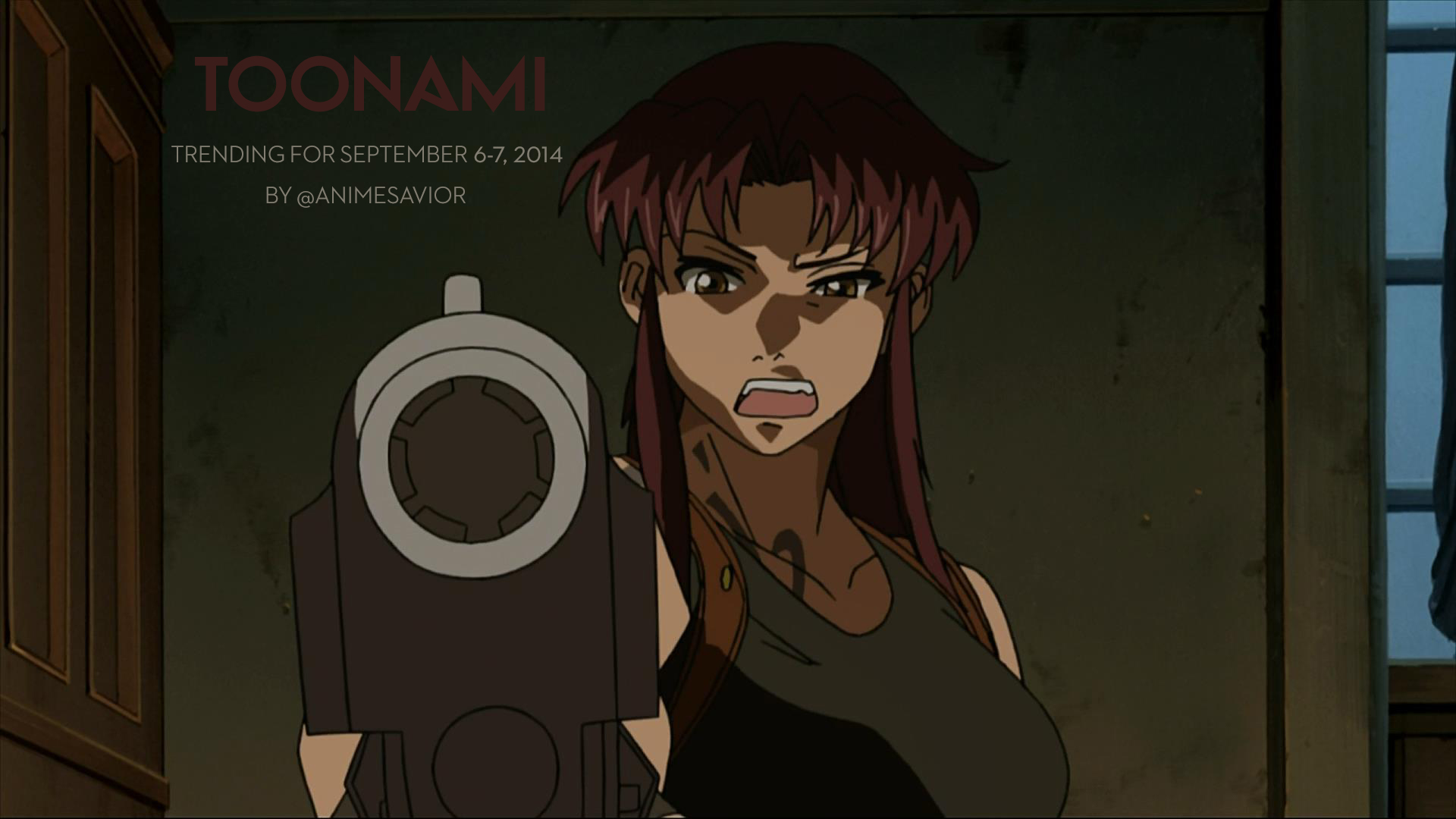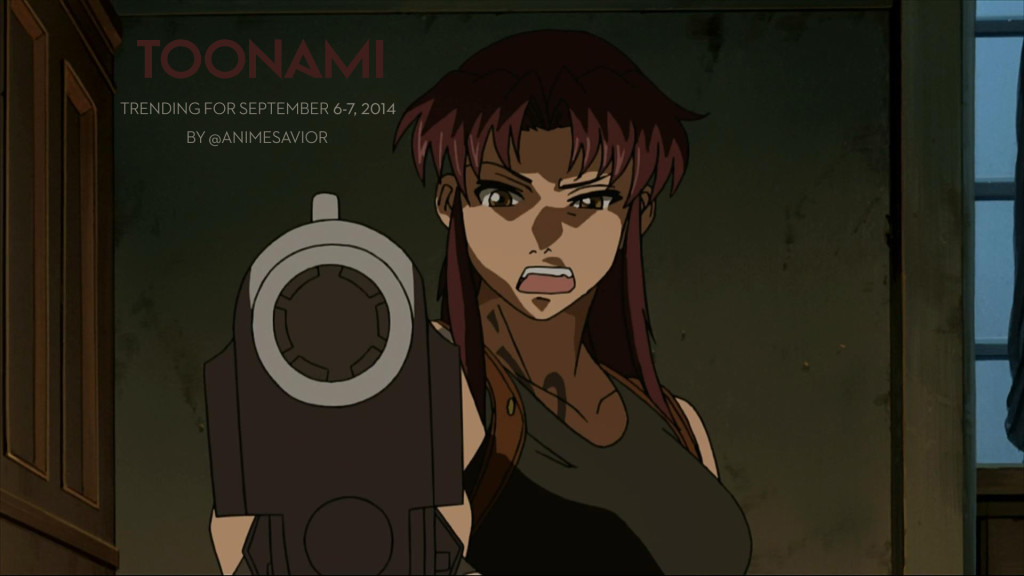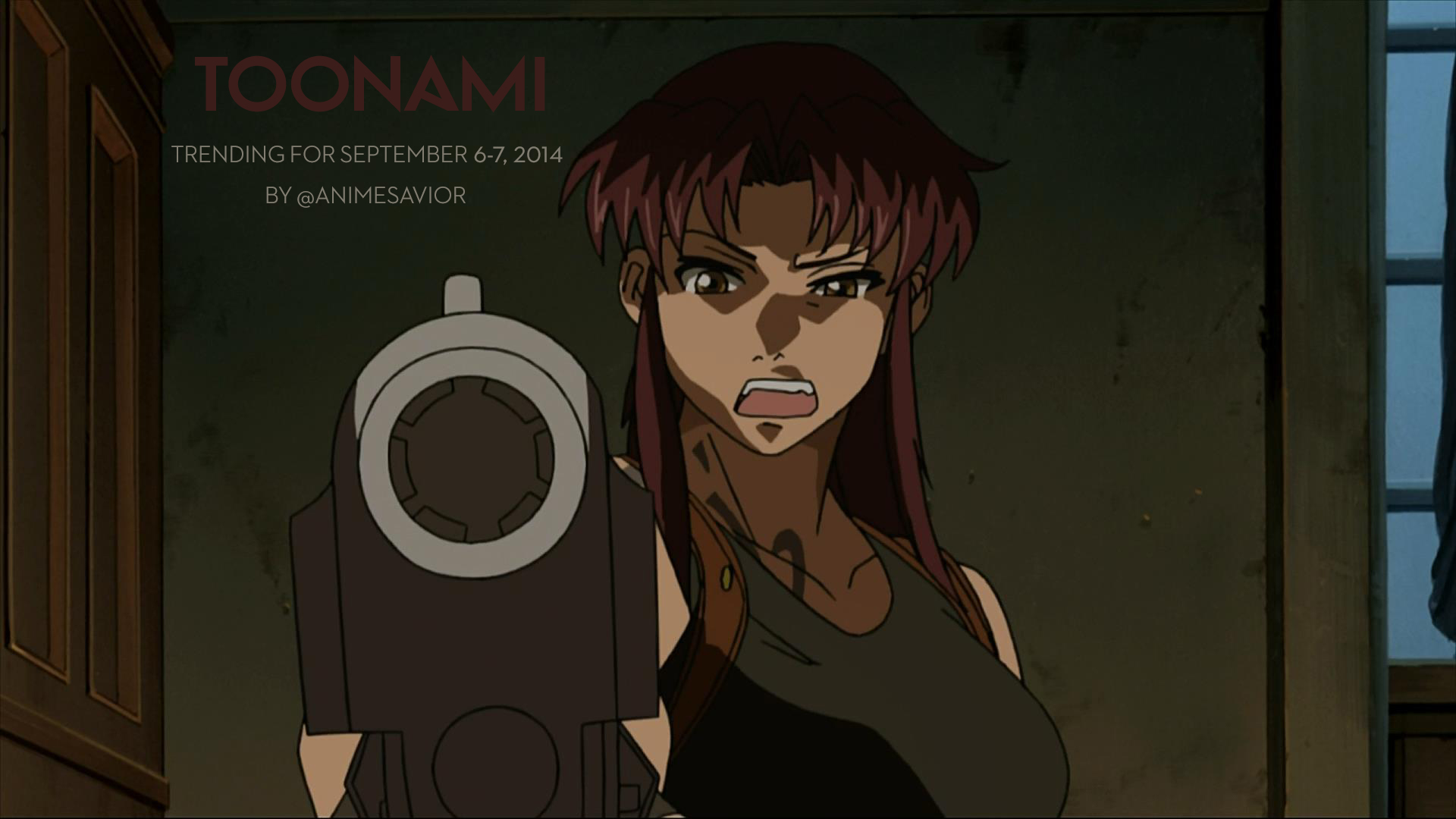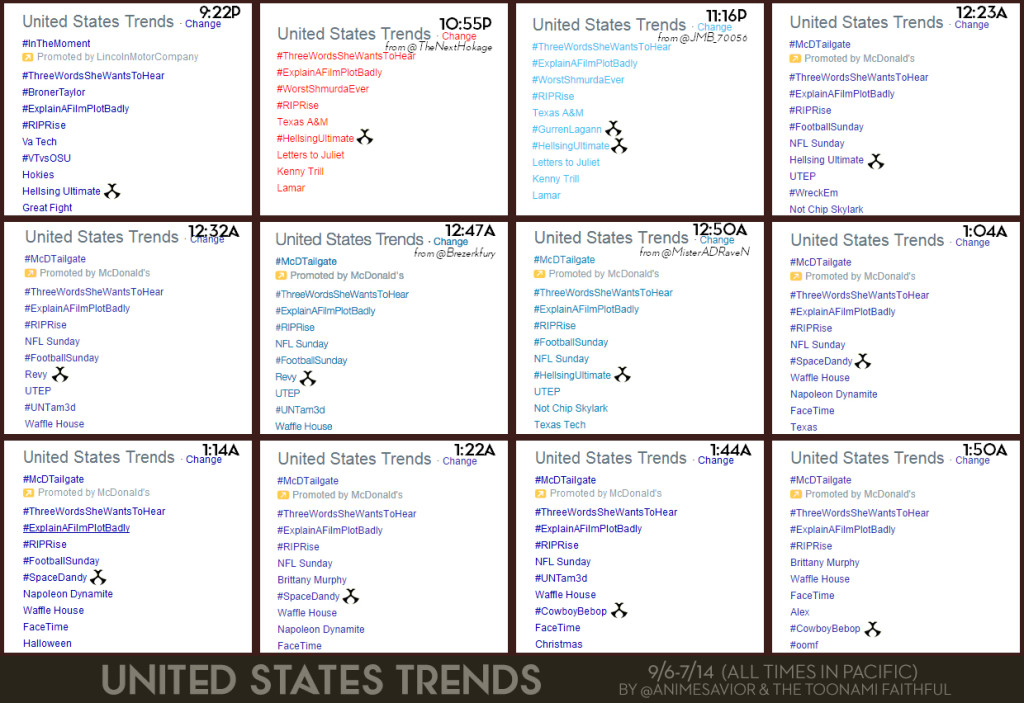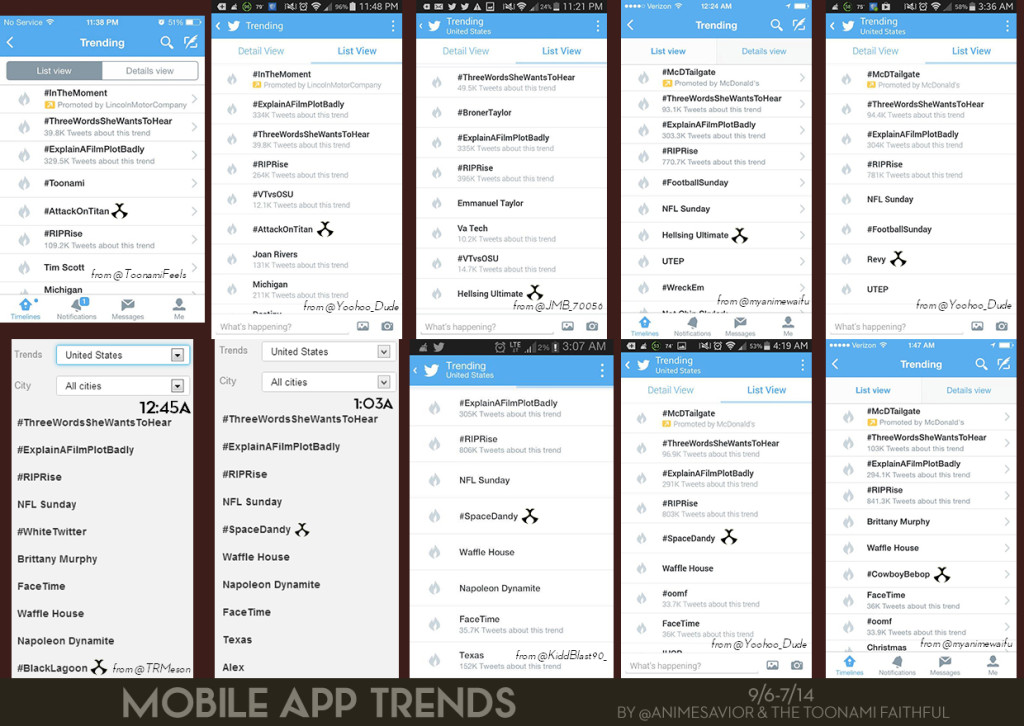 "The good city of Roanapur, huh? Where the power of guns meets the power of liquor. You gotta appreciate a place where any problem can be solved with brute force. It's not such a bad place, that's what i'm beginning to think."
–          Benny, Black Lagoon (Episode 24)
The Toonami Trending Rundown for September 6-7, 2014. We're back to our regularly scheduled programming and things haven't looked so hot this week in regards to social media, with football season heating up and all, with only Space Dandy, Gurren Lagann and Cowboy Bebop trending in the US and Attack on Titan, Space Dandy, Black Lagoon, and Cowboy Bebop trending in the mobile app.
We did get a character trend with Revy from Black Lagoon as she manages to defeat Genji, and send the show off on a good note. And as for it's replacement, Toonami showcased a promo of Hellsing Ultimate and it also trended during various points of the night.
Black Lagoon Trending Retrospective
24 weeks have come and gone, and Black Lagoon's run on Toonami is now in the books. Whether it was because of it's no holds barred nature or how much it pushed Adult Swim and Toonami's Standards and Practices, Black Lagoon sure made quite an impression for Toonami viewers across the social media sphere.
Black Lagoon successfully trended in some capacity in all but episodes 2 and 4 of the first season's broadcast and trended every single week during the broadcast of the Second Barrage. Black Lagoon's buzz also created 3 different character trends, with Balalaika in one week, the Vampire Twins in two consecutive weeks, and of course Revy in 10 different weeks of the show airing.
For those craving for more Black Lagoon, there's the Roberta's Blood Trail OVAs as well as a manga, so definitely check those out.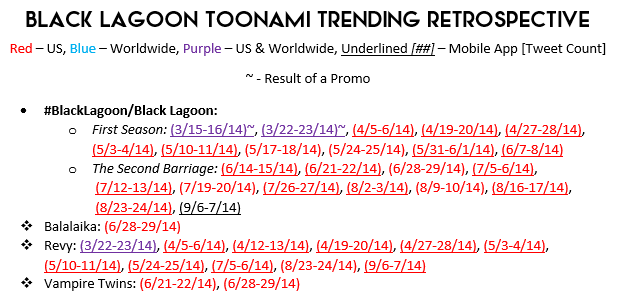 Naruto Trending Retrospective + Shippuden So Far
Everyone's favorite knuckleheaded ninja isn't going anywhere anytime soon, but OG Naruto's run on Toonami is in the books for the forseeable future. Since it's return to Toonami on December 2012, Naruto has made it's impact in the social media sphere. Of course, those numbers will continue to grow in the years ahead as Naruto continues to be a Toonami staple, and i can speak for every Naruto fan that we're all glad to be apart of the ride.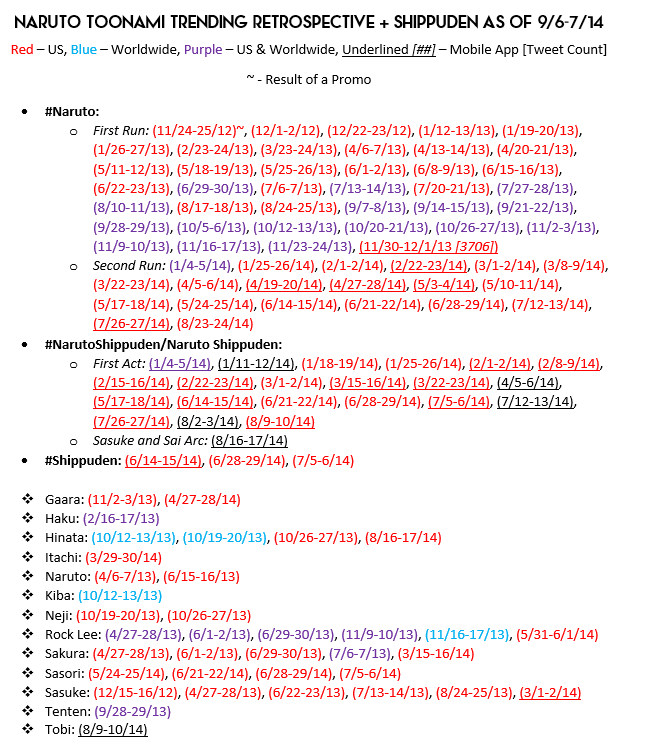 And Finally…
Don't have much else to say other than tune in next week as Hellsing Ultimate premieres on the block at 3am Eastern, to say nothing about the other shows. Till next week, enjoy the football season and stay gold.
Legend: The number next to the listed trend represents the highest it trended on the list (not counting the promoted trend), judging only by the images placed in the rundown. For the mobile app trends, the listed number of tweets are also sorely based on the highest number shown based on the images on the rundown.
US Trends:
#HellsingUltimate/Hellsing Ultimate (During Bleach, One Piece, Gurren Lagann, Black Lagoon and Naruto) [#6]
#SpaceDandy (During the West Coast airing) [#5]
#GurrenLagann [#6]
Revy (From Black Lagoon) [#6]
#CowboyBebop [#7]
Mobile App Trends:
#Toonami (During Attack on Titan) [#3]
#HellsingUltimate/Hellsing Ultimate (During Bleach and Naruto) [#6]
#AttackOnTitan [#4]
#SpaceDandy (During the West Coast airing) [#4]
#BlackLagoon [#10]
Revy (From Black Lagoon) [#6]
#CowboyBebop [#6]
Notes and Other Statistics:
Special thanks to @Brezerkfury, @JMB_70056, @KiddBlast90_, @MisterADRaveN, @myanimewaifu, @TheNextHokage, @ToonamiFeels, @TRMeson, @Yoohoo_Dude, and others I forgot to mention for spotting some of the trends on this list.
Open Wide. Only Toonami on [adult swim] on Cartoon Network.