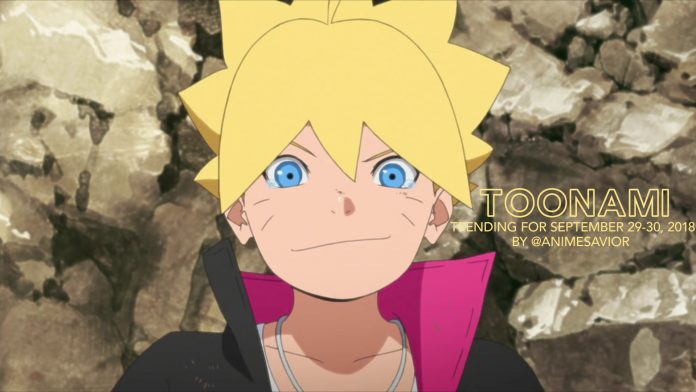 "Whatever path I choose, it won't have anything to do with my dad. I'll walk my own path. Cause this is my story."
–          Boruto Uzumaki, Boruto: Naruto Next Generations (Ep. 01)
The Toonami Trending Rundown for September 29-30, 2018. The next generation of Shinobi make center stage as Toonami expands to 9pm with the addition of Naruto's son in Boruto: Naruto Next Generations to the better cartoon show. And among other great moments, Historia unlocks her and Eren's mysterious past, while Koichi attempts to unlock his stand powers, and Black Clover begins the Seabed Temple arc as Asta and the Black Bulls head to the beach.
On Twitter, only #HunterXHunter would manage to trend in the US; while on tumblr, #Toonami would trend alongside #BNHA, Attack on Titan, and JoJo's Bizarre Adventure.
---

This week's feature was a video game review for the critically acclaimed new Spiderman game for the PS4. It received an 8 out of 10 score.
During the broadcast of the Season 3 finale of My Hero Academia in Japan, it has been announced that a fourth season will indeed be in the works. Series creator Kohei Horikoshi drew this in celebration of the events. No word yet on any further details as of this time.
3期見て下さってありがとうございました!おつかれさまでした!そして4期決定です!本当ありがとうございます!ちんちんで終わりのアニメにならずに済みます!楽しみ! pic.twitter.com/h58Sdmc7Z1

— 堀越耕平 (@horikoshiko) September 29, 2018
And in case you missed, I just recently published my interview with Bryce Papenbrook at the Sword Art Online Alicization premiere event. Among some of the topics I talk to him about, we discussed his role as voicing Kirito as well as Kirito's character going into Project Alicization, his relationship with Asuna, his harem, the show's success and its critics, among other things. Check it out by clicking here.
Not much else to say other than we'll see you again next week for another round of the better cartoon show. Later.
---
Legend: The shows listed are ordered based on their appearance on the schedule. Show trends are listed in bold. The number next to the listed trend represents the highest it trended on the list (not counting the promoted trend), judging only by the images placed in the rundown. For the Twitter tweet counts, the listed number of tweets are also sorely based on the highest number shown based on the images on the rundown.
United States Trends:
Tumblr Trends:
#Toonami
#BNHA
#Attack on Titan
#JoJos Bizarre Adventure
Tweet Counts:
#Toonami [7,069 tweets]
#Boruto [3,197 tweets]
#HunterXHunter [1,556 tweets]
Notes and Other Statistics:
Special thanks to @myanimewaifu and others I forgot to mention for spotting some of the trends on this list.
Does Whatever a Spider Can. Only Toonami on [adult swim] on Cartoon Network.
Toonami Tweets of the Night for September 29-30, 2018