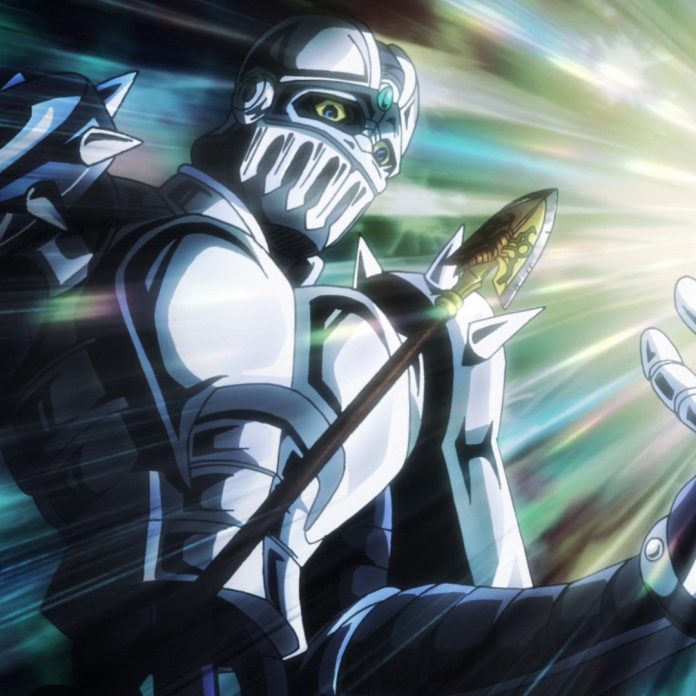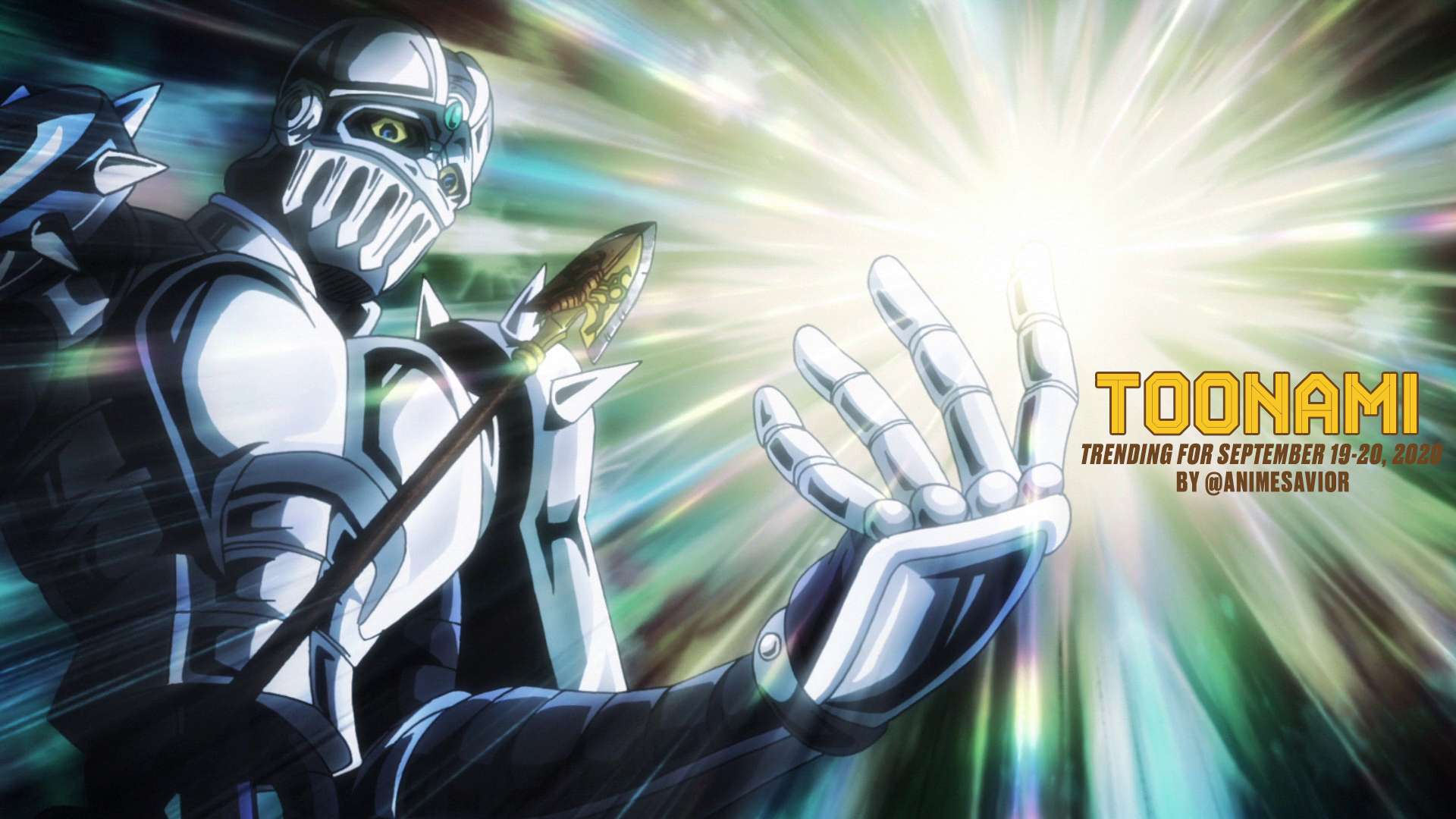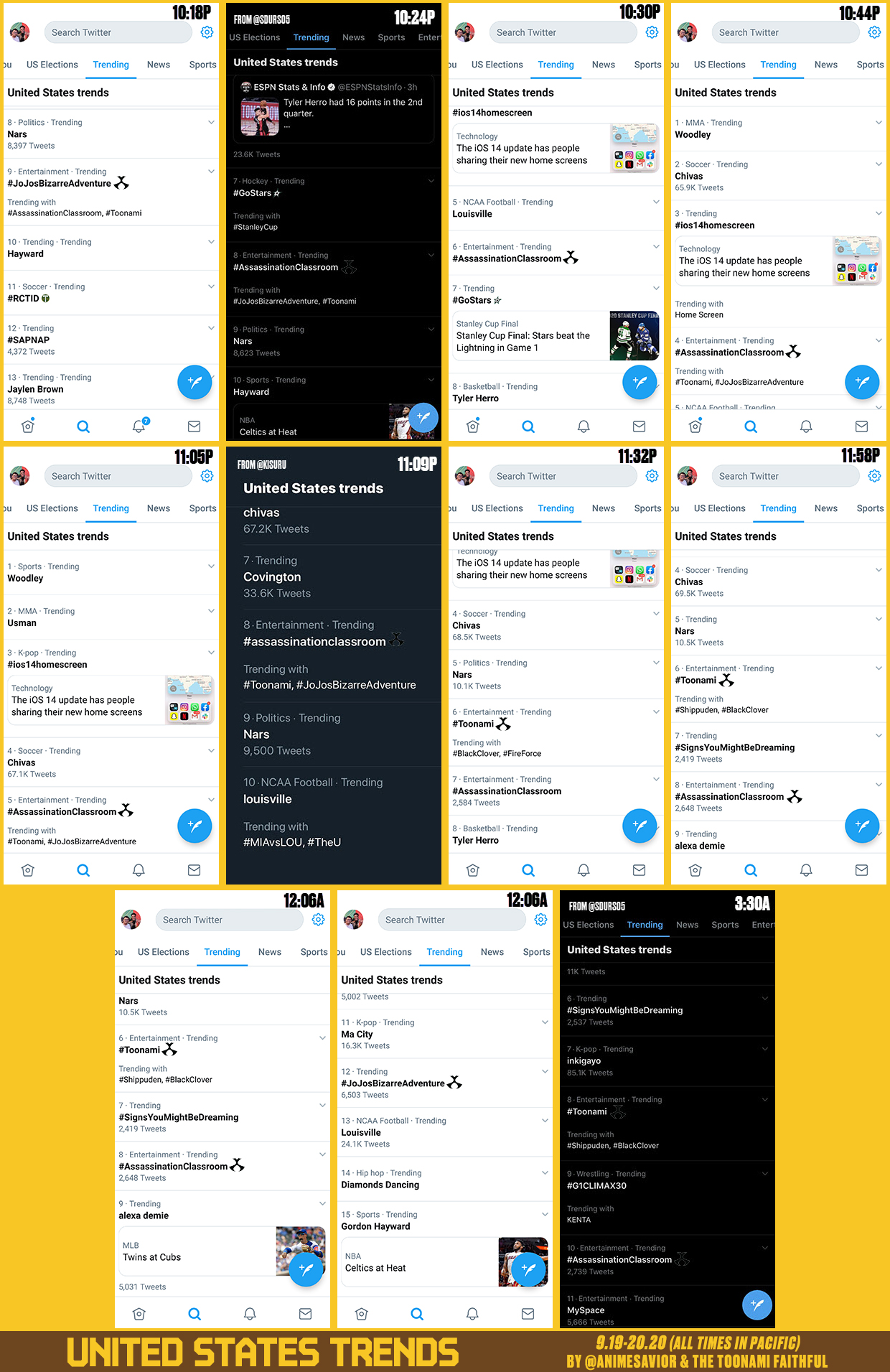 "Please, spare me the moment to explain I acted this way only because Diavolo afforded me no other choice. Right now, the event that you are experiencing as you stand there gawking was brought about by the very arrow I had hoped to give you. I still hope to convey the secret of its power, even as I desperately fight to hang onto my soul."
–          Jean Pierre Polnareff, JoJo's Bizarre Adventure: Golden Wind (Ep. 33)
The Toonami Trending Rundown for September 19-20, 2020.
Among some of the night's highlights, JoJo's Bizarre Adventure saw Polnareff use Silver Chariot to activate the stand arrow as a last-ditch effort to stop Diavolo. However, this would trigger an event in which the entire cast would switch bodies with one another. Assassination Classroom introduces Irina Jelavić as Class 3-E's newest instructor. While she has trouble getting along with the students, she also tries her hardest to kill Koro-sensei, at least until she finds out the hard way that conventional weapons are useless against him. And Black Clover has Mereoleona dragging the Black Bulls back into the Yultim volcanoes for another training mission with the Crimson Lion Kings.
For this week's social media buzz, #Toonami would trend in the United States on Twitter alongside JoJo's Bizarre Adventure, Assassination Classroom, Black Clover, Fire Force, and Naruto Shippuden. #Toonami would also trend on Tumblr. The full list, including statistics and tweet counts from the Twitter app, can be seen below.
---

This week's feature was a game review of Ghost of Tsushima for the PlayStation 4. It received a score of 9.5 out of 10.
On Saturday, Oct. 10, at midnight, Adult Swim will be airing a special performance from the hip-hop duo Run the Jewels. Branded as "Holy Calamavote," band members El-P and Killer Mike will be performing songs from their latest album RTJ4 as part of the effort to encourage people to vote in the November election. To make room, Toonami will start at 1:00 a.m. EST for that night, with the entire schedule pushed back an hour.
Celebrate your right to vote with @runjewels first performance of #RTJ4 on Adult Swim, Saturday, October 10 at 12a.

Pledge to vote this Nov. by texting RTJ2020 to 40649 or go to https://t.co/KHFlSlQMAK

Plot. Plan. Strategize. Organize. Mobilize. #HolyCalamavote @benandjerrys pic.twitter.com/LkULc7z5pD

— adultswim (@adultswim) September 21, 2020
While fans continue to wait for the announcement of Sword Art Online's return to Toonami, those who have been watching the simulcasts got some news regarding what is next for the franchise. Following the finale of Project Alicization in Japan, Aniplex has announced that the Sword Art Online: Progressive light novels will be adapted into an animated series. Progressive will be a retelling of the Aincrad arc from the ground-up, covering parts of Kirito and Asuna's journey in the floating castle of Aincrad. Progressive plans to include events that were skipped over in the original story. Further details, including a premiere date haven't been mentioned as of this writing.
‼️ NEW PROJECT ANNOUNCED ‼️
Sword Art Online Progressive#sao_anime pic.twitter.com/iisGQkLUOr

— Sword Art Online (@SwordArtUSA) September 20, 2020
InuYasha fans are gearing up for the premiere of the franchise's highly anticipated sequel, Yashahime: Princess Half-Demon, next month. Viz Media announced that the show will begin broadcast on Oct. 3, and will be available for simulcast on Crunchyroll, FunimationNow, and Hulu. Viz also mentioned that the English dub "would follow shortly after." Whether that means fans will get a SimulDub or if they will have to wait sometime after the anime finishes in Japan is still unknown.
Finally fans have a definitive date as to when the fourth and final season of Attack on Titan is scheduled to premiere: Dec. 7 of this year. As with previous seasons, the simulcast will be available stateside on FunimationNow and Crunchyroll. Regarding the English Dub, Funimation noted that information "will come at a later date."
【新ビジュアル解禁】
NHK総合にて放送予定の「TVアニメ『進撃の巨人』The Final Season」の第2弾キービジュアルを解禁しました!同時に公式ホームページもリニューアル!https://t.co/tDWCeNL3bh#shingeki pic.twitter.com/SOV8gUWxof

— アニメ「進撃の巨人」公式アカウント (@anime_shingeki) September 24, 2020
Until next week, stay safe, and be sure to visit blacklivesmatters.carrd.co to see what you can do to help the fight against social inequality. Also, register to vote for November's elections if you're eligible and haven't already. And continue to do your part to stop the spread of COVID-19 and protect others by following your local health advisories. Stay at home unless essential purposes require you to go out, practice social distancing by staying six feet/two meters away from one another if possible, and wash your hands thoroughly for at least 20 seconds.
---
Legend: The shows listed are ordered based on their appearance on the schedule. Show trends are listed in bold. The number next to the listed trend represents the highest it trended on the list (not counting the promoted trend), judging only by the images placed in the rundown. For the Twitter tweet counts, the listed number of tweets are also sorely based on the highest number shown based on the images on the rundown.
United States Trends:
#Toonami [#6]
#JoJosBizarreAdventure [#9]
#AssassinationClassroom [#4]
#BlackClover [Trended with #Toonami]
#FireForce [Trended with #Toonami]
#Shippuden [Trended with #Toonami]
Tweet Counts:
#JoJosBizarreAdventure [6,503 tweets]
#AssassinationClassroom [2,739 tweets]
Tumblr Trends:
Notes and Other Statistics:
Special thanks to @Kisuru, @sdurso5, and others I forgot to mention for spotting some of the trends on this list.
Only Toonami on [adult swim] on Cartoon Network.
Did you enjoy this week's Toonami? Let us know by commenting below or directly on our social media. And be sure to follow us on @ToonamiNews and subscribe to our podcast on Soundcloud for future content and breaking news updates.