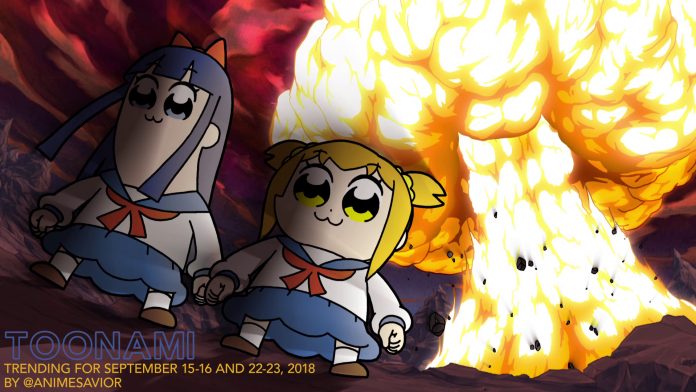 Popuko and Pipimi: "Are You Upset?"
King Records Executives: "We are not upset."
–          Pop Team Epic (Ep. 12)
This week's Toonami Trending Rundown is a double-feature for the nights of September 15-16, 2018 and September 22-23, 2018, as we saw the Thrilling conclusion of Pop Team Epic, while Black Clover also concludes the Eye of the Midnight Sun Arc, and Universe 7 battles Universe 9 in the Zeno Exhibitions, among other great moments.
During the night of September 15-16, Toonami, BHNA and JoJo's would trend on tumblr, while no trends were spotted on Twitter save for some tweet counts. During the night of September 22-23, things were a little better, as Toonami trended in the US on Twitter, while Toonami, #BNHA, Attack on Titan, and Hunter x Hunter trended on tumblr.
---

This week's feature was a new trailer for the upcoming English debut of the next installment of the Naruto franchise in Boruto: Naruto Next Generations. You can check it out below.
Last week, Aniplex showcased a special premiere event for the highly anticipated Project Alicization story arc of Sword Art Online, and for a first for me and ToonamiFaithful.com, I headed up to Los Angeles to cover the event for the Toonami Faithful. I also got the opportunity to talk with Bryce Papenbrook regarding voicing Kirito and the show's success among other things. We'll have those articles posted as soon as they're finished but you can check out this moments tab archiving some of the moments from the event as well as the official trailer from Aniplex posted below in the meantime.
Beginning this week, My Hero Academia will be making the US theatrical debut of The Two Heroes, with the English dub on September 25, 27 and 29 and in Japanese (with English subtitles) on September 26 and October 2. If you're interested, check out funimationfilms.com/myheroacademia for showings near your area and give your support to the anime industry on the big screen.
---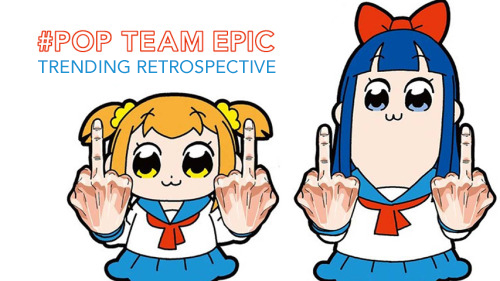 Ever since the anime aired in Japan earlier in the year, Pop Team Epic has become a big fan favorite among those who saw the series across the various streaming sites it has been available on as well as being a popular source for anime related memes. Many fans have likened it to one of Adult Swim's classic animated comedies, and indeed there have been quite a few requests for Adult Swim to pick this one up. Adult Swim eventually did, however the big stunner would be that it would air on Toonami Saturdays, rather than on Sundays as many expected and Pop Team Epic would successfully make its debut on the night of June 30, 2018.
Indeed in recent times, many fans have wanted Toonami to showcase non action programs for variety's sake, especially with many of Toonami's acquisitions in recent times being Shonen Jump works. While some might say otherwise, Jason DeMarco has said that he has heard such concerns, and has mentioned that the Toonami crew are looking into creating and acquiring more anime and action cartoons of all kinds to expand Toonami's scope.
While Pop Team Epic's acquisition has received plenty of applause, it has also received plenty of scorn as well, mainly due to the reason being it's style of comedy may be more enjoyed sandwiched next to the likes of Rick and Morty and Robot Chicken, rather than FLCL and JoJo's. And to say the least, its style of comedy may not necessarily be for everyone. Regardless, Pop Team Epic has been seen as a success in regards to what it needed to do, and this could signal the start of one of potentially many potential experimental shows to come.
12 weeks of Popuko and Pipimi doing…we'll…stuff…and Pop Team Epic's run is in the books. During the show's run, the show successfully trended on Twitter during 11 out of 12 weeks of its run, including in the US during weeks 1 and 5. The show also trended on tumblr during its first week.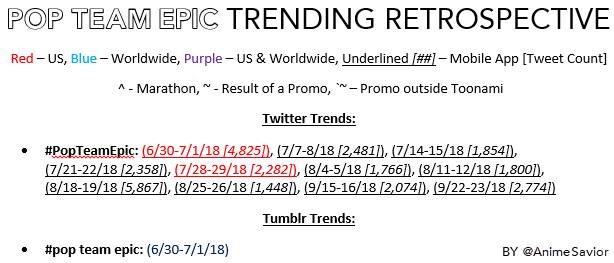 We've heard rumblings of a potential second season, but all such talk is just rumors so far. However, if a second season did come to fruition, I won't be opposed. Regardless, whether it was a failed experiment, or a sign of things to come, Pop Team Epic was quite an interesting experience to say the least. So on behalf of the Toonami Faithful, thanks for the memories, Popuko and Pipimi, and we hope to see you again in the future.
---

Tune in next week as Toonami expands to 9pm EDT as Boruto joins the block at 10:30pm Eastern, while Black Clover begins the Seabed Temple Arc at 1am, among other great moments. And just to remind you, the new schedule will include some significant schedule changes, so make sure to get familiar with the new schedule and set your DVRs if need be.
Not much else to say other than until next week, stay gold as always.
---
Legend: The shows listed are ordered based on their appearance on the schedule. Show trends are listed in bold. The number next to the listed trend represents the highest it trended on the list (not counting the promoted trend), judging only by the images placed in the rundown. For the Twitter tweet counts, the listed number of tweets are also sorely based on the highest number shown based on the images on the rundown.
September 15-16, 2018 Trends
Tweet Counts:
#Toonami [5,088 tweets]
#MyHeroAcademia [1,672 tweets]
#PopTeamEpic [2,074 tweets]
#JoJosBizarreAdventure [2,026 tweets]
Tumblr Trends:
#Toonami
#BNHA
#JoJos Bizarre Adventure
Notes and Other Statistics:
September 22-23, 2018 Trends
United States Trends:
Tweet Counts:
#Toonami [6,022 tweets]
#FLCL [2,197 tweets]
#PopTeamEpic [2,774 tweets]
#JoJosBizarreAdventure [2,415 tweets]
#HunterXHunter [1,717 tweets]
Tumblr Trends:
#Toonami
#BNHA
#Attack on Titan
#Hunter X Hunter
Notes and Other Statistics:
Special thanks to @myanimewaifu and others I forgot to mention for spotting some of the trends on this list.
The Age of Shinobi…is over. Only Toonami on [adult swim] on Cartoon Network.
Toonami Tweets of the Night for September 22-23, 2018